Introduction to Track Racing - What's a Wheelrace? - Introduction to Six Day racing
Tasmanian Christmas Carnivals
Tasmania, December 26, 2004 - January 1, 2005
Devonport Carnival, December 29-30 - Day 2
Main Results Complete event results Other men's races Women's races
Devonport wheelrace: Kersten lands a big one
By John Stevenson in Devonport
Ben Kersten (L)
Photo ©: Shane Goss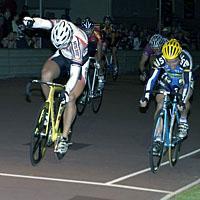 Ben Kersten took his second handicap in as many days and ended his first visit to the Tasmanian carnivals on a $4,500 high note when he took out the Devonport wheelrace this evening in front of a large enthusiastic crowd of Tasmanian track fans who have really taken the young rider from Wollongong to their hearts.
Kersten's spectacular winning style, timing his run at the line to perfection, steaming past his opponents and claiming victory as he passes has been one of the highlights of this year's carnivals, and he delivered once again in the finale of the Devonport Wheelrace, attacking Darren Young and Grant Irwin with 250m to go, and once again crossing the line with enough time to salute the wildly cheering crowd as he claimed the win.
Kersten had been part of a seven-rider scratch group, and just as in Tuesday's Launceston wheelrace, that was more than enough firepower to get the backmarkers up and through the field. Once Kersten's group was in contention his victory seemed almost a foregone conclusion, but Darren Young and Grant Erwin nevertheless had a go in the last lap, only to find the Wollongong wonder rampaging past them in the last fifty metres.
Kersten said he had hit the afterburners quite late, "with about 100m to go. I wanted to give Darren a place that's why I left it so late otherwise it'd be safer to go a lot earlier to get the win but I left it till the last minute so no-one else could get a place."
"I rode such a hard heat to get in," said kersten. "I did a lot of turns and commited myself for the guys on my mark to get in, and they pulled out so I was all alone. I put my gear up tonight because the wind had dropped, rode a massive gear and that worked well."
In terms of his overall training, "Things are starting to come together nicely," said Kersten. "That's my last handicap of the meet I fly home tomorrow morning so it's really nice to go out on a good note."
Kersten loved racing in front of the large, enthusiastic crowd at Devonport who went wild whenever he won a race. "It's brilliant," he said. "I always try to put on a good show, but it's not often the crowd gets behind it that much; it's not often you get this many people at a race either. I'll come back any day."
The heats
Action from a heat
Photo ©: Shane Goss

In the first heat of the wheelrace, the scratch band of Brown, Hutch and Wilksch worked together to get the middlemarkers in striking distance then launched Ben Kersten to complete the chase.
A mixed bag of middlemarkers in the second heat were quickly all together in a single large group. Jarrod Harman attacked with a lap to go and stayed away to the finish with Cameron Wise and Dan Vogels also looking very comfortable as they qualified.
A high power scratch group in heat three had no trouble getting up, catching the midfield with three to go. The frontmarkers sat up and Daniel Furmston got away to take the win, with all the backmen except Matthew Goss going through to the final.
In the final lap a frantic finish after the scratch chase resulted in scratchmen Nathan Clarke, Mark Jamieson and Darren Young qualifying.
Photography
For a thumbnail gallery of these images, click here
Images by Shane Goss/www.licoricegallery.com
Results
Devonport Wheelrace heat 1
 
1 Kaiden Homan (210)           3.21.01
2 Aaron Jones (255)
3 Mike Friedman (105)
4 Ben Kersten (scr)
5 Justin Tomlinson (225)
6 Bradley Payne (105)
 
Devonport Wheelrace heat 2
 
1 Jarrod Harman (225)          3.26.70
2 Cameron Wise (195)
3 Daniel Vogels (165)
4 Jamie Perry (240)
5 Alex Lyons (300)
6 Ben Laskey (300)
 
Devonport Wheelrace heat 3
 
1 Daniel Furmston (270)        3.31.20
2 Stephen Rossendell (scr)
3 Jame Carney (scr)
4 Gareth Atkins (90)
5 Christian Lademann (scr)
6 Daniel Cutting (90)
 
Devonport Wheelrace heat 4
 
1 Nathan Clarke (scr)          3.27.40
2 Darren Young (scr)
3 Grant Irwin (75)
4 Aaron Salisbury (300)
5 Karl Menzies (150)
6 Mark Jamieson (scr)
 
Devonport Wheelrace field
 
Ben Kersten (scr)
Jame Carney (scr)
Christian Lademann (scr)
Nathan Clarke (scr)
Mark Jamieson (scr)
Darren Young (scr)
Stephen Rossendell (scr)
Grant Irwin (75)
Bradley Payne (75)
Gareth Atkins (90)
Daniel Cutting (90)
Mike Friedman (105)
Karl Menzies (150)
Aaron Salisbury (150)
Daniel Vogels (165)
Cameron Wise (195)
Kaiden Homan (210)
Jarrod Harman (225)
Justin Tomlinson (225)
Jamie Perry (240)
Aaron Jones (270)
Daniel Furmston (270)
Alex Lyons (300)
Ben Laskey (300)
 
Devonport Wheelrace final
 
1 Ben Kersten (scr)            3.17.25
2 Darren Young (scr)
3 Grant Irwin (75)
4 Bradley Payne (75)
5 Gareth Atkins (90)
6 Jarrod Harman (225)
7 Nathan Clarke (scr)
8 Aaron Salisbury (150)
 
Complete results