Introduction to Track Racing - What's a Wheelrace? - Introduction to Six Day racing
Tasmanian Christmas Carnivals
Tasmania, December 26, 2004 - January 1, 2005
Devonport Carnival, December 29-30 - Day 2
Main Results Complete event results Men's wheelrace Women's races
Wise move takes 2000m handicap
By John Stevenson in Devonport
Cameron Wise
Photo ©: Shane Goss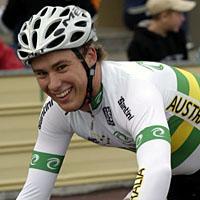 Twenty-year-old Melbournian Cameron Wise was a very happy winner of the evening's first major event, the 2000m handicap. Wise was part of a well-drilled group of middlemarkers that maintained the big gap to scratchmen Graeme Brown, Ben Kersten, and Ashley Hutchinson and Matthew Goss (10m). Kersten launched off Brown and Hutchinson with three-quarters of a lap to go and closed most of the remaining 100m, but couldn't cross the last space.
Meanwhile, big Karl Menzies was propelling the middlemarked riders up and through the frontmen, taking with him Wise and Matthew Atkins. Wise bided his time, and powered to the front from 150m to go, accelerating all the way to the line.
Wise had certainly noticed the lead given by Menzies. "He's an ox, he's very strong," said Wise of the big Tasmanian. "I just used what was in front of me. It was a good opportunity for me to just sit on. I knew [the middlemarkers] were going to be strong, I don't know who they were working for but it was good [for me]."
The slightly windy conditions also suited Wise. "You just launch before the wind and get out in front because no-one can really push round you," he said. "I'm more of a 'top-end' sprinter rather than a jumpy one, so if I can get out in front I just keep getting quicker. I get quicker and quicker as it goes on, rather than a traditional sprinter who's got a big burst, so if I get wound up no-one can really come over me. If there's a fast pace I can match the scratchies."
Michael Ford from Victoria
Photo ©: Shane Goss

Wise said he hadn't been involved in any organisation in the midfield. "I am sure there was [a group of middlies working together] but I wasn't part of it," he said. "It was just my plan to go out [with a lap to go] and see how it turned out. Sometimes there's a lot of pressure if you've got a whole lot of people working for you. I just picked my wheel correctly and won it from that."
Loking forward to the main wheel, Wise said, "if it's like it was this afternoon, there'll be a lot of middlemarkers getting up and if I just sit in I can sprint as fast as some of the scratchies so it'll be all right."
Flying furlong
Ben Kersten flying
Photo ©: Shane Goss

We stepped back in time, at least as far as measurements go, for the flying furlong record attempts. Sean Eadie holds the record at Devonport for this distance, which is roughly 200m (201.168m for pedants).
Takashi Kawamura was first off, coming round the moto to clock 11.98 on a still Devonport evening with just a gentle breath of wind. Queenslander Grant Irwin was next, lopping just over half a second off the Japanese rider's time in 11.43. Irwin's time turned out to be a benchmark as Damien Keirl, Todd Wilksch and Ashley Hutchinson all recorded flying furlongs within a few hundredths of a second of his time.
Big things were expected of Ben Kersten, but it was obvious that the following wind needed to propel riders round the final bend of the Devonport course was absent and Eadie's record was probably safe. As the announcer nevertheless billed Kersten's attempt on the record as the latest chapter in the Eadie/Kersten rivalry, Kersten came round off the motorbike and flew to the line in 11.14 seconds.
Wilksch wins as Goss goofs in final scratch
Todd Wilksch
Photo ©: Shane Goss

Todd Wilksch won the intensely fast 8000m scratch race that finished the evening's racing at Devonport, coming round Graeme Brown in the finale and holding off Matthew Goss. Goss for his part was desperately trying to recover from an embarrassing blunder at the end of the previous lap. As the bell rang for the last turn round the 500m Devonport oval, Goss sprinted for the line and claimed victory, having apparently been confused by the whistle the previous lap that indicated a sprint.
Photography
For a thumbnail gallery of these images, click here
Images by Shane Goss/www.licoricegallery.com
Results

2000m handicap heat 1
 
1 Graeme Brown (scr)           2.21.30
2 Aaron Jones (170)
3 Grant Fraser (140)
4 Ashley Hutchinson (scr)
5 Matthew Atkins (100)
 
2000m handicap heat 2
 
1 Aaron Salisbury (100)        2.21.22
2 Jamie Perry (160)
3 Justin Tomlinson (150)
4 Ben Kersten (scr)
5 Bernard Sulzberger (80)
 
2000m handicap heat 3
 
1 Cameron Wise (130)           2.20.68
2 Karl Menzies (100)
3 John Forrest (150)
4 Kaiden Homan (140)
5 Ben Price (70)
 
2000m handicap heat 4
 
1 Jarrod Harman (150)          2.18.90
2 Andrew Swatton (140)
3 Tommy Nankervis (70)
4 Matthew Goss (10)
5 Daniel Vogels (110)
 
2000m handicap field
 
Graeme Brown (scr)
Ben Kersten (scr)
Ashley Hutchinson (scr)
Matthew Goss (10)
Tommy Nankervis (70)
Ben Price (70)
Bernard Sulzberger (80)
Karl Menzies (100)
Matthew Atkins (100)
Aaron Salisbury (100)
Daniel Vogels (110)
Cameron Wise (130)
Andrew Swatton (140)
Kaiden Homan (140)
Grant Fraser (140)
Jarrod Harman (150)
Justin Tomlinson (150)
John Forrest (150)
Jamie Perry (160)
Aaron Jones (170)
 
2000m handicap final
 
1 Cameron Wise (130)           2.10.60
2 Matthew Atkins (100)         
3 John Forrest (150)           
4 Kaiden Homan (140)           
5 Jarrod Harman (150)          
6 Karl Menzies (100)           
 
Flying Furlong record attempts
 
1 Ben Kersten                  0.11.14
2 Grant Irwin                  0.11.43
3 Ashley Hutchinson            0.11.44
4 Damien Keirl                 0.11.47
5 Todd Wilksch                 0.11.47
6 Takashi Kawamura             0.11.98
 
A Grade scratch
 
1 Todd Wilksch                 9.57.90
2 Graeme Brown
3 Matthew Goss
4 Ben Price
 
Complete results