Results and Reports from Australia
Promoters wishing to submit results should send them to Cyclingnews
Randwick Botany CC
Heffron Park, February 22, 2003
King Of Heffron - Anthony Spurgeon wins again
King Spurge with Queen Fleur?
Photo: © Tony Horneman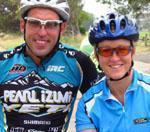 In-form Randwick Botany Junior Robert Cater did most of the work in the A-Grade 30km event at Heffron Park on Saturday, February 22, 2003. Heading the bunch for most of the race, Cater was spurred on by spectators around the circuit. Randwick Botany's David Jackson tried his hand in A-Grade for the first time and stayed with them for most of the race, but retired towards the end. The final lap saw Anthony Spurgeon (Caravello), Stewart Campbell (Eastern Suburbs) and Klayton Smith (Clarence Street Cyclery) power away to contest the sprint and finish in that order. Spurgeon's winning time was 43:40 at an average speed of 41km/h. Cater finished fourth.
Randwick Botany's Thomas Murdoch did a "Brad McGee Breakaway" in the final lap of the B-Grade 32km race, but was overpowered in the closing stages by Michael Cowen (Randwick Botany), Michael Bolt (Bicisport) and Chris Young (Eastern Suburbs). Cowan's finishing time was 50min 29sec, at an average 38km/h. Randwick Botany's Ben Still rode strongly in his first B-Grade race for some time. Phil Gough from the North Sydney club also rode well.
Fleur Jolley from the Eastern Suburbs club sat comfortably in the C-Grade bunch for 28km and was well positioned leading into the final sprint. Craig Pager broke away a few times but was chased down by the bunch, who averaged 37km/h. Greg Smart (Randwick Botany) had his first race in C-Grade but just when Greg managed to get to the front, he suffered a rear tyre puncture midway through the race. Final placings went to David McHugh (Sydney) 45min 40sec, Shaun Ballesty (Randwick Botany), Martin Snowdon (Sutherland) and Tony Horneman (Randwick Botany).
New Randwick Botany member Marek Parchar had his first 16km D-Grade race and finished a creditable third. First place went to Andy Matthews in a time of 30min 15sec and average speed of 32km/h. Second was Alec Lazich (Waratah Veterans).
Junior riders competed in a Time Trial and an all-in 10km handicap race. Numbers were down due to the threat of rain. Placings and times for other junior riders are listed at the end of this report.
Radio coverage
Coverage of local cycling results can be heard on Sydney's Eastside Radio 89.7FM "GAME ON" program, hosted by Brad Cooke, each Saturday morning from 10am to 12noon.
More information
Randwick Botany Cycling Club conducts racing at Heffron Park, Maroubra NSW each Saturday throughout the year. Juniors start at 1.00pm and Seniors 2.30pm. For more information please contact the club secretary Helen Vella on 02 9667 3307 or email secretary@randwickbotanycc.com or website www.randwickbotanycc.com.
Results

(Randwick Botany Cycling Club riders unless otherwise noted.)
 
Seniors
 
A Grade, 30km
 
1 Anthony Spurgeon (Caravello)          43.40 (41km/h)
2 Stewart Campbell (Eastern Suburbs)
3 Klayton Smith (Clarence Street Cyclery)
4 Robert Cater
 
B Grade, 32km
 
1 Michael Cowen                         50.29 (38km/h)
2 Michael Bolt (Bicisport)
3 Chris Young (Eastern Suburbs)
 
C Grade, 28km
 
1 David McHugh (Sydney)                 45.40 (37km/h)
2 Shaun Ballesty
3 Martin Snowdon (Sutherland)
4 Tony Horneman
 
D Grade, 16km
 
1 Andy Matthews                         30.15 (32km/h)
2 Alec Lazich (Waratah Veterans)
3 Marek Parchar
 
E Grade, 12km
 
1 Kevin Blanchfield
 
Juniors
 
A Grade 2km Time Trial
 
1 Thomas Murdoch                         3.27
 
B Grade 2km Time Trial
 
1 Belinda Angwin                         3.36
 
C Grade 2km Time Trial
 
1 Elliott Doughty                        4.07
 
10km Handicap
 
1 Elliott Doughty
2 Thomas Murdoch
3 Belinda Angwin