Results and Reports from Australia
Promoters wishing to submit results should send them to Cyclingnews
Randwick Botany CC
Heffron Park, Maroubra, February 15, 2003
Double dead heats at Heffron
By Tony Horneman
A Grade goes hard
Photo: © Tony Horneman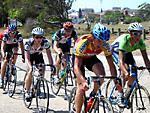 Three NSW Cycling Federation Commissaires could not pick the winner of the A-Grade 36km race at Heffron Park, Maroubra on Saturday. With a strong north-easterly tail wind, the four-rider breakaway approached the finish line at speeds over 60kph. Without the aid of photo-finish equipment, it was up to Dale Rockell, Tony Horneman and Helen Vella to decide the winner. After an anxious wait, a dead-heat was declared for first place. Randwick Botany's Shaun Higgerson and Eastern Suburbs rider Stewart Campbell recorded a winning time of 57min 29sec at a race average speed of 38kph. The win was all the more impressive for Higgerson, who won the A-Grade event at the Sutherland Cycling Club twilight race at Waratah Park the previous evening. "I also did a 150km training ride this morning, before racing today" Higgerson said after race. Higgerson will be a rider to watch during 2003. Patrick Jones finished third with Robert Cater close behind. The remaining six A-Grade riders rolled across the line almost a lap behind.
Visiting Brits
Photo: © Tony Horneman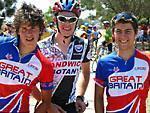 Randwick Botany's Joseph Sorby caused havoc in the 32km B-Grade event, breaking away early in the race. Sorby was joined by Roger Shackleton from the Waratah Veterans and Eastern Suburbs rider Chris Young. The trio put 200m on the remaining nine B-Graders. Club President John Buckton tried to bridge the gap with David Jackson and Michael Cowan. With Cowan doing most of the work, the three riders succeeded in catching the breakaways. The combined six-rider breakaway then battled it out to the finish. Sorby attacked again on the final lap but faded during the 400m sprint. Final placings were Michael Cowen first, in a time of 54min 40sec and an average speed of 35.5kph. Second was Jackson followed by John Buckton.
Twenty-two C-Grade rider raced for 28km, and stayed together for most of the race. A "wall of riders" flew across the finish line and again challenged the race judges to decide on a winner. Another dead-heat was declared with Karl Bellemy (Sydney) and Roger Crawford (Randwick Botany) declared joint winners, recording a time of 49min 37sec at an average speed of 34kph. Ben Still (Randwick Botany) was third.
The fourteen-rider D-Grade 20km race was won by Greg Smart (Randwick Botany) in a time of 36min 37sec at an average speed of 33kph. Second was Felix Tucci (Waratah Veterans) with Tony Aitchison third.
Junior riders competed in Time Trial and an all-in 10km handicap race. Placings and times for other junior riders are listed at the end of this report.
Rossner in town
In other Randwick Botany Cycling Club news, 2002 Women's World Cup Champion cyclist Petra Rossner, from the international Equipe Nurnberger Cycling Team, has chosen Randwick Botany Cycling Club to base her preparation for the 2003 Women's Cycling World Cup Round 1 to be held in Geelong, Victoria on Sunday 2 March 2003.
Rossner, 36, from Leipzig, Germany won gold in the 1992 Barcelona Olympics in the Individual Pursuit and was a member of the 2000 German Olympic Team in Sydney. She was placed first in the 2002 Women's World Cup and ranked 4th in the 2002 world rankings.
After Geelong, the World Cup series moves to Italy then on to seven other race locations around the world. Rossner's teammate Judith Arndt also had a successful 2002, winning the German National Road Title and finished 5th in the world rankings. Both riders joined local Randwick Botany Cycling Club riders in early morning training rides around the Eastern Suburbs.
Radio Coverage
Coverage of local cycling results can be heard on Sydney's Eastside Radio 89.7FM "GAME ON" program, hosted by Brad Cooke, each Saturday morning from 10am to 12noon.
More Information
Randwick Botany Cycling Club conducts racing at Heffron Park, Maroubra NSW each Saturday throughout the year. Juniors start at 1.00pm and Seniors 2.30pm. For more information please contact the club secretary Helen Vella on 02 9667 3307 or email secretary@randwickbotanycc.com or website www.randwickbotanycc.com.
Results
Seniors
 
A Grade, 36km
 
1 Shaun Higgerson (Randwick Botany)       57.29 (38kph)
1 Stewart Campbell (Eastern Suburbs) 
3 Robert Cater (Randwick Botany)
4 Paddy Jones (Randwick Botany)
 
B Grade, 32km
 
1 Michael Cowen (Randwick Botany)      54.40 (35.5kph)
2 David Jackson (Randwick Botany)
3 John Buckton (Randwick Botany)
 
C Grade, 28km
 
1 Karl Bellemy (Sydney)                49.37 (34kph) 
1 Roger Crawford  (Randwick Botany)
3 Ben Still (Randwick Botany)
 
D Grade, 20km
 
1 Greg Smart (Randwick Botany)         36.37 (33kph)
2 Felix Tucci (Waratah Veterans)
3 Tony Aitchison (Randwick Botany)
 
E Grade, 12km
 
1 Kevin Blanchfield (Randwick Botany)
 
Juniors
 
A Grade 2km Time Trial
 
1 Tom Patton                         3.49
2 Thomas Murdoch                     0.03
 
B Grade 2km Time Trial
 
1 Tamas Bykerk                       4.03
2 Adriano Maradini                   0.05
 
C Grade 2km Time Trial
 
1 Matthew Fortuna                    4.42
2 Sam Buckland                       0.01
3 Elliott Doughty                    0.02
 
10km Handicap
 
1 Thomas Murdoch
2 Tamas Bykerk
3 Sam Buckland
4 Matthew Fortuna
5 Adriano Maradini