89th Tour de France - Grand Tour
France, July 6-28, 2002
Stage profile Live report Results Previous Result Next Result
Stage 4 - Wednesday July 10: Epernay - Château-Thierry TTT, 67.5 km
Spanish TTT Armada wins three way psychological battle of the Marne
Today's Tour features
Igor Gonzalez de Galdeano: The yellow jersey

Photo: © AFP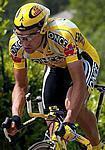 Cyclingnews spoke to this modest Basque just before the Tour. Who is Igor Gonzalez de Galdeano? What does he want? Click here to find out. Also available in Spanish.
Tour diaries
A podium girl gone bad
Tour Tech: TdF bikes Pt 5: More bikes and parts from Le Tour

Photo © CN/Chris Henry

Interview: The Legend of Landis - Part 1

Photo © CN/Chris Henry

The story of Floyd Landis is among the most intriguing to emerge out of the world of pro cycling in the last few years. Read the full story.
Tour News
Post stage wrap up and comments, Surprise blood tests before stage 4, De Rooij hit by motorbike, JaJa also part of the caravan, Italian press thin on the ground in France
David Etxebarria Part 2: Euskaltel-Euskadi's hard man

Photo: © Sirotti

In the second part of this special interview, Etxebarria talks about who in EE's hot and who's not, his predictions for the TdF, memories from his time at ONCE and some unfulfilled cycling dreams. Also available in Spanish.
John Eustice diary
Telekom troubles and a way for Ullrich to make a comeback
Floyd Landis diary
"When's that Lance Armstrong guy going to stop winning races? I want my dad to win!"
Brad McGee diary
"It was never going to be pain free but wow, did I have some concrete legs at the finish."
Mike Tomalaris diary
A look behind the scenes with "the smallest television crew at the Tour de France"
Igor Gonzalez de Galdeano takes Maillot Jaune
By Jeff Jones
Igor Gonzalez de Galdeano
Photo: © Sirotti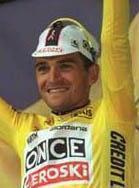 In the end it was only a matter of seconds, but Igor Gonzalez de Galdeano's ONCE-Eroski team scored a psychological win over Lance Armstrong's US Postal boys in today's Stage 4 team time trial from Epernay to Château-Thierry. ONCE covered the 67.5 kilometres in a time of 1:19:49 (50.74 km/h), beating US Postal by 16 seconds, and CSC-Tiscali by 46 seconds. It was enough to put Igor Gonzalez de Galdeano in the Maillot Jaune in front of his teammate Joseba Beloki (at 4 seconds) and Armstrong (at 7 seconds).
When Cyclingnews spoke with Igor Gonzalez de Galdeano before the Tour, we suggested that if ONCE won the team time trial, he had a number of options to wear the yellow jersey in the coming stages. "I won't deny that," he replied. "The terrain is good, there is no mountain time trial, and I can have more options. We will fight and if we get it, OK, and if not we will work hard day by day. But it is clear that if the leadership comes, it will be very important for us."
Team member Jörg Jaksche said afterwards that "It was very hard today. I was OK but not too good. So I was suffering a little bit. But it's great to win. That's what we wanted to do and we had a lot of pressure, so it ended up good."
Now they have the lead, it's a question of how hard they will defend it before next Monday's individual test against the clock, which will be a fascinating battle between the top three GC riders. Seven seconds between the top three isn't a great deal, especially as Armstrong is capable of taking minutes back in the mountains. But still, US Postal wanted to win the Battle of the Marne today, as the Allied forces did 87 years ago when they turned the tables on the Germans in the First World War.
Zabel defends
Photo: © Sirotti

In the context of the Tour, the Germans [apart from Jaksche] did lose ground today, as Maillot Jaune Erik Zabel's Telekom team finished in 12th place, 2'47 down. Of course that was not unexpected, and certainly not a disaster for Zabel who can be proud to have worn the yellow tunic for a day. He can now concentrate on his preferred green jersey, although he did look quite impressive in his yellow skinsuit today.
ONCE also looked - and more importantly - rode very impressively today over the up and down parcours into a steady head/crosswind. Despite losing Mikel Pradera early on due to a puncture, ONCE kept it together and were ahead at the final two time checks, having overtaken CSC-Tiscali. US Postal were always between 14 and 38 seconds behind ONCE, managing to limit the damage to 16 seconds in the end after a solid performance over the final 10 kilometres.
Postal was solid
Photo: © Sirotti

"It's disappointing - we wanted to win," said US Postal's George Hincapie after the stage. "We didn't have any problems like last year. No accidents and there was not much difference in the levels of the riders. We wanted to win, it didn't work out. We've still got a long way to go but we still going to focus on the rest of the race."
USPS Director sportif Dirk Demol was more positive: "We're satisfied with the team performance today," he told Cyclingnews. "Everyone was doing his job right. In a team time trial you have to keep as many riders together as you can. We went very fast from the start...Lance was really strong [taking double pulls at key points] and George and Eki too. But mostly it's important that we only lost 16 seconds today."
As for CSC-Tiscali, a tactical blunder may have cost them the stage and the Maillot Jaune for Laurent Jalabert, who was the best placed of the team beforehand. The Danish squad were actually six seconds under ONCE at km 21.5 and km 40.5, but when Danish TT champ Michael Sandstød punctured at 47 km, the team waited for him momentarily, but then decided to carry on without him. They finished the stage in third place, 46 seconds behind ONCE.
CSC unlucky
Photo: © Sirotti

When Cyclingnews spoke with Tyler Hamilton afterwards, he admitted that "Today was disappointing. We had a great ride going but Sandstød, one of our strongest guys, flatted. It's part of the sport. Alright...I'll say this: Without the flat we would have won."
"Sandstød [Danish TT champ] is such a strong guy, we would have been 30 seconds faster over that last 10 kilometres, He's an incredible horse. It was our goal to get him over the hill without him suffering too much. Keeping him fresh and it was working perfectly. When he flatted none of us were really tapped out. But it was confusing (when he flatted). We had some radio problems...we didn't realise he flatted right away. We started to wait, soft pedaled for 30 to 45 seconds, then we decided to go. But we lost our rhythm. I was thinking 'It's a bummer. Besides the flat we almost had a perfect ride'."
The score at the end of the day was a big thumbs up for ONCE, a more than satisfactory performance for US Postal, and a missed opportunity for CSC-Tiscali, but by no means a disaster. Of the other teams with GC hopes, Cofidis (Millar, Kivilev) lost 1'44 to finish 5th, iBanesto.com (Mancebo, Menchov) lost 1'56 to finish 6th, Rabobank (Leipheimer) lost 2'16 to finish 8th, Kelme (Botero, Sevilla) lost 2'19 to finish 9th, and Lampre (Rumsas) lost 2'22 to finish 10th.
Tomorrow takes us back to the flats with a 195 km stage from Soissons to Rouen, undulating but devoid of any real climbs.
Photography
Photos by Fotoreporter Sirotti
Photos by Christopher Henry, Cyclingnews.com correspondent
Results
1 ONCE-Eroski                                          1.19.49 (50.74 km/h)
2 US Postal Service                                       0.16
3 CSC-Tiscali                                             0.46
4 Fassa Bortolo                                           1.30
5 Cofidis                                                 1.44
6 iBanesto.com                                            1.56
7 Domo-Farm Frites                                        2.12
8 Rabobank                                                2.16
9 Kelme-Costa Blanca                                      2.19
10 Lampre-Daikin                                          2.22
11 Credit Agricole                                        2.28
12 Team Telekom                                           2.47
13 Bonjour                                                3.13
14 Alessio                                                3.15
15 Lotto-Adecco                                           3.32
16 FDJeux.com                                             3.34
17 Jean Delatour                                          3.43
18 Tacconi Sport-Emmegi                                   3.45
19 Mapei-Quick Step                                       3.47
20 Euskaltel-Euskadi                                      4.22
21 Ag2R Prevoyance                                        4.24

Individual

*Note: these are unofficial results, calculated from the GC.
They are not the finishing order of the riders. Thanks to 
Joris Verstappen for supplying these.

1 Abraham Olano (Spa) ONCE-Eroski                      1.19.49
2 Alvaro Gonzalez de Galdeano (Spa) ONCE-Eroski
3 Igor Gonzalez de Galdeano (Spa) ONCE-Eroski
4 Isidro Nozal (Spa) ONCE-Eroski
5 Jörg Jaksche (Ger) ONCE-Eroski
6 José Azevedo (Por) ONCE-Eroski
7 Joseba Beloki (Spa) ONCE-Eroski
8 Marcos A.Serrano (Spa) ONCE-Eroski
9 Benoit Joachim (Lux) US Postal Service                  0.16
10 Floyd Landis (USA) US Postal Service
11 George Hincapie (USA) US Postal Service
12 José Luis Rubiera Vigil (Spa) US Postal Service
13 Lance Armstrong (USA) US Postal Service
14 Pavel Padrnos (Cze) US Postal Service
15 Roberto Heras Hernandez (Spa) US Postal Service
16 Victor Hugo Pena Grisales (Col) US Postal Service
17 Viatcheslav Ekimov (Rus) US Postal Service             0.25
18 Andrea Peron (Ita) CSC-Tiscali                         0.46
19 Carlos Sastre (Spa) CSC-Tiscali
20 Jakob Piil Storm (Den) CSC-Tiscali
21 Laurent Jalabert (Fra) CSC-Tiscali
22 Nicki Sørensen (Den) CSC-Tiscali
23 Paul van Hyfte (Bel) CSC-Tiscali
24 Tyler Hamilton (USA) CSC-Tiscali
25 Ivan Basso (Ita) Fassa Bortolo                         1.30
26 Marco Velo (Ita) Fassa Bortolo
27 Sergei Ivanov (Rus) Fassa Bortolo
28 Serguei Gontchar (Ukr) Fassa Bortolo
29 Volodimir Gustov (Ukr) Fassa Bortolo
30 Wladimir Belli (Ita) Fassa Bortolo
31 Andrei Kivilev (Kaz) Cofidis                           1.44
32 Cédric Vasseur (Fra) Cofidis
33 Daniel Atienza (Spa) Cofidis
34 David Millar (GBr) Cofidis
35 David Moncoutié (Fra) Cofidis
36 Inigo Cuesta (Spa) Cofidis
37 Massimiliano Lelli (Ita) Cofidis
38 Nico Mattan (Bel) Cofidis
39 Bingen Fernandez (Spa) Cofidis                         1.53
40 Dariusz Baranowski (Pol) iBanesto.com                  1.56
41 David Latasa (Spa) iBanesto.com
42 Denis Menchov (Rus) iBanesto.com
43 Francisco Mancebo (Spa) iBanesto.com
44 Javier Pascual Rodriguez (Spa) iBanesto.com
45 José Vicente Garcia Acosta (Spa) iBanesto.com
46 Santiago Blanco (Spa) iBanesto.com
47 Unai Osa (Spa) iBanesto.com
48 Axel Merckx (Bel) Domo-Farm Frites                     2.12
49 Dave Bruylandts (Bel) Domo-Farm Frites
50 Enrico Cassani (Ita) Domo-Farm Frites
51 Piotr Wadecki (Pol) Domo-Farm Frites
52 Richard Virenque (Fra) Domo-Farm Frites
53 Servais Knaven (Ned) Domo-Farm Frites
54 Tomas Konecny (Cze) Domo-Farm Frites
55 Leon van Bon (Ned) Domo-Farm Frites                    2.15
56 Beat Zberg (Swi) Rabobank                              2.16
57 Erik Dekker (Ned) Rabobank
58 Grischa Niermann (Ger) Rabobank
59 Karsten Kroon (Ned) Rabobank
60 Levi Leipheimer (USA) Rabobank
61 Marc Wauters (Bel) Rabobank
62 Michael Boogerd (Ned) Rabobank
63 Constantino Zaballa (Spa) Kelme-Costa Blanca           2.19
64 José Enrique Gutierrez (Spa) Kelme-Costa Blanca
65 Oscar Sevilla (Spa) Kelme-Costa Blanca
66 Santiago Botero (Col) Kelme-Costa Blanca
67 Santiago Perez (Spa) Kelme-Costa Blanca
68 Toni Tauler (Spa) Kelme-Costa Blanca
69 Ludo Dierckxsens (Bel) Lampre Daikin                   2.22
70 Marco Pinotti (Ita) Lampre Daikin
71 Raimondas Rumsas (Ltu) Lampre Daikin
72 Raivis Belohvosciks (Lat) Lampre Daikin
73 Rubens Bertogliati (Swi) Lampre Daikin
74 Fred Rodriguez (USA) Domo-Farm Frites                  2.23
75 Anthony Langella (Fra) Credit Agricole                 2.28
76 Anthony Morin (Fra) Credit Agricole
77 Christophe Moreau (Fra) Credit Agricole
78 Frédéric Bessy (Fra) Credit Agricole
79 Jens Voigt (Ger) Credit Agricole
80 Jonathan Vaughters (USA) Credit Agricole
81 Sébastien Hinault (Fra) Credit Agricole
82 Stuart O'Grady (Aus) Credit Agricole
83 Thor Hushovd (Nor) Credit Agricole
84 Jan Svorada (Cze) Lampre Daikin                        2.40
85 Bobby Julich (USA) Team Deutsche Telekom               2.47
86 Danilo Hondo (Ger) Team Deutsche Telekom
87 Erik Zabel (Ger) Team Deutsche Telekom
88 Giuseppe Guerini (Ita) Team Deutsche Telekom
89 Kevin Livingston (USA) Team Deutsche Telekom
90 Rolf Aldag (Ger) Team Deutsche Telekom
91 Steffen Wesemann (Ger) Team Deutsche Telekom
92 Udo Bölts (Ger) Team Deutsche Telekom
93 Didier Rous (Fra) Bonjour                              3.13
94 Franck Bouyer (Fra) Bonjour
95 Franck Rénier (Fra) Bonjour
96 François Simon (Fra) Bonjour
97 Jerome Pineau (Fra) Bonjour
98 Sylvain Chavanel (Fra) Bonjour
99 Walter Bénéteau (Fra) Bonjour
100 Alexandr Shefer (Kaz) Alessio                         3.15
101 Cristian Moreni (Ita) Alessio
102 Ivan Gotti (Ita) Alessio
103 Laurent Dufaux (Swi) Alessio
104 Martin Hvastija (Slo) Alessio
105 Ruslan Ivanov (Mda) Alessio
106 Andrea Brognara (Ita) Alessio                         3.20
107 Damien Nazon (Fra) Bonjour                            3.29
108 Aart Vierhouten (Ned) Lotto-Adecco                    3.32
109 Christophe Brandt (Bel) Lotto-Adecco
110 Guennadi Mikhailov (Rus) Lotto-Adecco
111 Hans De Clercq (Bel) Lotto-Adecco
112 Mario Aerts (Bel) Lotto-Adecco
113 Rik Verbrugghe (Bel) Lotto-Adecco
114 Robbie McEwen (Aus) Lotto-Adecco
115 Serge Baguet (Bel) Lotto-Adecco
116 Baden Cooke (Aus) FDJeux.com                          3.34
117 Bradley McGee (Aus) FDJeux.com
118 Christophe Mengin (Fra) FDJeux.com
119 Frédéric Guesdon (Fra) FDJeux.com
120 Jacky Durand (Fra) FDJeux.com
121 Jean-Cyril Robin (Fra) FDJeux.com
122 Nicolas Vogondy (Fra) FDJeux.com
123 Sandy Casar (Fra) FDJeux.com
124 Oscar Pozzi (Ita) Fassa Bortolo
125 Thierry Marichal (Bel) Lotto-Adecco                   3.42
126 Christophe Edalaine (Fra) Jean Delatour               3.43
127 Cyril Dessel (Fra) Jean Delatour
128 Eddy Seigneur (Fra) Jean Delatour
129 Jerome Bernard (Fra) Jean Delatour
130 Laurent Brochard (Fra) Jean Delatour
131 Laurent Lefèvre (Fra) Jean Delatour
132 Patrice Halgand (Fra) Jean Delatour
133 Stephane Goubert (Fra) Jean Delatour
134 Andrej Hauptman (Slo) Tacconi Sport                   3.45
135 Dario Frigo (Ita) Tacconi Sport
136 Eddy Mazzoleni (Ita) Tacconi Sport
137 Gianluca Bortolami (Ita) Tacconi Sport
138 Massimo Donati (Ita) Tacconi Sport
139 Peter Luttenberger (Aut) Tacconi Sport
140 Fabian De Waele (Bel) Mapei-Quick Step                3.47
141 Gerhard Trampusch (Aut) Mapei-Quick Step
142 Laszlo Bodrogi (Hun) Mapei-Quick Step
143 Miguel Martinez (Fra) Mapei-Quick Step
144 Oscar Freire (Spa) Mapei-Quick Step
145 Pedro Horillo (Spa) Mapei-Quick Step
146 Robert Hunter (RSA) Mapei-Quick Step
147 Tom Steels (Bel) Mapei-Quick Step
148 Emmanuel Magnien (Fra) Bonjour                        4.03
149 Jimmy Casper (Fra) FDJeux.com                         4.19
150 David Etxebarria (Spa) Euskaltel-Euskadi              4.22
151 Gorka Arrizabalaga (Spa) Euskaltel-Euskadi
152 Gorka Gonzalez (Spa) Euskaltel-Euskadi
153 Haimar Zubeldia (Spa) Euskaltel-Euskadi
154 Iban Mayo (Spa) Euskaltel-Euskadi
155 Igor Flores (Spa) Euskaltel-Euskadi
156 Roberto Laiseka (Spa) Euskaltel-Euskadi
157 Samuel Sanchez (Spa) Euskaltel-Euskadi                4.22
158 Alexandre Botcharov (Rus) Ag2R Prevoyance             4.24
159 Andy Flickinger (Fra) Ag2R Prevoyance
160 Christophe Agnolutto (Fra) Ag2R Prevoyance
161 Christophe Oriol (Fra) Ag2R Prevoyance
162 Inigo Chaurreau (Spa) Ag2R Prevoyance
163 Ludovic Turpin (Fra) Ag2R Prevoyance
164 Stéphane Berges (Fra) Ag2R Prevoyance
165 Thierry Loder (Fra) Ag2R Prevoyance
166 Jaan Kirsipuu (Est) Ag2R Prevoyance                   4.59
167 Gian Matteo Fagnini (Ita) Team Deutsche Telekom       5.39
168 Stefano Casagranda (Ita) Alessio                      5.45
169 Michael Sandstød (Den) CSC-Tiscali                    5.46
170 Marco Serpellini (Ita) Lampre Daikin                  6.32
171 Addy Engels (Ned) Rabobank                            7.00
172 Alessandro Cortinovis (Ita) Lampre Daikin
173 Andrea Tafi (Ita) Mapei-Quick Step
174 Arvis Piziks (Lat) CSC-Tiscali
175 Bram de Groot (Ned) Rabobank
176 Davide Casarotto (Ita) Alessio
177 Fabio Baldato (Ita) Fassa Bortolo
178 Francisco Cabello (Spa) Kelme-Costa Blanca
179 José Angel Vidal (Spa) Kelme-Costa Blanca
180 Jose Javier Gomez (Spa) Kelme-Costa Blanca
181 Luciano Pagliarini (Bra) Lampre Daikin
182 Marzio Bruseghin (Ita) iBanesto.com
183 Massimo Apollonio (Ita) Tacconi Sport
184 Mauro Radaeli (Ita) Tacconi Sport
185 Mikel Pradera (Spa) ONCE-Eroski
186 Nicola Loda (Ita) Fassa Bortolo
187 Paolo Bossoni (Ita) Tacconi Sport
188 Stephane Augé (Fra) Jean Delatour
189 Unai Etxebarria (Ven) Euskaltel-Euskadi


Teams
 
*Note: this is calculated by combining the best three riders times

1 ONCE-Eroski                                          3.59.27
2 US Postal Service                                       0.48
3 Team CSC Tiscali                                        2.18
4 Fassa Bortolo                                           4.30
5 Cofidis                                                 5.12
6 iBanesto.com                                            5.48
7 Domo-Farm Frites                                        6.36
8 Rabobank                                                6.48
9 Kelme-Costa Blanca                                      6.57
10 Lampre-Daikin                                          7.06
11 Credit Agricole                                        7.24
12 Team Telekom                                           8.21
13 Bonjour                                                9.39
14 Alessio                                                9.45
15 Lotto-Adecco                                          10.36
16 FDJeux.com                                            10.42
17 Jean Delatour                                         11.09
18 Tacconi Sport-Emmegi                                  11.15
19 Mapei-Quick Step                                      11.21
20 Euskaltel-Euskadi                                     13.06
21 Ag2R Prevoyance                                       13.12
 
General classification after stage 4

1 Igor Gonzalez de Galdeano (Spa) ONCE-Eroski         14.51.50
2 Joseba Beloki (Spa) ONCE-Eroski                         0.04
3 Lance Armstrong (USA) US Postal Service                 0.07
4 Jörg Jaksche (Ger) ONCE-Eroski                          0.12
5 Abraham Olano (Spa) ONCE-Eroski                         0.22
6 Roberto Heras Hernandez (Spa) US Postal Service         0.25
7 Isidro Nozal (Spa) ONCE-Eroski                          0.27
8 José Azevedo (Por) ONCE-Eroski                          0.28
9 George Hincapie (USA) US Postal Service
10 Marcos A.Serrano (Spa) ONCE-Eroski                     0.30
11 Floyd Landis (USA) US Postal Service                   0.32
12 Alvaro Gonzalez de Galdeano (Spa) ONCE-Eroski
13 José Luis Rubiera Vigil (Spa) US Postal Service        0.35
14 Viatcheslav Ekimov (Rus) US Postal Service             0.35
15 Laurent Jalabert (Fra) CSC-Tiscali                     0.37
16 Tyler Hamilton (USA) CSC-Tiscali                       0.53
17 Andrea Peron (Ita) CSC-Tiscali
18 Pavel Padrnos (Cze) US Postal Service                  0.55
19 Carlos Sastre (Spa) CSC-Tiscali                        1.00
20 Benoit Joachim (Lux) US Postal Service                 1.09
21 Nicki Sørensen (Den) CSC-Tiscali
22 Serguei Gontchar (Ukr) Fassa Bortolo                   1.36
23 David Millar (GBr) Cofidis                             1.40
24 Ivan Basso (Ita) Fassa Bortolo                         1.41
25 Volodimir Gustov (Ukr) Fassa Bortolo                   1.52
26 David Moncoutié (Fra) Cofidis
27 Sergei Ivanov (Rus) Fassa Bortolo                      1.58
28 Francisco Mancebo (Spa) iBanesto.com                   2.01
29 Wladimir Belli (Ita) Fassa Bortolo                     2.02
30 Massimiliano Lelli (Ita) Cofidis                       2.04
31 Andrei Kivilev (Kaz) Cofidis                           2.09
32 Rubens Bertogliati (Swi) Lampre Daikin                 2.10
33 Santiago Botero (Col) Kelme-Costa Blanca               2.14
34 Marco Velo (Ita) Fassa Bortolo                         2.15
35 Raimondas Rumsas (Ltu) Lampre Daikin                   2.16
36 Nico Mattan (Bel) Cofidis                              2.19
37 Cédric Vasseur (Fra) Cofidis
38 Richard Virenque (Fra) Domo-Farm Frites                2.21
39 Erik Zabel (Ger) Team Deutsche Telekom
40 David Latasa (Spa) iBanesto.com                        2.22
41 Levi Leipheimer (USA) Rabobank                         2.23
42 Dariusz Baranowski (Pol) iBanesto.com                  2.24
43 Daniel Atienza (Spa) Cofidis                           2.26
44 Denis Menchov (Rus) iBanesto.com                       2.28
45 Beat Zberg (Swi) Rabobank
46 Tomas Konecny (Cze) Domo-Farm Frites                   2.30
47 Axel Merckx (Bel) Domo-Farm Frites                     2.31
48 Javier Pascual Rodriguez (Spa) iBanesto.com
49 José Enrique Gutierrez (Spa) Kelme-Costa Blanca        2.33
50 Michael Boogerd (Ned) Rabobank
51 Inigo Cuesta (Spa) Cofidis                             2.35
52 Stuart O'Grady (Aus) Credit Agricole                   2.38
53 Bingen Fernandez (Spa) Cofidis                         2.40
54 Unai Osa (Spa) iBanesto.com                            2.41
55 Oscar Sevilla (Spa) Kelme-Costa Blanca                 2.43
56 Santiago Blanco (Spa) iBanesto.com                     2.45
57 Piotr Wadecki (Pol) Domo-Farm Frites                   2.47
58 Grischa Niermann (Ger) Rabobank
59 Santiago Perez (Spa) Kelme-Costa Blanca                2.51
60 Enrico Cassani (Ita) Domo-Farm Frites                  2.56
61 Marc Wauters (Bel) Rabobank                            2.58
62 Dave Bruylandts (Bel) Domo-Farm Frites                 2.59
63 Danilo Hondo (Ger) Team Deutsche Telekom               3.03
64 Robbie McEwen (Aus) Lotto-Adecco                       3.14
65 Bobby Julich (USA) Team Deutsche Telekom               3.16
66 Kevin Livingston (USA) Team Deutsche Telekom           3.17
67 Franck Rénier (Fra) Bonjour                            3.28
68 Laurent Dufaux (Swi) Alessio
69 Franck Bouyer (Fra) Bonjour                            3.30
70 Alexandr Shefer (Kaz) Alessio                          3.37
71 Baden Cooke (Aus) FDJeux.com
72 Bradley McGee (Aus) FDJeux.com                         3.38
73 Laurent Brochard (Fra) Jean Delatour                   3.40
74 Mario Aerts (Bel) Lotto-Adecco                         3.41
75 Rik Verbrugghe (Bel) Lotto-Adecco                      3.42
76 Walter Bénéteau (Fra) Bonjour
77 Cristian Moreni (Ita) Alessio                          3.43
78 Jerome Pineau (Fra) Bonjour
79 Giuseppe Guerini (Ita) Team Deutsche Telekom           3.44
80 François Simon (Fra) Bonjour
81 Dario Frigo (Ita) Tacconi Sport
82 Oscar Freire (Spa) Mapei-Quick Step                    3.46
83 Sandy Casar (Fra) FDJeux.com
84 Laszlo Bodrogi (Hun) Mapei-Quick Step                  3.51
85 Nicolas Vogondy (Fra) FDJeux.com                       3.54
86 Ivan Gotti (Ita) Alessio                               3.55
87 Udo Bölts (Ger) Team Deutsche Telekom
88 Christophe Brandt (Bel) Lotto-Adecco                   3.59
89 Pedro Horillo (Spa) Mapei-Quick Step
90 Patrice Halgand (Fra) Jean Delatour                    4.00
91 Laurent Lefèvre (Fra) Jean Delatour                    4.02
92 Jean-Cyril Robin (Fra) FDJeux.com                      4.05
93 Didier Rous (Fra) Bonjour
94 Frédéric Guesdon (Fra) FDJeux.com                      4.08
95 Steffen Wesemann (Ger) Team Deutsche Telekom
96 Peter Luttenberger (Aut) Tacconi Sport                 4.10
97 Raivis Belohvosciks (Lat) Lampre Daikin                4.14
98 Guennadi Mikhailov (Rus) Lotto-Adecco                  4.15
99 Stephane Goubert (Fra) Jean Delatour                   4.16
100 Ruslan Ivanov (Mda) Alessio                           4.17
101 Serge Baguet (Bel) Lotto-Adecco                       4.20
102 Rolf Aldag (Ger) Team Deutsche Telekom                4.21
103 Miguel Martinez (Fra) Mapei-Quick Step                4.23
104 Oscar Pozzi (Ita) Fassa Bortolo                       4.26
105 Cyril Dessel (Fra) Jean Delatour                      4.30
106 Gerhard Trampusch (Aut) Mapei-Quick Step
107 Damien Nazon (Fra) Bonjour                            4.39
108 Haimar Zubeldia (Spa) Euskaltel-Euskadi               4.41
109 Aart Vierhouten (Ned) Lotto-Adecco                    4.42
110 Massimo Donati (Ita) Tacconi Sport                    4.45
111 Christophe Edalaine (Fra) Jean Delatour               4.47
112 Ludovic Turpin (Fra) Ag2R Prevoyance                  4.50
113 Inigo Chaurreau (Spa) Ag2R Prevoyance                 4.51
114 Christophe Oriol (Fra) Ag2R Prevoyance                4.52
115 Jerome Bernard (Fra) Jean Delatour                    4.53
116 Victor Hugo Pena Grisales (Col) US Postal Service     5.03
117 David Etxebarria (Spa) Euskaltel-Euskadi              5.04
118 Thierry Loder (Fra) Ag2R Prevoyance                   5.05
119 Andrea Brognara (Ita) Alessio
120 Andy Flickinger (Fra) Ag2R Prevoyance                 5.09
121 Alexandre Botcharov (Rus) Ag2R Prevoyance             5.15
122 Jaan Kirsipuu (Est) Ag2R Prevoyance                   5.19
123 Paul van Hyfte (Bel) CSC-Tiscali                      5.22
124 Jakob Piil Storm (Den) CSC-Tiscali                    5.30
125 Constantino Zaballa (Spa) Kelme-Costa Blanca          6.03
126 Christophe Moreau (Fra) Credit Agricole              
127 José Vicente Garcia Acosta (Spa) iBanesto.com         6.08
128 Toni Tauler (Spa) Kelme-Costa Blanca                  6.38
129 Fred Rodriguez (USA) Domo-Farm Frites                 6.40
130 Stefano Casagranda (Ita) Alessio                      6.46
131 Gian Matteo Fagnini (Ita) Team Deutsche Telekom
132 Ludo Dierckxsens (Bel) Lampre Daikin                  6.53
133 Jens Voigt (Ger) Credit Agricole                      6.57
134 Jan Svorada (Cze) Lampre Daikin                       7.00
135 Sylvain Chavanel (Fra) Bonjour                        7.04
136 Anthony Morin (Fra) Credit Agricole                   7.06
137 Francisco Cabello (Spa) Kelme-Costa Blanca            7.11
138 Marzio Bruseghin (Ita) iBanesto.com                   7.13
139 Karsten Kroon (Ned) Rabobank                          7.16
140 Alessandro Cortinovis (Ita) Lampre Daikin             7.19
141 Frédéric Bessy (Fra) Credit Agricole                  7.25
142 Fabio Baldato (Ita) Fassa Bortolo                     7.29
143 Mikel Pradera (Spa) ONCE-Eroski                       7.30
144 Gianluca Bortolami (Ita) Tacconi Sport                7.31
145 Hans De Clercq (Bel) Lotto-Adecco                     7.37
146 Jose Javier Gomez (Spa) Kelme-Costa Blanca            7.42
147 Marco Serpellini (Ita) Lampre Daikin                  7.54
148 Nicola Loda (Ita) Fassa Bortolo                       7.56
149 Addy Engels (Ned) Rabobank                            7.57
150 Martin Hvastija (Slo) Alessio                         8.07
151 Christophe Mengin (Fra) FDJeux.com                    8.08
152 Robert Hunter (RSA) Mapei-Quick Step                  8.19
153 Paolo Bossoni (Ita) Tacconi Sport                     8.20
154 Christophe Agnolutto (Fra) Ag2R Prevoyance            8.30
155 Eddy Seigneur (Fra) Jean Delatour
156 Eddy Mazzoleni (Ita) Tacconi Sport                    8.34
157 Jimmy Casper (Fra) FDJeux.com                         8.37
158 Andrej Hauptman (Slo) Tacconi Sport
159 Davide Casarotto (Ita) Alessio                        8.48
160 Iban Mayo (Spa) Euskaltel-Euskadi                     8.50
161 Gorka Arrizabalaga (Spa) Euskaltel-Euskadi            9.03
162 Roberto Laiseka (Spa) Euskaltel-Euskadi               9.16
163 Jacky Durand (Fra) FDJeux.com                         9.49
164 Servais Knaven (Ned) Domo-Farm Frites                10.00
165 Igor Flores (Spa) Euskaltel-Euskadi                  10.09
166 Andrea Tafi (Ita) Mapei-Quick Step                   10.58
167 Leon van Bon (Ned) Domo-Farm Frites                  11.05
168 Mauro Radaeli (Ita) Tacconi Sport                    11.16
169 Massimo Apollonio (Ita) Tacconi Sport                11.50
170 José Angel Vidal (Spa) Kelme-Costa Blanca            12.18
171 Stephane Augé (Fra) Jean Delatour                    12.24
172 Jonathan Vaughters (USA) Credit Agricole             14.30
173 Sébastien Hinault (Fra) Credit Agricole              14.52
174 Michael Sandstød (Den) CSC-Tiscali                   15.10
175 Marco Pinotti (Ita) Lampre Daikin                    15.25
176 Emmanuel Magnien (Fra) Bonjour                       15.55
177 Samuel Sanchez (Spa) Euskaltel-Euskadi               17.10
178 Arvis Piziks (Lat) CSC-Tiscali                       18.09
179 Anthony Langella (Fra) Credit Agricole               19.23
180 Gorka Gonzalez (Spa) Euskaltel-Euskadi               19.45
181 Unai Etxebarria (Ven) Euskaltel-Euskadi              19.46
182 Stéphane Berges (Fra) Ag2R Prevoyance                20.50
183 Bram de Groot (Ned) Rabobank                         21.02
184 Thierry Marichal (Bel) Lotto-Adecco                  22.10
185 Erik Dekker (Ned) Rabobank                           22.15
186 Luciano Pagliarini (Bra) Lampre Daikin               24.03
187 Fabian De Waele (Bel) Mapei-Quick Step               24.24
188 Tom Steels (Bel) Mapei-Quick Step                    24.28
189 Thor Hushovd (Nor) Credit Agricole                   33.46

Points classification
 
1 Erik Zabel (Ger) Team Deutsche Telekom                    96 pts
2 Robbie McEwen (Aus) Lotto-Adecco                          91
3 Oscar Freire (Spa) Mapei-Quick Step                       71
4 Stuart O'Grady (Aus) Credit Agricole                      56
5 Baden Cooke (Aus) FDJeux.com                              55
6 François Simon (Fra) Bonjour                              47
7 Fabio Baldato (Ita) Fassa Bortolo                         46
8 Andrej Hauptman (Slo) Tacconi Sport                       44
9 Jaan Kirsipuu (Est) Ag2R Prevoyance                       41
10 José Enrique Gutierrez (Spa) Kelme-Costa Blanca          41
11 Laurent Brochard (Fra) Jean Delatour                     37
12 Rubens Bertogliati (Swi) Lampre Daikin                   35
13 Jan Svorada (Cze) Lampre Daikin                          33
14 Paolo Bossoni (Ita) Tacconi Sport                        32
15 Pedro Horillo (Spa) Mapei-Quick Step                     26
16 Fred Rodriguez (USA) Domo-Farm Frites                    24
17 Dario Frigo (Ita) Tacconi Sport                          22
18 Raimondas Rumsas (Ltu) Lampre Daikin                     20
19 Santiago Botero (Col) Kelme-Costa Blanca                 20
20 Luciano Pagliarini (Bra) Lampre Daikin                   19
21 Jacky Durand (Fra) FDJeux.com                            18
22 Gian Matteo Fagnini (Ita) Team Deutsche Telekom          17
23 Gerhard Trampusch (Aut) Mapei-Quick Step                 17
24 Sylvain Chavanel (Fra) Bonjour                           16
25 Lance Armstrong (USA) US Postal Service                  15
26 David Moncoutié (Fra) Cofidis                            15
27 Danilo Hondo (Ger) Team Deutsche Telekom                 15
28 Laurent Jalabert (Fra) CSC-Tiscali                       14
29 Bradley McGee (Aus) FDJeux.com                           14
30 Davide Casarotto (Ita) Alessio                           14
31 Franck Rénier (Fra) Bonjour                              14
32 Michael Boogerd (Ned) Rabobank                           13
33 Nico Mattan (Bel) Cofidis                                11
34 Karsten Kroon (Ned) Rabobank                             11
35 Sergei Ivanov (Rus) Fassa Bortolo                        10
36 Cristian Moreni (Ita) Alessio                            10
37 Stéphane Berges (Fra) Ag2R Prevoyance                    10
38 Joseba Beloki (Spa) ONCE-Eroski                           9
39 Unai Osa (Spa) iBanesto.com                               9
40 Constantino Zaballa (Spa) Kelme-Costa Blanca              9
41 Francisco Mancebo (Spa) iBanesto.com                      8
42 Jerome Pineau (Fra) Bonjour                               8
43 Martin Hvastija (Slo) Alessio                             8
44 David Millar (GBr) Cofidis                                6
45 Oscar Sevilla (Spa) Kelme-Costa Blanca                    6
46 Ludo Dierckxsens (Bel) Lampre Daikin                      6
47 Jens Voigt (Ger) Credit Agricole                          6
48 Gianluca Bortolami (Ita) Tacconi Sport                    6
49 Thor Hushovd (Nor) Credit Agricole                        6
50 Damien Nazon (Fra) Bonjour                                4
50 Jimmy Casper (Fra) FDJeux.com                             4
52 Piotr Wadecki (Pol) Domo-Farm Frites                      4
53 Christophe Mengin (Fra) FDJeux.com                        4
54 Igor Gonzalez de Galdeano (Spa) ONCE-Eroski               3
55 Nicola Loda (Ita) Fassa Bortolo                           3
56 Jean-Cyril Robin (Fra) FDJeux.com                         3
57 Alexandre Botcharov (Rus) Ag2R Prevoyance                 3
58 Alexandr Shefer (Kaz) Alessio                             2
59 Aart Vierhouten (Ned) Lotto-Adecco                        2
60 David Etxebarria (Spa) Euskaltel-Euskadi                  2
61 Laszlo Bodrogi (Hun) Mapei-Quick Step                     1
62 Andrea Peron (Ita) CSC-Tiscali                            1
63 Massimiliano Lelli (Ita) Cofidis                          1
64 Christophe Edalaine (Fra) Jean Delatour                   1
 
Mountains classification
 
1 Christophe Mengin (Fra) FDJeux.com                        29 pts
2 Stéphane Berges (Fra) Ag2R Prevoyance                     26
3 Ludo Dierckxsens (Bel) Lampre Daikin                      15
4 Patrice Halgand (Fra) Jean Delatour                        9
5 Sylvain Chavanel (Fra) Bonjour                             6
6 Franck Rénier (Fra) Bonjour                                5
7 Laurent Lefèvre (Fra) Jean Delatour                        5
8 Dave Bruylandts (Bel) Domo-Farm Frites                     3
9 Jacky Durand (Fra) FDJeux.com                              3
10 Ivan Basso (Ita) Fassa Bortolo                            1
11 Richard Virenque (Fra) Domo-Farm Frites                   1
12 Rik Verbrugghe (Bel) Lotto-Adecco                         1
13 Andy Flickinger (Fra) Ag2R Prevoyance                     1
14 Thor Hushovd (Nor) Credit Agricole                        1
 
Most combative classification
 
1 Jacky Durand (Fra) FDJeux.com                             25 pts
2 Stéphane Berges (Fra) Ag2R Prevoyance                     24
3 Franck Rénier (Fra) Bonjour                               20
4 Sylvain Chavanel (Fra) Bonjour                            18
5 Thor Hushovd (Nor) Credit Agricole                        15
6 Ludo Dierckxsens (Bel) Lampre Daikin                      10
7 Christophe Mengin (Fra) FDJeux.com                         9
8 Jens Voigt (Ger) Credit Agricole                           7
9 Laurent Lefèvre (Fra) Jean Delatour                        3
10 Marco Serpellini (Ita) Lampre Daikin                      2
11 Rik Verbrugghe (Bel) Lotto-Adecco                         1
12 Cristian Moreni (Ita) Alessio                             1
13 Sandy Casar (Fra) FDJeux.com                              1
14 Patrice Halgand (Fra) Jean Delatour                       1
15 Paul van Hyfte (Bel) CSC-Tiscali                          1
16 Karsten Kroon (Ned) Rabobank                              1
 
Young rider classification
 
1 Isidro Nozal (Spa) ONCE-Eroski                      14.52.17
2 David Millar (GBr) Cofidis                              1.13
3 Ivan Basso (Ita) Fassa Bortolo                          1.14
4 Volodimir Gustov (Ukr) Fassa Bortolo                    1.25
5 Rubens Bertogliati (Swi) Lampre Daikin                  1.43
6 Denis Menchov (Rus) iBanesto.com                        2.01
7 Santiago Perez (Spa) Kelme-Costa Blanca                 2.24
8 Baden Cooke (Aus) FDJeux.com                            3.10
9 Jerome Pineau (Fra) Bonjour                             3.16
10 Sandy Casar (Fra) FDJeux.com                           3.19
11 Nicolas Vogondy (Fra) FDJeux.com                       3.27
12 Christophe Brandt (Bel) Lotto-Adecco                   3.32
13 Gerhard Trampusch (Aut) Mapei-Quick Step               4.03
14 Haimar Zubeldia (Spa) Euskaltel-Euskadi                4.14
15 Christophe Edalaine (Fra) Jean Delatour                4.20
16 Andy Flickinger (Fra) Ag2R Prevoyance                  4.42
17 Constantino Zaballa (Spa) Kelme-Costa Blanca           5.36
18 Sylvain Chavanel (Fra) Bonjour                         6.37
19 Alessandro Cortinovis (Ita) Lampre Daikin              6.52
20 Addy Engels (Ned) Rabobank                             7.30
21 Robert Hunter (RSA) Mapei-Quick Step                   7.52
22 Jimmy Casper (Fra) FDJeux.com                          8.10
23 Iban Mayo (Spa) Euskaltel-Euskadi                      8.23
24 Gorka Arrizabalaga (Spa) Euskaltel-Euskadi             8.36
25 Samuel Sanchez (Spa) Euskaltel-Euskadi                16.43
26 Gorka Gonzalez (Spa) Euskaltel-Euskadi                19.18
27 Luciano Pagliarini (Bra) Lampre Daikin                23.36
28 Thor Hushovd (Nor) Credit Agricole                    33.19
 
Teams classification
 
1 ONCE-Eroski                                         44.35.46
2 US Postal Service                                       0.42
3 Team CSC Tiscali                                        2.09
4 Fassa Bortolo                                           4.53
5 Cofidis                                                 5.06
6 iBanesto.com                                            6.16
7 Kelme-Costa Blanca                                      6.53
8 Domo-Farm Frites                                        7.06
9 Rabobank                                                7.07
10 Lampre-Daikin                                          7.11
11 Team Telekom                                           8.58
12 Alessio                                               10.26
13 Bonjour                                               10.35
14 FDJeux.com                                            10.53
15 Lotto-Adecco                                          11.01
16 Jean Delatour                                         11.26
17 Mapei-Quick Step                                      11.40
18 Tacconi Sport-Emmegi                                  11.55
19 Ag2R Prevoyance                                       14.09
20 Credit Agricole                                       15.32
21 Euskaltel-Euskadi                                     17.54


© Cyclingnews.com 2002