89th Tour de France - Grand Tour
France, July 6-28, 2002
2002 Tour de France journals
A Podium Girl Gone Bad
Nationality: USA
For the duration of the Tour de France Podium Girl Gone Bad will be bringing us a unique slant on the world's biggest annual sporting event.
The thong remains the same
Take a seat
Photo: © PGGB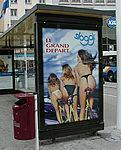 Here I am again at Le Tour again. Time has flown by this year, much like the hopes of non-negative potential Yellow Jersey winners. My, my, how the big names do fly… high.
What I have to tell is this little Tour story. While zipping along into Luxembourg in my little rental Skoda, I round a corner and see the most astonishing billboard-an eye-catching advertisement that should become an ode to the legend of Le Tour.
Had Le Tour's organisers gone stark, staring? Actually, no, it was an audacious advertising campaign by a company that sells feminine lingerie. Those three scantily clad women pedaling merrily along on their bikes were selling thongs, not Le Tour.
I stopped my car and spoke with an elderly woman who was staring, expressionless, at the spread of larger-than-life female anatomy. "Madam, if you please, what do you think about this poster?" I asked. "Well, well," she replied, with a slight twinkle in her eye, "How very cheeky of them."
Secret Kelme training business
Wheely fast
Photo: © PGGB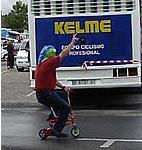 Kelme Podium Girl has been spying on the teams while they train for the Time Trials. I sneak up with my little camera and capture their secret training techniques. Hiding behind a pole, I snapped this Kelme rider using the new Tiny Wheel Trainer. Imagine the improvement in cadence this innovative training tool creates! Soon all the teams will want one, but for Le Tour 2002, Kelme has really scored a first. Think what this would do for Lance - he would become airborne and fly like an eagle over that nasty Ventoux. Wind Tunnel and Tiny Wheel Training for win number five next Tour.
I spoke with a former Tour rider, whom I shall not name, about his training secrets. "You know," he said, "The Tour is won in bed." Well, I thought, I do know a bit about this training stuff, after all. Nay, nay, and no funny business - he was talking about Rest. Getting adequate rest can make the difference between a stage win and the broom wagon, he assured me. Well, I'm sure Kelme has the coaching program and the Rest Strategy already in place for their new Tiny Wheel Trainer. Keep your eye on this team for amazing improvements.
Till next time,
PGGB