89th Tour de France - Grand Tour
France, July 6-28, 2002
2002 Tour de France journals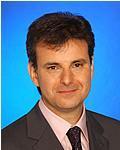 TV Guy
Photo: © SBS
Mike Tomalaris, SBS broadcaster
Nationality: Australian
Mike Tomalaris is the producer and sometimes presenter of SBS TV's Toyota World Sports, the only daily prime time sports show on Australian TV. Mike has covered the Tour de France for SBS Sport since 1996, and always brings a distinct Australian perspective to the network's coverage of the world's biggest annual sporting event.
Stage 4 - Wednesday July 10: Epernay - Château-Thierry TTT, 67.5 km
Life wasn't meant to be easy!
When you're part of the smallest television crew at the Tour de France, you're in a position where every job is vitally important. The SBS crew is made up of just three members. There's the camera operator, the editor and myself.
The team time trial is perhaps the toughest event to cover when resources are limited. Unlike the many of the other international media where a cast of "thousands" are hired, little 'ol SBS does it on the cheap, yet with significant results. US, Germany, France and Spanish TV come to the Tour with moving studios built-into trucks which are transported from location to location.
Apart from keeping tabs on the racing by watching the TV monitors provided at the finish line, if there's a rider you need to talk to, you are required to make your way down to the line in the hope of grabbing them.
There are times when the cyclists may prefer not to stop, depending on the mood he is in. He then proceeds to go to the team bus which may be some 800 metres away, as was the case today.
That's not a problem, but when you have to go back and check the times of the next teams and so on, then you end up doing more kilometres than a marathon runner - or so it seems!
But hey, this is the Tour de France.
Where else would you see the world's best doing their stuff in the most picturesque place for them all. When Igor Gonzalez de Galdeano stepped up to the podium to receive the yellow jersey, his huge smile and satisfaction said it all.
The Spaniard had waited a long time for this moment and if anyone is going to give Lance Armstrong's reign a shake it might be this man.