89th Tour de France - Grand Tour
France, July 6-28, 2002
2002 Tour de France rider journals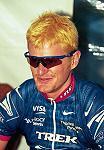 Champion in the making
Photo: © Jonathan Devich
Floyd Landis
Nationality: American
Team: United States Postal Service
A strong climber and time trialist, 26 year old Landis, from Lancaster Co., PA, burst onto the road scene in 1999 in his rookie road year, wearing the Maillot Jaune and finishing third in the Tour de l'Avenir stage race, followed by 4th place in 2000. After an up and down 2001 season with Mercury, Landis has been a great addition to USPS in 2002, recently placing 2nd overall behind winner and team leader Lance Armstrong in the Dauphiné Libéré.
Stage 4 - Wednesday July 10: Epernay - Ch‰teau-Thierry TTT, 67.5 km
A Good Day
The guys from Cyclingnews translated some comments from today's L'Equipe newspaper, the big French paper that only writes about sports. There was an article where Lance was interviewed about his team-mates, and he said about me that "he's going to be a great rider. Mentally, he's a tough guy; he always listens and he likes to learn." That sounds like a compliment to me. I glad he thinks that and I hope he keeps me around for a while.
Lance has been helping me a lot and he's a good guy to learn from. He's obviously got it figured out. People told me how you can't train with Lance, that he is so strong but I didn't miss any training. I figured that if he kills me, he kills me but I have to see if I can ride with him. But it wasn't that badÉ we trained hard and no matter what the weather was but it wasn't that bad.
I'm not that tired today; it was two hours of riding instead of five or six. It's hard because you rarely ride that hard on your time-trial bike. Normally you determine your own speed but here you've got to go the speed the other guys are going. It's hard because you use muscles you don't use that much.
Originally, we got a first time split that told us we were ahead of ONCE by 40 seconds, but Johan must have miscalculated so when we heard that I figured that "whatever, one of those is wrong" and just kept going. Normally if Johan stops giving you time splits, that means you are behind so he just said "go". Johan would give us an idea of what was coming up on the radio and whether we should ride in a single line or a double line. It's a little bit scary because you're riding so hard and your reaction time is a little bit slower. You know the big guys are faster on the downhills, so today Roberto was hurting, because when you are going that fast downhill, he just wasn't heavy enough to keep up. But we did a good time today and ONCE has a strong team so I don't think it's too bad. Lance isn't disappointed and we got through the TTT without any problems or anybody getting hurt. All things considered it was a good day.
I hope ONCE defends the Maillot Jaune; that would be great. But I don't think they will. I don't know. Since there are not really any stages for the sprinters at the end, with all the mountains, maybe the sprinters' teams will to want to try to get their stage wins now. I'm hoping that either ONCE will try to defend the jersey or the sprinters' teams will. We've been luck up until now that others teams have taken responsibility but those days are coming to an end.
I've heard that French TV is saying that my mom has never seen TV before she was watching me at the Tour. Well, I don't know that she's never seen an actual TV program before, since we never had a TV when I was growing up. She decided to walk down the street to a neighbors house and watch me. She's been watching me every morning. I just spoke to her yesterday and she's real excited and she told me to be careful and my family loves me and they're happy for me. It was good to talk to her. Not many people who come out of Farmersville, PA. get to the Tour de France.
My daughter Ryan has been watching the Tour with my wife Amber. The other day, Amber told me that Ryan asked her "Mom, did Dad win the race?" and Amber said "No, Lance won the race," and she said to my wife "When's that Lance Armstrong guy going to stop winning races. I want my dad to win!" She's only five years old... I miss them.
See you next time
Floyd