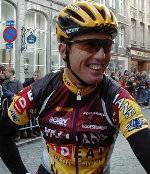 Scott Sunderland
Relaxed before the Ronde
The Scott Sunderland Diary 2000
Scott's Amstel - By Neil Storey (April 28, 2000)
---
Amstel Gold... a view from the sidelines

Scott and Neil Storey
Photo: © Sabine Sunderland
By Neil Storey
Strange isn't it, when one approaches 'les douanes' on crossing back into England, how each and every customs man fixes one with their own peculiar steely-eyed stare and motions you to one side and into... the bay where they tend to like to strip your car and ask all sorts of Spanish Inquistion questions: where have you been, when did you last see your father, is that your cheese and so forth. And, in reply to the former the quizzical, uncomprehending look when answering, Holland. Happens every time. Mention Holland and eyebrows raise skywards... Yes actually, to a bike race... hmmm, the questioning eyes bore into you from behind mirrored shades... hmmm, so...you've not been to 'those kind' of cafes in Amsterdam then... says the disbelieving one... nope, just a bike race and to see my buddy exorcise some of his demons... except you don't say the latter as they won't understand.
Eventually you're allowed through but only after feeling like a criminal as others laden to the gunwhales pass by, their cars bottomed out with case upon case of Kriek beer. And, the long journey home resumes with further time to reflect on a weekend choc-a-bloc with emotions.
Emotions...? Oh, yes... Two years ago, like many others I was shocked into silence as, watching live on tv from the comfort of my own sitting room, Scott was knocked off his bike when Cees Priem's front bumper clipped his back wheel with no more than a handful of k's to the finish of the '98 Amstel Gold. Crashes in bike races are nothing new but, somewhere deep in the recesses of one's mind you knew this was bad. Bad bad. Scott motionless while the peloton, accompanying cars and tv cameras moved on deeper and inexorably into the final. Looking back, all that remained on the tarmac was a slight figure, curled up in the foetal postion and worryingly still as a paramedic scurried forward. The TV seemed to go into freeze frame, interupted only by David Duffield saying again and again how awful an accident it was before he too drifted off into his own unque form of commentary mixing discussions of Dutch bulb fields, the wonders of Coppi and mistaken recognition of riders. Thoroughly entertaining but an acquired taste at the best of times. But, this was real... real life and it was unutterably distressing not knowing.
It was a full twenty four hours later that the real horror struck home. After reading the initial news reports on www.cyclingnews.com, the enormity of what had occured was amplified properly by Sabine Sunderland on the 'phone. Its bad enough seeing someone you care very deeply about being flattened but to learn the true extent of Scott's injuries put everything - and I mean everything - into a whole new perspective. Not just a life threatened or a career in jeopardy, but a family thrown into turmoil.
However, such is Scott's character that he clawed his way back - one can only imagine the levels of determination required and I use the word imagine in its fullest sense because, unless one had gone to the depths Scott was unwittingly subjected to one can but only imagine the level of hell he experienced. And, let us not underestimate what it must have taken to stand by your man (as the song goes) and be there... just, simply, be there through thick, thin and thick again. Tough times... try to imagine, I for one can't get close. A '98 season pretty much written off, a '99 season that showed glimmers of the form he had the year previously as the recovery process continued but, as the clocks took us all lurching, into the new millenium.

Scott chasing in the Ronde
Photo: © Sabine Sunderland
Scott was - extraordinarily and remarkably - properly back... riding strongly and heading towards the Spring Classics brim-full of confidence. Then, that crash in Kuurne in February which would probably have caused most of us to say, 'OK, enough is enough is enough.'
Nope. Iron will overcame a shredded knee, enough to mean a return to the peloton in the Ronde where an untimely puncture on the Paderstraat saw the end of his race. In his own words, he dug too deeply - a combination of enthusiasm and bravura. Still to come was perhaps the biggest test of all - the Amstel Gold over the Easter weekend.
When we met up in the Holiday Inn car park in Ghent the lunchtime before the race, it was the same Scott as always, laughing, joking, catching up, happy to see friendly faces. Conversation as ever, like it was just a few days since we last met up when reality was that it had been more than a few months. But there was an over-riding feeling of something else... nerves.
Meeting before the start
Photo: © Sabine Sunderland
Not like the day before the '98 Ronde when I'd driven him to the team hotel where below the normality there was the twitching of a thoroughbred race-horse, primed and finely tuned for the next day's encouter. That day there was an inner-certainty in how he'd go, and make a mockery of those doubters who'd dismissed him for signing with Palmans. It was, therefore, no real surprise that - instead of being happy with coming in 11th in Ninove - he was genuinely pissed off with himself for making a balls up of the approach to the Muur at Geraadsbergen which had lost him position and a possible podium finish. No, this was different and altogether more difficult to describe. Pencil thin as ever and obviously fit, yet there was a strange and disturbing combination of wariness and exhaustion behind the eyes upon which one can but surmise. The latter was probably brought about by the constant demands of an insatiable media during the two weeks leading up to the event, the former because he was a few hours away from confronting his own Calvary.
Saturday morning and a typical Flemish weather greets us as sleep is rubbed from our eyes before the dawn depart from Zottegem. In other words, lashing down with rain as only it can over there. Past Liege at 180kms an hour alongside the new TGV track being laid (sorry Mr Belgian Policeman but we left a bit late and also required a first caffeine-injection on the way) with brightness ahead. Into Holland and, bizarrely, it is a glorious day. The start not quite as overbearing as that of the Ronde but the main square a heaving mass of sparkling bikes (Barbie-doll pink for Lampre); tv crews; photographers; over-enthusiastic security guards clutching walkie-talkies; cycling-groupies in all out leather and improbably dyed blonde hair (yes, really); a multi-cultural mix of accents - Dutch, German, Danish (in strange Viking helmets and robed in huge national flags but not much more), Italian, French, Belgian and a few British too; the all-pervading scent of embrocation lying heavily in the cool air as the Saturday market traders sought to compete with the overbearing PA system while the riders signed on.

Frank, Scott and Jesper
Photo: © Sabine Sunderland
Scott's nerves are on view again as he greets Sabine by the barriers in between final massages and interuptions from tv crews demanding more of his time as well as Frank Hoj, the ever jovial Jesper Skibby while Marcel Wust steers his young son through the crowds and riders from Polti and Cantina Tollo look for somehwere for a last chance to urinate... Italians have no shame. Some degree of normality returns to the market-place as the riders pedal away, single file and tempo on the bridge over the Maas and into the countryside. Coffee is called for (again) before we head towards our first designated rendezvous. Scott has purloined the the Palmans map of the parcours for us and, while the riders will have covered sixty or so k's, we figure we only need to drive twenty or so for our first rendezvous... perfect.
Half way up our first designated climb there's a great looking bar, an absolutely beezer spot and so more coffees are lined up as the crowds start to gather. Peace, tranquility... only... after ten minutes or so after the riders are due to have come through we are informed that we're actually on the 23rd climb of the day... and not the 4th.... grrrr... but, we're not the only ones who've made such a collosal cock-up: dozens are in the same boat as us.
Rush back to the car and first stop a garage for a serious map and thence to the Gulpenburg which we know will be climbed twice - a bit of a rally-drive through the lanes but we make it, just in time. Mad scramble halfway up before the horn-blaring, whistles clenched-in-teeth motorbike outriders arrive and then the peloton - as grouppo compatto - arrives. As ever, it's a riot of colour and noise, the riders reduced to three abreast as the impossibly large crowd stretch forward to glimpse their heroes while the photographers fall over themselves to find a decent vantage point.
An hour later and a group of eight are away with a reasonable lead as they climb the other side. It's actually the better side from a spectators' viewpoint as, from the top, one can see them coming along the valley to the bottom of the climb. Konyshev, Ekimov, Friere et al speed through, then the peloton pretty much intact... no Scott though. He'd said he'd not finish so his non-appearance wasn't entirely unexpected, but still, hmmm.
As we drive off the climb, Sabine calls the team car for news and learns that Scott climbed off at the first feed. A degree of relief but tension in our car is high and not helped by the fact that the road to Ingber is one long traffic jam. Consuming sandwiches, we eventually grind to a halt at the junction with the main road just as the helicopters hove into view, shadowing the first group who, by now have a three minute plus lead. Race over? It looks a bit like it, especially since the peloton seem to be pretty inactive when they roll through.
Mobile to mobile we finally reach Scott... all is well... Sabine says he sounds wiped out - in between the static crackles - and climbed off with a heap of Spaniards, Marcel Wust, Skibby and others at the first feed. From the main road at Ingber it should have been a reasonably easy enough run in to the finish in Maastricht, but with static traffic - no chance. Eventually, after some pretty nifty map-reading through manicured housing estates and past the hospital where Scott was taken two years previously, we cross over the only other bridge over the Maas (some fifteen k's below Maastricht itself) and work our way onto the about-to-be-totally-closed-off parcours. Now, TV coverage really doesn't do justice to the severity of the final in the Amstel - the climbs are far tougher than they look from the helicopter viewpoint, the cobbled hairpin bends vicious and the cross-winds over the top of these short sharp bergs seriously unpleasant. A day for the strongest.
On the run into the town itself are the cement works, where the changing rooms and press rooms are located. Here it was in '98 that Sabine waited for news on Scotty - a weird location for sure, looming large beside the River Maas like something out of a Star Trek movie-set. We park nearer to where Scott's positioned himself close to the finish itself, beside a bar located as the riders turn left onto the Pietersburg. He's been sitting with Marcel Wust but, its so jammed that the only way we can find him is calling on the bat-'phone.
We gather to watch the leading group come through and then head back in to see the final act played out on TV. There's a look of disdain on Scott's face as Palmans' Henrik Van Dyk waves to the cameras (concentrate you fool) before they turn left and Rebellin launches his attack on that final hill. So close but so far, he's gobbled up with literally thirty metres to go as Zabel easily wins from Boogerd and the German bar-flies go nuts. We pity the Italian, if two had gone clear and worked together he'd have almost certainly gotten it.
We wander back to the car, Sabine and Scott in their own, very private world. There's a sense of urgency to get away but first its back to the cement factory to pick up Scotty's bags and bike as the rain finally starts to fall. Its only when we're waiting for Scott that the real impact of the whole bites, and despite the hubbub of riders coming and going, soigneurs rushing to and fro, there's a strange oasis of calm where we're parked. Sabine silent but red-eyed as she (mentally) re-lives her own after-race hell of two years previously, Scott grim-faced as we pack the car and head away. Van Petegem passes on his bike, head bowed, massive eyebrows knotted under a team-cap and nods a greeting. Michael Boogerd signs a scrap of paper for a delirious security guard running alongside him as he pedals towards the showers.
The stragglers come in in dribs and drabs, mud-stained and battle-weary. There's little said for most of the journey back to Zottegem other than Scott briefly relating how he had no legs at all, was - in his words - creeping and knew he wouldn't be able to contribute to the race after the first feed. How he sat with Marcel Wust in the cafe, but how Marcel got frustrated as he (Scotty) could hardly string a sentence together, and then oblivion... absolute exhaustion - not just physical but mental - takes hold and sleep. The car falls silent save for the swishing of the wheels on tarmac and the click-clack of the wipers beating back the rain, even the road-signs look tired and despondent.
Back in Zottegem, unlike previous years, there's precious little talk or dissection of the race over dinner. But there doesn't need to be - there's as much unsaid as is understood. A film is on but remains unwatched playing to nobody in the stalls. No one has the energy to stay up late; for Scott it'll be back to work the next day, for the rest of us as much needed sleep. If i'ts Sunday, it must be Ghent: lunchtime, the Holiday Inn car park. The Palmans' mechanics have arrived on time (they tend to when Walter is on the scene) and we drop Scott off for his journey with the team to Cologne for Monday's race.
Another day at the office? Maybe it would be for some. But, for the first time since Friday there's an imperceptible lightness in the air. As Scott hugs us goodbye he says, almost matter-of-fact 'Next year, I'll be there in the final for the Amstel', and there's a strength in his voice that hasn't been there for quite some time... a strength, conviction and determination that says (many of the) demons got well and truly buried in the first few kilometres of this year's Amstel; a strength that actually hasn't been there since just before the Ronde in '98.