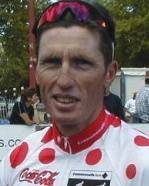 Scott Sunderland
1999 Commonwealth Bank Cycle Classic
The Scott Sunderland Diary 2000
Scott on the mend (March 7-22)
---
One week later: Scott on the mend
March 7, 2000
One week has passed by and besides the daily visits to the doctor and the numerous phonecalls and visits from family and friends it has been a very quiet week. The weather was "on his side" during most of last week, it rained and was bitterly cold, which meant Scott had no regrets at not being able to go out to train.
Walter Planckaert, Scott's team director rang up from Spain to enquire about Scott's progress. He mentioned the 25 degrees celsius they were enjoying while riding the Tour of Murcia. As this race was on Scott's program and he had a week training camp organized over there, Scott got a bit impatient and very grumpy for a couple of days, especially as we could see no bettering in the wounds. Then, on Friday, the healing set in. For the last couple of days, the cuts and bruises on his arms have started to look better and better. His knee is improving at a slightly slower pace. (Even though the wounds get dressed twice a day, they are still looking pretty gruesome to me.). But, Scott can feel the progress well and that's what's important for now.
He is talking about getting on the home-trainer mid week and just maybe he'll be back in competition in a couple of weeks. You can imagine this stupid accident has upset his set race schedule completely and he knows he won't be competing for top ten rankings within the first 6 weeks. But, one never knows, if Scott keeps positive and he can give us another demonstration of his incredible will power, he might just be back on track within a month.
First training ride
March 22, 2000
A quick note to start the week with. Scott has done his first 100 kilometers since the Kuurne-Brussels-Kuurne crash yesterday. He rode over to my parents, who live on the Belgian coast now. He said he enjoyed the ride a lot and I bet he's happy about not having the knee all wrapped up any more. The wound has closed up to a patch with a 3cm diameter now but it still looks pretty nasty. He still has bandages on some other spots too, but they don't really bother him that much any more. So now, it's just a case of getting back into shape, with the help of frequent treatments by a kinetherapist-osteopath. A pity he lost three weeks of racing, especially with the team doing fantastic work!
Walter Planckaert hopes Scott will be back in the swing of things by Liege-Bastogne-Liege and I can tell you, Scott will work very hard to get there too. There are plenty of nice races on for the coming two months and Scott is looking forward to making up for lost opportunities. If the weather stays dry this week - he still can't train in the rain, as the doctor does not want to get any dirt in the wound - Scott will be doing some heavy training rides in the next coming days.
Thanks for all the kind e-mails, cards and calls, they all helped to keep the chin up!