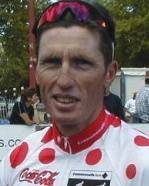 Scott Sunderland
1999 Commonwealth Bank Cycle Classic
The Scott Sunderland Diary 2000
Back in Belgium and the crash (February 10-28)
---
Scott's back
February 10, 2000
As we got back from Australia on the 26th of January, we have settled back in by now. Scott had to race Etoile de Besseges only few days after we arrived and unfortunately his back did not agree with that. He came home before the pain got too bad and made a few visits to the physio. He feels strong again now. We kind of knew that the quite uncomfortable trip from Australia has put his back out but he had no time to get it fixed before Besseges. But, all is well now, he has the power back in his legs and feels refreshed and ready.
Scott is riding the Ruta del Sol this week. He rang yesterday as the team arrived in Aguadulce, to tell me they were walking around in t-shirts. This, while we are putting on thick jumpers and turning up the central heating to feel a bit comfy!! Actually, I shouldn't be complaining, the last couple of days have been dry and sunny, with an incredible 10 degrees celsius, but the thing is I have been sick as a dog for a week now... sort of fluey bronchitis, and I have been out only to bring Saen to school. It is amazing how well he has adapted to being in Belgium again after three months in Australia. He went straight back to school and was speaking Dutch as if he'd never left after only 10 days... great to be 4!
The Vlaamse weekend
February 28, 2000
I am afraid the news is far from good - Scott was involved in a serious crash again. About 80 kms from the finish of Kuurne-Brussels-Kuurne, doing close to 65 km/h, Nico Mattan from the Cofidis team was riding in front of Scott, as he and Scott were trying to get to the front to position themselves for the coming climbs. Then suddenly, Nico had to hit the brakes as some guys in front of him were doing so. Scott, sitting directly in his wheel had nowhere to go so he went straight into the steel road guard rails!! The ambulance took Scott to the hospital in Ronse where the doctor put 20(!) stitches in his right knee.
Scott did not take much skin off due to the hardness of the surface but he suffered some deep cuts. His right leg was put in a plaster shell to avoid movement of his knee. The wound on his knee cap was very deep and the doctors took their time cleaning it out to rule out any major infections. His left leg received stitches underneath the knee so this one is not too bad, but, as he canīt put any weight on his painful left foot, he is confined to the couch for the following days. I have to take him back to the hospital on Wednesday, when most of the swelling will be gone to examine the tendons and tissues underneath the knee cap further. They couldn't do those examinations right away because of the bad state of the skin and flesh.
The doctors have put Scott on antibiotics to suppress any infections. Underneath his armpit he has heavy bruising from hitting the road guard rail, so that will be mega sore in the coming days. He has got heavy duty painkillers to take though, so we'll make sure he doesn't have to suffer too much. The coming week will show how much damage was really done, we hope it will just be the flesh that took the heat and not the knee cap itself...wait and see. So, that was that for the first weekend of Flemish races. The doctors told Scott to have full rest for the coming week, then another rehab program will start.
Scott was very upset and sooo angry immediately after the crash. While he was trying to sit up, the colourful language was echoing down the road. He couldn't get up, as his knee was hurting too much and while he was taken to hospital he was telling the nurse he'd never get on the bike again ... we've been home now for a couple of hours. I helped him freshen up (wash all the dirt, grit and oil off his shaken body) and guess what - he is calculating what classics he could be ready for...bike riders, they are a special breed if you ask me!