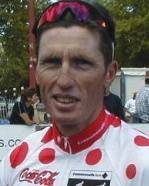 Scott Sunderland
1999 Commonwealth Bank Cycle Classic
The Scott Sunderland Diary 2000
---
Ronde van Vlaanderen start?
March 29, 2000
So, we're on summer time now (daylight savings) but unfortunately there is not much of spring to be seen, let alone summer. Ok, the trees are budding and some are even flowering, but underneath a steel grey sky, the view is not really uplifting! Now and then the sun tries to break through and sometimes even promises well, for a couple of hours. But that's it for this week, so the weather forcaster said this morning.
Temperatures? A chilly 8°C max the coming days.. am I glad I am not a professional cyclist! Scott and Robbie (McEwen) have been training together the last week - both trying hard to get back into shape. Robbie has been out with a flu and as you know, Scott is trying to get over his latest injuries. Rather them than me, going from cold shower to cold shower for hours, enough to drive you insane. I often think about them as I run from here to there underneath my umbrella.
We were talking about Scott's injuries and set-backs the other day. (We normally try to avoid talking about it at home) Scott and I have known each other for almost 7 years, we met somewhere in April '93... Scott had a strong start to the season, with really nice results. That spring he was having some trouble after a serious crash in Spain. He got blood-poisoning after race-medics cleaned the wound in his left leg with contaminated water. The leg swelled up and felt extremely hot for weeks. Later that year, Scott was diagnosed with Hep B. During the 3 month incubation Scott had struggled with fatigue and loss of power, he was wondering what on earth was happening to him. We were sort of relieved to find out what the cause was. It took him about a year to get over the infection. He signed for Lotto at the end of '94.
In '95, he was operated on his right knee, had a hell of a time recuperating from that. Becoming a dad early '96 gave him another incentive and he rode a strong season, in service of Tchmil. In '97, he started well but crashed early in the season, hurt his wrist which gave him heaps of trouble racing. Luckily, that cleared too and he rode an impressive series of races afterwards.
In '98, well, the Amstel Gold accident, I don't have to explain that one I think... Then came '99, a year of immense hard work trying to get back in the peloton, rewarded with a nice win in Spain (Vuelta a Castilla-Leon) and a strong ride in the Commonwealth Bank Classic.
A great start to the new millenium with a third (2nd Australian) at the Open National Championships. Then, end of February, a nasty tumble in Kuurne-Brussels-Kuurne. Now, we look at that one as the closure of 7 years of bad luck in racing. It has to be that way as we can only expect and hope that the next 7 years be good ones. 7 hard ones, 7 easy ones, isn't that the way it goes? Anyway, we really do want to close of that chapter now and get on with it.
Scott's morale is good and he is training hard, is focused and does all the right things, with the osteopath and the doctors keeping an eye on him. The spirits were lifted even more the other day as Walter Planckaert called to ask how Scott would feel about starting competition again in Tour of Flanders. I could hear the hesitation but also the thrill in Scott's voice.
Of course it will only be to give the team a hand and place Hendrick Van Dijck, or one of the other Palmans guys on the right spot in the peloton before the final starts. Scott has always been a great domestique: in contrast to many others, he does not mind at all riding for team mates to help them get a win. Even though now he is the team leader in Palmans, he will do the job of the "working horse" (as we call the domestique) well. Scott has proven to many that he has a great insight in the one-day races, so Walter reckons the team can't go without him there.
Planckaert was panicking a bit last week, when Scott said he would not be ready for 3 days of De Panne. He told the Belgian journalists that the team would not start in Liege-Bastogne-Liege without Scott. After hearing things were looking better, Walter is now hoping to get Scott into racing-shape by letting him ride at least the first 120 kms in Flanders.
So, for those following the race the next weekend, watch for Scott during the first hours as he will, more than likely, turn home to shower after the peloton leaves the Flemish Ardennes (where we live). A warm shower here at home and then to the finish line (20kms away) in Meerbeke to see the guys come in. That's the plan for now. We'll let you know if orders change.