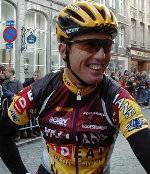 Scott Sunderland
Relaxed before the Ronde
The Scott Sunderland Diary 2000
Ghent-Wevelgem and Pino Cerami and more (April 5-7)
---
Gent-Wevelgem, April 5, 2000
A Winddddyyyyy day in flanders
Zottegem, 9.30 pm.
Today, well, I wouldn't call it a 'haute category' road race, it was just like a tough elimination race.... if you weren't sitting in the front when the cross-winds started, you were out. If you weren't called Van Petegem or Museeuw, you simply didn't get to see the front. It was really clear who the strong oxes in the peloton were, look at the results; look at the first 10, well they definitely were the favourites for this race.
For myself, I was staring down the barrel, I stopped for a basic need while the peloton was still taking it easy. I got back to the tail of the peloton and talked to one of the Collstrop boys for a little while...but for too long as it turned out. At the front somebody attacked, a little group started chasing, the bunch split into four groups and my group, the last one, never saw the first guys again. We spent the next 50 kms in line, single file because of the cross-winds. At the feed, halfway, the first two groups got back together.
After 130 kms of cursing and chasing in anguish a little batch of 10, me included, left the parcours and headed for the showers. A few insisted on persuing their suicidal mission. The smart ones (read wasted ones) got a hot shower and by the time we left the dressing rooms, the riders who had tried to continue the chase came rolling in one by one, in silence, tired.
With Peter Van Petegem, Klier and Van Bondt still in the leading group it was clear that a Farm Frites rider was going to take 1st place. These three training partners easily came to an understanding, Van Bondt attacked and Van Petegem and Klier were able to shut down the race. Van Bondt won, well deserved and overly happy with the 6th victory of his pro career.
The wind was giving me a serious beating today and with the 5% body fat I have to keep me warm, I can tell you, it is only common sense not to go with, let alone go against those strong Flemish countrymen. Don't know why I got so cold today, it took me ages to warm up. Not even watching the race on TV in the team camping car and seeing a couple of ponies jumping the fences to join the peloton, could make me break out in sweats. Zabel surely would have had a horrible shock being knocked off by the agitated hoofed animal...Luckily nobody got hurt. Zabel unfortunately lost time and finished 41st.
I had lasagne and a glass of wine for dinner, and with the nice warmth of the potbelly stove I could have nodded off while the rest were having desert. Glad this working day was over and done with.
Glad to see the weather report forcasts sunnier, warmer weather for the coming days. There might be a dry Paris-Roubaix ridden on Sunday! For me, on Friday, Pino-Cerami, hope I'll have better legs then.
Pino-Cerami, April 7, 2000
Not a lot to report from this race I'm afraid. I stopped the race after doing the big lap when I coudn't go with the 1st group over the climb and called it a day. Last Sunday in Flanders took a lot out of me, but I rode 120 kms and called it 'a good training ride '.
No Veenendaal-Veenendaal, April 13, 2000
Scott has finally got a better view on how the coming weeks will evolve. Team director, Walter Planckaert and he had a good look at the program and decided, among other things that Scott will not be riding Veenendaal-Veenendaal (April 13). The race simply isn't one which Scott could do well in, as it's a flat, sprinters race. Scott doubted if that was the right decision for only a few moments. Just as they were talking, the weather report came on and predicted cold, windy and wet weather for the end of this week...and as Scott is dealing with a bit of a throat and sinus infection he said "bugger that".
So, Scott will be training instead of racing. Our new Vespa scooter should arrive any day now and Scott is planning to do some long miles behind it. I hope he doesn't want me to ride the thing in this weather, as it could lead to a domestic. There's people enough around willing to do Scott this favour, and I just don't think I'd cope with the cold on a motorbike, although Scott has ordered a screen for it.
Anyway, so he will be racing his next race on the 19th. That day, the second most popular race here in Flanders is ridden. The Grote Scheldeprijs in Schoten can't compete with the Ronde Van Vlaanderen of course, but it is attended by quite a large public. Most importantly, the race goes close to the premises of the main sponsor Palmans. The boys always want to show themselves and Scott will be trying for sure to be of assistance.
After that, we have got Amstel Gold Race (22nd) on the menu. A dish Scott is looking forward to, after being out for most of the other spring classics.