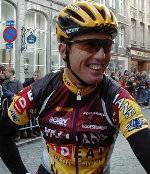 Scott Sunderland
Relaxed before the Ronde
The Scott Sunderland Diary 2000
Grote Scheldeprijs Schoten and the Amstel Gold (April 19-22)
---
Scheldeprijs Schoten - the finale to the Belgian spring classics
April 19, 2000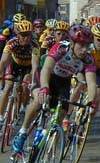 Scott in the thick of things
Photo: © Sabine Sunderland
After Ghent-Wevelgem and Pino Cerami I realized that I had to calm training down a bit. Starting Flanders meant a lot to me but I definitely went too deep too quickly after Kuurne, with only two weeks of training in the legs. My liver wasn't dealing with the increased workload and I experienced pain every time I made an effort.
Thus, I took rest - more rest than I wanted unfortunately because I got an early Belgian Easter present: a serious sinus and throat infection. This meant antibiotics for a week and as little training as possible. I started to get really impatient with the way my form was going. With Scheldeprijs coming closer and closer I knew I'd have to change my original plan for that race. I decided that I would have three goals: to stay in front out of trouble, to go with early breaks, and to do as many kms of the race as possible. Everything was going to plan at first: I sat in the front of the peloton and I went with an early break (after 20kms) consisting out of 25 riders. (The break got caught just before the three local laps - after 160 kms). But I had to blow out the candle earlier than expected; the fuel tank was empty, completely and utterly empty.
The average speed was incredible, with 47 kms/hour average being the speed record for this race in the 88 years it has been run - I'll need a few more sessions behind the scooter to get into the shape for a race of more than 150 kms at that tempo.
Once I woofed down a sandwich and drank a couple of sports drinks I felt human again. The energy levels came up very quickly but I still preferred Sabine to drive home, resting my legs upon the dashboard. Don't laugh, an 'old' guy like myself can justify all that. Ask Paul Van Hyfte, Koen Beekman and Mario Aerts (Lotto-Addeco). At the start line, they inquired about my grey hairs. I explained to them that they are not real, told them I had them streaked grey; because women seem to like it!
When I asked why his young head is showing off a receding hairline, Van Hyfte could not reply. I advised him to get it shaved, like GeertVan Bondt, maybe it's a way for Belgian guys to win races (e.g. also Dierixcksen), and seeing Van Bondt's popularity - when we're out training - with the Flemish women, it must work miracles for the image too.
Anyway, I wasn't that happy with my race today but I know, from experience, that it's only a matter of doing a few more before I'll get back into the swing of things. Paris and Rome weren't built in one day, were they? And, at least the team is riding great, with Van Dijck showing excellent form today. I really thought he'd make it, when he attacked with 4 kms to go, but I guess Servais Knaven, who caught up to him in the last 500 metres didn't think that way.

Leoni Wins
Photo: © Sabine Sunderland
For the Mapei guys the day didn't go as expected either though. Mapei, who worked like hell to make sure the pack stayed together in the last laps, were not able to finish it off. Oscar Freire and Tom Steels did not have the legs to engage in the bunch sprint and the relatively unknown Alessio team saw their rider Leone (31) winning the sprint before Blijlevens and Van Bon. Quite a performance if you ask me. (Previous seasons, Leone has won stages in Tour of Spain, Tour of Italy and Tirreno-Adriatico)
Another guy I was really impressed with is Matt Gilmore (Jack&Jones). Matthew has only started racing again 4 weeks ago. He was out for a long time after having the titanium pins removed from his spine. The first serious operation this season was followed only 2 weeks later by a second one. While removing the pins, the surgeons had damaged an artery and Matt kept losing blood internally, so there was no other way but to open things up again to stop that bleeding. Today, after very few races really, Matt finished 10th, which according to me (and I have followed his difficult recovery from close by), was an exceptional result.
Seeya at the start line in Maastricht (Amstel Gold Race) on Saturday!
Yours in cycling,
Scott
Scott Sunderland's Amstel
Preparing for the 'come-back' tomorrow...
Meeting at the Inn
Photo: © Sabine Sunderland
This morning, we were driving over to Ghent - to the Holiday Inn Hotel - where the team was meeting to leave for Maastricht. Suddenly, after a few minutes of silence Scott said he didn't feel that good about tomorrow.
Quite a few Belgian journalists had been calling this week to ask him about his feelings concerning Amstel Gold. He'd played it tough and told them he'd be fine.... He said he was wondering now if he would be. While it was still weeks ahead, Scott had told everyone who asked about Amstel Gold that it would be great to start in Maastricht, and he really believed it himself at that moment. Now, I heard doubt and fear in his voice.
As he is not planning to finish the race - due to the fact that he is not quite in shape yet - he told me to wait for him by the showers in case I can't spot him anymore in the peloton. I got goosebumps when he mentioned the word showers...as I was waiting there with fear in my heart two years ago, hoping to hear he was OK. Instead I heard that Scott was taken to the hospital by helicopter and that it was bad, very bad...

All packed up
Photo: © Sabine Sunderland

Scott asking me if I still knew how to get there gave me chills - the clear picture of the old factory buidings is etched into my mind. That was where the dressing and press rooms were, where I waited and waited, it seemed like hours and hours, it will never ever leave my memory: it'll be with me for the rest of my life I'm sure.

Then I realized Scott actually had not had a chance yet to go and see the spot where the horrible accident took place. We heard about how Johan Museeuw went to the spot where he had the crash in Paris-Roubaix before this years' edition, and how he had a hard time riding over that road...how he took it all in, looked at it all in silence and almost hesitated when he got closer to where his career almost ended.

It hit me that Scott is not quite over it all yet. Well, how could he be when he still has the loss of smell and sight, the back pain and the problems with getting the messages from his brain through to his legs reminding him how he came so close to leaving this life? How can one get over something as horrible as two haemorrages, a fractured skull, terrible whiplash and jammed vertebraes when you are still getting treatment for them, and remember the consequences of those injuries every day, even two years later.

Extras for lunch
Photo: © Sabine Sunderland

So, I asked him to take it easy tomorrow, to let the race take its course and if he does not feel comfortable with the whole thing, to just get off and get in the car. I'm sure no-one could point a finger at him for doing so if that was what he feels like.

I'll be nervous and anxious tomorrow, I'm sure inside Scott will be trembling although he'll probably play it cool. Keep your fingers crossed, if Scott can cross this awful line between doubting if or knowing he is over it mentally, nothing will stop him anymore.