88th Grote Scheldeprijs - Cat. 1.1
Belgium, April 19, 2000
1999 results Scott Sunderland's report Results Start list Past winners
A fast sprinters race

Michaelsen leads
Photo: © Sabine Sunderland
The 88th edition of the Belgian semi classic, Grote Scheldeprijs (Grand Prix de l'Escaut) was decided in the end by a bunch sprint, despite a strong attempt by six riders to steal the show. Italian sprinter, Endrio Leoni had the fastest set of legs today, surpassing Polti's Jeroen Blijlevens (who won last year) and Leon van Bon of Rabobank. It was Leoni's fourth win of the year.
After an early break of 25 was caught coming into the closing circuit, another six went with 36 kilometres to go, despite the fact that the pack was travelling very quickly (they averaged 47 km/h for the 200 kms). Hans de Clercq (Palmans), Wim Omloop (Bankgiroloterij), Lars Michaelsen (FDJ), Andreas Klier (Farm Frites), Benoit Joachim (USPS) and Robert Hunter (Lampre) were not allowed much freedom, being chased mainly by Mapei with three of the 12 kilometre laps of the finishing circuit to go. They were caught on the last lap, however Mapei's sprinters, Tom Steels and Oscar Freire were not able to finish everyone off gaining 9th and 14th in the bunch sprint.
The sprint was nearly stolen by 1998 winner, Servais Knaven (Farm Frites) who was chasing Palmans' Hendrick van Dijck in the closing kilometres. He caught and passed van Dijck, but was himself caught within sight of the finish.
Many of the top contenders for this weekend's Amstel Gold Race were riding today, however most were fairly quiet. Possibly staying out of trouble as there were a few falls during the race: Kai Hundertmarck and Giovanni Lombardi (Telekom) were amongst these and the latter was taken to hospital with a suspected broken elbow. Also, Stefan van Dijk (Team Cologne) fell on one of the cobbled sections and broke his collarbone. He will be out of the peloton for at least 5 weeks.
Scheldeprijs Schoten - the finale to the Belgian spring classics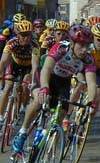 Scott in the thick of things
Photo: © Sabine Sunderland

After Ghent-Wevelgem and Pino Cerami I realized that I had to calm training down a bit. Starting Flanders meant a lot to me but I definitely went too deep too quickly after Kuurne, with only two weeks of training in the legs. My liver wasn't dealing with the increased workload and I experienced pain every time I made an effort.

Thus, I took rest - more rest than I wanted unfortunately because I got an early Belgian Easter present: a serious sinus and throat infection. This meant antibiotics for a week and as little training as possible. I started to get really impatient with the way my form was going. With Scheldeprijs coming closer and closer I knew I'd have to change my original plan for that race. I decided that I would have three goals: to stay in front out of trouble, to go with early breaks, and to do as many kms of the race as possible. Everything was going to plan at first: I sat in the front of the peloton and I went with an early break (after 20kms) consisting out of 25 riders. (The break got caught just before the three local laps - after 160 kms). But I had to blow out the candle earlier than expected; the fuel tank was empty, completely and utterly empty.

The average speed was incredible, with 47 kms/hour average being the speed record for this race in the 88 years it has been run - I'll need a few more sessions behind the scooter to get into the shape for a race of more than 150 kms at that tempo.

Once I woofed down a sandwich and drank a couple of sports drinks I felt human again. The energy levels came up very quickly but I still preferred Sabine to drive home, resting my legs upon the dashboard. Don't laugh, an 'old' guy like myself can justify all that. Ask Paul Van Hyfte, Koen Beekman and Mario Aerts (Lotto-Addeco). At the start line, they inquired about my grey hairs. I explained to them that they are not real, told them I had them streaked grey; because women seem to like it!

When I asked why his young head is showing off a receding hairline, Van Hyfte could not reply. I advised him to get it shaved, like GeertVan Bondt, maybe it's a way for Belgian guys to win races (e.g. also Dierixcksen), and seeing Van Bondt's popularity - when we're out training - with the Flemish women, it must work miracles for the image too.

Anyway, I wasn't that happy with my race today but I know, from experience, that it's only a matter of doing a few more before I'll get back into the swing of things. Paris and Rome weren't built in one day, were they? And, at least the team is riding great, with Van Dijck showing excellent form today. I really thought he'd make it, when he attacked with 4 kms to go, but I guess Servais Knaven, who caught up to him in the last 500 metres didn't think that way.

Leoni Wins
Photo: © Sabine Sunderland
For the Mapei guys the day didn't go as expected either though. Mapei, who worked like hell to make sure the pack stayed together in the last laps, were not able to finish it off. Oscar Freire and Tom Steels did not have the legs to engage in the bunch sprint and the relatively unknown Alessio team saw their rider Leone (31) winning the sprint before Blijlevens and Van Bon. Quite a performance if you ask me. (Previous seasons, Leone has won stages in Tour of Spain, Tour of Italy and Tirreno-Adriatico)
Another guy I was really impressed with is Matt Gilmore (Jack&Jones). Matthew has only started racing again 4 weeks ago. He was out for a long time after having the titanium pins removed from his spine. The first serious operation this season was followed only 2 weeks later by a second one. While removing the pins, the surgeons had damaged an artery and Matt kept losing blood internally, so there was no other way but to open things up again to stop that bleeding. Today, after very few races really, Matt finished 10th, which according to me (and I have followed his difficult recovery from close by), was an exceptional result.
Seeya at the start line in Maastricht (Amstel Gold Race) on Saturday!
Yours in cycling,
Scott
Results - 200.4 km
1. Endrio Leoni (Ita) Alessio-Banca SMG        4.24.00 (45.5 km/h)
2 Jeroen Blijlevens (Ned) Polti 
3 Leon van Bon (Ned) Rabobank 
4 Ronny Assez (Bel) Flanders-Prefetex 
5 Gian Matteo Fagnini (Ita) Telekom 
6 Lars Michaelsen (Den) Francaise des Jeux 
7 Erik Zabel (Ger) Telekom 
8 Paolo Bossini (Ita) Cantina Tollo 
9 Tom Steels (Bel) Mapei-Quick Step 
10 Matthew Gilmore (Bel) Memorycard-Jack&Jones
11 Frank McCormack (USA) Saturn
12 Nico Eeckhout (Bel) Palmans-Ideal
13 Peter van Petegem (Bel) Farm-Frites
14 Oscar Freire (Spa) Mapei-Quick Step
15 Servais Knaven (Ned) Farm-Frites
16 Gerben Lowik (Ned) Farm-Frites
17 Ivan Quaranta (Ita) Mobilvetta Design
18 Oleg Pankov (UKr) Collstrop
19 Jimmy Casper (Fra) Francaise des Jeux
20 Harm Jansen (Ned) Saturn
21 Ludovic Capelle (Bel) Charleroi-New Systems
22 Berry Hoedemakers (Ned) Spar-Oki
23 Jens Zemke (Ger) Nurnberger
24 Leonardo Guidi (Ita) Alessio
25 Jan Svorada (Svk) Lampre-Daikin
26 Frank Corvers (Bel) Memorycard-Jack&Jones
27 Andy Desmet (Bel) Spar-Oki
28 Fabiano Fontanelli (Ita) Mercatone Uno
29 Julian Dean (NZl) US Postal
30 Geert Omloop (Bel) Collstrop
31 Michael Blaudzun (Den) Memorycard-Jack&Jones
32 Jurgen Werner (Ger) Nurnberger
33 Christophe Mengin (Fra) Francaise des Jeux
34 Remco van der Ven (Ned) Farm-Frites
35 Davide Casarotto (Ita) Alessio
36 Soren Peterson (Den) Team Cologne
37 Koen Beeckman (Bel) Lotto-Adecco
38 Davy Delme (Bel) Tonissteiner
39 Paul van Schalen (Ned) Bankgiroloterij-Batavus
40 Geert Verheyen (Bel) Lotto-Adecco
41 Christian Pepoli (Ita) Cantina Tollo
42 Jurgen van Roosbroeck (Bel) Vlaanderen 2002
43 Karel Vereecke (Bel) Vlaanderen 2002
44 Aart Vierhouten (Ned) Rabobank
45 Marco Artunghi (Ita) Mercatone Uno
46 Scott Guyton (NZl) Flanders-Prefetex
47 Stefano Casagranda (Ita) Alessio
48 Marco della Vedova (Ita) Lampre-Daikin
49 Matthew Hayman (Aus) Rabobank
50 Alberto Vinale (Ita) Alessio
51 Geert van Bondt (Bel) Farm-Frites
52 Wim Feys (Bel) Palmans-Ideal
53 Zbigniew Spruch (Pol) Lampre-Daikin
54 Benoit Joachim (Lux) US Postal
55 Bert Roesems (Bel) Tonissteiner
56 Mario Aerts (Bel) Lotto-Adecco
57 Bart Bowen (USA) Saturn
58 Matthe Pronk (Ned) Rabobank
59 Andrea Tafi (Ita) Mapei-Quick Step
60 Dylan Casey (USA) US Postal
61 Dave Bruylandts (Bel) Palmans-Ideal
62 Kirk O'Bee (USA) US Postal
63 Paul van Hyfte (Bel) Lotto-Adecco
64 Heinrich Trumheller (Ger) Nurnberger
65 Levy Leipheimer (USA) US Postal
66 Eric de Clercq (Bel) Collstrop
67 Coen Boerman (Ned) Rabobank
68 Donates Virbickas (Ned) Collstrop
69 Wim Omloop (Bel) Bankgiroloterij-Batavus
70 Wilfried Peeters (Bel) Mapei-Quick Step
71 Hans de Clercq (Bel) Palmans-Ideal
72 Johan Museeuw (Bel) Mapei-Quick Step
73 Franco Ballerini (Ita) Lampre-Daikin
74 Sergio Barbero (Ita) Lampre-Daikin
75 Dirk Aernouts (Bel) Collstrop
76 Kurt van de Wouwer (Bel) Lotto-Adecco
77 Jan Schaffrath (Ger) Telekom
78 Karl Pauwels (Bel) Palmans-Ideal
79 Hendrik van Dijck (Bel) Palmans-Ideal
80 Steven de Jongh (Ned) Rabobank
81 Andreas Klier (Ger) Farm-Frites
82 Jesper Skibby (Den) Memorycard-Jack&Jones
83 Rolf Aldag (Ger) Telekom
84 Luca Scinto (Ita) Mapei-Quick Step
85 Graciano Recinella (Ita) Mobilvetta Design
86 Robert Hunter (SAf) Lampre-Daikin
87 Bart Leysen (Bel) Mapei-Quick Step
88 Johan Verstrepen (Bel) Lampre-Daikin

Complete results courtesy of Ronald Schipper
Start list
TEAM POLTI                      LOTTO - MOBISTAR 
   
1 Jeroen Blijlevens (Ned)       11 Mario Aerts (Bel) 
2 Mirko Celestino (Ita)         12 Andrei Tchmil (Bel) 
3 Eddy Mazzoleni (Ita)          13 Geert Verheyen (Bel) 
4 Bart Voskamp (Ned)            14 Koen Beeckman (Bel) 
5 Enrico Cassani (Ita)          15 Peter Wuyts (Bel) 
6 Rossano Brasi (Ita)           16 Kurt Van De Wouwer (Bel) 
7 Fabio Sacchi (Ita)            17 Paul Van Hyfte (Bel) 
8 Pascal Hervé (Fra)            18 Wim Heselmans (Bel) 

TEAM DEUTSCHE TELEKOM           TEAM NURNBERGER 

21 Rolf Aldag (Ger)             31 Dirk Baldinger (Ger) 
22 Gian Matteo Fagnini (Ita)    32 Klaus Diewald (Ger) 
23 Ralf Grabsch (Ger)           33 Christoph Goehring (Swi) 
24 Danilo Hondo (Ger)           34 Alexander Kastenhuber (Ger) 
25 Kai Hundertmark (Ger)        35 Roland Mueller (Swi) 
26 Jan Schaffrath (Ger)         36 Heinrich Trumheller (Ger) 
27 Stephan Schreck (Ger)        37 Jens Zemke (Ger) 
28 Erik Zabel (Ger)             38 Artour Babaitsev (Rus) 


TEAM COLOGNE                    LA FRANCAISE DES JEUX 

41 Raymond Meijs (Ned)          51 Lars Michaelsen (Den) 
42 Michael Schlickau (Ger)      52 Frank Hoj (Den) 
43 Bert Hiemstra (Ned)          53 Fabrizio Guidi (Ita) 
44 Bert Grabsch (Ger)           54 Jean-Patrick Nazon (Fra) 
45 Sören Petersen (Den)         55 Daniel Schnider (Swi) 
46 Martin Müller (Ger)          56 Cyril Saugrain (Fra) 
47 Stefan Kupfernagel (Ger)     57 Patrick D'Hont (Bel) 
48 Jos Lucassen (Ned)           58 Christophe Mengin (Fra) 

LAMPRE - DAIKIN                 MAPEI - QUICKSTEP 

61 Franco Ballerini (Ita)       71 Rinaldo Nocentini (Ita) 
62 Sergio Barbero (Ita)         72 Stefano Zanini (Ita) 
63 Mariano Piccoli (Ita)        73 Johan Museeuw (Bel) 
64 Marco Pinotti (Ita)          74 Wilfried Peeters (Bel) 
65 Marco Serpellini (Ita)       75 Tom Steels (Bel) 
66 Zbigniew Spruch (Pol)        76 Andrea Tafi (Ita) 
67 Marco Della Vedova (Ita)     77 Oscar Freire Gomez (Spa) 
68 Johan Verstrepen (Bel)       78 Max Van Heeswijk (Ned) 

MERCATONE UNO - BIANCHI         CANTINA TOLLO 

81 Fabiano Fontanelli (Ita)     91 Alessandro Baronti (Ita) 
82 Ermanno Brignoli (Ita)       92 Paolo Bossoni (Ita) 
83 Gian Mario Ortenzi (Ita)     93 Gabriele Colombo (Ita) 
84 Marco Artunghi (Ita)         94 Federico Colonna (Ita) 
85 Massimo Cigana (Ita)         95 Gianpaolo Mondini (Ita) 
86 Marcello Siboni (Ita)        96 Cristian Pepoli (Ita) 
87 Maurizio Caravaggio (Ita)    97 Guido Trenti (USA) 
88 Riccardo Forconi (Ita)       98 Germano Pierdomenico (Ita) 

ALESSIO SGM                     MOBILVETTA - ROSSIN

101 Davide Casarotto (Ita)      111 Eugeni Berzin (Rus)
102 Sasa Gajicic (Yug)          112 Domenico Gualdi (Ita)
103 Stefano Casagranda (Ita)    113 Ivan Quaranta (Ita)
104 Martin Hvastija (Slo)       114 Graziano Recinella (Ita)
105 Endrio Leoni (Ita)          115 Alberto Ongarato (Ita)
106 Rodolfo Ongarato (Ita)      116 Corrado Serina (Ita)
107 Serguei Outschakov (Ukr)    117 Laurent Roux (Fra)
108 Leonardo Guidi (Ita)        118 Paolo Valoti (Ita)

RABOBANK                        FARM FRITES
                                    
121 Leon Van Bon (Ned)          131 Andreas Klier (Ger)
122 Steven De Jongh (Ned)       132 Servais Knaven (Ned)
123 Erik Dekker (Ned)           133 Jans Koerts (Ned)
124 Aart Vierhouten (Ned)       134 Robbie McEwen (Aus)
125 Marc Wauters (Bel)          135 Geert Van Bondt (Bel)
126 Jan Boven (Ned)             136 Remco Van Der Ven (Ned)
127 Matthé Pronk (Ned)          137 Peter Van Petegem (Bel)
128 Karsten Kroon (Ned)         138

BANKGIROLOTERIJ-BATAVUS         US POSTAL SERVICE

141 Johan Bruinsma (Ned)        151 Frankie Andreu (USA)
142 Rudi Kemna (Ned)            152 Dylan Casey (USA)
143 Wim Omloop (Bel)            153 Julian Dean (Nzl)
144 Paul Van Schalen (Ned)      154 David George (RSA)
145 Lars Teutenberg (Ger)       155 George Hincapie (USA)
146 Kees Jeurissen (Ned)        156 Benoît Joachim (Lux)
147 Wim Van De Meulenhof (Ned)  157 Levy Leipheimer (USA)
148 Rik Reinerink (Ned)         158 Kirk O'Bee (USA)

SATURN CYCLING TEAM             MEMORYCARD-JACK&JONES

161 Michael Barry (Can)         171 Tristan Hoffman (Ned)
162 Bart Bowen (USA)            172 Jesper Skibby (Den)
163 Harm Jansen (Ned)           173 Frank Corvers (Bel)
164 Trent Klasna (USA)          174 Matthew Gilmore (Bel)
165 Frank McCormack (USA)       175 Arvis Piziks (Lat)
166 Seth Pelusi (USA)           176 Nicolay Bo Larsen (Den)
167 Chris Wherry (USA)          177 Jakob Storm Piil (Den)
168                             178 Michael Sandstod (Den)

VLAANDEREN2002-EMERCKX          PALMANS-IDEAL

181 Wilfried Cretskens (Bel)    191 Nico Eeckhout (Bel)
182 Davy Daniels (Bel)          192 Hans De Clercq (Bel)
183 Kris Gerits (Bel)           193 Wim Feys (Bel)
184 Bjorn Leukemans (Bel)       194 Scott Sunderland (Aus)
185 Erwin Thijs (Bel)           195 Gert Vanderaerden (Bel)
186 Wesley Theunis (Bel)        196 Hendrik Van Dyck (Bel)
187 Jurgen Van Roosbroeck (Bel) 197 Dave Bruylandts (Bel)
188 Karel Vereecke (Bel)        198 Karl Pauwels (Bel)

TONISSTEINER-COLNAGO            COLLSTROP - FED.VERZ.

201 Michel van Haecke (Bel)     211 Dirk Aernouts (Bel)
202 Bert Roesems (Bel)          212 Tony Bracke (Bel)
203 Davy Delme (Bel)            213 Danny Baeyens (Bel)
204 Jan Poppe (Bel)             214 Eric De Clercq (Bel)
205 Tom Desmet (Bel)            215 Hans De Meester (Bel)
206 Björn Cornelissen (Ned)     216 Roger Hammond (GB)
207 Niclas Ekström (Swe)        217 Geert Omloop (Bel)
208 Marc Chanoine (Bel)         218 Oleg Pankov (Ukr)

VILLE DE CHARLEROI              SPAR - OKI

221 Marc Streel (Bel)           231 Danny Daelman (Bel)
222 Ludovic Capelle (Bel)       232 Andy De Smet (Bel)
223 Grégory Barbier (Fra)       233 Bart Heirwegh (Bel)
224 Renaud Boxus (Bel)          234 Barry Hoedemakers (Ned)
225 Vincent Cali (Fra)          235 Tom Hoedemakers (Ned)
226 Laurent Pillon (Fra)        236 Gianni Rivera (Ita)
227 Philip Vereecke (Bel)       237 John Talen (Ned)
228 Jorgen Bo Petersen (Den)    238 Koen Vandvelde (Bel)

FLANDERS - PREFETEX

241 Ronny Assez (Bel)
242 Steven De Neef (Bel)
243 Olivier Genicot (Bel)
244 Scott Guyton (Nzl)
245 Tim Lenaers (Bel)
246 Kris Matthijs (Bel)
247 Marek Salermo (Fin)
248 Christian Selin (Fin)

Past Winners

1907    Maurice Leturgie (Fra)
1908    A. Kranskans (Bel)
1919    Isidoor Mechant (Bel)
1921    René Vermandel (Bel)
1922    Florence Van den Bergh (Bel)
1923    Emile Thollembbek (Bel)
1924    René Vermandel (Bel)
1926    Joseph Dervaes (Bel)
1927    Georges Ronsse (Bel)
1928    Joseph Dervaes (Bel)
1929    Joseph Wauters (Bel) 
1930    Denis Verschueren (Bel)
1931    Godefried De Vocht (Bel)
1932    Godefried De Vocht (Bel)
1933    Horemans (Bel)
1934    Léon Tommies (Bel)
1935    Gerard Loncke (Bel)
1936    Marcel Van Schil (Bel)
1937    Sylvain Grysolle (Bel)
1938    Antoine Dignef (Bel)
1939    Achiel Buysse (Bel)
1941    Stan Ockers (Bel)
1942    Lode Busschops (Bel)
1943    Eloi Meulenberg (Bel)
1946    Stan Ockers (Bel)
1947    René Mertens (Bel)
1948    Achiel Buysse (Bel)
1949    Roger Decorte (Bel)
1950    André Pieters (Bel)
1951    Ernest Sterckx (Bel)
1952    Roger Decorte (Bel)
1953    Hans Dekkers (Ned)
1954    Roger Decock (Bel)
1955    Alberic Schotte (Bel)
1956    Rik Van Looy (Bel)
1957    Rik Van Looy (Bel)
1958    Raymond Vrancken (Bel)
1959    Willy Butzen (Bel)
1960    Piet Oellibrandt (Bel)
1961    Raymond Vrancken (Bel)
1962    Piet Oellibrandt (Bel)
1963    Piet Oellibrandt (Bel)
1964    Joseph Hoevenaers (Bel)
1965    Willy Vannitsen (Bel)
1966    Joseph Spruyt (Bel)
1967    Paul In 'T'Ven (Bel)
1968    Edward Sels (Bel)
1969    Walter Godefroot (Bel)
1970    Roger De Vlaeminck (Bel)
1971    Gustaaf Van Roosbroeck (Bel)
1972    Eddy Merckx (Bel)
1973    Freddy Maertens (Bel)
1974    Marc Demeyer (Bel)
1975    Ronald Dewitte (Bel)
1976    Frans Verbeeck (Bel)
1977    Marc Demeyer (Bel)
1978    Dietrich Thurau (Ger)
1979    Daniel Willems (Bel)
1980    Ludo Peeters (Bel)
1981    Ad Wijnands (Ned)
1982    Ludo Schurgers (Bel)
1983    Jan Bogaert (Bel)
1984    Ludo Peeters (Bel)
1985    Adri Van der Poel (Ned)
1986    Jean-Paul Van Poppel (Ned)
1987    Etienne De Wilde (Bel)
1988    Jean-Paul Van Poppel (Ned)
1989    Jean-Marie Wampers (Bel)
1990    John Talen (Ned)
1991    Mario Cipollini (Ita)
1992    Wilfried Nelissen (Bel)
1993    Mario Cipollini (Ita)
1994    Peter Van Petegem (Bel)
1995    Rossano Brassi (Ita)
1996    Frank Vandenbroucke (Bel)
1997    Erik Zabel (Ger)
1998	Servais Knaven (Ned) TVM-Farm Frites 203 kms in 4.19.19
1999    Jeroen Blijlevens (Ned) TVM-Farm Frites 201 kms in 4.35.00

Past winners from Mario Stiehl in Berlin