Latest Cycling News for April 3, 2009
Edited by Hedwig Kröner
Armstrong returns to road
Giro on the horizon
By Gregor Brown
Lance Armstrong (Astana) is back on the road
Photo ©: Sirotti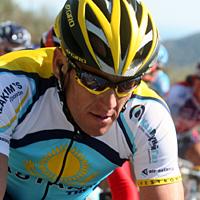 Lance Armstrong returned to the open road on his bike yesterday in Austin, Texas, 10 days after he crashed and fractured his right collarbone in the Castilla y León stage race. The American had a successful operation (12 screws and a support plate) two days after the incident.
I "just went for a ride, on the road. If one of you 484,272 [followers] tells my doc then I'm in trouble. Keep it between us please," he posted in a lighthearted manner on Twitter.
It was the first time that Armstrong fractured his collarbone since turning professional in 1990. The crash seemed to be a setback to his plans to race the Giro d'Italia from May 9-31. However, Armstrong now appears on track to line up with team Astana for the three-week stage race when it starts in Venice.
A broken collarbone typically requires four to six weeks for recovery. It will likely prohibit him from racing prior to the Giro.
Giro bound
Coming up on
Cyclingnews will cover the 60th edition of the Dauphiné Libéré live as of stage 4 on Wednesday, June 10, at approximately 15:00 local Europe time (CEST)/ 23:00 Australian time (CDT)/ 9:00 (USA East).

WAP-enabled mobile devices: http://live.cyclingnews.com/wap/

It will be the first time for the seven-time Tour de France winner to race the Giro d'Italia, which this year celebrates its 100th anniversary. Unlike other Tour de France greats, he did not use it as a Tour preparation race.
"I think that [Ivan] Basso, with his Liquigas team – [Vincenzo] Nibali and [Franco] Pellizotti – is strong," he told Cyclingnews prior to his crash. "What we saw in Tirreno-Adriatico with [Michele] Scarponi, [Gilberto] Simoni and [Davide] Rebellin, Diquigiovanni is strong package. [Danilo] Di Luca and [Damiano] Cunego will also be strong."
Armstrong mentioned that with himself, 2008 Tour winner Carlos Sastre and Russian Denis Menchov the Giro will have a different and more international feel.
"The Giro always throws you some surprises. If you look at last year's Giro, who would have thought that [Maurizio] Bruseghin would be in the top three? But a guy like that is very consistent, like a diesel. ... There are guys like that will certainly affect the race."
He agreed with organiser RCS Sport to race as part of his comeback to cycling. Prior to the race start he will meet with Italian Prime Minister Silvio Berlusconi to promote cancer awareness in the country.
Flanders: Boonen wants face-off with Pozzato
By Bjorn Haake
Boonen meets the press
Photo ©: Tim Van Wichelen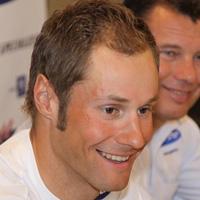 Tom Boonen has a chance to do something even the great Eddy Merckx never managed, win a third Ronde van Vlaanderen. If he goes on to take victory in his home race, he will become only the fifth man to triple in the Belgian Classic.
There is one certain rider who could stand in his way, Italian Filippo Pozzato of team Katusha. Pozzato beat Boonen to take the E3 Prijs semi-classic on Saturday and on Tuesday, he won the first stage of the Driedaagse De Panne, which featured many of the Ronde's punishing climbs.
Boonen – a two-time Paris-Roubaix winner, multiple Tour de France stage winner and 2005 World Champion – met with the press Thursday in De Panne, Belgium, to talk about the course, the historical significance of Flanders and 'Pippo' Pozzato.
Question: What is your training programme like until Sunday?
Tom Boonen: It's mostly getting rest, getting the massages, eating and sleeping. The big efforts are over; I will only go out for a couple of hours on Friday and Saturday.
Q: It will be sunny on Sunday, but is it true what people say, that the rain brings out the best riders?
TB: "With the rain it is easier to have an epic final in a big Classic. But with the sun the form comes along easier. Two years ago it was nice and we came to the Muur with something like 50 riders. It was still a hard race of course."
Q: Will you be 100 percent on Sunday?
TB: "It is impossible to say that now, but it is the moment to try and get a good result. My form is coming along. I trained well and I wasn't sick, so I can't complain."
Q: You did pretty well lately, but missed out on victory in E3 Prijs. Given the choice, is there something you would have done differently?
TB: "I already had some good results. [Saturday] wasn't a problem of mentality. I did some great races, riding 120 kilometres in the front group. I was on the attack a lot.
"I needed to check how things are going. Now I am certain that I have the possibility to do a great final in the Ronde. Of course the others want to do that too. We will have to see who is there in the end."
Continue to the full interview with Tom Boonen.
Hincapie one of Columbia's two-pronged strategy
American George Hincapie will be one of team Columbia's leaders for the Ronde van Vlaanderen Sunday, and is said to have "the form of his life" according to directeur sportif Allan Peiper. This year, Hincapie skipped the traditional pre-Ronde prep race Driedaagse De Panne in order to be in top shape.
"We wanted him to be really fresh on the week-end," explained Peiper to Radsportnews. "He did one big training ride and then rested. He will be in great shape on Sunday."
Together with his German teammate Marcus Burghardt, the 35-year-old rider from New York is the hope of his team Columbia for the Belgian Classic. Hincapie, who placed eighth at the recent E3 Prijs, has had good results in the Ronde in the past, notably finishing fifth last year and third in 2006. He will thus rely on a lot of race experience to go for the victory, or help his younger teammate Burghardt, who also stands his chances.
Last year's winner of Gent-Wevelgem recently finished fifth in the Omloop Het Nieuwsblad (formerly Het Volk) and tenth in the E3 Prijs.
Peiper is looking forward to the event, also because of the changed route this year. "It will be a whole different race this year," he said. "I think it will be one of the most open editions of the last few years."
Check out our detailed map and profile of the course.
Who do you think will win the Ronde van Vlaanderen? Tell us on the forum!
Irish champ Martin back for Amstel Gold
Tour debut is main target
By Shane Stokes
Garmin's Daniel Martin hopes to participate in the Tour de France this year
Photo ©: Stephen McMahon

Having pulled out of Paris-Nice due to illness, Daniel Martin and his Garmin Slipstream team have decided to delay his competitive return for two more weeks. The Irish pro was originally pencilled in to ride the Vuelta al País Vasco, which begins this Monday, but now he is likely to resume racing in the Amstel Gold Classic on Sunday April 19.
Martin feels that he has recovered from his illness, but believes it would be counter-productive to dig deep before having good race form. "I have decided to delay my comeback until Amstel," he told Cyclingnews yesterday. "Basque just came a bit too quickly. With the bacterial problem having affected me since January, I had basically spent 6-7 weeks not training. My fitness levels are not really up to one of the hardest races of the season... I thought it was better to prepare and be at 100 percent rather than struggle round in what is more often than not a wet race."
The 22-year-old Irish national champion had a very impressive debut season last year, winning the Route du Sud, placing fourth in the Tour of Britain and taking a number of other good results. This season started well with a third overall in the Tour of the Mediterranean plus the best young rider award, but his ambition of riding well in Paris-Nice was derailed when he had a sudden loss of form.
He withdrew from the race prior to the start of stage three, saying at the time that the team were fully supportive of his decision. While the Tour of the Mediterranean result was an impressive one, he said that his condition had been fluctuating for quite a while.
"It's hard to explain what I had," he said. "It's a really common problem but of course more apparent because I was trying to race. I had a similar thing twice last year but obviously not as extreme. I asked the doc for a basic round up [of what was going wrong]. I had a low immune system and bad bacteria outnumbering my good bacteria... almost like a virus, but not exactly.
"I'm just lucky to have someone with the knowledge and skills to cure me. Otherwise I could have ridden at 80 percent for the whole season."
Martin is not part of the team plans for the Giro d'Italia but, all going well, could find himself riding an even bigger race this summer. "I am on the short list for the Tour," he confirmed. "I just have to stay healthy now. All this training is actually beneficial as I will be very fresh come June and July."
Femur surgery for Caldwell
Garmin-Slipstream rider Blake Caldwell had to undergo surgery in Girona, Spain, after fracturing his femur out on a training ride on Thursday. The American was preparing for Vuelta a País Vasco but will now miss out on the event.
Writing on his personal blog, Caldwell announced that "surgery went well. It was a fracture of the femur that they secured with a plate. A fairly common break."
The 25-year-old now hopes that his break from racing will not be too long. "Missing País Vasco is going to be tough, but I don't have a choice," he continued. "Perhaps I'll be racing again in May. I sure hope so. On the bright side, the healing process is fairly simple from now on. It'll just take time for the bone to heal."
It is the third major injury in just over a year for Caldwell, who broke his hip at the Étoile de Bessèges in February 2008 and sustained several fractures when crashing at the Tour of Missouri in September last year. Still, he almost won the national road championship in August after finishing second overall at last year's Tour of Utah.
Riha vows to fight for cycling
By Susan Westemeyer
Austrian Ursula Riha hopes to save her race this year and continue the fight against doping
Photo ©: Cyclingnews
Ursula Riha, head of the Österreich Rundfahrt (Tour of Austria) which is still struggling to find sponsors for its 2009 edition, is determined to fight for her race and not see it destroyed by Austria's current doping scandals. Bernhard Kohl, winner of the mountains classification and third overall at the Tour de France last year, this week admitted that he blood doped with the help of his manager and the Humanplasma blood bank in Vienna. Moreover, another Austrian cyclist whose name was not released admitted to doping and dealing with drugs this week .
Looking at media reports of the present situation – with rumours also possibly linking former Gerolsteiner rider and fellow Austrian Georg Totschnig to the Viennese blood lab – she told Cyclingnews, "you have to ask yourself: why are you doing this? And especially, for whom?"
She noted that while she lays awake nights "trying to figure out how to finance and organise a sports event in these times," the athletes "still haven't figured it out. And actually they are the one who have to finally put an end to this madness."
Stopping now would be the wrong example, Riha said, thinking of the younger generation. "The important sports classes in the schools continue to be cut back, and parents are unsure as to whether they should let their children join sport clubs. What kind of perspective is that?"
Therefore, Riha said, she was in full support of the Austrian government's fight against doping. "I hope that this example will be followed all over Europe, and I will continue to do all I can to ensure that the 61-year-old Österreich Rundfahrt will continue."
Read more about Riha in Women in Men's Cycling.
Landis heads team at Battenkill
Organisers of the 2009 Tour of the Battenkill have announced that Floyd Landis will be amongst the riders competing in the Professional Invitational event on April 19 in Cambridge, New York. After serving a suspension for doping, Landis returned to professional cycling in January with Team OUCH, which will be racing the Tour of the Battenkill for the first time.
"This is a new race for us, and the hard nature of the course and the racing suits our team well," said team Directeur Sportif Mike Tamayo. "We're looking forward to making an impact on the race."
The Tour of the Battenkill features a challenging 124-mile course with 16 dirt road sections in Upstate New York's Washington County. Another 21 Professional and Elite teams are expected for the race.
Win on the Cyclingnews forum
Here's your chance to win the latest film about the world's favourite Classic, Paris-Roubaix.
Cyclingnews has four copies of Road to Roubaix to give away to readers who love their Classics. Cyclingnews reviewed it ahead of Christmas last year, and liked it so much we had the guys at Masterlink Films send us some more to share.
It's easy. Just log on to the Cyclingnews forum and tell us: Why do the Spring Classics get you going?
You can tell us about your experiences at the races (if you've been fortunate enough to be there) or whilst watching them on TV. As long as you keep it brief (no more than 200-300 words) and exciting, you'll be in the running to win a copy of the film that delivers an intimate look at Paris-Roubaix.
(All rights reserved/Copyright Future Publishing (Overseas) Limited 2009)