Latest Cycling News for April 1, 2009
Edited by Gregor Brown
Pozzato's mind focused on Ronde van Vlaanderen
By Bjorn Haake in Zottegem
Italy's Filippo Pozzato leads in De Panne, but focused on Ronde
Photo ©: Tim Van Wichelen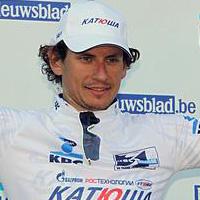 Filippo Pozzato's brilliant form has netted him two wins this season – E3 Prijs on Saturday and the first stage of the Driedaagse De Panne on Tuesday – but the Italian rider of team Katusha is focused on Sunday's Ronde van Vlaanderen.
"Sunday you need to have great legs for the Ronde van Vlaanderen and I hope I will have them. It is important to be good on Sunday, not today," he said after his win in De Panne.
If Pozzato doesn't have the overall lead going into the final De Panne stage he will hold back to save strength for Ronde.
"It's quite emotional to sign in in Brugge with all the fans. And then the Muur de Grammont, with all the spectators, it is a great feeling for the riders."
The Ronde van Vlaanderen is 260 kilometres and features 16 climbs, and many of those are covered with hard-to-manage cobbles. Pozzato considers two-time Ronde winner Boonen the favourite to win.
Pozzato's Ronde favourite: Boonen
Photo ©: AFP

"Tom Boonen was calm behind and he didn't make the race today. We will see on Sunday, when you have to go 100%. For me Boonen is still favourite number one. Sure, I am also one of the favourites, but if you ask me to give one name it is his [Boonen's]."
Belgium-based Quick Step has strength in numbers with Boonen and defending champion Stijn Devolder, and a strong support cast. The Russian Katusha team is a new formation in comparison, and many question its depth.
"Remember that Quick Step has guys like Boonen, [Sylvain] Chavanel and Devolder. It's not easy for any team with such riders in the front group. they have three riders who can win the Ronde, whereas from my team I am the only one. But I am calm, my teammates give 100 percent."
Pozzato said he felt really good within the new team and confirmed he had the same liberties at his former team, Liquigas. He won the Het Volk for the Italy-based team in 2007.
"In 2007, I was sick before Sanremo and things weren't going so well. Last year, I finished second in Sanremo, sixth in Flanders and I crashed in Paris-Roubaix. Now I have gotten some results so I hope this is good for the Northern Classics."
A two-man duel for De Panne overall?
By Bjorn Haake in Zottegem
Frederik Willems: "time trialling is not my best discipline"
Photo ©: Gregor Brown

The first day in the Three Days of De Panne is often the decisive one with all the hills that also feature in Sunday's Ronde van Vlaanderen. Frederik Willems (Liquigas) and Filippo Pozzato (Katusha) look set to make it a real two-man showdown thanks to their race winning attack. They are both about a minute ahead of third-placed Greg van Avermaet (Silence-Lotto).
The race has three more stages: a road stage today, and a road and a time trial stage on Thursday. The road stages should end in a bunch sprint, but the final 14.75-kilometre time trial stage will decide the race overall.
"We will see, time trialling is not my best discipline," Belgium's Willems told Cyclingnews. He lost the sprint to his Italian escape companion and is four seconds back in the overall classification.
"In the group that is about a minute back, there are some strong time trial riders. I still have to survive two days before that."
Pozzato would like to keep the leader's jersey, but not at all costs. "Sure, we will try to defend the lead, but it's not really that important. For me the important thing is Sunday. If I have the jersey I will defend it, but otherwise I won't."
Kohl admits doping from 2005 onwards
Austria's Bernhard Kohl: Confesses doping since 2005 and names others
Photo ©: Roberto Bettini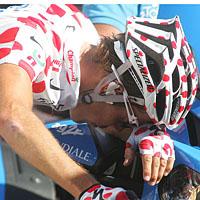 Bernhard Kohl, winner of the mountains classification and third overall at the Tour de France, told investigators the names of all the people who helped him dope. The Austrian included the name of the person who provided him the blood booster CERA-EPO for which he tested positive for at the Tour de France, he said at a press conference Tuesday evening in Vienna, Austria.
The press conference followed the arrest of his former advisor and manager Stefan Matschiner on doping-related charges Monday evening.
Kohl, 27, explained that he told investigators the names of other athletes who he knew were involved. None of the names was made public.
He also confirmed that he visited Humanplasma, a Viennese blood clinic, to blood dope. Blood doping was not illegal in Austria before August 2008. After the Winter Olympics in 2006, and questions about Austrian athletes blood doping, the plans changed.
The blood transfusions took place at Matschiner's house. "As far as I know, Matschiner was instructed by a doctor as to how to use the equipment," Kohl said. "He handled it professionally and carried out the transfusions himself."
Matschiner "took things over, bought the equipment and was in charge of the blood doping," according to Kohl's attorney, Manfred Ainedter. Kohl and other athletes helped to pay for the equipment, "but Mr. Matschiner carried it all out. He treated Bernhard and, of course, others."
Kohl said that in addition to the blood doping, he had received blood booster Erythropoietin (EPO), growth hormones, testosterone and insulin from Matschiner. He added that his first contact to Matschiner had been in 2005, the year he turned professional, and "he supplied me from then on to the end."
He contradicted his earlier statements that he had did not start doping until the 2008 Dauphine Libéré. In October, he said that he first used EPO after a crash in the French stage race.
Kohl is serving a two-year suspension for his positive control from the Tour de France. (SW)
(Talk about this article at our forum.)
Giro test: LPR wins team time trial
Petacchi takes rare team time trial win in Settimana Ciclista Lombarda
Photo ©: Roberto Bettini

Team LPR Brakes-Farnese Vini won the opening team time trial stage of the Settimana Ciclista Lombarda yesterday in Brignano Gera d'Adda, Italy. The Italy-based team bettered Katusha by six seconds and sent out a signal for the Giro d'Italia next month.
"It is nice for all of us to get up on the podium," said Petacchi to La Gazzetta dello Sport. "It is good to try our tactics prior to the Giro. The team time trial will be more important in Venice, we have to limit time losses for [Danilo] Di Luca."
Petacchi took the leader's jersey thanks to his win on day one. The following two stages are sprinters' stages and he should maintain his overall lead.
At the Giro d'Italia there is a more important jersey up for grabs, the maglia rosa. If LPR wins the 20.5-kilometre team time trial or places a close second Petacchi could take the pink top.
"I have in my head the Giro. I am not going to risk it all here in these sprint stages. ... The opening stages are suited to me, but the finale will be for Di Luca."
Di Luca won the Lombarda race last year when LPR dominated the overall classification. It placed Paolo Savoldelli second and Daniele Pietropolli third.
LPR is making the most out of this week in Italy. The team will not travel north for the Ardennes Classics in two weeks because the race organisers refused an invitation. Di Luca is a winner of Flèche Wallonne (2005) and Liège-Bastogne-Liège (2007).
(Talk about this article at our forum.)
Freire returns to racing
Spain's Oscar Freire returns to racing
Photo ©: Roberto Bettini

Oscar Freire will make his return to racing next week in the Vuelta al País Vasco. The Rabobank sprinter has not raced since a serious crash in the Tour of California the middle of February.
The Spaniard went down in the fourth stage in California, breaking two ribs. He has been unable to race since then.
Freire is still having problems with his ribs and with breathing, but knows that he needs to get the race kilometres in, Directeur Sportif Erik Breukink told HLN.be. "That is the only way he can be fit in time for the Amstel Gold Race."
País Vasco starts Monday, April 6, and runs through Saturday, April 11. (SW)
Clarke's jump to the ProTour
By Bjorn Haake in Middelkerke
Hilton Clarke in Europe with Fuji-Servetto
Photo ©: Bjorn Haake
Hilton Clarke is racing his first season in with a ProTour team, Fuji-Servetto. The Australian sprinter moved over from US-based Toyota-United to Europe-based team this last winter.
"It's going really well racing in the ProTour," he told Cyclingnews at the KBC Driedaagse De Panne-Koksijde.
He was quick to add that the races require full strength. "Last week I got a little bit sick and to do these Classics a little bit off is almost impossible."
Clarke still wants to fight through the three-day race. "I am hoping to become better and to get through this week, before Flanders."
In the domestic US scene, Clarke made a name for himself as one of the fastest guys on the circuit.
Clarke feels at home within Fuji-Servetto, a Spanish team formed out of the old Saunier Duval team of Mauro Gianetti. Some of his teammates include Cuban Ivan Dominguez Juan José Cobo and Ángel Gómez Gómez.
"The team is wonderful. It's great to be on it and the atmosphere is really good."
His personal goals are rather modest: He wants to get through the whole season and, if the chance comes, take a victory in Europe.
What's hot on the Cyclingnews Forum
The recently-completed UCI Track World Championships captured the imagination of our readers on the Cyclingnews Forum this week, especially given the performances of a certain young American by the name of Taylor Phinney. There's also some speculation about the whispers of a British professional road team that are becoming louder.
Take a look at what our readers are discussing on the forum with a few examples below:
Taylor Phinney – just how good can he be?
Can't get over the way he rides the pursuit-gets faster every successive kilometre, finishing with his fastest! Have never seen that before. - pmsc111
Given a few years, Boardman's record might finally be broken. If you look at Phinney's qualifying time of 4:15, that would have earned him Gold at the Olympics. He's already improved 10 seconds in less than a year. - Nightfend
The genetics are there but xx and xy alone don't a champion make. The impressive teenager is revving at 125 plus revs and is thus amazingly efficient. Add a few inches to that gear as he get older and stronger and world records will tumble. - bikepure
British/Sky road team
It's going to be interesting team for sure. The last I heard was they it will be up and running for next year with a possible start in Tour Down Under. There was also a rumour I read about that they are interested in Edvald Boasson Hagen. Other than that I haven't seen much. - Ingsve
Ballan and Pellizotti are other names being tossed around.
I remember Clive Woodward after winning the rugby world cup saying that he could coach the England football team to similar glory – something that has yet to happen. There's a huge difference between the track and the road as most GB riders have experienced – the big exception being Cavendish who has made his career on the road with a pro team. A team he has no intention of leaving and would be crazy to leave.
It's a nice idea and if they mean the team will have a TdF winner by 2014 then that's entirely doable if they sign a hot GC hope and train exclusively to win the TdF. But a British winner? I'm not holding my breath. - Bianchigirl
They have Scott Sunderland, Roger Legeay and Max Sciandri on board for the management already, some good names there. They have a big budget, so they should be able to get some good riders.
It won't be the chaos that you see at Lotto or Katusha thanks to the ideas of professionalism behind it. But many will have a lot to learn, it is no longer about the backwater of track cycling and its predictable performances (hit X watts and you will do Y time with Z medal), we're talking about confronting the world's best cyclists and then adding in tactics, crosswinds, punctures and a whole lot more. - Stani Kléber
(Additional editorial assistance provided by Susan Westemeyer.)
(All rights reserved/Copyright Future Publishing (Overseas) Limited 2009)