First Edition Cycling News for April 1, 2009
Edited by Les Clarke
Silence-Lotto lifts form before Flanders
By Bjorn Haake in Zottegem
Leif Hoste's on the up.
Photo ©: Bert Geerts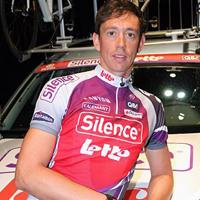 Silence-Lotto's Flanders fortunes have received a boost with its Classics contenders performing well in stage one of the Driedaagse De Panne-Koksijde on Monday.
Having been under fire from high-profile quarters in its own country, the team is seeking to find form heading into the northern Classics, which begin with the Tour of Flanders this weekend.
In the first stage of De Panne, Ronde team leaders Greg Van Avermaet, Leif Hoste and Philippe Gilbert were all in the first group that finished behind the escape duo, plus Roy Sentjens. Van Avermaet was quite happy with the development. "We made the race today; that was the first time that I see that and I think this is a change for us."
Van Avermaet has 'tasted blood' and is excited at the prospects for next week's big races. "Nobody factors us in their Flanders calculations but hopefully it will be good now," he said. "With Flanders and Paris-Roubaix coming up this is very important for us."
He admitted that Cadel Evans' victory last weekend in the Settimana Internazionale Coppi e Bartali, the team's first in 2009, played a vital role in arresting the squad's form deficiency. "That was very good for us. It's important to take that victory – it helps with the motivation. Maybe we can take a stage here in De Panne, which would also be important."
The promising Belgian sprinter is now itching for Sunday, where he believes the weather will be integral to the team's chances of success. "Wednesday [in Dwars door Vlaanderen] it was really cold but now it's warmer and this is better for me. I've seen the forecasts and it should get warmer. That's also better for my legs – I ride really well in this weather."
Despite struggling somewhat for form, Hoste was also looking better than in previous races after De Panne's first day. "I think it is a step forward for me," he said. "I had to abandon Tirreno and Dwars van Vlaanderen. Saturday [at the E3 Prijs] it was already getting better, although not super. Now we will see Sunday."
Silence-Lotto will have its work cut out for it in De Ronde as Katusha's Filippo Pozzato and the Quick Step squad have been looking sharp of late. Van Avermaet prefers to simply focus on what he can influence, however. "I am very happy with my condition for Sunday and I hope to do well."
Kohl says manager assisted doping
Bernhard Kohl said Tuesday night he had used a variety of doping products since 2005, and that they were provided to him by his former manager Stefan Matschiner. In a press conference in Vienna, Austria, the former Gerolsteiner rider said that Matschiner had provided him with EPO, growth hormones, insulin and testosterone, and had helped him with blood doping – all for a total of 50,000 Euro.
Kohl also admitted to having been a customer of Humanplasma, a Vienna blood bank. Investigators recently closed an investigation of Humanplasma, saying that the alleged blood doping took place before the nation's new anti-doping law went into effect August 8, 2008. However, Kohl said that he had been to the clinic three times with Matschiner, with the last of those visits being in September 2008, when it was illegal.
The Viennese clinic has also been linked to a scandal involving Austrian cross country skiers at the 2006 Torino Winter Olympics. Carabinieri (Italian police) discovered materials for blood transfusions where the athletes were staying in Pragelato, and former Austrian cross-country skiing coach, Walter Mayer, fled in his car.
Kohl was suspended for two years, after testing positive for CERA, a new form of blood booster EPO, at last year's Tour de France.
Matschiner was arrested Monday evening by Austrian authorities. According to his attorney, Matschiner was interrogated for several hours on Tuesday and admitted to having helped Kohl with blood transfusions. However, a search of his house turned up no illegal products. (SW)
Malaysia welcomes home track team
By Jean-François Quénet in Kuala Lumpur
Three cheers for Malaysia!
Photo ©: JF Quénet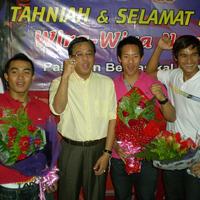 After the performances of Malaysia's riders at last week's UCI Track World Championships in Pruskow, Poland, interest in their home country has increased significantly. Approximately one hundred fans and friends, plus a large gathering of reporters waited for the arrival of passengers from Amsterdam at Kuala Lumpur international airport at 3pm yesterday, as banners greeted the national team.
Azizul Asni Awang's silver in the individual sprint and Rizal Tisin's bronze in the 1000m time trial was cause for celebration, with a function at the Malaysian National Sports Council in Bukit Jalil – also the headquarters for Le Tour de Langkawi – awaiting the successful duo.
"This is the first time Malaysia has returned with medals from the cycling world championships," said Minister for Youth and Sports, Datuk Seri Ismail Sabri Yaakob. "History has been made and now we know that not only [athletes in] badminton can target a gold medal at the next Olympic Games in London in 2012 but [those in] cycling also can do it."
With cycling (plus archery and badminton) identified as one of the three sports likely to Malaysia Olympic medals, funding has been allocated accordingly. The Minister also announced that Azizul and Rizal will receive an incentive reward of 20 000 and 10 000 Malaysian Ringgits respectively (approximately US$5,550 and US$2,770) for their achievements.
Malaysia's Australian coach John Beasley and Josiah Ng, who finished sixth in the team sprint in Poland (a significantly improved performance), were also welcomed as national heroes.
"My co-operation started with Josiah, who was looking for a coach and came to me in Melbourne," recalled Beasley. "After the Commonwealth Games in 2006, I took care of the whole Malaysian team. That was the breath of fresh air I was looking for and now I'll spend more time in this country because there is a huge potential of development at many levels," he added.
"BMX and MTB are also a concern now," continued Beasley. "On the track, the next target is a World's gold medal. The results in Poland have shown that it is a very realistic goal, especially in the kilo."
Ng was delighted to see the excitement now surrounding Malaysian cycling. "Hollywood couldn't have written a better script", said the Philippines-born Malaysian who grew up in California. "It's hard to say that it's a fairytale because it's only the beginning of the story. More great things are yet to come from our country," he said.
"What was done in Poland will hopefully inspire thousands of Malaysian kids as much as I inspired Rizal when he came and watched me riding a world cup event in Ipoh nine years ago – and now he's a medallist at the world championship. One generation on and it's time for other kids to perform."
That next generation could be inspired by these latest events, and some of them were also part of the function in Bukit Jalil, sharing Azizul and Rizal's joy. The Malaysian track squad will continue to celebrate at home before returning to training in Melbourne with the aim of taking more medals at the next Asian Games in China and Commonwealth Games in India next year.
"Nothing less than gold will be our aim," said Ng. "Hopefully we'll remain the dominant team in Asia as we were at these world championships."
Photography
For a thumbnail gallery of these images, click here
Images by Jean-Francois Quenet
Cooke biding his time
By Bjorn Haake in Middelkerke
Baden Cooke has been off the bike recently.
Photo ©: Bjorn Haake
Despite battling illness recently, the Classics remain in Baden Cooke's sights. He missed the crucial opening period of the Spring due to a virus, but Vacansoleil's Australian is aiming to be ready for the big week of Flanders, Gent-Wevelgem and Roubaix.
His sickness was particularly ill-timed. "I did Tirreno and I was just coming into some good form; I finished third in the last stage," Cooke told Cyclingnews. "A day later I was in bed and for eight days I couldn't do anything."
Only several days ago Cooke managed to get back on the bike for an hour-long ride. "I was still really fatigued. Only on Sunday did I do a three-hour ride. Hopefully I haven't lost everything..."
The prolonged sickness prevented him riding Dwars door Vlaanderen and the E3 Prijs, important preparation events for the Classics, and on Saturday Cooke gave some serious thought to racing on Sunday in the Brabantse Pijl. "The sickness was gone, but I had only done one-hour rides. I thought if I did a race I'd just tear myself to pieces."
A longer training ride on Sunday was the option taken. "I think it's safer to start today [Tuesday]." Cooke also explained the terrible timing of his illness. "With the races so hard you can't just miss so much time – I'm hoping to get through the next three days. It'll make it difficult for the Classics but I'll keep trying."
Cooke's Spring aspirations haven't been totally abandoned, however. "Hopefully I'll be able to lend a helping hand to my teammates; for something like Gent-Wevelgem I am still hopeful to get to the finish and hopefully get a result."
Cooke said the team will likely focus on one rider in the Tour of Flanders and Paris-Roubaix. "Björn Leukemans is riding really well, so he's probably the leader for those races."
He hasn't had the ideal start for his new team, Vacansoleil, although Cooke believes that his prospects beyond 2009 are well catered for in the Dutch squad. "It's a really good team and well organised. It's a good mix of experience and talent, a team for the future."
"We will try to do one of the Grand Tours, probably the Vuelta. I think for the next few years this is a team that will be really moving up and getting some good results."
Roelandts feels national champ's curse
By Bjorn Haake in Middelkerke
Jürgen Roelandts (Silence-Lotto)
Photo ©: Bjorn Haake
As Silence-Lotto comes under increasing scrutiny for its lack of results this year, its Belgian national champion, Jürgen Roelandts, is also feeling the pinch. The youngster has struggled with sickness and crashes after a decent start to the season.
Roelandts told Cyclingnews he hadn't changed his training and was in decent shape early in '09, much like his breakthrough 2008 season. "In Qatar I was already in good shape. Then I fell twice, which was a struggle."
He continued his preparation with some training in Spain. "I then did the Ruta del Sol. I was also very good in the first stages."
Then a familiar problem returned. "At the Ruta I was struck by food poisoning and I was out for a week. The same happened last year in Algarve." He didn't want to go as far as saying he needed to stay away from Spain and Portugal, but he was certainly frustrated with the experience.
"This definitely affected me in Kuurne-Brussel-Kuurne." He was the leader for Silence-Lotto in the second Belgian semi-Classic of the season, but could only manage 61st place, over eight minutes behind the winner.
Things are still not going his way. "Last week I fell again – I really haven't been lucky this year."
Roelandts couldn't predict when he was going to be back at full capacity; it depends on his back pain, which he is currently suffering. "We'll now see in the Driedaagse. My back is starting to get better, but it's still painful."
Nashville bike shop robbed
Nashville bike shop Gran Fondo was targeted by thieves who stole up to US$50,000 of premium inventory.
The shop, owned by Vida and Lynn Greer, parents of TIBCO rider Katharine Carroll, is now missing nine bikes, although thieves left the cash drawer untouched and didn't vandalise the premises.
The couple is now working with Metro Nashville detectives and State Farm to recover the inventory, and have released a list of the stolen stock to warn potential online auction buyers who may see it posted for sale.
Items stolen include:
*Pinarello FP6 – Campagnolo Chorus 11 speed, size 55, White, black, red, White Talon bar/stem, White Most Saddle and seatpost, Campy Eurus 2 way fit wheels
*Specialized Tarmac Expert Riva – Size 56, Black/Red, Ultegra SL, Ultegra wheels
*SW Roubaix SL – Ultegra SL, size 54, Blue/White, Ultegra SL, Mavic Ksyrium Equipe wheels, FSA stem, bar, Fizik Pave saddle, Spec seatpost
*Specialized Roubaix SL – SRAM Red, size 56 Black, Red/Force Mix, Roval Roubaix 350 wheels
*Specialized Tarmac SL – SRAM Force/Red Mix, size 54, White, Mavic Ksyrium SL wheels
*Orbea Ordu Rival – Size 51, Black/Red, SRAM Rival, Zipp 404's, Vittoria tires, Profile T2 Aero Bars, RC Stem
*Orbea Opal – Campagnolo Chorus 11 speed, Size 57, Black/Red/White, Mavic Ksyrium SL wheels, Selle Italia Flight Saddle, Zeus carbon post
*Orbea ORCA – Sammy Sánchez White & Gold, size 51, Campagnolo Super record, Zipp 202 wheels, Zeus carbon bar, stem, post, Vredistein tubulars
*Lynskey Helix – Campagnolo Centaur, Fulcrum 3 wheels, Fulcrum R3's, FSA stem, Wing Pro Compact Bar, Lynskey Ti post
What's hot on the Cyclingnews Forum
The recently-completed UCI Track World Championships captured the imagination of our readers on the Cyclingnews Forum this week, especially given the performances of a certain young American by the name of Taylor Phinney. There's also some speculation about the whispers of a British professional road team that are becoming louder.
Take a look at what our readers are discussing on the forum with a few examples below:
Taylor Phinney – just how good can he be?
Can't get over the way he rides the pursuit-gets faster every successive kilometre, finishing with his fastest! Have never seen that before. - pmsc111
Given a few years, Boardman's record might finally be broken. If you look at Phinney's qualifying time of 4:15, that would have earned him Gold at the Olympics. He's already improved 10 seconds in less than a year. - Nightfend
The genetics are there but xx and xy alone don't a champion make. The impressive teenager is revving at 125 plus revs and is thus amazingly efficient. Add a few inches to that gear as he get older and stronger and world records will tumble. - bikepure
British/Sky road team
It's going to be interesting team for sure. The last I heard was they it will be up and running for next year with a possible start in Tour Down Under. There was also a rumour I read about that they are interested in Edvald Boasson Hagen. Other than that I haven't seen much. - Ingsve
Ballan and Pellizotti are other names being tossed around.
I remember Clive Woodward after winning the rugby world cup saying that he could coach the England football team to similar glory – something that has yet to happen. There's a huge difference between the track and the road as most GB riders have experienced – the big exception being Cavendish who has made his career on the road with a pro team. A team he has no intention of leaving and would be crazy to leave.
It's a nice idea and if they mean the team will have a TdF winner by 2014 then that's entirely doable if they sign a hot GC hope and train exclusively to win the TdF. But a British winner? I'm not holding my breath. - Bianchigirl
They have Scott Sunderland, Roger Legeay and Max Sciandri on board for the management already, some good names there. They have a big budget, so they should be able to get some good riders.
It won't be the chaos that you see at Lotto or Katusha thanks to the ideas of professionalism behind it. But many will have a lot to learn, it is no longer about the backwater of track cycling and its predictable performances (hit X watts and you will do Y time with Z medal), we're talking about confronting the world's best cyclists and then adding in tactics, crosswinds, punctures and a whole lot more. - Stani Kléber
(All rights reserved/Copyright Future Publishing (Overseas) Limited 2009)