Latest Cycling News, March 31, 2009
Edited by Gregor Brown
Posthuma to defend De Panne
Posthuma defends in De Panne
Photo ©: AFP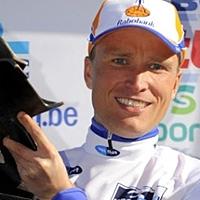 Joost Posthuma will aim to defend his title in the Driedaagse De Panne stage race. The Dutchman will lead the Rabobank team in the three-day race that starts today in Middelkerke, Belgium.
"I finished second two years ago and I won last year," he said this morning. "I will be trying to win again."
Posthuma, winner of the Vuelta a Andalucía in February, took his 2008 victory thanks to the final stage. He won the time trial and took the general classification from Enrico Gasparotto. He finished second in 2007 to Alessandro Ballan.
"It will all depend on today. If a break stays away then that will decide the race."
The race starts with a 199-kilometre stage from Middelkerke to Zottegem. The second stage is a road stage from Zottegem to Oostduinkerke. The riders will face two stages on Thursday: a morning road stage and the afternoon 14.75-kilometre time trial. (BH)
Saxo Bank bets on Kroon for Ronde
Karsten Kroon leads Saxo Bank in Ronde
Photo ©: Elmar Krings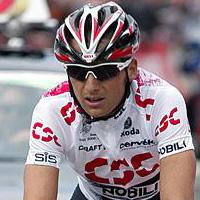 Karsten Kroon will be the leader of Team Saxo Bank in Ronde van Vlaanderen this Sunday, in Belgium. The Dutch rider finished fifth in the Brabantse Pijl last Sunday and will do his utmost to deliver his squad a victory.
With Fabian Cancellara still struggling for form since his training injury sustained at the beginning of the month, Kroon will be the outfit's sole leader at the race, revealed sports director Lars Michaelsen to Belgian Sportwereld.
"We have to count on Karsten Kroon in the Ronde," said Michaelsen. "Matti Breschel is not yet on his best form. Kurt-Asle Arvesen won last year in Harelbeke, but now it's a little different. He'll be turning his wheels to get some racing kilometres into his legs, I think."
Cancellara will still be hoping to factor in the race. "He knows the course and can add a ton of experience to the team. He is a rider who looks beyond his own ambitions. If he's not great, he hasn't got a problem putting himself at the service of a teammate who has a winning chance. Like two years ago in Paris-Roubaix, where [Stuart] O'Grady won."
Kroon, who finished seventh last year and may challenge is keeping his feet in the ground. "I can dream of victory, although I know that it will be immensely difficult. If I'm on the podium in Meerbeke I will be overjoyed," said the 33-year-old.
"The amount of spectators and their enthusiasm make it the most beautiful course! There is nothing that matches climbing the Kapelmuur with the best. It gives you goose bumps on your arms. Even if it rains and the wind blows – it makes the whole thing just more heroic."
With Saxo Bank having scored only a few victories thus far this season – a drought compared to last year – the pressure is on for a win. However, there's no "negative pressure" according to Kroon. "Last year, we had the wind in our sails. It just flowed, from Tirreno to the Tour to the Olympic Games. You have to know when to enjoy it, but also realise that it can't always be like that."
Kroon had words of praise for the behaviour of his team owner, Bjarne Riis, in comparison to some reactions at Silence-Lotto, another squad that is getting nervous for a major win. "I think it's great that Bjarne Riis reacts very calmly now that it's not going so well. I don't understand Silence-Lotto at all. Already after Kuurne [on March 1 - ed.] they panicked. That's not the way to go with a team."
"The difference with last season is big," Michaelsen said. "We're not so happy with it, but that's just the way it goes in life sometimes. ... Patience is the word of order..." (HK)
(Who will win the 2009 Ronde van Vlaanderen? See our forum.)
Ballan supports teammates in Paris-Roubaix
Ballan supports teammates in Paris-Roubaix
Photo ©: Roberto Bettini

World Champion Alessandro Ballan will head north to help his Lampre-NGC teammates prepare for the Paris-Roubaix, where he finished third in 2008, though he will miss the actual race. The Italian had to forfeit his Classics campaign due to a cytomegalovirus.
"I am doing better, and next week I will have some more exams to check the status of the virus," he said in video press release. "I would like to head north on the eve of the Paris-Roubaix to reconnoitre some of the sectors with my teammates."
Doctors diagnosed Ballan with cytomegalovirus – a herpes-type virus that causes tiredness and fever – after his withdrawal from the Tirreno-Adriatico stage race mid-March. It was a blow for the World Champion who had hoped to repeat his 2007 Ronde van Vlaanderen win this Sunday and to have a chance at the Paris-Roubaix, April 12.
"It will be hard to have another occasion to race the Northern Classics with the World Champion jersey. ... My objective is to return for the Giro d'Italia."
Ballan won the World Championship last September in Varese, Italy. He attacked solo from three kilometres out to win the title over teammate Damiano Cunego and Dane Matti Breschel.
Kohl's and Rasmussen's former manager arrested
Federal police arrested sports manager Stefan Matschiner, 34, Monday night in Austria. Viennese prosecutors suspect him of providing doping materials to his clients.
Matschiner was the manager for, among others, Bernhard Kohl and Michael Rasmussen. Kohl is serving a two-year suspension for having used Erythropoietin (EPO) CERA during the Tour de France. Rasmussen is serving a suspension for providing false information about his whereabouts.
According to spokesman for the public prosecutor in Vienna, Matschiner dealt in forbidden substances "quite recently" and supplied "numerous athletes," but names are unknown.
Matschiner has denied any involvement in doping. After his arrest, he said, "Sport is over for me. I am done with this dishonest scene."
Meanwhile, Kohl testified this week. A ten-man Special Commission on Doping questioned him for several hours, with the emphasis on his relationship to Matschiner.
Kohl said Matschiner's arrest did not surprise him. He has been in touch with investigators for a long time now, he explained.
"Until Tuesday I can't make any detailed public statements, because of the danger of prejudicing the case," he told the APA press agency. Kohl plans to hold a press conference this week and "answer all questions". (SW)
Giro reveals Roman time trial details
Giro d'Italia's Rome time trial
Photo ©: RCS Sport

Giro d'Italia organiser RCS Sport revealed the details of the final stage of the 2009 edition, May 9 to 31, yesterday in Rome. The stage race ends with a 15.5-kilometre time trial through the country's capital city, passing moments such as the Colosseum and Piazza di Spagna.
"It will be a tribute to Rome," race director Angelo Zomegnan told Agr. "It is important to remember where this Giro starts, it was clear that this edition would arrive here in Rome."
The 100th anniversary Giro d'Italia starts with a team time trial on Venice's lido. After one week of racing, there is a second time trial – a 61.7-kilometre test in the Ligurian region. The race travels south for its conclusion in Rome.
The stage starts and finishes near the Colosseum. It begins with four kilometres of uphill and the final 11 are flat (15.5km in total, up from the original 15.3km). There are 17 turns in the breathtaking circuit that takes in Via Veneto, Piazza di Spagna, San Pietro, Castel Sant'Angelo, Piazza del Popolo, La Bocca della Verità and Il Circo Massimo.
The Italian Grand Tour used Milan as its finishing city in recent editions. Zomegnan is considering a return to Rome in 2011 to celebrate the 150th anniversary of the Unity of Italy.
Wegmann goes too early in Brabantse Pijl
Fabian Wegmann too early in Brabantse Pijl
Photo ©: Bert Geerts

German Champion Fabian Wegmann under-calculated the distance to victory in Sunday's Belgian Classic, Brabantse Pijl. The Milram rider finished third behind Anthony Geslin (Française des Jeux) and Jérôme Pineau (Quick Step).
"I am disappointed, we were so close!" said Wegmann in a press release. "We rode well the whole race and also in the finale, which was a really strong team performance. I sprinted at 250 meters in the optimal position but it turned out to be 30 meters too early."
Wegmann's teammate Christian Knees led the eight-man escape group in to the finale. Wegmann, at the back, attacked down the right hand side of the road. The French duo were able to bring him back just before the line.
"I would still like to thank the whole team, even if I would rather have thanked them with a win."
Wegmann finished second in Eroica Toscana three weeks ago. He won the German Championships and the GP Miguel Indurain in 2008.
Di Luca defends in Settimana Lombarda
The 39th Settimana Lombarda stage race starts today in Brignano, Italy, with a strong Italian field. Danilo Di Luca, 2007 Giro d'Italia winner, will defend his title against Gilberto Simoni, Davide Rebellin and Giovanni Visconti.
There are 25 teams and 194 riders slated to start in the northern Italy stage race (held in the Lombardia region). Alessandro Petacchi, Francesco Ginanni and Coppi e Bartali stage winners Danilo Napolitano and Yuri Mitlushenko should head the sprint stages.
The race starts with a team time trial stage of 18.7 kilometres in Brignano. Next weekend's stages should decide the overall title. Stage five covers Colle della Maddalena before the finish in Flero and stage six, Sunday, covers the Colle Gallo, Selvino and Boccola prior to the finish in Bergamo.
Di Luca (LPR Brakes) won the 2008 edition over teammates Paolo Savoldelli and Daniele Pietropolli.
Stage 1 (March 31): Brignano Gera d'Adda - Brignano Gera d'Adda, 18.7km
Stage 2 (April 1): Brignano Gera d'Adda - Calcinate, 160km
Stage 3 (April 2): Boltiere - Zingonia, 164km
Stage 4 (April 3): Vertova - Vertova, 183.6km
Stage 5 (April 4): Flero - Flero, 159km
Stage 6 (April 5): Montello - Bergamo, 131.3km
What's hot on the Cyclingnews Forum
The recently-completed UCI Track World Championships captured the imagination of our readers on the Cyclingnews Forum this week, especially given the performances of a certain young American by the name of Taylor Phinney. There's also some speculation about the whispers of a British professional road team that are becoming louder.
Take a look at what our readers are discussing on the forum with a few examples below:
Taylor Phinney – just how good can he be?
Can't get over the way he rides the pursuit-gets faster every successive kilometre, finishing with his fastest! Have never seen that before. - pmsc111
Given a few years, Boardman's record might finally be broken. If you look at Phinney's qualifying time of 4:15, that would have earned him Gold at the Olympics. He's already improved 10 seconds in less than a year. - Nightfend
The genetics are there but xx and xy alone don't a champion make. The impressive teenager is revving at 125 plus revs and is thus amazingly efficient. Add a few inches to that gear as he get older and stronger and world records will tumble. - bikepure
British/Sky road team
It's going to be interesting team for sure. The last I heard was they it will be up and running for next year with a possible start in Tour Down Under. There was also a rumour I read about that they are interested in Edvald Boasson Hagen. Other than that I haven't seen much. - Ingsve
Ballan and Pellizotti are other names being tossed around.

I remember Clive Woodward after winning the rugby world cup saying that he could coach the England football team to similar glory – something that has yet to happen. There's a huge difference between the track and the road as most GB riders have experienced – the big exception being Cavendish who has made his career on the road with a pro team. A team he has no intention of leaving and would be crazy to leave.

It's a nice idea and if they mean the team will have a TdF winner by 2014 then that's entirely doable if they sign a hot GC hope and train exclusively to win the TdF. But a British winner? I'm not holding my breath. - Bianchigirl
They have Scott Sunderland, Roger Legeay and Max Sciandri on board for the management already, some good names there. They have a big budget, so they should be able to get some good riders.

It won't be the chaos that you see at Lotto or Katusha thanks to the ideas of professionalism behind it. But many will have a lot to learn, it is no longer about the backwater of track cycling and its predictable performances (hit X watts and you will do Y time with Z medal), we're talking about confronting the world's best cyclists and then adding in tactics, crosswinds, punctures and a whole lot more. - Stani Kléber
(Additional editorial assistance provided by Bjorn Haake, Hedwig Kröner and Susan Westemeyer.)
(All rights reserved/Copyright Future Publishing (Overseas) Limited 2009)