Tales from the peloton, March 27, 2009
The feminine touch
Austrian Ursula Riha
Photo ©: Cyclingnews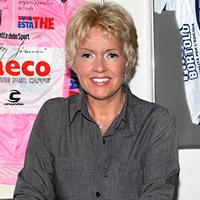 The old adage, "Behind every successful man there's a wise woman," applies to the world of men's pro cycling. Despite being a small force, they are there, and make a difference. Cyclingnews' Susan Westemeyer learns the stories behind some of the "sisters of cycling."
Do these women face any form of discrimination, such as negative remarks based on gender? The women behind the following stories believe that this generally isn't a problem, although if there is a problem, it normally relates to aspects other than sex.
Anne Gripper, head of the UCI's anti-doping efforts says that, "Any rude comments are more likely to be about the subject of my role." Marlies Van Gerwen-Liebregts, business manager for Team Milram, explains, "Maybe the police at the Tour de France are rude; not because I'm a woman, but because they are rude to everyone."
The six women featured below encompass a variety of jobs, from journalist to team manager. Some have grown up around the sport while others came to it coincidentally.
Ursula Riha
Tour of Austria race director Ursula Riha says she came to the sport "coincidentally" in 1987, when she was aksed to work for the organisation committe for the World Championships that year in Villach.
"After that, I stayed in cycling. At first only part-time, but after 1989 full-time," explains the 45-year-old Vienna native. She has worked as an organiser not only for the Tour of Austria but the UNIQA Classic, the Austrian Cup Finales, and the Internationalen Wiesbauer Rathauskriteriums in Vienna.
Riha says that in all those years, "naturally some things have changed for the better. There were start-up problems, like the typical question, 'Does she know what she is doing?' But I was lucky in that I had mentors."
In general, she finds it "agreeable" to be a woman in a men's sport, "because men don't bitch - at least not officially!"
Australian Anne Gripper
Photo ©: Shane Stokes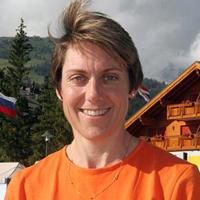 Anne Gripper
Anne Gripper is the head of the UCI's anti-doping programme, a position that came her way when she moved to Lausanne to work on her master's degree in sports management.
The 44-year-old Australian says, "I have never felt that I worked in 'men's sport'. I work in sport. Of course, professional road cycling is dominated by male riders in male-managed teams." Consequently she's immersed in men's sport "by accident more than by choice specifically."
She worked for the Australia Sports Commission in the Active Australia programme between 1994 and 1999, after which she led the Australian Sports Drug Agency before moving to Switzerland in 2005.
She sees her role as more polarising than the fact that she is a woman. "There are many people involved in the sport who believe anti-doping should be managed in a different way. Discrimination based on gender may be more evident if I was undertaking a traditional cycling role such as directeur sportif or mechanic."
"In actually think there may be more uncertainty about my ability to undertake the role due to the fact that I am not from the traditional world of European cycling. I am Australian and don't speak French," she said. "I suspect that being from 'down there' and not being easily able to converse in any of the main European cycling languages has more of an effect on my full acceptance by the male cycling community than being female does."
Anti-doping "has always had a good representation of women working in senior levels", Gripper notes, even if her particular sport is a male-dominated one. "Although I am often intrigued and frustrated by a more adversarial approach to negotiation and relationships, I try to stay focussed on the job at hand."
Marlies Van Gerwen-Liebregts
Maarlies Van Gerwen-Liebregts grew up in pro cycling. Her father was a professional rider from 1976 to 1985, and opened an agency that matched riders with races after his retirement. "I was used to having riders come to our house, ever since I was a little girl. I grew up with riders and cycling," says Van Gerwen-Liebregts.
After studying sport marketing, she went to work for her father's firm before following him to Team Milram, where she is now general and business manager. "I have never been discriminated against. All the riders were used to having a girl on the team.
"Maybe it is because I am related to the big boss," she admits with a laugh.
The 28-year-old emphasises the family atmosphere prevalent within the sport. "I know a lot of cycling people. As they grew in their career, I grew with them, so we are all used to each other, both riders and officials."
The sport has brought her not only a career but also a husband, Milram head of personnel and part-time directeur sportif Raoul Liebregts. They were introduced by a racing acquaintance. Liebregts was working as a policemen at the time, but had been a sport teacher and had ridden as an amateur. "So he already had one link with the sport and I was a further link."
Pascale Schyns
"...From the moment you prove deserving of their respect - and you have to gain it as soon as you start - it's not a problem."
- Pascale Schyns says the gender gap isn't a major concern for her..
Pascale Schyns is possibly the busiest woman in men's cycling. The 44-year-old born in Liege, Belgium, is press spokeswoman for Team Caisse d'Epargne, head of communications for the International Association of Professional Cyclists and is a UCI commissaire. In the past she has worked as a journalist, was secretary of the International Cycling Journalists Association and was the translater for rider interviews at the Tour de France.
This "means I listen to and try to help everybody. And when you know everybody's problems, it for sure helps you to make some problems relative and try to resolve some other ones."
As for any problems she has faced based on her gender, she says, "Sincerely, not the least."
"Of course to start as a woman in a men's sport... it's nothing easy; from the moment you prove deserving of their respect - and you have to gain it as soon as you start - it's not a problem. In fact, if they accept you, they respect you more than they would a man," she explains.
She credits her own riding background as a big factor, having ridden for nearly six years. "As a consequence you know what it is about! You know what you are speaking about. That's a fact."
The 44-year-old has a fascinating and multi-faceted background. She was born in Liege, where she finished Classic Studies (Latin-Greek) before majoring in German Philology (English, Dutch and German) at the university in the Belgian city. She then went to Rome for year to study at the Actor's Studio, and then on to the Cours Florent in Paris.
Her involvement with the sport later in life came about coincidentally, however. In 1989 she was studying and working as a theatre director in Mexico when she happened to meet the organisers of the Tour of Mexico in a restaurant. They were looking for a translater, and she fit the bill.
"Some members of the UCI were present to evaluate the race and when I came back to Europe, they called me and it started like that. I have no regrets because I like it, but it's absolutely not the life I ever imagined for myself!"
She somehow finds time to write books of poetry and short stories, having published nine of them. Most are in French, but one book of poetry, "Orange Fruits Grown on Rose Trees" is in English. She has just finished her first novel, for which she is seeking a publisher.
American reporter Bonnie Ford
Photo ©: Cyclingnews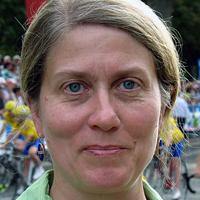 Bonnie Ford
The background of veteran repoter Bonnie Ford played a role in her career selection. "Much of my interest in international sport comes from the fact that I grew up in Paris from age 12 to 17 and consider France a second home. I saw my first Tour de France on summer vacation when I was 15," she says.
She covered news and sports for the Ann Arbor News, the Detroit News, the Cleveland Plain Dealer and the Chicago Tribune before starting her own freelance company in 2004. Ford joined ESPN.com as a staff writer in 2007.
The 50-year-old New York native concentrates on tennis, cycling and Olympic sports, although the Tour still holds a special place in her heart. "I covered my first Tour in 2000 and have not missed one since," she says.
"I can only describe my relationships in the cycling press corps as tremendous. I fnd the Tour press room to be one of the most generous places in journalism - because of all the different cultures and languages represented there; everyone needs help from someone at some point.
"When I'm uncertain about a detail of cycling tactics or history, I'm not shy about asking, and I can't recall ever being turned down," Ford adds. "Similarly, I've been consulted and interviewed countless times about American riders in the peloton."
She says sexual discrimination is never an issue. "If anything, the riders, directors and race staff tend to remember me and appreciate my interest because there are so few women covering the sport; being an American woman makes me a double minority."
"Perhaps covering cycling was easier because I came to it as an experienced, well-traveled and confident journalist in my early '40s," she says. "Writing about the sport can be challenging for many reasons, but gender isn't one of them. I enjoy it more than just about anything else I do."
Robin Morton
Robin Morton managed teams
Photo ©: Cyclingnews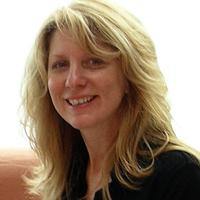 American Robin Morton has been involved in the managment side of men's cycling since the late 1970s. As she says, "one thing led to another", and she ended up becoming the first female team manager in pro cycling, and created the first UCI registered American professional road racing team.
If there are few women in men's cycling in 2009, there were even fewer in the 1980s. Yet Morton denies ever having truly faced any discrimination. "The people who know me will attest that I have a rather strong personality so I am not easily intimidated. Rude comments are easy to ignore," she says.
Still, her sex did play a role. In 1985 she was managing a team called the Philadelphia Lasers, which became the first US-based team to compete in the Vuelta a España. "The first time the team went to France for the Dauphiné, Midi Libré and Tour de l'Aude, the other team managers had to vote (in the manager's meeting) whether or not to allow me to be in the race caravan, as women were not allowed. They all voted yes and then we had a celebratory champagne toast!"
Morton, in her early 50s, managed teams throughout the 80s before joining a race promotion firm. She eventually became the technical director for the US Pro Championships, the Tour de Georgia and the San Francisco Grand Prix. In 2005 she opened her own firm, g4 Productions, with two other women as partners. The firm produces fundraising, cycling and running events.
Photography
For a thumbnail gallery of these images, click here
Images by Cyclingnews
Images by Shane Stokes/Cyclingnews.com