First Edition Cycling News for April 3, 2009
Edited by Laura Weislo
Chavanel in tune for the Ronde
By Hedwig Kröner
Chavanel is not the least bit happy, is he?
Photo ©: AFP
Last season Sylvain Chavanel won two semi-Classics, the Dwars door Vlaanderen and Brabantse Pijl. Now with the Belgian Quick Step team, the Frenchman is hoping to remove the 'semi-' and add a true Classic to his name.
Even though it will be just his second time in the Ronde van Vlaanderen, the Frenchman will be one of his squad's leaders for the cobbled Classic, and has been busy honing his form to be ready for Sunday's race.
Unlike most of his teammates, who took part in this week's Driedaagse De Panne-Koksijde, Chavanel was quietly fine-tuning his racing shape ahead of the Ronde. He chose to stay at his home in Châtellerault this week, training six hours on Thursday, three hours "race intensity" on Wednesday and four hours on Tuesday, taking advantage of some beautiful springtime weather in Northern Europe to prepare himself for the big objective of his team's spring campaign.
"Last year, I had to let go 15 kilometres before the finish," he told Cyclingnews on the phone while doing his training ride on Thursday morning. "I had attacked before the Muur of Geraardsbergen, but got caught there. But I hope to be stronger this year, quite simply. I showed in the last two Belgian races that I was always with the best – so my goal is quite clear. We are a strong team, so that's reassuring and makes me feel confident."
Chavanel's confidence is well-founded, too, since he has already shown himself with a stage win and third overall at Paris-Nice. He now finds his own name on the list of favourites along with teammates Tom Boonen and last year's champion Stijn Devolder.
Despite a relative lack of experience with the course, Chavanel doesn't feel at a disadvantage. "I just need to stay focused and follow the other guys, like Tom, who will be up front in the strategically important parts of the race," explained the former Cofidis rider.
"I think it's a race that fits my profile as a rider. I got to know the event last year and I like it a lot. Maybe I should have participated in it sooner. It suits my style as baroudeur, puncheur, rouleur [could translate as break-away rider, strong finisher, time triallist - ed.]... I get on well over those climbs, and I can race fast. It suits me."
Coming up on
Cyclingnews will cover the 60th edition of the Dauphiné Libéré live as of stage 4 on Wednesday, June 10, at approximately 15:00 local Europe time (CEST)/ 23:00 Australian time (CDT)/ 9:00 (USA East).

WAP-enabled mobile devices: http://live.cyclingnews.com/wap/
With three potential winners at Quick Step, the obvious question of hierarchy had to be asked: Will Boonen, Devolder and Chavanel be equal leaders at the race? "There is no equality. It all depends on the race circumstances. Surely, Tom will be the number one leader – he's the big favourite. Then, we have two nice cards up our sleeve with Devolder, who won last year, and myself, who still has everything to prove. So voilà."
The Ronde van Vlaanderen, Belgium's supreme classic, will be taking place this Sunday – time will tell if Quick Step will play its three aces right against its many rivals such as three-time runner-up Leif Hoste (Silence-Lotto), Heinrich Haussler (Cervélo TestTeam), Filippo Pozzato (Katusha) as well as Nick Nuyens (Rabobank).
Who do you think will win the Ronde van Vlaanderen? Tell us on the forum!
Hoste motivated despite triple Ronde heartbreak
By Bjorn Haake in De Panne
Hoste reflects on the Ronde
Photo ©: Luc Claessen

Belgian Leif Hoste has finished second in the Ronde van Vlaanderen an agonising three times in his career, but on Sunday he finally wants to reach the top step. The Silence-Lotto captain told Cyclingnews that despite a recent illness and a few minor crashes, he is right where he needs to be to win.
Hoste will be competing in the Ronde for the sixth time, and from the beginning of his career he showed that the race suits him. Most people point to experience as a key factor in winning the race, but Hoste took a more pragmatic view. "Sure, it's good to have a little experience, but it's better to have good legs than a lot of experience and bad legs."
Hoste added that knowing the roads doesn't make up for one important factor. "The biggest thing is motivation. You either like these races or you don't," he smiled. "Yes, I like these races in Flanders and I am very motivated!"
In 2004, Hoste debuted in the race and took second to Steffen Wesemann. In 2006, he made the decisive attack on the Valkenberg only to be out-sprinted by Tom Boonen, and then the next year had a frustratingly similar experience with Alessandro Ballan.
After three years in the runner-up spot, Hoste knows that luck is an important factor to the race, and not just on race day. A rider's preparation needs to be perfect, and while he has had some setbacks, he's not panicking. "I was sick two weeks ago in Tirreno. It's bad luck, there is nothing you can do about it."
He took it easy, rested for three days, then resumed his training. "Now everything is like I want it to be." Indeed, his increasing form was quite noticeable in De Panne. On the most difficult day he made the 29-man front group.
More bad luck struck this week, but was fortunately of minor consequence. "I crashed on Saturday [in the E3 Prijs] and on Wednesday [stage two of De Panne]. But it is nothing special, just a few scratches. A typical bike racer injury."
Sizing up the competition
Hoste overcame his disappointment to crack a smile on the podium in 2007
Photo ©: Sirotti

Despite getting harsh criticism in the Belgian press for a lack of early-season results, the Silence-Lotto seems to be coming together just in time for the Ronde. The team placed four riders in the lead group on the first stage of De Panne, with sprinter Greg Van Avermaet, Philippe Gilbert, Hoste and Roy Sentjens.
"We will see who is number one in our team on Sunday. We start with Philippe, Van Avermaet and me. Then we will see in the race who is the strongest."
The team's Belgian rivals Quick Step also have a strong squad, and will be the clear favourites, but Hoste also tipped Heinrich Haussler (Cervélo TestTeam) as one to watch. "The most important thing is that the condition is good and for him that's not a problem right now."
Filippo Pozzato, winner of the first stage in De Panne as well as the E3 Prijs also has strong legs right now, but it is unclear if the Katusha team will be strong enough to support him. "I don't know if the lack of a team will affect him. I saw him this week and he is good enough. He can also look at other guys and play it like this."
The ability to read a race is important and Pozzato doesn't lack in that area. "He is smart enough to do it without a strong team," said Hoste.
Hoste didn't want to predict the key section where a winning move could be made, but is happy to see the Koppenberg back in the race because it helps whittle down the competition. "It's difficult to say now as the weather forecast looks quite good. The better the weather the more tactical it'll be."
Garmin U23 riders ready for big leagues
By Laura Weislo
The Garmin-Holowesko Partners-Felt team
Photo ©: Mitch Clinton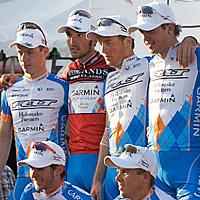 The Garmin-Slipstream under-23 development team (Felt-Holowesko Partners-Garmin) did what possibly no amateur team has ever accomplished last weekend: it won the teams classification at the prestigious North American stage race, the Redlands Bicycle Classic. It showed that this "feeder" squad for the Garmin ProTour is producing riders capable of becoming top professionals. Need more proof? One rider has already signed on to step up to the big leagues for 2010: Peter Stetina.
Stetina, 22, has been with the organisation since it began six years ago. In 2008, he became US espoir time trial champion, held the yellow jersey in the Tour de l'Avenir and was best young rider in the Cascade Classic and Tour of Utah. At Redlands, he placed third on the first stage and finished 11th overall.
The team also placed four riders in the top 20 behind overall winner Jeff Louder (BMC), took home the overall mountains classification with Kirk Carlsen, and scored two stage podium placings with Peter Stetina (third on stage 1) and Carlsen's second place on the final stage.
All of this was accomplished while going up against a field stacked with seasoned domestic professionals.
Proud papa
Slipstream owner Jonathan Vaughters was as proud as any father could be of his "baby", a team which grew out of the junior development squad Team 5280 which he began following his retirement from professional cycling. Now directed by Chann McRae, the team has grown to be a true feeder team for the Garmin-Slipstream ProTour squad.
"I don't think it has ever happened where an amateur team has won the teams classification at Redlands. Our guys were in the hunt the entire race. It speaks to the depth of talent on the team and how much they've raised their game."
According to Vaughters, the riders have one unifying goal which has motivated them to train and race at a level that is competitive with the top domestic US professional teams: "They're working as a team and are showing they're all deserving of a spot on the ProTour team."
Peter Stetina (Garmin) attacks on the final stage
Photo ©: Jon Devich

For Vaughters, the team's success is the fruition of years of effort in trying to bring up the level of competition in young riders. "Slipstream started out as an organization to help out young riders. I remember how much of a struggle it was to put together six riders who had any chance at becoming pros. It's great to see we've been able to convince a couple of them to keep with it.
"The problem now is we have ten U23 riders who are all deserving of a pro contract."
Vaughters is certain that most of the riders who are ready to turn professional will be offered contracts either with his team or with another ProTour or Professional Continental squad. The team has fulfilled every expectation he had for the program when he started it and more.
"If I had my way, the ProTour team would run itself and I would be able to spend more time with the U23's. When they actually listen to you and do the work, you can see so much improvement – it's really gratifying to see these kids turn out. With the ProTour guys you're just tweaking things and seeing small improvements because they're already at a high level."
Hovelijnck still in coma
Kurt Hovelijnck of Team Quick Step remains in an induced coma two weeks after a training accident in which he fractured his skull. "Kurt's condition is unchanged," team spokesman Alessandro Tegner told the belga press agency.
The 27-year-old was training with teammate Wouter Weylandt near Oudenaarde on March 17 when he crashed. Since then he has been in an induced coma in the intensive care unit at the University of Gent hospital.
Voss finds unexpected success in De Panne
By Bjorn Haake in Koksijde
Paul Voss (Milram)
Photo ©: Bjorn Haake
German Paul Voss did not expect his first ProTour season with Team Milram to begin with him as the team's top finisher at the Driedaagse De Panne-Koksijde. The cyclo-cross specialist explained to Cyclingnews that his preparation for the season was filled with setbacks. He was surprised to make the race's stage one breakaway and sit as high as sixth on the general classification.
"This is only my fifth race of the season. I was sick before, so I didn't expect to be going well like this."
Voss made the winning group of 29 riders in the first stage of the Belgian race, taking a one-second time bonus to move higher up in the overall classification. While he fell to 18th overall by the final stage on Thursday, he was still his team's top finisher despite having a reduced training schedule over the winter.
"I raced 'cross in the winter. After that I got sick several times. Every time I was getting better I raced, then I fell sick again."
Voss credited his result to previous experience racing on the Belgian roads with his previous team. "I was lucky that with my former team Lamonta we raced a lot here." That background helped him to deal with the high speeds and aggressive racing which is standard in this part of the world, and get into that critical first stage breakaway.
"We covered 50 kilometres in the first hour. There were constant attacks," he said of that stage. "It was better once we had the group together."
Austrian admits to doping, sharing drugs
The Austrian cyclist arrested in March for dealing in doping products has admitted to using doping products and also giving them to five or six colleagues and friends. However, he denied making any financial profit on the dealings.
The rider's name has never been publicly released and he has officially been identified only as "K". However, the Austrian Continental team RV ARBÖ Wels Gourmetfein announced that it had cancelled its contract with Christof Kerschbaum, whom it said was "in all probability" the rider involved.
The rider's attorney, Christian Kux, told the Austrian press agency APA that since his client was not financially involved, he should not be charged with dealing, which carries a penalty of up to three years imprisonment. For "merely" passing the doping products along, he could be sentenced to six months or a penalty of 360 days income.
Kux further said that "K" admitted to having doped since 2007 and also to having passed along doping product since the middle of 2008, up through this year. The rider said he got the products from a Viennese pharmacist.
It is not known whether this case is related to recent revelations made by Bernhard Kohl concerning doping among Austrian athletes.
Trek – Marco Polo readies for Asian campaign
The Trek – Marco Polo Cycling Team is getting set to embark on a long Asian Tour after finding success in South Africa in the early season. The team's upcoming Asian program starts with the Tour of Thailand (April 4-9) followed by a training camp in Thailand before ending the month at the Jelajah Tour of Malaysia (April 19-26) and Tour of Singkarak in Indonesia (April 30 – May 3).
The vision of the Marco Polo team is to combine western and Asian riders and staff to learn from each other and bring the Asian talents to the highest level of cycling. The team in Asia will be led by Kwanchai Nualchanchy from Thailand and Rob Conijn from the Netherlands.
European riders Eric van der Meent (Netherlands) and James Spragg (Great Britain) will join Xing Yan Dong from China, Genta Nakamura from Japan, Ahmed Haidar Anuawar who makes his debut in the team and Loh Sea Keong from Malaysia
More information about the Trek – Marco Polo Cycling Team: www.marcopolocyclingteam.com
Bisbee set for 31st edition
La Vuelta de Bisbee, one of America's longest-running stage races, is gearing up for its 31st edition on April 24-26. Set in Southern Arizona, the four-stage event includes several tough climbs and is a popular tune-up event for the Tour of the Gila in neighboring New Mexico the following weekend.
Event director Albert Hopper is looking for more entries for the men's pro-am field. Several pro teams including Fly V Australia/Successful Living, Team Type 1 and Colavita Sutter Home have expressed an interest in riding La Vuelta.
"This is a great way to prepare for the Tour of the Gila, and fills out the schedule since there will be no Tour of Georgia this year," Hopper said. "We expect some pro riders." Phil Zajicek, 2006 pro winner, will be back this year.
La Vuelta consists of a hill climb time trial Friday, a road race and time trial on Saturday, and a road race on Sunday. The road race courses have been changed a bit this year. Saturday's Sulphur Springs Road Race will be a single 82.5-mile loop which will include the breathtaking climb up Mule Pass.
Both road races will finish in downtown Bisbee this year, excusing riders from the leg-sapping 2.8-mile climb that topped Sunday's concluding Tombstone Road Race in past years.
For more information on La Vuelta de Bisbee visit www.lvdb.info.
Win on the Cyclingnews forum
Here's your chance to win the latest film about the world's favourite Classic, Paris-Roubaix.
Cyclingnews has four copies of Road to Roubaix to give away to readers who love their Classics. Cyclingnews reviewed it ahead of Christmas last year, and liked it so much we had the guys at Masterlink Films send us some more to share.
It's easy. Just log on to the Cyclingnews forum and tell us: Why do the Spring Classics get you going?
You can tell us about your experiences at the races (if you've been fortunate enough to be there) or whilst watching them on TV. As long as you keep it brief (no more than 200-300 words) and exciting, you'll be in the running to win a copy of the film that delivers an intimate look at Paris-Roubaix.
(Additional editorial assistance provided by Susan Westemeyer.)
(All rights reserved/Copyright Future Publishing (Overseas) Limited 2009)