MTB news & racing round-up for November 29, 2007
Welcome to our regular roundup of what's happening in mountain biking. Feel free to send feedback, news, & releases to mtb@cyclingnews.com and results, reports & photos to cyclingnews@cyclingnews.com.
Edited by Sue George
Mike Janelle mourned by cycling community
Mike Janelle on his way to a win
Photo ©: Nat Ross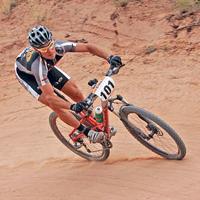 American professional racer Mike Janelle died in his sleep of heart failure on Friday, November 23, just one day after the Thanksgiving holiday. Janelle was a regular in the road and mountain bike community; during his career, he touched the lives of countless cyclists, promoters, friends and fans.
He was found by his pregnant wife, Maribel early Friday morning when she went to wake him and emergency responders were not able to revive him. Besides his wife, Janelle leaves behind their unborn baby, due in March of 2008.
Just over a month ago, the apparently healthy 40 year-old from Colorado competed with Nat Ross as part of Team Gary Fisher / Tokyo Joe's in the 24 hours of Moab. The pair won the duo pro category, and Janelle was already looking ahead to other endurance events.
"I've done so many individual solo races. I'd never done a duo and he asked me to do it," said Ross of their shared 24 hours of Moab experience.
Although he is known more recently for his involvement in endurance mountain bike and road events, Janelle raced for much of his career on the road. He was widely loved for his sense of humor and smile. Friends say that he was a joyous person who simply loved to ride. Mike would ride his bike to work winters as a ski instructor at Beaver Creek Resort from his home in nearby Avon, Colorado.
A fund has been set up by Janelle's team-mates and friends in his memory in order to support Maribel and their unborn baby. Contributions may be sent to Mike Janelle Memorial Fund, c/o 1st Bank of Avon, PO Box 5270, Avon, CO 81620.
About Janelle
Mike Janelle competing on the road
Photo ©: Nat Ross

Janelle grew up in Iowa and Colorado and lived for 23 years in Eagle County, Colorado according to the Vail Daily. His dad, Jack, was a pro cyclist who finished fourth and fifth at the 1980 and 1981 US National Time Trial Championships and mainly raced in Colorado along with Bob Cook, Ron Kiefel and the Stetina brothers.
Mike's Dad taught him about riding and racing, and Mike began his own road racing in 1988, and then took up mountain biking in 1996. In recent years, he focused on endurance events, both on and off road.
Janelle represented the US at the 2005 UCI World Marathon Mountain Bike Championships in Lillehammer, Norway, where he finished 65th. The same year, he and Jay Henry, riding together for the Ford/Tokyo Joe's team, rode steadily to a win in the duo pro category at the 24 Hours of Moab.
Earlier this year, Mike was one of the members of Team Beaver Creek - Catlin, the winning four person team at the Race Across American (RAAM). Other team members included Jim Mortenson, Nat Ross and Zach Bingham. Janelle was also part of the 2005 and 2006 RAAM winning team, then called Beaver Creek / Vail.
"We had just decided to do it (the RAAM) again two weeks ago," said Ross after the team's sponsor announced their commitment. "This was going to be the last year as his life was about to change with the coming baby. We were set to go do the BC Bike Race together this year, too."
In late July, Janelle finished second by only ten minutes behind Josh Tostado at National Ultra-Endurance Series Round # 4, the Breckenridge 100, on July 22 in Colorado. Earlier in the month, he placed fifth at the USA Cycling National Mountain Bike Marathon championships, also held in Breckenridge.
To read the complete tribute, including comments from many in the cycling community, click here.
King and Lefmann rule Australian national series round
Zoe King riding strong
Photo ©: Evan Jeffery

Zoe King and Aiden Lefmann, both from Sydney dominated the second round of the Australian MTB Series held in Illinbah last weekend.

King grabbed the lead on the first lap of the cross country and was not seen again by her competitors until the finish almost two hours later. "It was a really tough race," admitted King, "the hills certainly did hurt."

Although she planned to start conservatively, she felt good from the start and went for it. She is hoping to qualify for the single women's spot on the Australian team for the 2008 Beijing Olympics. "There's a chance, so I'm certainly going to give it a shot," she said.

King defeated Rosemary Barnes by just three minutes and Rowena Fry in third. Fry kept her series lead although she is equal in points with King.

In the men's cross country race, Lefmann seemed to follow a similar plan to King. An early attack gave him a clear lead into the first of six laps. He held off the charge for the entire two-hour race and won by about three minutes over Cal Britten and Shaun Lewis. Lefmann also took the series lead.
Going down
Nathan Rennie
Photo ©: Evan Jeffery

UCI World ranked downhillers, Tracey Hannah and Nathan Rennie proved too tough to beat in the second round of the downhill. Hannah, currently ranked third in the world, dominated the women's field and rode a respectable 3' 49.33". The 19 year-old beat second place Emma McNaughton by a massive 34 seconds over the 2.3 km course. Claire Whiteman, series leader, finished third.
"I love racing the local Australian races," said Hannah. "There is so much support."
World ranked number seven man and local Nathan Rennie left nothing to chance when he barreled down the Illinbah course in record time of 3' 13.74". He took a full six seconds off another professional rider Bryn Atkinson. Amiel Cavalier finished third.
"I've had a perfect run just one little falter," Rennie explained. Coming into the finish at a blistering pace he admitted he was going too fast. "I had to brake a bit near the finish I was cooking. The track had dried out a bit and I wanted to keep both wheels on the ground."
Jared Graves and Caroline Buchanan won the 4X.
The next round of the cross country (December 8-9) and the gravity events (December 15-16) will be held in Thredbo. For full coverage of round two of the Australian MTB Series, click here.
Enocsson calls it quits
By Tomas Nilsson
Swedish pro Anna Enocsson (Ghost International) has decided to call it quits at age 36 despite the chance for an Olympic berth this coming summer.
"Looking back on the season of 2007, I guess that the comeback after my serious back injury last year was too intensive and I was zealous to get back to where I was before the accident. I didn't give my body enough time to rest and to recover," she wrote on her website www.annaenocsson.com.
In 2006, at the World Cup Marathon in Mount Saint Anne, Canada, she finished second but hurt her back badly in the cross country race one week later and was forced to undergo an acute operation of a serious slipped disc.
Enocsson came back strongly in 2007 with a 10th place in the World Marathon Championships in Verviers in August, 16th as her best World Cup placing in Offenburg in May and 28th in the World Championships in Fort William in September.
Fairclough joins Hill at Team Monster Energy/Iron Horse
Brendan Fairclough (Great Britain)
Photo ©: Mikkeli Godfree

19 year-old British downhiller Brendan Fairclough signed a two-year deal with Team Monster Energy / Iron Horse. Fairclough makes his move from Honda Team G-Cross, which will not continue into 2008. Fairclough will line up next to new team-mate four-time World Champion and defending World Cup Series Champion, Australian Sam Hill.
Fairclough will race all the World Cup races with his new team as well as the Sea Otter Classic, the US Open, Crankworx and select British National Points Series (NPS) events.
"Joining Team Monster Energy/Iron Horse is a major deal for me" said Fairclough, who travelled recently to the US over the Thanksgiving holiday. "I'm excited to be racing on a team that has a great image in the sport and is known for supporting its riders. I've been lucky to have had excellent team mates like Steve Peat, Greg Minnaar, and Matti Lehikoinen throughout my young career, and being part of Team Monster Energy/Iron Horse is a continuation of that."
"Next year I have some pretty specific goals, not the least of which is grabbing some crystal at the end of the World Cup season when the series finishes on a track that Sam [Hill] and I love, Schladming. I can't wait to get racing next year!" added Fairclough.
"This was a logical step for us in 2008," said Team Director Sean Heimdal of Fairclough's signing. "I wanted to put together a leading two-man team and when thinking of a rider that could come into our program and compliment Sam, as well as learn and grow, well Brendan was my first choice. Having him here over the past few days has been excellent and we can't wait to get him on a bike for testing."
Fairclough will open his season with the Sea Otter Classic in April 2008.
Vazquez to lead new Team Lapierre
David Vazquez Lopez (MSC Bikes)
Photo ©: Maria Muina

David Vazquez signed for the new team Lapierre DH powered by Saab Salomon. The 28 year-old Spaniard will be joined by the United Kingdom's young Danny Hart, in his first year of junior racing. Endurance downhiller Greg Doucende rounds out the team, which will be operated by Pure Agency in France.
Vazquez's 2007 season was his best in years. He won the European Downhill Championships, finished second at the Vigo World Cup, and is currently ranked number five in the world.
Vazquez moves from Team Maxxis and Team MSC after feeling it was time for a new direction. "I'm very excited about this new and innovative partnership. To be leading this new international program with major partners like Saab, Salomon and of course Lapierre, and with the behind-the-scenes expertise of ex-World Cup racers like Nicolas Vouilloz and Cyril Lagneau, this will be a brand new chapter in my career."
"I also feel that my recent change in form, mainly due to my coach Tomi Misser who is still as fast as he was when he was winning World Cups, has made a big difference to me," said Vazquez. "I am really excited about racing for my new team in 2008."
The team will focus on the Saab Salomon Avalanche Trophy series, the UCI World Cup and other select major mountain bike events. Riders will use the new Lapierre DH-200 (FPS2 Technology) and the Spicy (OST Technology).
Rotorua to host inaugural Kiwi Singlespeed Nationals
Rotorua
Photo ©: Rob Jones

Organizers of the first-ever New Zealand Singlespeed Mountain Bike Championship locked in their date and two major sponsors. Iconic local pub the Pig & Whistle will sponsor along with Speights (beer brewers) the race to be held on Saturday, April 26, 2008, in Whakarewarewa Forest.
"One geared mountain biking is tough," said Gregg Brown, owner of the Pig & Whistle, the official watering hole for the weekend and a passionate mountain biker, himself. "But singlespeeders like to have fun and party after a hard day on the trails – so it's a perfect fit for both the pub and Speights."
While the idea is to have fun there will also be a very serious side to the event. "Singlespeeding is growing every year both here and overseas," said Graeme Simpson, another member of the organizing team. "The World Championships in Sweden in 2006 and Scotland in 2007 attracted over 300 riders and a lot of them came from top pro and national teams."
The 2008 World Singlespeed Championships will be held in Napa, California in August. "We're determined to help our champion get to the Worlds," added Simpson, "and maybe have a crack at getting the event here in 2009 or 2010."
The Rotorua Singlespeed Society was recently formed by local enthusiasts and will be host club for the championships. Riders from all around New Zealand will come to town for a long weekend festival of biking, which is conveniently tied to a public holiday, Anzac Day, when New Zealand and Australia commemorate those who sacrificed their lives in war-time," said Simpson. "We're planning to attend the dawn parade as a group and then have other events in the afternoon. Saturday will be race day with a big celebration that night."
Rotorua hosted the 2006 UCI Mountain Bike and Trials World Championships. It was the first time the event was held in the Southern Hemisphere in ten years.
Polaris era to end after 10 years
The running of the Urban Polaris in Canberra this Sunday will mark the end of the Polaris era. After 11 years and 23 events, Polaris Events, some of Australia's best known adventure events will end.
When 120 mountain bikers turned up to the first two-day Polaris Challenge in 1997 they took part in Australia's first mass participation endurance mountain bike event. That event grew to attract 600 riders at locations far and wide across NSW and was the precursor to the explosion in mass participation mountain biking events that has occurred in the past five years.
The Polaris Challenge was not only a chance to explore new regions but was as much about fun as it was about severe challenge in the bush. Whether it was cross-dressing bikers at Black Springs, cow decorated bikes at Comboyne or teddy bears at Sunny Corner, riders never quite knew what they were going to get themselves into or find themselves doing.
Out of the Challenge came the Urban Polaris, an idea to bring "mountain bikes to the city" first in Sydney in 2000 then to find a home in the ACT - Australia's Cycling Territory, where it now attracts some 600 riders. Polaris Events then took to the water for the Paddle Polaris to challenge kayakers with craftily placed checkpoints, overnight camping and paddle tossing on waterways across the state.
"I still love organizing the Polaris events but sometimes it's good to leave things behind while you still love them," said the man behind the Polaris events Huw Kingston of Wild Horizons. "I never like to get too comfortable and needed to free up some time for some new and varied challenges."
"It may be that we bring them back in years to come or find someone else who will run them but for now it is time to close the Polaris chapter," said Kingston. Wild Horizons will move on to hosting some new events including one for 2009 for the second weekend of March. The VAUDE Highland Fling MTB Marathon will also continue annually.
"It was originally my plan to make the Berghaus Polaris Challenge, run earlier this year, the last Polaris event but we made commitments to run the Urban Polaris in Canberra as part of the Brindabella Challenge cycling festival again this year. There are nearly 600 riders signed up for this, the eighth Urban Polaris, with some two thirds from interstate. We'll be giving them the usual fun and frolics around the ACT with a bit of an "End" theme to a few checkpoints and a look down memory lane."
The 2007 Urban Polaris will start and finish at Stromlo Forest Park on Sunday, December 2.
Geoff Kabush diary: Fading into fall
Serving gelato
Photo ©: Geoff Kabush

Howdy Friends. So much time has passed since my last report; there is almost too much to write about.
After my last entry, my mountain bike season seemed to be moving towards a nice finale. I was having a good couple of solid weeks of training at home before heading to World Champs in Scotland. I finished my last hard workout of the year and I was rolling home when my week of hell started.
First I decided to fall off my road bike at 50 kilometers per hour and rip my arm wide open; then I got to spend 8 hours in my sweaty chamois, in the emergency room. I got a bunch of internal stitches, external stitches, and was still left with a gaping hole.
I lay in bed for three days with a sausage shaped arm and then proceeded to get on a plane for Europe. The plane caught on fire, so we had to turn around, and I got to spend a night on marble floor in Toronto. I arrived in Scotland and of course no bags showed up for three days. To top it off the main highway was closed to Fort William so we had to take back roads and arrived at 3:30 am.
So…worlds didn't go so well. My arm didn't heal enough to ride on the course until the evening before and for some reason I didn't have the legs on race day; don't know why?
Needless to say my highlights from Europe were the tourist activities after the racing, not the racing itself. I tried to race again the week after in Slovenia at World Cup Finals; I cracked hard on a really great mountain bike course and I hope we go back there sometime soon.
On the upside, Keri and I got to see Loch Ness, an old castle, had a quick five hour layover London trip, saw Vienna and "The Kiss", enjoyed Prague's sausage carts and beautiful sights, and brought home some Absinthe. I also did a lot of walking in Europe to get prepped for my first 'cross races in Seattle.
To read Kabush's complete diary entry, click here.
Transalp names 2008 stage towns and opens registration
Organizers of the 11th annual Jeantex Bike TransAlp named the stage towns and announced registration will open for the 2008 edition on July 19-26.
Registration will kick off at noon Central European time on December 1. The first 300 online applications will be guaranteed a start spot. And additional 200 spots will be drawn from all the remaining entries received with a postmark of January 3, 2008, or sooner.
The 500 participating pairs will face 650km and 21,000m of elevation gain on their way from Fuessen to Riva del Garda. Along the way, they will head through Austria's stage towns Imst and Ischgl to Scuol – the only Swiss resort in 2008 – and further on to Livigno, Naturns, Kaltern and Andalo in Italy before finishing traditionally at Lake Garda.
For more information, visit www.bike-transalp.de.
(All rights reserved/Copyright Future Publishing (Overseas) Limited 2007)