Recently on Cyclingnews.com
MTB index page for all MTB content
Australian MTB Series - CN
Illinbah, Queensland, South Australia, Australia, November 24-25, 2007
Main Page Results Previous Race Next Race
Race 3 - November 25: Downhill
World class downhillers take National Series round
By Sharon Payne
Nathan Rennie
Photo ©: Evan Jeffery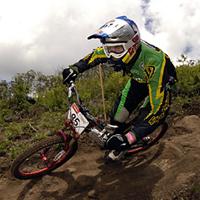 UCI World ranked downhillers, Tracey Hannah and Nathan Rennie proved too tough to beat in the second round of the National Mountain Bike Series on the Gold Coast.

Hannah, currently ranked third in the world, dominated the women's field and rode a respectable 3' 49.33". The 19 year-old beat second place Emma McNaughton by a massive 34 seconds over the 2.3 km course.

"I love racing the local Australian races," said Hannah. "There is so much support."

Hannah admitted she found some sections of the world class course tricky. She is determined to compete at the Australian National Championships in Canberra late in January. "It was tight in the woods with rocks and roots. I was struggling but I'm happy with my run," she said.

Series leader, Claire Whiteman placed third and retains the series lead.

World ranked number seven, Nathan Rennie, left nothing to chance when he barrelled down the Illinbah course in record time of 3' 13.74". He took a full six seconds off another professional rider Bryn Atkinson.

Tracey Hannah
Photo ©: Evan Jeffery

With a near perfect run Rennie improved on his qualifying time of 3' 20.34". "I've had a perfect run just one little falter," he explained. Coming into the finish at a blistering pace Rennie admitted he was going too fast. "I had to brake a bit near the finish I was cooking. The track had dried out a bit and I wanted to keep both wheels on the ground," he said.

Spectators crowded the bottom of the course awaiting Rennie's speedy descent. "I was wondering where everyone was at the top," said Rennie, "then I came into the finish. It was awesome. It's great to win on the Gold Coast in my own backyard. I'm a local boy here and I've had a few more runs than the other guys," he explained.

Rennie praised the course at Illinbah, saying it has potential. "This is a great course it's got a bit of everything. The course here could suit a World Cup. All the riders loved it."

Bryn Atkinson
Photo ©: Evan Jeffery

Third was young Western Australian Mitch Delfs while fourth place Amiel Cavalier took over the series lead from the young Adelaide rider Will Rischbieth after he placed 13th. Another favourite, Jared Rando was unlucky to hit the dirt in the final run.

Local downhiller Rhys Willemse won the Under 19 division. The 16 year-old also claimed the second fastest qualifier of the day. Willemse rode an impressive 3' 23.97" with only Rennie bettering his time in qualifying. Second was Tamryn Murrell and third place went to Shaun O'Connor.

Adelaide's James Shepherd won the under 17 division.

The next round of the downhill happens in Thredbo on December 15-16.
Photography
For a thumbnail gallery of these images, click here
Images by Evan Jeffery /www.evanjeffery.com.au
Results
Elite Men

Qualifying

1 Nathan Rennie                                                                     3.20.34
2 Bryn Atkinson (Team GT, THE, Oakley, Dylan Dean Designs, CTI, Cra)                0.04.78
3 Mitch Delfs                                                                       0.09.54
4 Darcy Murrell                                                                     0.11.52
5 Amiel Cavalier (Giant Bicycles, Spearman Cycles)                                  0.12.06
6 Jared Rando (Giant, Michelin, Fox Racing Shox, Shimano)                           0.12.53
7 Tom Richards                                                                      0.13.22
8 Shane Wode                                                                        0.13.36
9 Dennis Beare                                                                      0.13.71
10 Lindsay Klein (Santa Cruz Bicycles, ForTheRiders.com, Farkin.net)                0.14.06
11 Brad Oien                                                                        0.14.46
12 Ricky Boyer                                                                      0.14.94
13 Kaine Cannan (Cyclingo bike shop , Gary Cannan Electrical)                       0.15.34
14 Ben Cory                                                                         0.15.56
15 Adam Dossetor (Turner, DH Direct, Bilt, Imperial, Anomia Designs)                0.15.88
16 Tim Eaton (Yeti Cycles, Troy Lee Designs, Hayes, Sun Ringle, ODI)                0.16.08
17 Lincoln Verass (Downhill Direct)                                                 0.16.50
18 Will Rischbieth                                                                  0.17.10
19 Dave West (Giant, Rockshox, Inform Health, SCU, Maxxis)                          0.17.57
20 Stuart McCdonald                                                                 0.17.61
21 Simon French (ride bellerive)                                                    0.18.29
22 Joshua Button (Mongoose-Sram,Fox,Adidas,Crankbrothers,Lotek,M)                   0.19.39
23 Adam Smithson                                                                    0.19.41
24 Brad Benedict (Amiel Cavalier Racing.... Spearman Cycles)                        0.19.74
25 Brad Kelly (Specialized, FSA/GRAVITY, Pushy Galore)                              0.20.53
26 Tim Cox                                                                          0.20.58
27 Craig Yates (Giant Aust,Fox racing,Sram,)                                        0.20.96
28 John Farrow                                                                      0.21.59
29 Ricky Lee (Iron Horse Bikes,Sram,Rock Shox,Avid,Truvativ,Oakley)                 0.21.89
30 Sam Hocken                                                                       0.22.09
31 Cillian Kennedy (cove, southshore imports, blackheath fitness)                   0.22.18
32 Brad Earl                                                                        0.22.38
33 Michael Geale (For the Riders)                                                   0.22.64
34 Deon Baker                                                                       0.22.74
35 Josh McDonald                                                                    0.23.48
36 Tom Lewis (ufo/mtb imports)                                                      0.23.55
37 Mitch Afflick (Unit Clothing Co, For The Riders)                                 0.23.69
38 Cody Eichhorn (Spy Optic Spearman Cycles)                                        0.24.18
39 Damien Bogatek (Azonic, Fuel, Hayes, Utopia)                                     0.24.34
40 Shane Pearse                                                                     0.24.74
41 Dean Davies (Asgrove Cycles, Neezy Pty Ltd, Health Fusion Natural T)             0.25.51
42 Dean Robson (Spearman cycles)                                                    0.25.94
43 Dean Totterman                                                                   0.26.14
44 Miikael Kinnuuen                                                                 0.26.61
45 Michael Manning (Imperial Locksmiths)                                            0.26.84
46 Fergus Milne                                                                     0.27.03
47 Ben Lyons                                                                        0.27.04
48 Steven Sloots                                                                    0.27.55
49 Jarl Jensen                                                                      0.28.04
50 Alex Swann (Kona Mt Buller Factory Team)                                         0.28.71
51 Dylan Walsky                                                                     0.30.19
52 Brendan Wood (Commencal Aus Charles Purton Imports Yarra Valley C)               0.30.52
53 James McMillan                                                                   0.31.34
54 Chris Bazlin                                                                     0.32.84
55 Mark Beeksma (Cycle Logic, Rotec Cycles, Freelap)                                0.32.88
56 David Bowden                                                                     0.33.31
57 Luke Garnham                                                                     0.35.28
58 Nathan Wicker (TMK Consulting Engineers)                                         0.38.26
59 Hayden Lester (ashgrovecycles.com)                                               0.38.51
60 Toby Breheny                                                                     0.39.05
61 James Maltman (Race Elements For the Riders)                                     0.39.52
62 Ben Morrison (Cropthorn, Mongoose Bikes)                                         0.40.04
63 Leigh George                                                                     0.40.21
64 Scott Millett (Farkin.net, Santa-Cruz)                                           0.40.95
65 Regan Arthur (Hillbillie Racing...YAAAWWWW!!!)                                   0.41.15
66 Gareth Blower (TC's Bike Bar)                                                    0.41.63
67 James French (SCU Standish Cycles Unley , Maxxis Tyres)                          0.41.64
68 Isaac Heppell                                                                    0.41.77
69 Jay Taylor                                                                       0.41.85
70 Brett Pengelley                                                                  0.42.82
71 Troy Fraser                                                                      0.43.14
72 Chris Coombe                                                                     0.43.85
73 Cameron Tomlinson                                                                0.44.46
74 Trevwah Burke (mother hubbards extreme big red water finding wands.)             0.44.75
75 Louis Pijpers                                                                    0.46.00
76 Jake Pendleton (Erina BikeWorX)                                                  0.46.45
77 Michael Illing (Bridge Street Cycles)                                            0.47.79
78 Jesse Sutton (2 Stage bikes)                                                     0.48.09
79 Cameron Allonby (ForTheRiders.com)                                               0.50.10
80 Dan McEwan                                                                       0.51.86
81 Todd Webster                                                                     0.54.19
82 Matthew Hodges (Spy Optic)                                                       0.54.46
83 Nicholas Cruickshank                                                             0.54.65
84 Matt Todd                                                                        0.55.63
85 Thomas Moesker                                                                   0.55.96
86 Cameron Nolan                                                                    0.59.63
87 Jason Mennitz                                                                    1.00.05
88 Oscar Buckle                                                                     1.00.58
89 Kye Hore                                                                         1.02.72
90 Thomas Kerney                                                                    1.04.27
91 Evan McRobb                                                                      1.05.06
92 Sean Shrimp                                                                      1.09.24
93 Adam Leonardi (AtomLab, Hayes Brakes)                                            1.22.77
94 Brock McRobb (Dad)                                                               1.25.67
95 Michael Jobson (Blackman Cycles)                                                 1.33.22
96 Jordan Payn                                                                      2.04.60
97 Jack Wilson (For the Riders)                                                     2.20.12
98 Benjamin Goff (Teds bike shop)                                                   3.52.29
 
Finals

1 Nathan Rennie                                                                     3.13.74
2 Bryn Atkinson (Team GT, THE, Oakley, Dylan Dean Designs, CTI, Cra)                0.06.21
3 Mitch Delfs                                                                       0.09.22
4 Amiel Cavalier (Giant Bicycles, Spearman Cycles)                                  0.09.68
5 Ben Cory                                                                          0.11.84
6 Shane Wode                                                                        0.12.60
7 Ricky Boyer                                                                       0.14.06
8 Adam Dossetor (Turner, DH Direct, Bilt, Imperial, Anomia Designs)                 0.17.24
9 Lindsay Klein (Santa Cruz Bicycles, ForTheRiders.com, Farkin.net)                 0.17.35
10 Dave West (Giant, Rockshox, Inform Health, SCU, Maxxis)                          0.17.75
11 Kaine Cannan (Cyclingo bike shop , Gary Cannan Electrical)                       0.18.31
12 Dennis Beare                                                                     0.18.49
13 Will Rischbieth                                                                  0.18.71
14 Brad Benedict (Amiel Cavalier Racing.... Spearman Cycles)                        0.19.06
15 Lincoln Verass (Downhill Direct)                                                 0.19.19
16 Brad Oien                                                                        0.19.35
17 Adam Smithson                                                                           
18 Craig Yates (Giant Aust,Fox racing,Sram,)                                        0.20.70
19 Tim Cox                                                                          0.21.10
20 Ricky Lee (Iron Horse Bikes,Sram,Rock Shox,Avid,Truvativ,Oakley)                 0.21.64
21 Tim Eaton (Yeti Cycles, Troy Lee Designs, Hayes, Sun Ringle, ODI)                0.22.36
22 Brad Kelly (Specialized, FSA/GRAVITY, Pushy Galore)                              0.24.06
23 Simon French (ride bellerive)                                                    0.25.13
24 Tom Richards                                                                     0.29.11
25 Joshua Button (Mongoose-Sram,Fox,Adidas,Crankbrothers,Lotek,M)                   0.30.40
26 Stuart McCdonald                                                                 0.36.36
27 Jared Rando (Giant, Michelin, Fox Racing Shox, Shimano)                          2.39.86
28 Darcy Murrell                                                                    4.55.74
DNF John Farrow                                                                           
 
Elite women

1 Tracey Hannah                                                                     3.52.50
2 Emma McNaughton                                                                   0.24.20
3 Claire Whiteman                                                                   0.29.20
4 Cara Smith                                                                        0.37.40
5 Lea Harley                                                                        0.38.90
6 Sarah Booth                                                                       0.49.44
7 Caroline Buchanan (khs bicycles, unit clothing, oakley, Crankbrothers, sun ri)    0.52.75
8 Edwina Hughes                                                                     1.00.22
9 Jayne Rutter (Biomechanics Cycles and Repairs)                                    1.00.82
10 Rosemary Barnes (Giant Bicycles)                                                 1.03.61
11 Jessica Vogt                                                                     1.17.42
12 Shannon Chugg                                                                    1.41.86
 
Under 19 Men

1 Rhys Willemse                                                                     3.24.00
2 Tamryn Murrell                                                                    0.09.70
3 Shaun O'Connor                                                                    0.17.00
4 Laurie Dinham                                                                     0.16.50
5 Dylan Prohm                                                                       0.18.50
6 Liam Paiaro                                                                       0.22.80
7 Murray Stephens                                                                   0.23.70
8 David Maud                                                                        0.19.10
9 Alex Winton                                                                       0.23.70
10 Brodie Sturgess                                                                  0.25.90
11 Elliot Smith                                                                     0.23.40
12 Mitch Forbes                                                                     0.23.80
13 Aussie Hicks                                                                     0.28.30
14 Dave Habicht                                                                     0.28.80
15 Benjamin Wilson                                                                  0.33.60
16 Tom Rowe                                                                         0.33.40
17 Jock Farrington                                                                  0.21.10
18 Oscar Lapstun                                                                    0.33.40
19 Matthew Vincent                                                                  0.20.40
20 Jack Payne                                                                       0.30.80
21 James Taormina (For the riders)                                                  0.11.58
22 Jack Bellotti                                                                    0.33.78
23 Raffi Moss                                                                       0.34.65
24 Ben Leaper (The Bike Shed Mortdale)                                              0.36.59
25 Ryan Hunt (utopia optics, camden cycles)                                         0.37.89
26 Tyson Jones                                                                      0.43.79
27 Richard Anderson (Wigum)                                                         0.44.47
28 Adam Walker                                                                      0.44.71
29 Peter Appleton (Ashgrove cycles)                                                 0.47.90
30 Matt Baker                                                                       0.50.17
31 Kim Bishop                                                                       0.51.11
32 Matthew Dooley (dee why beach cycles)                                            0.54.15
33 Tom Mallett                                                                      0.55.30
34 Ben Nylen (Australian Yetti Gravity Team)                                        1.02.34
35 Pat Young (Drift)                                                                1.03.82
36 Mark Hellyer                                                                     1.37.81
37 Thomas Newbury                                                                   1.40.30
 
Veteran women

1 Emma Woodhall                                                                     6.40.84
 
Masters women

1 Sharon Heap                                                                       5.36.79
 
Under 17 women

1 Em Hockey (Mitcham cycles and maxxis tyres and dad)                               5.28.94
2 Jaz Rosa (Mitcham Cycles, Maxxis, Metro Car Dealer)                               0.09.80
 
Sport women

1 Samantha Gambrill                                                                 6.02.10
 
Senior hardtail men

1 Joseph Lester ( Ashgrove Cycles)                                                  4.21.61
2 Richard Levinson ( Ashgrove Cycles)                                               0.04.87
3 Leigh Wood                                                                        0.05.25
4 Zac McC Anally                                                                    0.06.01
5 Johnny Trent                                                                      0.07.63
6 Rhys Jones (Dirtclowns.com, Hostile Riding Systems, Flaming Cool I)               0.21.45
7 Roshin Sidhu (Merida, UMF, Race Face)                                             0.33.11
8 Shane Wilson                                                                      2.03.36
 
Junior hardtail men
1 Dain Case                                                                         4.43.21
2 Nathan Thomasson (Hostile Riding Systems)                                         0.00.32
3 Connor Robertson (Hostile riding system)                                          0.00.94
4 Tom Lynch                                                                         0.03.27
5 Liam Thomas (Team Bubsy Racing)                                                   0.12.37
6 Jared Oldfield (utopia optics)                                                    0.22.88
7 Jon Messer                                                                        0.31.94
8 Shaun Thomson                                                                     0.44.44
9 Kieran Rooney (utopia optics)                                                     0.49.10
10 Ben Mortison                                                                     1.06.60
11 Brendon Hathaway (team bubbsy racing, belray, tony bogarrts cycletune)           1.21.25
12 George Hickman                                                                   1.46.45
 
Under 17 men

1 James Shepherd (C.R.I.M.E. Cycles)                                                3.50.81
2 Brandon Yrttiaho (Ashgrove Cycles)                                                0.04.09
3 Antony Moore (dakibomon roast)                                                    0.08.79
4 Daniel Lavis (Allfab, SDG USA)                                                    0.10.53
5 Ben Power (Harvey Power (International) Pty Ltd)                                  0.12.89
6 Troy Brosnan (Mongoose,Trak cycles,Adidas eyewear,Lotek shoes,Sra)                0.15.39
7 Josh Dickinson (Katrina Miller Bikes & Beans Springers Carpet Court)              0.19.61
8 Aaron Oates (Cyclingo bike shop,Garry Cannan Electrical,Mum and D)                0.20.35
9 Reece Kuhn (Erina bikeworx/Giant bicycles, high roller energy, utopia)            0.26.60
10 Kevin Backhouse (Mum and Dad)                                                    0.27.24
11 Sam Nikora                                                                       0.27.42
12 James Green (Ha!)                                                                0.28.44
13 Joshua Blake (Mitcham Cycles, Maxxis Tyres, Mum & Dad)                           0.29.64
14 Chris Leaper (The Bike Shed Mortdale)                                            0.31.98
15 Ben Barrett (Dad)                                                                0.32.71
16 Matt Scott (Bikeology)                                                           0.32.83
17 Blake Nielsen (Cove Bikes, Southshore, Dist, Life, Cycles PE)                    0.33.82
18 Keiran Sullivan (bike hub wollongong cleary brothers)                            0.34.89
19 Samuel Jones (Spearman Cycles, Mum and Dad)                                      0.35.30
20 Tom Norton-Laheney                                                               0.37.19
21 Will Giles (Transition bikes,chromag,maxxis,aldgate bike shop)                   0.37.61
22 Jaxon Ellyard (C.R.I.M.E cycles, S.R.B , parents)                                0.42.68
23 Graeme Mudd (avent (elite cycle imports) Drift,Rok shocks sram. AH&P)            0.42.78
24 Phillip Piazza                                                                   0.43.70
25 Bobby Davies                                                                     0.45.35
26 Alex Straw                                                                       0.54.55
27 John Golik                                                                       0.58.47
28 Brendan Jones (RawNRG Thredbo, RawNRG Junior Development Team)                   1.04.87
29 Sam Smythe                                                                       1.05.20
30 Justin Gray                                                                      1.15.01
31 Will Hickman (Nerang MTB Shop)                                                   1.18.61
32 Corey Schweikert                                                                 1.19.59
33 Sam Horspool                                                                     1.45.00
34 Kye Morton                                                                       1.56.42
35 Aaron Shillington                                                                2.12.16
 
Under 15 men

1 Connor Fearon (Glen Osmond Cycles SA, Mum and Dad)                                4.04.45
2 Henry Blake (mitcham cycles (adelaide), maxxis tryes, mum and dad)                0.17.82
3 David McMillan (CORC (Canberra Off-Road Cyclists))                                0.24.21
4 Max Hughes (DHDirect, Turner, Mal Adjusted, Mum and Dad, EBG)                     0.39.59
5 Ben Forbes                                                                        0.57.56
6 Thomas Phillips                                                                   1.01.62
7 Remy Morton (Recognise)                                                           1.04.60
8 Robin Bishop                                                                      1.25.93
9 Max Warshawsky (Mum,Dad.Chris and Rob Aswell)                                     2.18.72
 
Sport men

1 Andrew Blair (Giant, Spearman Cycles, Maxxis)                                     4.10.81
2 Rhys Ellison                                                                      0.01.70
3 Leigh Webster (C.R.I.M.E. CYCLES)                                                 0.07.46
4 Peter Bradnam                                                                     0.13.96
5 Tom Crimmins                                                                      0.14.10
6 Daniel Hallam (Race Face, Greg Swain, QAS, Merida)                                0.15.66
7 Peter Karas (Trak Cycles Norwood, The CBR Program)                                0.22.33
8 Joshua Currall                                                                    0.29.08
9 Michael McLennan                                                                  0.29.84
10 Kendon Peel                                                                      0.30.93
11 Ben Gyetvay                                                                      0.43.07
12 Michael Asgill                                                                   0.44.33
13 Chris Henderson                                                                  0.46.95
14 Joel Walker                                                                      0.50.86
15 Luke Surawski                                                                    0.53.12
16 Scott Kovarik                                                                    0.54.49
17 Tim Ashe                                                                         1.05.48
18 David Hughes                                                                     1.05.94
19 Chris Abbott                                                                     1.15.62
20 Mitchell Marsden                                                                 1.15.76
21 Tom Patterson                                                                    1.18.14
22 Kerrin Hetherington                                                              1.42.84

Veteran Men

1 Mark Scroblin                                                                     3.46.84
2 Jason Archer (hiway cycles, utopia optics, kj johnson & co)                       0.05.72
3 Jason Blackmore (morewood, ufo)                                                   0.07.40
4 Greg Palmer                                                                       0.10.45
5 Dale Thomas (Team Hillbillie. Gateshead Cycles.)                                  0.10.93
6 Scott Edwards                                                                     0.12.70
7 Wayne McGregor (N/A)                                                              0.19.69
8 Daniel Taliana (raw nrg thredbo)                                                  0.28.13
9 Steven Linnell                                                                    0.29.64
10 Jason Davies                                                                     0.30.59
11 Troy Bromley (Ventoux Cycles)                                                    0.32.31
12 Drew Hamilton (Morewood Bikes,UFO Mtb Imports)                                   0.32.52
13 Marc Ellis (Raw NRG, Australian Open of Mountain Biking,)                        0.33.28
14 Dan Wolfik (Cove bikes/Southshore Distribution)                                  0.34.28
15 Michael Stratton (Highwaycyles)                                                  0.37.57
16 Ian Harwood                                                                      0.37.74
17 Ryan Scott                                                                       0.38.36
18 Adrian Kelsey                                                                    0.41.78
19 Joff Medder (STEEP DESCENT)                                                      0.42.73
20 Brenton Blight (Red Cat Hair)                                                    0.48.90
21 John Petersen (Borsari Cycles)                                                   0.51.58
22 Lee Treasure (Morewood UFO)                                                      0.56.40
23 Ty McLean (Kona-Mt.Buller Factory Team, Shimano, Marzocchi, Ma)                  1.07.53
 
Masters men

1 Geoff Lovie                                                                       4.09.84
2 Glynn Hicks (Brodie Bikes)                                                        0.08.70
3 Darren Eckhold                                                                    0.12.96
4 David Meilak                                                                      0.19.55
5 David Badman                                                                      0.21.60
6 Jamie Morton                                                                      0.37.96
7 Peter Jones (Spearman Cycles, Wonderful wife)                                     0.57.49
 
Super masters men

1 Steve Coles                                                                       5.15.44
 
Expert men

1 Darrell Edwick (nerang mountain bike centre)                                      4.00.12
2 Tim Chadd (Raw NRG, Shimano, Australian Open of MTB, Sponsor)                     0.07.11
3 Lachlan Mazzer                                                                    0.08.73
4 Aaron Cairns (mtbcut.tv)                                                          0.10.62
5 Aden Walker                                                                       0.11.79
6 Brendan Kovarik                                                                   0.15.79
7 Jacob Coles                                                                       0.16.43
8 Kane Lowe                                                                         0.18.79
9 Corrie Mullin (Gravity FX)                                                        0.19.90
10 Eric Straw                                                                       0.20.24
11 Shaun Fry (Anaconda, Fluid Bikes (4x))                                           0.23.38
12 William Fraser (Gravity-FX)                                                      0.23.88
13 Ben Luscombe (Bikeology)                                                         0.24.82
14 Michael Houghton                                                                 0.27.44
15 Nich Shields (Embrace Gravity, Thomas & Coffey)                                  0.31.95
16 Jim Thomason                                                                     0.41.28
17 Anthony Tracey                                                                   0.45.38
18 Kelsey Dougall                                                                   0.48.43
19 Adrian Johston                                                                   0.48.68
20 Joshua Dallas (Anaconda, KY)                                                     0.50.63
21 Joshua Thompson                                                                  0.52.75
22 Ryan Agnew (Bundaberg Rum, Alcholics Anonymous)                                  0.53.15
23 Rhys Whatsize                                                                    1.03.68
24 Julian Lang (anaconda)                                                           1.20.91
25 Andrew Leitch                                                                    1.55.60
26 Andrew Karas (CBR)                                                               2.35.51
27 Jiel Case                                                                        3.06.62