Recently on Cyclingnews.com
MTB index page for all MTB content
Australian MTB Series - CN
Illinbah, Queensland, South Australia, Australia, November 24-25, 2007
Main Page Results Previous Race Next Race
Race 2 - November 24: Olympic-distance cross country
King the queen of cross country
Zoe King riding strong
Photo ©: Evan Jeffery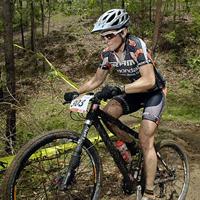 Wet conditions greeted competitors for the second round of the Australian MTB series in Illinbah, Queensland. With Olympic selection up for grabs this season, the racing has been closer than ever.

The women's race was dominated by Zoe King from Manly in Sydney's north. King grabbed the lead on the first lap and was not seen again by her competitors until the finish almost two hours later.

"It was a really tough race," admitted King, "the hills certainly did hurt."

King's race tactics appeared to be quite simple; attack from the gun and hold onto the lead until the end, but she claimed that was not her intention. "My plan was to go out a bit conservatively," she said. "I passed them on the inside and my legs felt good. I was pretty comfortable being out there."

King is hoping to qualify for the single women's spot for next years Beijing Olympics. "There's a chance, so I'm certainly going to give it a shot," she said.

Elite men's, Aiden Lefmann
Photo ©: Evan Jeffery

Second was Canberra's Rosemary Barnes just three minutes off King's blistering pace, while the favourite for the event, Tasmanian Rowena Fry, finished in third but stays in first place in the series equal on points with Zoe King.

The elite men's race seemed to follow a carbon copy of the women's event, with an attack early in the race leading to a win for Aiden Lefmann, also from Sydney. Lefmann's attack gave him a clear lead into the first of six laps. The Sydney rider was able to hold off the charge from the chasing group for the entire two hour plus race, winning with an almost three-minute margin over Victoria's Cal Britten.

In a repeat of last year's series, Lefmann gained the lead in the overall series courtesy of his early season form. "Like the first round last year I was really stoked. I didn't know what to expect coming into the race," he admitted. "I would've been happy with top five. I just felt consistent."

Britten held off Shaun Lewis (ACT) for second, also claiming the under 23 win. Adrian Jackson (Vic) took out the fourth spot while Dylan Cooper (Vic) finished fifth.
Photography
For a thumbnail gallery of these images, click here
Images by Evan Jeffery/www.evanjeffery.com.au
Results

Elite Men

1 Aiden Lefmann (Cannondale, Sram, Oakley, Scud.)                                     2.07.05
2 Cal Britten (KONA/MT BULLER FACTORY TEAM )                                             2.54
3 Shaun Lewis (Mongoose, SRAM, Maxxis, Crank Brotherscs)                                 3.48
4 Adrian Jackson (Flight Centre - Scott, Adidas eyewear, Netti,)                         4.05
5 Dylan Cooper (Scott, Ritchey, Conceptis.com.au, Fictive.com.)                          5.28
6 Glenn Stewart                                                                          5.56
7 Joshua Keep (Race Elements For The Riders)                                             8.50
8 Jason English (BMC Gordon Street Cycles)                                               9.44
9 Ben Mather (ORBEA, WileyX, BiKE RiDE)                                                 11.10
10 Andrew Blair (Giant, Spearman Cycles, Maxxis)                                        11.40
11 Scott Liston (Apollo Bicycles, Mechelin, Tec, Pinnacle Cycl)                         13.25
12 Ben Grieve-Johnson (4 Shaw Agencies, SRAM)                                           19.57
13 Andrew Mallett (River City Cycles/Cannondale/Oakley)                                 24.39

One lap behind

14 Luke Graydon (CORC)                                                                       
15 Scott Finlay                                                                              

Two laps behind

16 Daniel Hallam                                                                             

Three laps behind

17 Steele Von Hoff (TORQ Nutrition)                                                          

Four laps behind

18 Ben Henderson (Mongoose, Sram, Maxxis, Crank Brothersio)                                  
19 Gavin Finlay                                                                              
 
DNF Paul Traynor (Merida, Advance Traders)                                                   
DNF David Whitney (Merida, Advance Traders)                                                  
DNF Andrew Adams (My Dad)                                                                    
 
Elite Women

1 Zoe King (Cannondale,Sram,KOM Cyclery, )                                            1.47.01
2 Rosemary Barnes (Giant Bicycles)                                                       2.57
3 Rowena Fry (ORBEA, WileyX Eyewear)                                                     4.48
4 Jodie Willett (eDiscovery Tools, River City Cycles)                                    8.42
5 Jo Wall (Moronis Bikes, A & I Helicopter Services)                                    10.56
6 Emma Colson (Giant Bicycles, Topbike Tours, Geax Tyres, )                             11.42
7 Katherine O'Shea (Fitzroy Cycles, PowerBar and X-Bionics)                             13.17
8 Therese Rhodes (Trek, Ultimate Ride)                                                  16.31
9 Rebecca Armstrong (Cyclemania, North Perth)                                           17.49
10 Lee Schultz                                                                          21.13
11 Julie Blake                                                                          24.06
12 Bronwyn Ryan (Bicycle Superstore)                                                    26.28
13 Claire Haugh (Torq)                                                                  26.51
14 Imogen Smith (CANNONDALE, SRAM, MAXXIS, GIRO)                                        28.11
15 Philippa Rostan                                                                      32.36

Two laps behind

16 Claire Graydon (TORQ Australia, Mal-Adjusted Bicycles )                                   
17 Kelly Linaker                                                                             
18 Kylie Maduna (Gap Cycles)                                                                 
 
DNS Anna Beck (Mum and Dad)                                                                  
DNS Lindsay Gorell                                                                           
 
Expert Men

1 Josh Carlson (Spearman Cycles)                                                      2.00.05
2 Joel Ryan                                                                             15.55
3 Anthony Ollerman (Bikeology)                                                          16.01
4 Brendan Sellers                                                                       22.20
5 Darren Groves                                                                         23.31

One lap behind

6 Ross Flewell-Smith                                                                         
 
Under 19 Men

1 Robbie Hucker                                                                       1.22.37
2 David Johnston (NTIS, Hertz, Harvey World Travel)                                      1.19
3 Luke Fetch (TORQ Nutrition)                                                            3.16
4 Peter Braunsteins (Richmond cyclery)                                                   6.11
5 Brendan Johnston (Mongoose)                                                            8.09
6 James Peacock (Flight Centre Scott)                                                    9.06
7 Mark Tupalski (TLC Cycles)                                                            10.04
8 Stephen Pitt (wsmtb, blackman cycles)                                                 14.24
9 James Mowatt (Apollo Bicycles, Michelin, Tec, Easton, Pinnacle Cycles)                50.34
10 Declan Kilkenny (Team Bubsy Racing)                                                  57.30

One lap behind

11 Glen Sinnott                                                                              

Two laps behind

12 Daniel De Witte (HIGH5 sports nutrition, ONYA bike Belco, mum and dad)                    

DNF Kieran Poole                                                                             
DNS Oscar Lapstun (Bike Addiction)                                                           
 
Masters Women

1 Peggy Douglass (ho ho ho!)                                                          1.06.16
2 Sandy Magennis                                                                        27.02
 
Under 19 Women

1 Rebecca Henderson (Mongoose Bikes, SRAM, MAXXIS, Crank Brothers, Adidas Eyewear)    1.26.52
 
Under 17 Women

1 Lucy Stirling                                                                       1.41.22
 
Under 15 Women

1 Maya Sidhu                                                                            42.15
 
Sport Women

1 Megan Rose                                                                          1.00.27
2 Kylie Webb                                                                             8.45
3 Clare Sellers                                                                         51.37
 
Ultra Super Dooper Masters Men

1 Andrew Tupalski (TLC CYCLES)                                                        1.04.43
 
Super Masters Men

1 Kevin Jones                                                                         1.17.08
2 Alan Mumford (Cannondale)                                                              5.11
3 Arthur English                                                                        10.04
4 Gary Poole                                                                            15.35
5 John Travers                                                                          18.40
6 John Graydon (Mal Adjusted Bicycles)                                                  22.58
7 Roy Whitney                                                                           25.43

DNF Warren Prior                                                                             
 
Masters Men

1 Michael Norman                                                                      1.15.22
2 David Gilbert                                                                          0.36
3 Les Heap                                                                               8.44
4 Jack Weitenberg                                                                        8.55
5 Craig Peacock (Flight Centre Scott)                                                   10.27
6 John Henderson                                                                        12.23
7 Baden Brosnan                                                                         33.03
8 Jeff Shillington                                                                      43.46

One lap behind

9 Michael Noble                                                                              

DNF Hywel Cook                                                                               
DNF Kelvin Moncrieff (Bicycle Riders Morningside)                                            
DNF Martin Mac Anally                                                                        
 
Veteran Men

1 Andrew Wilcher (Race Elements / For The Riders)                                     1.25.06
2 James Downing                                                                         10.03
3 Darren Smith                                                                          11.32
4 Russell Davies                                                                        12.51
5 Dion Shaw (GT, SRAM, Polar, Tonq)                                                     14.07
6 Craig Shepperson (EDiscovery Tools - Mixers Australia)                                22.42


DNF Jordan Vogel (Enviroshower)                                                              
DNF Jason Blair                                                                              
DNS Jamie Groff                                                                              
 
Under 17 Men

1 Michael Baker (Onya Bike Belconnen, CORC)                                           1.10.20
2 Ryan Standish (Ultimate ride bike shop)                                                0.52
3 Matthew Keays (Hampton Bicycles)                                                       5.24
4 Ryan Macanally (River City Cycles)                                                    13.32
5 Sam Manson                                                                            19.00
6 Jack Watson                                                                           25.24
7 Taylor Charlton                                                                       43.00

One lap behind

8 Max Peet                                                                                   
9 Tim Beaver       
                                                                          
DNS Liam Melville (Turramurra Cyclery)                                                       
 
Under 15 Men

1 Luke Ellison (EDL)                                                                    56.15
2 Thomas Phillips                                                                        5.59
3 Ben Forbes (Kenmore Cycles)                                                            8.29
4 Ben Hard                                                                              13.17
5 Lachlan Hickey                                                                        16.21
6 Dhugald Snow                                                                          18.57

DNF Lachlan Cook                                                                             
 
Sport Men

1 Devin Sando                                                                         1.12.40
2 Lee Stariha                                                                            4.26
3 Chris Major (Club Helensvale)                                                          6.01
4 Jamie Groff                                                                           11.51
5 Chris Jenkins                                                                         13.47
6 Charles Brincat                                                                       14.41
7 Benjamin Loukin                                                                       29.19
8 Eric Horspool                                                                         34.24

One lap behind

9 Anthony Butterley                                                                          
10 Aaron Hoepner                                                                             
 
Rec Men

1 Max Zoulek                                                                            29.52

DNS Anthony Papa                                                                             
DNS Doug Standish