MTB index page for all MTB content
Australian MTB Series - CN
Illinbah, Queensland, South Australia, Australia, November 24-25, 2007
Race 1 - November 24: Four cross
Graves and Buchanan win 4X
By Sharon Payne
Caroline Buchanan steals the win
Photo ©: Evan Jeffery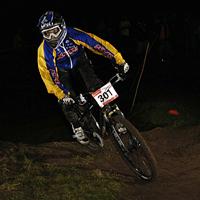 On Saturday night spectators witnessed one of Australia's best four cross riders, Jared Graves in action. Graves did not put disappoint his home crowd and won the third round of the National Mountain Bike Series at Illinbah near Canungra. Graves had put aside his aspirations to make the BMX Olympic squad for the weekend but claims that it is still his main focus.

"The closer it gets to the Olympics BMX becomes more and more of a focus," he said.

Elite women's winner was National Champion Caroline Buchanan from Canberra. A strong challenge came from Brisbane's Sarsha Huntington and a crash in the final let Buchanan take the win.

The next round of the four cross will be in Thredbo on the December 15-16.
Photography
For a thumbnail gallery of these images, click here
Images by Evan Jeffery /www.evanjeffery.com.au
Results
Elite men

Qualifying

Heat 1

1 Adam Nicholson              
2 Tom Hubert                  
DNF Alex Lloyd                   
DNF Randal Huntington            
 
Heat 2

1 Cody Eichhorn               
2 Richard Levinson            
3 Timothy Dunn                
4 Michael Geale               
 
Heat 3

1 Bryn Atkinson               
2 Justin Leov                 
3 Terry Scarr                 
4 Tim McCoullough             
 
Heat 4

1 Jared Graves                
2 Hayden Lester               
3 Michael Young               
4 Daniel Castillo             
 
Semi-finals

Heat 1

1 Tom Hubert                  
2 Richard Levinson            
3 Adam Nicholson              
4 Cody Eichhorn               
 
Heat 2

1 Jared Graves                
2 Bryn Atkinson               
3 Justin Leov                 
4 Hayden Lester               
 
Finals

Major Finals

1 Jared Graves                
2 Richard Levinson            
3 Bryn Atkinson               
4 Tom Hubert                  
 
Minor Finals

1 Cody Eichhorn               
2 Justin Leov                 
3 Adam Nicholson              
4 Hayden Lester               
 
Elite women

1 Caroline Buchanan           
2 Danielle Beecroft           
3 Jess Millett                
4 Sarsha Huntington           
 
Under 19 Men

Qualifying

Heat 1

1 Steven Janssen              
2 Ryan Hunt                   
3 Jock Farrington             
4 Lapstun Oscar               
 
Heat 2

1 Brodie Sturgess             
2 Rhys Jones                  
3 Rhys Willemse               
4 Tamryn Murrell              
 
Finals

1 Ryan Hunt                   
2 Steven Janssen              
3 Brodie Sturgess             
4 Rhys Jones                  
 
Veteran Men

1 Troy Bromley                
2 Jack Weitenberg             
3 Ross Domigan                
4 Steven Humphreys            
 
Under 17 Men

Qualifying

Heat 1

1 Blake Nielsen               
2 Liam Melville               
3 Jaxon Ellyard               
4 Alex Straw                  
 
Heat 2

1 Benjamin Clark              
2 Graeme Mudd                 
3 James Green                 
4 James Shepherd              
 
Finals

1 Benjamin Clark              
2 Graeme Mudd                 
3 Liam Melville               
4 Blake Nielsen               
 
Under 13 and Under 15 Men

1 Bowen Muncaster             
2 Max Hughes                  
3 Jordan Butler               
4 Connor Fearon               
 
Sport Men

Qualifying

Heat 1

1 Rick Franzolini             
2 Thomas Markus               
3 Eric Straw                  
4 David Graham                
 
Heat 2

1 Shaun Hughes                
2 Roshin Sidhu                
3 Aaron Cairns                
4 Riley Darcey                
 
Finals

1 Shaun Hughes                
2 Rick Franzolini             
3 Thomas Markus               
4 Roshin Sidhu