Recently on Cyclingnews.com
MTB index page for all MTB content
Breckenridge 100 - NE
Breckenridge, Colorado, USA, July 22, 2007
2006 results Results
Tostado breaks record, makes it three total wins in Breckenridge 100
Local Merrill wins women's race
By Thane Wright
The ever-recognizable Tinker Juarez (Cannondale)
Photo ©: Warren Howell / Vast Action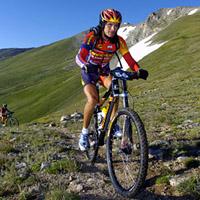 Josh Tostado (Tostado) and Monique Merrill (Amazing Grace) won Round 4 of the National Ultra Endurance (NUE) series in Breckenridge, Colorado, July 22.
After five days of thundershowers and inclement weather, race day for the third annual Breckenridge 100 and its little brother the B-63 greeted athletes with cloudless blue skies and only a hint of a breeze. Starting at 6:00 am at the Riverwalk Center in downtown Breckenridge, the racers began their quest to race three distinct cloverleaf style loops among the high alpine terrain of Summit County. Loop one took riders over Wheeler Pass at 12,374 feet and onto the Colorado Trail to traverse the Ten Mile range at 12,500 feet. Total elevation gain for the three loops is 13,010 feet.
Course conditions were ideal, and Tostado, two-time defending champion, was on the start line to take on newcomers Tinker Juarez (Cannondale), Mike Janelle (Tokyo Joe's / X-fusion), and Travis Brown (Trek / FRS). These four separated themselves from the rest of the field early and finished loop one tightly grouped together at about 2'55". It was on loop two, where the racers rode up little French Creek and descended down the infamous flume trails from an era gone by, that Tostado began to distance himself from his competitors. He rode into the Carter Park aid station after loop two carrying a 12 minute advantage over Travis Brown. Stopping only long enough to lube his chain and grab some food, he departed for loop three looking like a man on a mission.
Must have been plenty of climbing
Photo ©: Warren Howell / Vast Action

Accomplishing his mission he did, as he set a new course record of 9:05:08, and further solidified his name in the history of this classic race, winning again for the third year in a row. Mike Janelle and Tinker Juarez followed him in at 10:06:10, and 10:08:24 respectively. Paul Clark and Mark Thompson were fourth and fifth.
On the women's side, local hometown favorite Merrill took top honors with a winning time of 10:49:47. She was followed by Kelley Mattingly and Julie Minahan (Jans) in 11:25:59 and 11:41:26 respectively. Erika Tieszen (Giant) and Erin Johnson (BPN) rounded out the top five.
The race's breathtaking terrain, plenty of Colorado singletrack, and unique team format put the Breckenridge 100 and B-63 in a good spot to grow in future years.
Results (NUE #4)
100 miles

Overall Men

1 Josh Tostado (Tostado)                             9.05.08
2 Michael Janelle (Tokyo joe's/ x-fusion)           10.06.10
3 Tinker Juarez (Cannondale)                        10.08.24
4 Paul Clark (Bear Naked/Cannondale)                10.18.16
5 Mark Thompson (SPIKE)                             10.29.22
6 Thomas Spannring                                  10.41.56
7 Matt Turgeon (Big Wheel Racing)                   10.49.32
8 Isaac Wilson (Jans/Premier Resorts)               10.52.22
9 Brad Grohusky (Wilderness Sports)                 10.58.38
10 Bernie Romero (Team Dean)                        10.59.34
11 Jens Nielsen (Big Wheel Racing)                  11.09.36
12 Theodore Fleming (Rocky Mtn Spine & Sport)       11.21.10
13 Dan Dunbar                                       11.28.53
14 Michael Ahlman (Wilderness Sports)               11.39.47
15 Julian Gasiewski (White Pine Touring)            11.41.11
16 Jeffrey Rank                                     11.51.58
17 Todd Henneman (Jans)                             11.52.52
18 Zachary Ramras (Ski Utah)                        11.52.54
19 Trever Bushnell (Titus Cycles)                   12.04.04
20 Nick Pedatella (Mt. Nittany Wheelworks)          12.12.50
21 Josh Cullen                                      12.18.26
22 Steve Rane                                       12.18.30
23 Kevin Limpach (Midwest Cycling)                  12.19.58
24 Jim Jordan (CFX Prod)                            12.51.09
25 Matthew Duke (Phoenix Consumers Cycling, 661)    13.08.30
26 John Romania (Whiskey Dicks)                     13.20.27
27 Cullen Barker (Slick Rock Cycles)                13.24.24
28 J Leon Fetzer                                    13.30.57
DNF Thom Beckett (Mountain-Ghost)                           
DNF Jason Blauwet                                           
DNF Mike Bartels (Midwest Cycling)                          
DNF Joel Bea                                                
DNF Andrew Berget (DEAN)                                    
DNF Sam Brede (Carvers Ski & Snowboard)                     
DNF Sean Brennan                                            
DNF Andy Caplan                                             
DNF Jeff Fletcher                                           
DNF Dominic Garcia                                          
DNF Drew Hall                                               
DNF Jeffery Johnston (Ciao Baby)                            
DNF Todd Kennedy                                            
DNF Andy Klumb (Bicilibre)                                  
DNF Greg Leschisin (greg leschisin)                         
DNF Dennis Lessard (Pedal & Tour)                           
DNF Joe Lozon (Phoenix Consumer cycling)                    
DNF Michael Martin (HM Personal Training)                   
DNF Jeremy Miglinas                                         
DNF Matt Orhan                                              
DNF Sean Raborn (PowerQuip)                                 
DNF Stephen Remillard                                       
DNF Tom Roan (Big Kahuna)                                   
DNF William Roden                                           
DNF Scott Ruff                                              
DNF Gerard Sample                                           
DNF John Silverman (vanguard media cycling)                 
DNF Chad Smith (Chad Smith)                                 
DNF Tony Song                                               
DNF Jeff Sprout                                             
DNF John Stevens (Moots/MountainTop Cycling)                
DNF Thomas Wallace                                          
DNF Marcus Westmoreland                                     
DNF David Windsor                                           
DNF Jonathan Wolf                                           
DNF James Lindenblatt (Mtn View Sports)                     
DNF Michael Malecki                                         
DNF Cadet Bryant (Bike Pro of San Angelo TX)                
DNF Ian Smith (Fuentes Design)                              
DNF Travis Brown (Trek/FRS)                                 
DNF Jeff Vibert (10 Year Itch)                              
DNF Rob Macal                                               
DNS James Ludlow                                            
 
Overall Women

1 Monique Merrill (Amazing Grace)                   10.49.28
2 Kelley Mattingly                                  11.26.00
3 Julie Minahan (Jans)                              11.41.26
4 Erika Tieszen (Giant)                             12.22.54
5 Erin Johnson (BPN)                                12.48.41
6 Cat Morrison (Orr Concrete)                       13.27.08
7 Holly Horvin                                      13.30.59
DNF Laureen Coffelt (RB's Cyclery)                          
DNF Mickey Gonzalez                                         
DNF Kathryn Grohusky (Wilderness Sports)                    
DNF Kristi Kees (Team Orthopedicstore)                      
DNF Bethany Elson (Janis)                                   
DNS Bev Sprout (Bad Medicine)                               

Solo Senior 19-29 Women

1 Kelley Mattingly                                             11.26.00
2 Holly Horvin                                                  2.05.00
 
Solo Senior 19-29 Men

1 Paul Clark (Bear Naked/Cannondale)                           10.18.16
2 Zachary Ramras (Ski Utah)                                     1.34.39
3 Nick Pedatella (Mt. Nittany Wheelworks)                       1.54.35
DNF Jeremy Miglinas                                                    
DNF Ian Smith (Fuentes Design)                                         
 
Solo Veteran 30-39 Women

1 Monique Merrill (Amazing Grace)                              10.49.28
2 Julie Minahan (Jans)                                            51.58
3 Erika Tieszen (Giant)                                         1.33.26
4 Erin Johnson (BPN)                                            1.59.13
5 Cat Morrison (Orr Concrete)                                   2.37.40
DNF Laureen Coffelt (RB's Cyclery)                                     
DNF Kathryn Grohusky (Wilderness Sports)                               
DNF Kristi Kees (Team Orthopedicstore)                                 
DNF Bethany Elson (Janis)                                              
 
Solo Veteran 30-39 Men

1 Josh Tostado (tostado)                                        9.05.08
2 Thomas Spannring                                              1.36.48
3 Isaac Wilson (Jans/Premier Resorts)                           1.47.14
4 bernie Romero (Team Dean)                                     1.54.25
5 Jens Nielsen (Big Wheel Racing)                               2.04.27
6 Dan Dunbar                                                    2.23.44
7 Michael Ahlman (Wilderness Sports)                            2.34.39
8 Julian Gasiewski (White Pine Touring)                         2.36.03
9 Jeffrey Rank                                                  2.46.49
10 Josh Cullen                                                  3.13.18
11 Steve Rane                                                   3.13.21
12 Kevin Limpach (Midwest Cycling)                              3.14.50
13 Matthew Duke (Phoenix Consumers Cycling, 661)                4.03.22
14 Cullen Barker (Slick Rock Cycles)                            4.19.16
DNF Jason Blauwet                                                      
DNF Joel Bea                                                           
DNF Andrew Berget (DEAN)                                               
DNF Sam Brede (Carvers Ski & Snowboard)                                
DNF Sean Brennan                                                       
DNF Jeff Fletcher                                                      
DNF Dominic Garcia                                                     
DNF Drew Hall                                                          
DNF Todd Kennedy                                                       
DNF greg Leschisin (greg leschisin)                                    
DNF Dennis Lessard (Pedal & Tour)                                      
DNF William Roden                                                      
DNF Gerard Sample                                                      
DNF Chad Smith (Chad Smith)                                            
DNF Tony Song                                                          
DNF Jeff Sprout                                                        
DNF John Stevens (Moots/MountainTop Cycling)                           
DNF David Windsor                                                      
DNF James Lindenblatt (Mtn View Sports)                                
DNF Cadet Bryant (Bike Pro of San Angelo TX)                           
 
Solo Veteran 30-39 Men

DNF Travis Brown (Trek/FRS)                                            
DNF Jeff Vibert (10 Year Itch)                                         
 
Solo Veteran 40-49 Women

DNF Mickey Gonzalez                                                    
 
Solo Veteran 40-49 Men

1 michael Janelle (tokyo joe's/ x-fusion)                      10.06.10
2 tinker Juarez (Cannondale)                                       2.14
3 Mark Thompson (SPIKE)                                           23.12
4 Brad Grohusky (Wilderness Sports)                               52.27
5 Theodore Fleming (Rocky Mtn Spine & Sport)                    1.14.59
6 Todd Henneman (Jans)                                          1.46.42
7 Trever Bushnell (Titus Cycles)                                1.57.53
DNF Thom Beckett (Mountain-Ghost)                                      
DNF Mike Bartels (Midwest Cycling)                                     
DNF Jeffery Johnston (Ciao Baby)                                       
DNF Andy Klumb (Bicilibre)                                             
DNF Joe Lozon (Phoenix Consumer cycling)                               
DNF Sean Raborn (PowerQuip)                                            
DNF Tom Roan (Big Kahuna)                                              
DNF Scott Ruff                                                         
DNF Thomas Wallace                                                     
DNF Marcus Westmoreland                                                
DNF Michael Malecki                                                    
DNF Rob Macal                                                          
DNS James Ludlow     

Singlespeed Men

1 Matt Turgeon (Big Wheel Racing)                              10.49.32
 
Solo Junior 15-18 Men

DNF Jonathan Wolf                                                      
 
Solo Master 50+ Men

1 Jim Jordan (CFX Prod)                                        12.51.09
2 J Leon Fetzer                                                   39.47
DNF Andy Caplan                                                        
DNF Michael Martin (HM Personal Training)                              
DNF Matt Orhan                                                         
DNF Stephen Remillard                                                  
DNF John Silverman (vanguard media cycling)                            

Men's Relay

1 John Romania / Pedo Campos (Whiskey Dicks)                   13.20.27
 
Co-Ed Relay

DNS Bev Sprout / Jay Jackson (Bad Medicine)                            
 
100 km B-63

Solo Senior 19-29 Women

1 Lianna Miller (Dirt Rag/Swobo)                               10.45.29
DNF Amy Dombrowski (Tough Girls/Excel Sports)                   

Solo Sennior 19-29 Men

1 John Klish (Monument Cycle Sports)                            7.16.49
2 Jake Lueckel (Bicycle Village)                                  44.04
3 Will Macdonald                                                3.28.43
DNF Aaron Johnson (Stanford University)                                
 
Solo Veteran 30-39 Women

1 Karen Thorpe                                                  8.26.28 

Solo Veteran 30-39 Men

1 Jason Poole                                                   7.09.22
2 Ryan Soderberg (Mor20cch/Maxxis/Azonic/Ava Spt)                  2.50
3 Brett Hawkins (Kangaroosh)                                    1.06.41
4 Aaron Fader (Twin Six)                                        2.05.07
5 Scott Fader                                                   2.05.08
6 Zachary Noffsinger                                            2.57.39
7 Shane Kinkennon                                               4.54.27
DNF Paul Jacobson                                                      
DNF Charles Knoll (Derby Bicycle Center)                               
DNF Gerard Arantowicz (Cowtown Cyling)                                 
DNF Scott Claymon                                                      
DNS Jason Adkisson                                                     
 
Solo Veteran 40-49 Men

1 Anthony Bougie                                                7.26.33
2 Kent Leinbach                                                 1.29.35
3 David Weik                                                    2.24.22
DNF Tim Burke                                                          
DNF Darrin Sharp (Blue Sky Velo)                                       
DNF Eric Brantingham                                                  

Solo Master 50+ Men

DNF Richard[Jerry] Boran                                               
DNF Rick Graszl                                                        
DNF James Mcguire        

Men's Relay

1 Craig Cooper / Milo Metcalf (Big City Burritos)               7.31.42
2 Richard Vincent / Shawn Ziegler (Laramie Enduro.7220 Racing)    51.46
3 Merle Turner / Don Leinweber (Team Slacker)                   1.37.15
4 Jason Sheeley / Darren Broome (Ute City Cycle)                3.27.22
 
Co-Ed Relay

1 Gregory Moyer / Kristin Moyer (In Honor of Elizabeth Hope)    8.21.09