Cyclingnews 2006 Reader Poll Results
Best male track rider
Theo Bos in 2005
Photo ©: Mark Gunter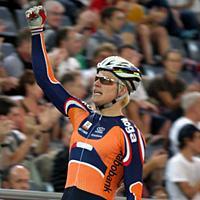 It seems like you have to break the world record to win our best track rider poll - and your favorite trackie, Theo Bos of the Netherlands, did just that. This speedy youngster, only 23 years old, has already won three world championships - the 'Triple Crown' of track sprinting: the keirin, sprint and kilo.
After winning the kilo in 2005, Bos set his focus on the Olympic events, the sprint and keirin, since the kilometer time trial was removed from the games, and found immediate success in 2006, winning world titles in both events. Showing just how fast he really is, during the Moscow world cup, Bos set the most coveted record for track sprinting in the flying 200 with a time of 9.772.
There was a close battle for second place, with Scotland's Chris Hoy beating out part-time trackie Erik Zabel. Hoy took over the world kilo title from Bos this year, and also chalked up a kilo world cup win in Sydney. Hoy also led his British team to victory in Sydney's team sprint.
Isaac Gálvez, this year's world champion in the Madison, died tragically at the Gent six day this year. He's honoured by 743 votes, earning him fourth place. Australian Ben Kersten took fifth ahead of long-time six day racer Bruno Risi and Kiwi Greg Henderson.
Results

                        Votes     %ge
1 Theo Bos               3345    34.7
2 Chris Hoy              1576    16.3
3 Erik Zabel             1389    14.4
4 Isaac Gálvez Lopez      743     7.7
5 Ben Kersten             523     5.4
6 Bruno Risi              431     4.5
7 Greg Henderson          362     3.8
8 Mikhail Ignatiev        285     3.0
9 Mark French             150     1.6
10 Robert Bartko          149     1.5
11 Craig McLean           147     1.5
12 Iljo Keisse            147     1.5
13 Juan Llaneras          125     1.3
14 Sergio Escobar         122     1.3
15 Peter Schep             85     0.9
16 Franco Marvulli         74     0.8
      
              Total:     9653