Cyclingnews 2006 Reader Poll Results
Best male Cyclo-cross rider
Nys wins again
Photo ©: Luc Claessen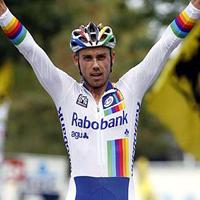 It's hard to argue against Sven Nys being best cyclo-cross racer in the world. When you've got a race named after you, you've been top of the UCI rankings for four years running, you've won 150 races in your career, and you're leading every major 'cross series, you're doing something right - but Nys isn't about to let up. Despite his domination of the sport for the past several years, he only has one elite world championship to show for it - but he's been the champion of the Cyclingnews reader poll every year since the poll began except 2003, and he tops the charts by a margin as big as the gap he opens to the field in your average race.
The leggy American nicknamed 'Treefarm', Ryan Trebon, came in second place, just ahead of Sven Nys' major competitor Bart Wellens. Trebon crushed the competition in North American with his lengthy stride, taking out the USGP and the national championships by a Nys-like margin. Wellens' podium spot is also well-deserved, as the feisty Belgian battled his way to a fantastic world cup win in Milan, and currently sits second to Nys in the UCI rankings.
Canadian Geoff Kabush, a favourite Cyclingnews diarist, has been keeping a low profile on the 'cross circuit for the past few years, but took second in his national championships this year and the fourth spot in our reader poll. Jonathan Page remains a wholly underrated rider, and many may have forgotten about the scrappy racer who was injured early in the season, but fought his way back to health and back to form to take second place in the US national championships. Page then turned around and took two podium finishes in Europe, and fifth place in the reader poll, edging out fellow American Tim Johnson.
Some big names received a tiny fraction of the votes - Thijs Al, the Dutch racer with the seemingly backwards name, edged out reigning world champion Erwin Vervecken to take seventh. Frenchman John Gadret squeaked in ahead of Belgian Bart Aernouts for eighth, while Francis Mourey, the winner of the Treviso world cup, didn't even crack the top ten.
Results

                        Votes     %ge
1 Sven Nys               5940    60.9
2 Ryan Trebon             749     7.7
3 Bart Wellens            709     7.3
4 Geoff Kabush            445     4.6
5 Jonathan Page           389     4.0
6 Tim Johnson             338     3.5
7 Thijs Al                196     2.0
8 Erwin Vervecken         184     1.9
9 John Gadret             135     1.4
10 Bart Aernouts          131     1.3
11 Francis Mourey         128     1.3
12 Sven Vanthourenhout    120     1.2
13 Gerben de Knegt        116     1.2
14 Klaas Vantornout       116     1.2
15 Radomir Simunek         61     0.6


              Total:     9758