Cyclingnews 2006 Reader Poll Results
Best female road rider
In 2006, Cooke celebrated her 7th national title
Photo ©: Gerry McManus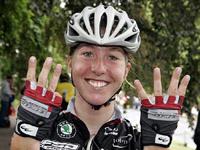 It was a tight battle between Kristin Armstrong and Nicole Cooke for the award of Cyclingnews' best female road rider, but in the end the Welsh woman scored the prize - for the third time after 2003 and 2005. Only 0.8% of the votes, 66 to be exact, separated the two at the top of the list, but finally the World Cup winner's list of honours this year was just too impressive: Flèche Wallonne, La Grande Boucle Féminine, Thüringen-Rundfahrt, Castilla y Leon amongst many others.
While Cooke (30.3%) dominated the European scene, Armstrong (29.5%) visited many podiums in American races. The world and American time trial champion won the Tour de Gila, San Dimas, the Nature Valley Grand Prix, and Tour de Toona, to name but a few. Both riders certainly deserved the appreciation of the more than 10,000 Cyclingnews voters who gave their opinion.
The third spot and 13.7% of the votes went to young Dutch talent Marianne Vos, who crowned an up-and-coming season with the World championship title in Salzburg at the tender age of 19...surely we will hear more of her soon.
Results
                        Votes     %ge
1 Nicole Cooke           3165    30.3
2 Kristin Armstrong      3081    29.5
3 Marianne Vos           1430    13.7
4 Onenone Wood            659     6.3
5 Judith Arndt            624     6.0
6 Ina Teutenberg          442     4.2
7 Katherine Bates         198     1.9
8 Susanne Ljungskog       162     1.5
9 Rochelle Gilmore        118     1.1
10 Edita Pucinskaite       90     0.9
11 Nicole Brandli          85     0.8
12 Annette Beutler         70     0.7
13 Trixi Worrack           57     0.5
14 Olga Slyusareva         54     0.5
15 Zulfiya Zabirova        50     0.5
16 Svetlana Boubenkov      47     0.4

Total:                  10452