Cyclingnews 2006 Reader Poll Results
Best Female MTB Racer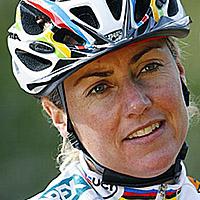 Gunn-Rita Dahle Flesjaa
Photo ©: Multivan Merida
She has dominated women's mountain biking for several years, and this year proved no exception. The enduring Norwegian Gunn Rita Dahle Flesjaa, a double world champion for 2006, again took top honors as Cyclingnews' female mountain biker of the year after winning the same award from 2003 through 2005.
Dahle Flesjaa earned her third consecutive world cross country title in Rotorua, New Zealand, when she became the only woman to do so other than Alison Sydor (1994-1996). She also showed she can go the distance by riding away from the competition to win the world marathon championship in Oisans, France.
Dahle Flesjaa took the UCI cross country world cup overall with wins in Curacao, Madrid, and Spa- Francorchamps and with second place finishes at Mont Ste Anne and Schladming. Her "worst" world cup finish was fourth at Fort William where she flatted and had to run to the pits. But her experience and determination carried her to the finish; despite the mechanicals, Dahle Flesjaa clawed her way back up to fourth place with what she called her "strongest effort of the year."
Second place went to Jill Kintner. The American gravity rider won the world championships in four cross and the UCI world cup overall for the same discipline, including four world cups along the way.
Marie Helen Premont took third place in the poll. In 2006, she was the only woman to beat Dahle-Flesjaa in a world cup cross country event–excluding the Fort William race where Dahle Flesjaa suffered a mechanical. The Canadian, continuing her climb toward the top of women's mountain biking, won the final two world cups, one on her home turf in Mont Ste Anne, and another in Schladming. She also overcame her bad luck at the world championships, where she earned her first podium appearance, a third place following two years of mechanicals and fourth place finishes.
Tracy Moseley winds up in fourth place. The British rider finished second at the world championship and won three world cups on her way to the top of the world cup downhill standings.
And in fifth is Pia Sundstedt of Finland, who took top honors in the UCI marathon world cup after winning four individual world cup events. She also finished fifth at the world marathon championships.
Results

                            Votes     %ge
1 Gunn-Rita Dahle Flesjaa    5005    53.6
2 Jill Kintner                673     7.2
3 Marie-Helene Premont        665     7.1
4 Tracy Moseley               643     6.9
5 Pia Sundstedt               535     5.7
6 Sabine Spitz                474     5.1
7 Margarita Fullana Riera     438     4.7
8 Rachel Atherton             421     4.5
9 Irina Kalentieva            257     2.8
10 Sabrina Jonnier            220     2.4


                  Total:     9331