Cyclingnews 2006 Reader Poll Results
Best female track rider
Anna Meares (Australia)
Photo ©: John Veage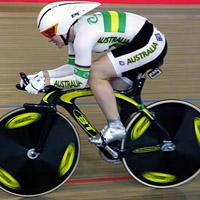 You chose the best of the best for this year's female trackie of the year. Olympic gold medalist, world record holder, and world cup champion Anna Meares of Australia took more than 23 percent of the votes, and it was well deserved. Meares began 2006 by overcoming some nagging back problems to take the win in the Commonwealth Games, and a second place at the world championships in the 500m time trial.
When the 2006-2007 season started, Meares came out of the gates as strong as ever at the Sydney world cup, taking the team sprint with sister Kerrie, and the 500m time trial where she broke her own world record, setting a new mark of 33.944 seconds.
Our second placed woman hasn't focused on the track for a couple years, but is a perennial favourite female rider and a very talented athlete who has competed successfully in just about every cycling discipline, Nicole Cooke. The popular British rider came in 276 points ahead of American world champion Sarah Hammer.
Hammer, who nearly retired in 2004, came back to the sport with a clear head and full committment. She's won four world cup titles, and this year, she became the first American woman to win a world title on the track since Rebecca Twigg.
The fourth and fifth places spots go to the Aussies. Commonwealth games points race champion Katherine Bates. Bates had a solid year, taking three Australian titles (road, scratch, and points races) and the win in the Sydney world cup points race, and took fourth in the poll. Behind her was Katie Mactier, winner of the Commonwealth Games and Sydney world cup pursuit.
Results

                          Votes     %ge
1 Anna Meares              2182    23.1
2 Nicole Cooke             1934    20.5
3 Sarah Hammer             1658    17.6
4 Katherine Bates           939     9.9
5 Katie Mactier             591     6.3
6 Victoria Pendleton        520     5.5
7 Natallia Tsylinskaya      336     3.6
8 Olga Slyussareva          256     2.7
9 Clara Sanchez             251     2.7
10 Yan Li                   220     2.3
11 Maria Calle              199     2.1
12 Christin Muche           158     1.7
13 Vera Carrara             113     1.2
14 Shuang Guo                87     0.9

 
                  Total:   9444