World Track Championships - CM
Stuttgart, Germany, July 30 - August 3, 2003
Men's 1km time trial
Nimke unseats Hoy
By Valkerie Mangnall in Stuttgart
Heading for home
Photo: © Hennes Roth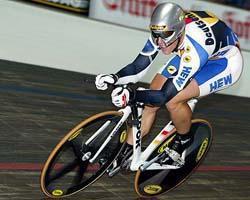 Great Britain's Chris Hoy failed to defend his world kilometre crown as German hero Stefan Nimke claimed a hugely popular victory on home soil. Nimke took off third in the field of 22, setting the benchmark with a blazing time of one minute 01.225 seconds. Hoy could manage only fourth, despite riding a personal best of 1:01.704. Shane Kelly returned to the track where, in 1991, he made the mistake of stopping too soon, thinking he had finished because he could not hear the bell for the final lap above the roar of the crowd. This time, the 31-year-old Australian was far happier with the result, finishing second in a personal best time at sea level of 1:01.356. Frenchman Arnaud Tournant was third in 1:01.644.
Silver medalist Kelly was very happy with his result. "I knew I had something in me this year because my training has been very good and I haven't had too many mishaps and dramas," said Kelly who hails from the country town of Ararat in Victoria, Australia. "I knew I had more speed and power than last year.
Green and gold for silver
Photo: © Hennes Roth

"I'm still knocking on the door and they still know I'm coming so that's a good thing," said the tenacious competitor who made a somewhat inauspicious senior world championship debut on the same track in 1991. The Stuttgart track is 285 meters long instead of the more usual 250 or 333 meter track and it was only the third time Kelly had ridden a kilometre time trial.
"I hadn't raced it (285 meter) before and I was a little bit lost I suppose," he explained. "Coming around for the bell lap I was leading on splits but it was capacity crowd and I didn't hear the bell or anything else. I thought I'd finished so I swung up the track. Then I looked up at the scoreboard and the time was still ticking over and I thought 'well hang on - something's not right'," said Kelly who swung back down the track to complete the correct distance and still managed to finish 13th in a time of 1min06sec.
Bronze for the Frenchman
Photo: © Hennes Roth

"I was going to keep going for another lap [tonight] to make up for the one I missed the first time," he laughed. Kelly says he was not too concerned when Nimke, the third of 22 starters, posted his impressive time. "He's a class rider and I thought 'the track's got to be quick and if he's done that I'm around the mark'," said Kelly who at 31 is the oldest member of the Australian team which has an average age of 22. "I know how to handle myself each time the worlds come round and this year I handled myself better.
"I was more relaxed and more confident and I was going pretty quick in training so that was a good start," said Kelly who, with a silver (1992 Barcelona) and a bronze (2000 Sydney), has his eyes on gold at the Athens Olympics in 2004.
"I think so yes," he said. "My training the last year and a half has been great and we're matching the boys here so we're on the right track for sure."
Photos
Images by Yuzuru Sunada/www.yuzurusunada.com
Images by Hennes Roth/www.roth-foto.de
Images by AFP
Results
1 Stefan Nimke (Germany)                      1.01.225  (58.799km/h)
2 Shane Kelly (Australia)                     1.01.356  (58.673km/h)
3 Arnaud Tournant (France)                    1.01.644  (58.399km/h)
4 Chris Hoy (Great Britain)                   1.01.704  (58.343km/h)
5 Ben Kersten (Australia)                     1.02.007  (58.057km/h)
6 Theo Bos (Netherlands)                      1.02.079  (57.990km/h)
7 Jamie Staff (Great Britain)                 1.02.128  (57.944km/h)
8 Sören Lausberg (Germany)                    1.02.198  (57.879km/h)
9 Jason Queally (Great Britain)               1.02.387  (57.704km/h)
10 José Antonio Villanueva Trinidad (Spain)   1.02.484  (57.614km/h)
11 Ahmed Lopez (Cuba)                         1.02.598  (57.509km/h)
12 Mickaël Bourgain (France)                  1.02.697  (57.419km/h)
13 Matthieu Mandard (France)                  1.02.788  (57.335km/h)
14 Teun Mulder (Netherlands)                  1.03.045  (57.102km/h)
15 Wilson Meneses (Columbia)                  1.03.628  (56.578km/h)
16 Andriy Vynokurov (Ukraine)                 1.03.862  (56.371km/h)
17 Damian Zielinski (Poland)                  1.04.116  (56.148km/h)
18 Takahiro Arai (Japan)                      1.04.331  (55.960km/h)
19 Christian Stahl (USA)                      1.04.810  (55.546km/h)
20 Jan Lepka (Slovakia)                       1.05.134  (55.270km/h)
21 Athanasios Mantzouranis (Greece)           1.05.373  (55.068km/h)
22 Jonathan Marin (Columbia)                  1.05.965  (54.574km/h)