Results and Reports from Australia
Promoters wishing to submit results should send them to Cyclingnews
Trek Bikes Summer Series Rd 11
Heffron Park, March 18, 2003
Dempsey lands series title
By John Sunde
Congrats!
Photo: © Tony Horneman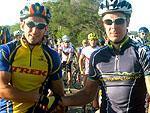 After last week's washout of Round 10, tonight's penultimate round of the 2003 Trek Bikes Summer Series got underway in clear, sunny conditions and a flurry of last minute negotiations to determine who was going to ride for who, in this last opportunity for A grade to put in a big one and get back the leader's yellow jersey for Anthony Spurgeon (Caravello).
Current leader, Craig Demspey (Easts) donned the Trek Leaders jersey before the race and despite coming off 3 overall wins and 8 wins in C grade still managed to convince the Handicapper he wasn't quite ready for the step up to B grade and joined the rest of the 34 C grade riders to get the race underway.
In a reversal of recent performances, a pumped up B grade with 25 starters put in a much improved effort showing a real determination to try and close the gap on C grade and stay away from A grade, who were down in numbers with only a dozen starters.
B grade were so committed that after only 7 laps they had lost 10 riders in the strong winds. Doing the damage up front again were Randwick Botany juniors Robbie Cater and Chris Jenkins, with Robbie stamping his improving strength and form on the race by collecting another 16 sprint points to completely dominate the Sprint King competition. Not content to stop there he then committed to a solo chase of C grade who with 4 laps to go were still a comfortable length of the straight in front.
Meanwhile behind all this action A grade were struggling with one of their smallest bunches this season and despite an average speed of 42kph, were no match for the momentum being created by the still 30+ strong C grade bunch. With 2 laps left it was time to put down the glasses, turn the stop watch off and sit back to see whether King Craig could win yet another C grade finish for overall honours.
In the sprint for the line, with A and B grade nowhere in sight, it was an early flyer by Dave Evans which almost upset the Easts party, but in the lunge for the line it was tyre width which gave the nod to Dave 'Jacko' Jackson from King Craig. Robbie Cater capped off a big ride by soloing in for the B grade win and Stewart 'Computer' Campbell outsprinted Simon Rice to take the lone prize for first A grade.
So that's it for the major placings in the 2003 Trek Bikes Summer Series, with next weeks dead rubber to cap off another great seasons racing. King Craig gets the Trek 5500 team frame for Series leader on account of his unassailable 9 pt lead from the real King, King Spurge. Craig also picks up the prize for winner of the C Grade pointscore and Robbie Cater wins the coveted A/B grade Sprint King award.
Next Tuesday is the final race for the season when the official prizegiving will take place. The beers are on Frank.
Photography
Images by Tony Horneman
Results
1 Dave Jackson (Randwick Botany)
2 Craig Dempsey (Easts)
3 Dave Evans (Randwick Botany)
4 Frank Fortuna (St George)
5 Dave McHugh (Sydney)
  
1st A Grade: Stewart Campbell (Easts)
1st B Grade: Robbie Cater (Randwick Botany)
 
Trek Bikes Pointscore   
 
1 Craig Dempsey                 25 pts
2 Anthony Spurgeon              16
3 Dave Jackson                  15
4 Mark Renshaw                  14
5 Steve Fitzpatrick             11
6 Stewart Campbell              10
6 Stuart Dangerfield            10
8 Jeff Hopkins                   9
9 Robert Cater                   7
9 Liam Kelly                     7
11 Matt White                    4
11 Steve Wooldridge              4
11 Dave Stewart                  4
11 Tim Rice                      4
11 Duncan Markham                4
11 Jose Rodriguez                4
17 Nathan Russell                3
17 Sean Bloch                    3
17 Dave Evans                    3
20 Graeme Moffet                 2
20 Sean Ballesty                 2
20 Andrew Hudson                 2
20 Roger Shackleton              2
20 Michael Murdoch               2
20 Frank Fortuna                 2
26 Dave McHugh                   1
 
A/B Grade Sprint King
 
1 Robert Cater                  94 pts
2 Chris Jenkins                 54
3 Patrick Jones                 18
3 Anthony Spurgeon              18
5 Mark Renshaw                  15
6 Stuart Dangerfield            12
7 Stewart Campbell              10
7 Troy Glennan                  10
7 Jono Davis                    10
7 Stuart Hayes                  10
7 Paul Rowney                   10
7 Brian Appleyard               10
13 Steve Fitzpatrick             9
13 Clive Hammerson               9
15 Liam Kelly                    8
16 Jeff Hopkins                  6
16 Klayten Smith                 6
18 Nathan Russell                5
18 Korean 1                      5
18 John Sunde                    5
21 John Kenny                    4
21 Matthew Loupis                4
21 Alan Bozunovic                4
24 Matt White                    3
24 Steve Wooldridge              3
24 Dave Watkinson                3
24 Andrew Kildaire               3
24 Ross McKay                    3
29 Will Gray                     2
30 Steve Williams                1
30 Dave Stewart                  1
30 Warren Scott                  1
30 Korean 2                      1
30 Josh Fleming                  1
30 Simon Rice                    1
 
C Grade Pointscore
 
1 Craig Dempsey                 43 pts
2 Dave Jackson                  21
3 Roger Shackleton               7
4 Chris Young                    5
5 Frank Fortuna                  4
6 Tim Rice                       3
7 Stefan Bozunovic               1
7 Tim Rice                       1
7 Katie Brown                    1
7 Luke Picton                    1
7 Duncan Markham                 1
7 Sean Bloch                     1
7 Dave Evans                     1