Results and Reports from Australia
Promoters wishing to submit results should send them to cyclingnews
Randwick Botany Cycling Club Annual Junior Carnival
Heffron Park, August 3, 2002
RBCC Junior carnival brings riders in from all over
By Tony Horneman
Over 100 junior riders from as far away as Dubbo, Mudgee and Canberra competed in the Randwick Botany Cycling Club Annual Junior Carnival at Heffron Park on Saturday.
RBCC juniors
Photo: © Tony Horneman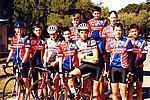 Randwick Botany juniors were well represented and took part in a program of 16 events in excellent riding conditions around the tight Heffron Park circuit. Randwick City Council cleaned and prepared the 2 km track prior to the event.
The premier U17 Keith Harris Memorial Elimination Trophy Elimination Race provided some exciting racing in the all-in event. All riders started together and the last 3 riders at the end of each lap were eliminated from the race. The surviving riders in finishing order were Phillip Stokes from Penrith Panthers, Tyler McLachlan from Southern Cross and Luke Picton also from Southern Cross, Dean Windsor from Bathurst and Joe Neeman from Canberra.
U17 men grinners
Photo: © Tony Horneman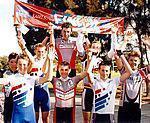 In the U17 A Grade Scratch race over 16km, Randwick Botany's Robert Cater broke away from the 12-rider bunch on lap 2 and rode solo for most of the race. Phillip Stokes bridged the gap and the pair stayed together to fight out the final sprint. Cater led out with 300m to go but Stokes proved too strong and crossed the line first just ahead of Cater. Tyler McLachlan took third place in the bunch sprint. He was followed home by Luke Picton from St George and Stephan Weiland from Southern Highlands cycling club.
Dale Scarf from Central Coast blasted out of the blocks at the start of the U15 B Grade Scratch race and didn't look back for 8km. Scarf rode solo for the entire race and finished first ahead of Kiernan Smithson (Lidcombe Auburn), David Bermejo (Bankstown), Tyron Bicknall (Randwick Botany) and Andrew Young (Randwick Botany).
U15/17 women
Photo: © Tony Horneman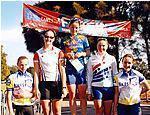 Angela Jones from the Bicisport club demonstrated excellent fitness to chase and catch the bunch following a front wheel puncture and wheel change in the closing stages of the U15 Women Scratch race over 14km. After making up 500m during the second last lap, Jones recovered to win the bunch sprint to the line. Second home was Alyse Ransom (St George) followed by Ingrid Paterson (Canberra), Charlotte Cotes (Randwick Botany) and Melinda Potente (St George).
A special award was presented in the U13 Points Score race which was won by Luke Davison (Southern Cross) with Matthew Guillan (Southern Cross) second and Benjamin Harvey (Bankstown) third. The Matthew Bosch Memorial Prize was presented to Melinda Potente from the St George club for being the most gutsy rider in the race. The award is in memory of Matthew Bosch who died in 1995, aged 11 years, of cancer. Matthew could only ride a fixed gear bike with training wheels because of an intellectual disability, but he showed great love and determination for his riding. The award is sponsored by Matthew's mother Tanya Bosch.
Randwick Botany Cycling Club wishes to thank several local businesses for supporting the Junior Carnival, including the Newington Inn Petersham, Maroubra Cycles Anzac Parade Maroubra Junction, DS Labels Marrackville and Vella's Painting Services. Special thanks to all the helpers that made the day a great success, including: Helen and Fred Vella, Andrew Pike, Dale Rockell, Mark and Janette Murdoch, Alison Cater, Richard Jenkins, Mr and Mrs Bykerk, Tony Horneman, John, Joanne and Scott Buckton, Janelle Lindsay and friend, Jenny Spurgeon, Sarah and Mark Robertson, Chris White, Tony Caruana. A special thank you to Tanya Bosch, Graham Jones and Dennis Miele.
Thanks to the NSW Cycling Federation Commissaires Jeffrey Barrett, Arthur Donnelly and Brian West, St John Ambulance staff and Ernie Smith for taking some great photos.
Randwick Botany Cycling Club racing is conducted every Saturday throughout the year. Juniors start at 1.00pm and Seniors at 2.30pm. All grades of riders are catered for from Grades A to E. Training rides are also conducted. More information can be obtained from the Club Secretary, Helen Vella on 02 9667 3307.
Results
Men
U17 Keith Harris Memorial Trophy Elimination Race
 
1 Phillip Stokes (Penrith Panthers)
2 Tyler McLachlan (Southern Cross)
3 Luke Picton (Southern Cross)
4 Dean Windsor (Bathurst)
5 Joe Neeman (Canberra)
 
U17 A Grade Scratch 16km
 
1 Phillip Stokes (Penrith Panthers)
2 Robert Cater (Randwick Botany)
3 Tyler McLachlan (Southern Cross)
4 Luke Picton (St George)
5 Stephan Weiland (Southern Highlands)
 
U17 A/B Grade Point Score 18km
 
1 Dean Windsor (Bathurst)
2 Tyler McLachlan (Southern Cross)
3 Phillip Stokes (Penrith Panthers)
4 Robert Cater (Randwick Botany)
5 Matthew Hood (St George)
6 Luke Picton (Southern Cross)
7 Mitch Chapman (Bathurst)
8 Christopher Young (Parramatta)
9 Matthew Faferko
 
U17 B Grade Scratch 14km
 
1 Colin McLaughlan (Western Suburbs Mountain Bike Club)
2 Mitch Chapman (Bathurst)
3 Kane Macri (Parramatta)
4 Fabio Calabria (Canberra)
5 Grant Patrick (Southern Cross)
 
U15 A Grade Scratch 10km
 
1 Greg Beer (Penrith Panthers)
2 Geoffrey Hopkins (Southern Cross)
3 Luke Barrett (St George)
4 Troy Dippel (Hinchinbrook)
5 Matthew Wilde (Southern Cross)
 
U15 A/B Grade Point Score 16km 
 
1 Greg Beer (Penrith Panthers)
2 Geoffrey Hopkins (Southern Cross)
3 Matt Wilde (Southern Cross)
4 Matt Petite (Parramatta)
5 Troy Dippel (Hinchenbrook)
6 Dale Scarfe (Central Coast)
7 Stuart Lane (Libcombe Auburn)
8 Luke Barrett (St George)
 
U15 B Grade Scratch 8km
 
1 Dale Scarf (Central Coast)
2 Kiernan Smithson (Lidcombe Auburn)
3 David Bermejo (Bankstown)
4 Tyron Bicknall (Randwick Botany)
5 Andrew Young (Randwick Botany)
Women
U17 Scratch 14km
 
1 Jaclyn Kejda (Illawarra)
2 Belinda Wilde (Southern Cross)
3 Melinda Harris (Mudgee)
4 Eve Hood (Parramatta)
5 Skye-Lee Armstrong (Parramatta)
 
U15/17 Point Score 16km
 
1 Melinda Harris (Mudgee)
2 Jaclyn Kejda (Illawarra)
3 Belinda Wilde (Southern Cross)
4 Eve Hood (Parramatta)
5 Skye-Lee Armstrong (Parramatta)
6 Melanie Sexton (Port Stephens)
 
U15 Scratch 14km
 
1 Angela Jones (Bicisport)
2 Alyse Ransom (St George)
3 Ingrid Paterson (Canberra)
4 Charlotte Cotes (Randwick Botany)
5 Silvia Potente (St George)
Men/Women Combined
U13 Scratch 8km
 
1 Matthew Guillan (Southern Cross)
2 Luke Davison (Southern Cross)
3 Howard Brennan (St George)
4 Andrew Seaman (Dubbo)
5 Tamas Bykerk (Randwick Botany)
 
U13 Points Score
 
1 Luke Davison (Southern Cross)
2 Matthew Guillan (Southern Cross)
3 Benjamin Harvey (Bankstown)
4 Tamas Bykerk (Randwick Botany)
5 Julian Celati (Lidcombe Auburn)
 
The Matthew Bosch Memorial Prize 
for the most gutsy rider: 
 
Melinda Potente (St George)
 
U11 Scratch 6km
 
1 Callum Walker (Dubbo)
2 Scott Harding (Southern Cross)
3 Jack Bennett (Bankstown)
4 Andriano Maradini (Randwick Botany)
5 Leah Guillan (St George)
 
U11 Handicap 6km
 
1 Antoine Rosse (St George)
2 Callum Walker (Dubbo)
3 Scott Harding (Southern Cross)
4 Jack Bennett (Bankstown)
5 Lindsay Rathbone (Penrith Panthers)
 
U9 Scratch 4km
 
1 Raphael Rosse (St George)
2 Robert Moiler (Bankstown)
3 Imogen Hines (St George)
 
U9 Handicap 4km
 
1 Imogen Hines (St George)
2 Raphael Rosse (St George)
3 Robert Moiler (Bankstown)