News feature, May 2, 2009
Giro d'Italia stage-by-stage: 13-21
The Centennial Giro d'Italia offers up a unique parcours which is deceptive in its difficulty. Procycling and Diquigiovanni's gregarious manager Gianni Savio break down the route for the 92nd edition of the race.
"It is an abnormal Giro, where you find the Dolomites at the beginning and not at the end like all the other years," said Savio. "This will change how the riders prepare for the Giro; the riders have to show up at 90 percent or higher, and not at 80 percent."
Lance Armstrong may be the man
Photo ©: Russ and Nancy Wright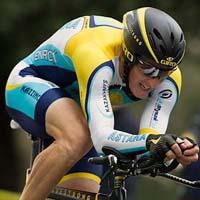 Route: The Cinque Terre is beautiful if challenging cycling country, but not the kind of terrain where you'd expect to find a time trial. The roads twist tightly up and down; they simply don't do straight and flat in this region. Many riders have said they will be using a normal road bike for this test, although Lance Armstrong has said his is likely to have a few aero features.
Local Hero: Perhaps there's something in the Ligurian water that helps turn out sprinters. As well as Petacchi, Liquigas's Francesco Chicchi hails from not far down the coast in Camaiore, but the race organisers haven't done him any favours with this stage.
Procycling's top tip: The main contenders should dominate, but it's hard to predict who'll have the edge. If Armstrong is fit, we'd back him to rinse his rivals today, but if he's not it will open the door to Basso.
Savio speaks: The Cinque Terre time trial clearly favours riders like Lance Armstrong and Ivan Basso, but, attention, this time trial will not penalise riders like Cunego and Simoni. It would be a different story if it was all flat, Cunego and Simoni would be out of the game.
This time trial is very abnormal, just like the Giro is an abnormal Giro. That first climb is very tricky, and then a technical descent... I only hope it does not rain that day. If it rains the stage will become a nightmare.
We will have to see what the differences are like afterwards to know if this stage changes the entire Giro. The classification men will hope to avoid any incidents, any mechanicals. I always tell my riders to follow their sensations. It is better to be safe and lose a few seconds than crash and lose it all.
Maybe Alessandro Petacchi could take a stage
Photo ©: Roberto Bettini

Route: A couple of straightforward climbs early on in the stage apart, this is a pan-flat day's cycling that looks guaranteed for a sprint finish. In fact, it would be no surprise to see several of the sprinters pull out after this stage with so few opportunities for them in the last week, which only makes a sprint even more certain.
Local Hero: AG2R's Rinaldo Nocentini, winner of a stage at the Tour of California in February, is from Montevarchi, just south-east of Florence. This terrain won't suit this Classics specialist, but he'll be his French team's main hope for a stage win.
Procycling's top tip: It's hard to see past Cavendish and Petacchi in the sprints, but Lampre's Danilo Napolitano has been going well this season and is sure to be in contention in the bunch finishes.
Savio speaks: Stage 13 to Firenze is a day for the sprinters. I was talking with some the team managers and we noted how increasingly over the years the unknown men have a hard time getting free in escapes. I don't know if that is due to race radios or the strong presence of the sprinters' teams.
It's great that the Giro combines cycling with Italy's historic cities. Firenze is a city of art, but in cycling it is known for the famed Gino Bartali, who comes from nearby Ponte a Ema. It is a stage dedicated to him and it will pass through his city.
Danilo may well do it
Photo ©: Giro del Trentino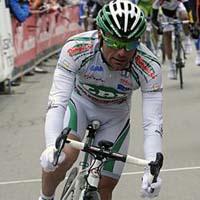 Route: The five climbs and serpentining route offer ideal terrain for a break, but the overall contenders will need to be on guard against possible ambushes by their rivals. If the GC battle is still close, this could be a very fast and nervous stage, where breakaways find themselves chased down within sight of Bologna's tough uphill finish.
Local Hero: Katusha's Luca Mazzanti is in the veteran category at 35, but he won't be lacking for incentive today as he races into his home city on home roads that he knows well and suit his ability perfectly.
Procycling's top tip: The final climb is also the finish for the one-day Giro dell'Emilia, won by Danilo Di Luca, Gilberto Simoni, Ivan Basso and Davide Rebellin in recent seasons. After his doping case, Rebellin won't be riding but the other previous winners will be.
Savio speaks: San Luca, an arrival that is famous for the Giro dell'Emilia every fall. It will be another stage where there won't be major differences, but the stage will be open for escapees; the classification men won't kill themselves over this.
The profile reminds me of the stage last year to Cesena where we won with our rider Alessandro Bertolini. Bologna is a city known for all kinds of food, including its Bolognese sauce and Tortellini.
Route: You expect the Giro's route to be unpredictable, but organisers RCS Sport have pulled out the stops for this centenary edition. This is another day where the climbs aren't all that big, but they are incessant. It's another day when the contenders will have to be watchful, but when a break should stay clear.
Procycling's top tip: Monte Trebbio features, and as the rider who won this year's Coppi e Bartali stage over that climb, Cunego will be one of the men to watch. In recent Giros, he's been off the pace by this point in the race – can he regain his form of 2004?
Savio speaks: The stage to Faenza is going to be a truly difficult stage. It is open for an escape of substance, but it will not affect the overall classification.
José Serpa has shown his mettle
Photo ©: Sirotti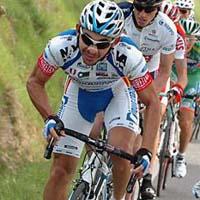 Route: Another stage that looks like RCS Sport has dropped a piece of string on a map and designed the day around it. These climbs are much harder than those of the two previous days. Monte Nerone and Monte Catria feature long, steep ramps that favour climbers with a rapid turn of speed. The hardest section of Monte Petrano is near the bottom, and there will be major splits there.
Local Hero: The Michele Scarponi fan club will be out in force, assuming they haven't deserted him after his involvement in the Puerto scandal. The Diquigiovanni rider is having a resurgence this season, exemplified by his stage and overall victory at Tirreno-Adriatico.
Procycling's top tip: The overall contenders will be at the fore, but this stage will also suit a flyweight climber with a rapid change of pace such as Scarponi's team-mate José Serpa.
Savio speaks: The Monte Petrano will be decisive; we will see who can win the Giro and who will lose it. It is very difficult, and you will see some circumstantial alliances amongst the teams to put others into trouble.
Monte Petrano is a hard climb as you can see it from the map. You will have some time gaps after a long 237-kilometre stage. It is Le Marche, the region of Michele Scarponi and he could be a man for the stage. Simoni is our leader, but we are not going to completely sacrifice Scarponi. He will remain in the wings as a second general classification option.
Maybe it could be Damiano's day
Photo ©: Roberto Bettini

Route: There's a brief opportunity for riders to get back into the swing of things, post-rest day, as the stage heads to and then along the coast. From there, it's up all the way; to more than 2000m. Ivan Basso took the maglia rosa on this climb in 2006, but that day finished at the Lanciano pass, and that's at 1306m. Today's blast goes right to the summit of the Blockhaus, where the last two kilometres are particularly testing.
Local Hero: We're on Danilo Di Luca's patch here, and it will be mayhem on the Blockhaus if "The Killer" is in contention; in fact, it will be mayhem anyway.
Procycling's top tip: Looking outside the obvious favourites, Rabobank's Denis Menchov, who has climbing ability and the sprint finish to make a difference, should be in the frame today as the Russian builds his condition for the Tour.
Savio speaks: Blockhaus is another beautiful climb, one day after Monte Petrano and will re-arrange the classification again. It's short but a stage that will send the classification up in flames. It's Di Luca's land; he won the race two years ago and will be out for the kill on Blockhaus.
Can Cavendish endear himself
Photo ©: Tim Van Wechelen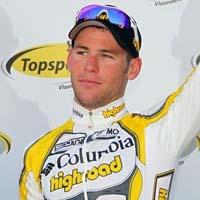 Route: The sprinters who are left will have been plugging away for almost a week now with their focus very much on this stage, and they'll be determined not to let this chance for glory slip by them. A break will go early and the sprinters' teams will claw it back on the flattish roads during the second half of the stage.
Local Hero: This has never been a stronghold of Italian cycling, and even less so at the moment, after a host of riders from this region have drifted out of the sport. Step forward Giuliano Figueras, Raffaeles Illiano and Ferrara, and Salvatore Commesso.
Procycling's top tip: It could well be an all-Italian sprintfest by now, in which case Lampre's Mirco Lorenzetto will fancy his chances, given his rash of form this season.
Savio speaks: The Benevento stage is for sprinters, but there will be a few riders who may try to blow it up on that first climb. If I had a team that was not working for the overall classification I would send all my men on the front for the Cinque Miglia climb.
I remember 2001, on the stage to Reggio Emilia. We attacked and formed an escape with our Freddy Gonzalez and eventual winner Pietro Caucchioli. We did not have anyone fighting for the classification, so we had nothing to lose.
Benevento is an area known for Mozzarella di Bufala. It is great on its own or with some tomatoes - 'Caprese'.
Ezequiel Mosquera was a revelation
Photo ©: Unipublic

Route: We're getting into the realm of fantasy cycling today, with a run down the stunning Amalfi coast and a finish on one of the world's most infamous volcanoes. The final climb to the summit finish on Vesuvius isn't long, but don't forget how far we've come to get here. Fatigue will be well set in, and the last and steepest 2km to the finish could see some significant splits.
Local Hero: A relative of Danilo Napolitano's must have come from Naples at some point. In our eyes that qualifies the Sicilian as a local for the day at the very least.
Procycling's top tip: One foreign rider we've not yet mentioned who could nab a summit victory is Spain's Ezequiel Mosquera. Fourth at last year's Vuelta, the Xacobeo team leader has never won a race outside Spain, but he could change that today.
Savio speaks: The stage to Vesuvio puts the beauty of Italy right into the Giro. Up the Amalfi coast to Napoli: pizza and spaghetti.
The stage is up and down, like a saw blade. This stage will determine the classification. We will likely see two races: an escape fighting for the stage win and then the classification men fighting for the overall jersey behind.
Route: At first glance, this should be a final hurrah for the sprinters, but there's a sharp climb to the finish, which the riders will pass over once before the finale.
Procycling's top tip: The final kick up to the finish should open this stage up to the kind of rider who goes well in the Ardennes Classics, such as Danilo Di Luca.
Savio speaks: On paper, this stage to Anagni should be one for sprinters, but it could see an attacking rider break free, like Di Luca or Rebellin
This zone is Ciociaria, known for the film La Ciociara and actress Anna Magnani.
Leipheimer could lead the GC
Photo ©: AFP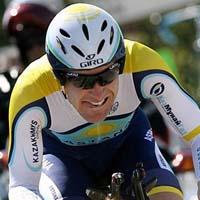 Route: Much like the Tour's 2007 London prologue or 2003 Paris prologue, this time trial highlights most of what makes Rome so unique. This short time trial starts from the edge of the Roman forum below the Palatine hill and finishes in the shadow of the Colosseum. It's pretty flat, but has lots of turns that will favour the specialists.
Local Hero: Alessandro Proni probably wouldn't have imagined that he would get the chance to race around the usually traffic-jammed streets of his home city, and the ISD rider, who helped them win the TTT at the Coppi e Bartali race in March, is sure to relish this stage.
Procycling's top tip: We've been saving the name of Levi Leipheimer for this stage because we have a hunch the Astana leader may have reason for a double celebration here. Close to a first major tour win at last year's Vuelta, he's going better than ever.
Savio speaks: This stage will show off Roma as Caput Mundi, the capital of the world. The stage travels through all the historic sites, starting near the Colosseum.
I am on the edge of my seat thinking the maglia rosa could come down to a fight of two or three on the streets of Roma. It would be a spectacular fight.
I remember back in 1992 when Andrea Tafi won for my team at the Giro del Lazio ahead of Davide Cassani, third. Tafi had his hands up for victory with the Colosseum in the background on the Fori Imperiali.
Photography
For a thumbnail gallery of these images, click here
Images by Tim Van Wechelen/www.cyclingview.be
Images by Russ and Nancy Wright/www.abbiorca.com
Images by Unipublic
Images by AFP Photo
Images by Roberto Bettini/www.bettiniphoto.net
Images by Giro del Trentino
Images by Sirotti/www.sirotti.it