Giro d'Italia feature, May 19, 2009
Out to get pink - 'dark horses' Sastre and Menchov
Carlos Sastre and Denis Menchov are two great riders who are outside contenders to win the Centenary Giro d'Italia. On the first rest day of this twenty-one day battle across Bella Italia, Cyclingnews had the opportunity to ask these men one-on-one about their chances of reaching the top step in Rome.
Sastre: "I have the opportunity to win the Giro"
By Anthony Tan
Carlos Sastre is relaxed but determined.
Photo ©: Gregor Brown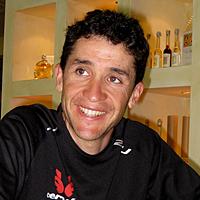 Contrary to what has been said before, Carlos Sastre has come to the 92nd Giro d'Italia to win. The man who stands before me is frequently described as friendly, but it is clear he is no pushover. His eye contact is strong, his handshake very firm, and his words well chosen.
It sends a message of capability; a man who knows what he wants and knows how to get it. He came to the race ready for a challenging first week, and emerged on the first rest day still within striking distance of maglia rosa Danilo Di Luca.
"When I decided the race the Giro d'Italia and I saw the course, I knew that I had to be good condition in the beginning," he says.
"Of course, it wasn't easy being on the wheels of these guys. But I was there, I think I was a factor, and it showed on GC. I didn't lose too much time, and I think I'll be there for the next couple of weeks," says Sastre.
The 34-year-old Sastre sits seventh, 1:24 behind Di Luca, and as it stands, the top ten riders on the classifica generale are separated by a shade under two minutes. The Madrid native says he hasn't done anything surprising yet, but what about the performances of those who have, namely Columbia-Highroad's Thomas Lövkvist and Di Luca himself, who hasn't raced a Grand Tour since his win at the 2007 Giro?
"I will fight for everything because I have the opportunity to win the Giro d'Italia."
-Carlos Sastre explains that he is here to win the Giro.
"Thomas is a really good rider. I think he'll be at a good level at the end, but maybe he started the season too early. Maybe he'll pay afterwards," cautions Sastre of the Swedish revelation.
"[Michael] Rogers, he has the [Stage 12] time trial Thursday, and I think he's focused on the time trial. I think Lövkvist is riding better than Rogers, but the two of them together, they can be a good card."
But Di Luca – why is this man from Abruzzo riding so strong, seemingly at a level above the rest?
"For [his team] LPR, it is the only opportunity of the whole year – they can not go to the Tour de France, they cannot go to other [important] races outside of Italy," Sastre says. "[For them], everything is in this moment."
Carlos Sastre in the time trial in Pays Vasco.
Photo ©: Roberto Bettini

Thursday's Cinque Terre time trial will inevitably shake up the overall classification a bit. While Sastre raced the best time trial of his career in the 2008 Tour de France, where he conceded just 29 seconds to Cadel Evans in the final time trial, he has yet to repeat that type of performance this year in a race against the clock.
Sastre is realistic about his time trialing abilities. "All my results in the Tour de France and other [Grand Tours], I am around fifteenth; sometimes ninth, sometimes tenth. I'm never the first.
"Everybody must remember Carlos Sastre is a climber, not a specialist in the time trial. I can improve my equipment, I can improve my position – I can improve many things – but the time trial will never be my specialty."
Sastre warns that the Stage 12 time trial is a different kettle of fish. He knows this – he's ridden the course.
"We have two mountains, we have two technical descents. It's completely different than a normal time trial; I don't know if I'll be better or not, but it appears to be a different scenario for a climber."
Carlos Sastre (Cervelo) is still in contention
Photo ©: Roberto Bettini

"I will try my best. I will fight for everything because I have the opportunity to win the Giro d'Italia. But I don't spend energy thinking whether I can gain or lose time on these guys."
The fact that Sastre hasn't previewed or ridden the final week's three mountain-top finishes – namely, Stages 16, 17 and 19 – doesn't change things much, he says.
If he has the opportunity, and he senses it, he'll go for it.
"I'm a person that can decide in the moment," Sastre says, those words alluding to his brilliant, spur of the moment, race-winning attack on the lower slopes of Alpe d'Huez in the 2008 Tour.
Menchov – The Killer?
By Gregor Brown
Menchov seems to have this Giro figured out.
Photo ©: Roberto Bettini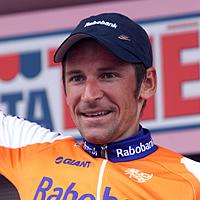 Rabobank's Russian leader Denis Menchov is an intimidating man. On the bike, his stone-faced countenance hides all emotion, leaving his opponents wondering when the deadly attack might come. When I met him on the outskirts of Cuneo, Italy on the first rest day, I am not quite sure what to expect. He had a pleasant and relaxed demeanour, but behind his eyes the pure determination of a proven Grand Tour champion could not be hidden.
The two-time Vuelta a España winner took his first Giro d'Italia stage win last week and appears much more stronger than when he rode to an fifth place overall in last year's Italian Tour. His vicious attack on the Alpe di Siusi proved he is out for blood, out for the pink leader's jersey and the final trophy in Rome. He could claim the lead as early as the Cinque Terre time trial on Thursday.
Danilo Di Luca's nickname might be "the killer", but Menchov is equally convincing in that role. Is he out for blood in this Giro? "Am I dangerous? I think I am a simple person, just a cyclist and not so dangerous," he reassures in a Spanish-tinged English.
His denial is not convincing. After nine days of racing through northern Italy, 'Denny' Menchov appears poised to slash the throats (or at least the time advantages) of his rivals in Cinque Terre's time trial. He is 58 seconds behind Di Luca, but the so-called Killer could stand to lose loads of time Thursday.
Menchov's rivals are Michael Rogers (Columbia-Highroad) – second overall and 14 seconds ahead – Levi Leipheimer (Astana) – seven seconds ahead – Ivan Basso (Liquigas) – 16 seconds behind – and Sastre – back by 26 seconds.
The tight race is enough even to make the Russian hard man nervous.
"I try to be relaxed, and it is not easy, but I am good condition. I will try to do my best in the time trial.
"The stage win gave me confidence and showed that I can come here and win."
-Denis Menchov is still a danger for the overall victory in Rome.
"I have to do my best, the best on that day. It will be really long: one hour and thirty minutes to one hour and forty minutes. You have to be in top condition for that one special day, even if it not really a day for specialists."
Menchov has calculated what it is going to take to win. He has previewed the time trial course twice, the last time prior to the Tour de Romandie.
"I will use a normal bike on that stage, which seems like a normal stage really," he tells me with a smile.
The smile tells me that Rabobank's Russian has the Giro d'Italia figured out. He has solved the puzzle of the time trial and made his calculations for the following mountain stages. He already showed his figures are accurate in how he knew to strike for victory on the Alpe di Siusi ahead of Di Luca on Wednesday.
Denis Menchov took some blood from "The Killer"
Photo ©: Roberto Bettini

"The stage win gave me confidence and showed that I can come here and win," he continues. "The most important stage is the time trial, then the stage to Monte Petrano, Blockhaus and Vesuvio. Those are the four most important stages."
Menchov smiles again while talking about the important stages. Before his smile relaxes, I ask him if he thinks he is a "dark horse" since the name "Menchov" does not roll of the tongues of many pundits.
"I don't know what the others think now, if I am a 'dark horse'. I think a lot of people speak about Basso, Armstrong and Leipheimer, which works in my advantage."
Menchov is just where he likes to be ahead of the Giro's most important stage. He is poised to win his first Italian Grand Tour.
Photography
For a thumbnail gallery of these images, click here
Images by Roberto Bettini/www.bettiniphoto.net
Images by Gregor Brown/Cyclingnews