News Feature, April 27, 2009
Astana versus Italy
Lance Armstrong - after fracturing his collarbone, what chances does he stand against his Italian rivals? Could he end up riding for team-mate Levi Leipheimer?
Photo ©: Sirotti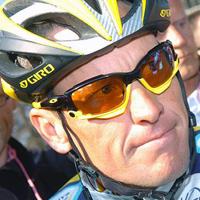 Lance Armstrong, Levi Leipheimer and the rest of the Astana team will line up in Venice on May 9, intent on claiming the Giro d'Italia's fabled maglia rosa in Rome three weeks later. Procycling's Daniel Benson, Ellis Bacon and Daniel Friebe asked four "foreign" winners how Armstrong and his team can meet the challenge and what Italy's riders, fans and terrain have in store.
[Editor's note: This story was written while Lance Armstrong's Giro participation was still in doubt. While he has confirmed that he will start, how much form he will have coming into the race is uncertain.]
With Lance Armstrong recovering from his collar-bone break, former champions Stephen Roche, Andy Hampsten, Evgeni Berzin and Tony Rominger offered their unparalleled insight into the race. We started off by asking for their assessment of Armstrong's likely chances of starting and competing for the title at the Giro in the wake of that injury setback...
Tony Rominger: Will he make it to the Giro? I don't think so. I think he was already a bit behind in his preparation, so it's certainly not going to be easy. If you go to hospital for an operation, that's going to cause you to lose at least one week. Perhaps he'll get there and be able to win a stage, but not the overall.
Andy Hampsten: I can imagine him using it as training. His recovery will take around six weeks, but a guy like Lance will see it as a challenge to do it in a little less time. I wouldn't doubt if he can still do the Giro.
Tour and Giro winner Stephen Roche thinks that Lance Armstrong is being given too much attention.
Photo ©: Ken Farrar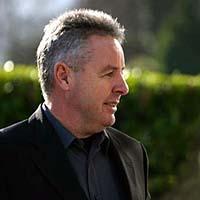 Stephen Roche: Why is everyone talking about Lance Armstrong? I have a lot of respect for him, but he's being given far too much attention in terms of him winning the Giro or the Tour. We need to "share the book".
We should be looking at the other young riders - riders who have developed in the three years since Armstrong has been away, and the even younger up-and-coming guys. It's guys like Alberto Contador who deserve more of our attention, although I know Contador is not going to be at the Giro this year.
Supporting role
Our champions mostly agreed that racing in Italy is a unique experience, and that the fans, the famous tifosi, can have a huge impact on the race, particularly if one of their home favourites is in contention...
Berzin: You can't let the tifosi get to you too much. It's normal that a sporting crowd sides with one rider or another, or one individual - and it's doubly understandable that they side with their countrymen. In the Giro that I won, I didn't have to worry too much about either the fans' support or their hostility because I was so new on the scene.
After 15 stages, when Marco Pantani won his back-to-back stages in the Dolomites, that started to whip up a fervour, but there were only a few days left in the race then. Earlier in the Giro, the tifosi and the press only had eyes for "Miguelon" [Miguel Induráin], Gianni Bugno and Claudio Chiappucci.
1988 Giro winner Andy Hampsten is sure that Lance will be the man in Italy
Photo ©: Mark Zalewski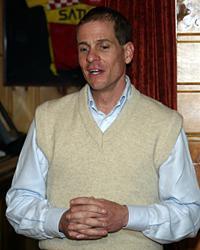 Hampsten: In my experience, there are no disadvantages to being a foreign rider. The year before I won, Roche had some problems, but that was because he attacked his own team-mate. When I was racing - and I never spoke Italian - I just made an effort with people. Even if you can only string four words together, the fans will love you. And they really like Lance.
It's actually a harder race for the Italians. For 12 months they're trying to form alliances and plans, but it never really works out and they're so hung up on creating rivalries that despite what they say in the press, they'd rather see a foreigner win than one of their countrymen. The fans will love Lance over there. I'm sure of that...
My first experience was in '85 and they were cheering for either Francesco Moser or Giuseppe Saronni and weren't very interested in anyone else. In France the fans would generally cheer on all the riders. In Italy they really have their favourites, and if their guy isn't doing well the day is kind of ruined for them, but I didn't see a lot of jeering. In the south there are some issues with crowd control, but nothing too dangerous.
Rominger: If he does make it to Italy this year, I don't imagine there being any hostility towards him at all. I think he'd be treated very well by the organisers, the fans and the other riders. I was in Australia when he was there for the Tour Down Under, and it was amazing to see the attention he was given. Treat a rider like him well, and you're going to get a lot of good publicity for your race.
Local difficulties
Assuming Armstrong and Astana can keep the tifosi onside, what about the Italian riders, who have a reputation for ganging up on foreign stars, but also for turning on each other when things don't turn out as they hope?
Roche: I don't think that Armstrong, if he makes it to the race, would come to the Giro and struggle as a foreign rider amongst the Italian contenders. He's all about the finer details, so he'll know exactly what to expect, he'll know where he's putting his feet. He wouldn't go to any race without being prepared for it. But if an Italian rider is on form - Damiano Cunego, Ivan Basso - then any foreign rider coming to the Giro will always have difficulty competing. Like the Spanish, the Italians definitely do stick together... One of them goes for a stage win on one day, and then it's someone else the next day.
And then the Italian media really build their own riders up. It's a very difficult race for foreigners to be in. Everything feels very Italian - you feel like an outsider. The language of the race is Italian, whereas at many other races, because of the mix of riders from different nations, the base language is normally English, even at the Tour de France. But not at the Giro - the Giro is something special.
Everyone knows about my story with Roberto Visentini, but I also know that Francesco Moser had some real run-ins with both Bernard Hinault and Laurent Fignon. When a foreign rider wins, or is winning, the Italian riders - plus the media and the fans - don't like it, which all adds up to making it such a hard race to be at as an "outsider". But things have got slightly better at the Giro, I think. Since Angelo Zomegnan took over, it has kind of opened it up. It's more international now - but Italians will always be Italians...
Rominger: When I won the Giro in 1995, I was on a team with an Italian sponsor, plus we were the big favourites for the race, so there wasn't any real hostility towards me. But, saying that, because we were the favourites, in that respect we were always going to have enemies. It was the hardest race I ever did. Every day it was very aggressive from the first kilometre. I know it's like that a bit more these days, but back then it was always very slow in the first hour of a race. In that Giro, people attacked from the gun...
"I would say that the course has been designed with Armstrong in mind."
-Andy Hampsten believes that Armstrong's participation in the Giro was taken into account when organiser RCS Sport mapped out the race parcours.
If you look at the pro peloton in general, the Italians make up a large percentage of the top riders, which would help explain that feeling of togetherness that they have, and which you see at the Giro better than anywhere else.
The Spanish are similar; I think it's just the southern European mentality, as us Swiss, the Germans, the northern Europeans, generally, don't mind as much which nationality wins a race.
Hampsten: The Italians are really good and they'll all be trying to win, but looking at the course profile it's very bizarre. There aren't many very hard mountain stages, and the route is less difficult than Giros of the last five or six years. I would say that the course has been designed with Armstrong in mind.
Uphill task
The third problem that Armstrong and his team-mates will have to surmount is the difficulty of the climbs on the Giro. And it's not just that there are so many of them, but how they differ from those of races like the Tour de France...
Berzin: More than the climbs, in my opinion, it's the roads themselves, on every type of terrain, that are different. In Italy, you don't get the big boulevards that you see at the Tour, where you can easily find space to move up and down the peloton. At the Giro, you have to be attentive all the time, in case of splits or crashes or sudden changes of pace, because the roads don't leave you much room to recover. Armstrong and Leipheimer will have to be particularly careful on the short mountain stages; they're the dangerous ones. The 79km-stage to Blockhaus could be horrendous - it'll be like a time trial. On stages of over 200km, on the other hand, nothing ever happens, because everyone's too afraid of the distance.
"The Dolomites are nothing this year."
-Andy Hampsten analyses the design of the 2009 Giro dIitalia route.
Hampsten: Typically, the Giro has always been harder to control than the Tour, which has a lot of slower, less dangerous climbs in it, but that has changed this year. There's not a week or 10 days consisting of hard climbs.
It suits someone who isn't a punchy, pure climber. The race will be much easier to control, and reminds me of the days when you had five or six US Postal riders on the front and a few riders behind them hanging on. Looking at a team like Lance's, they'll have a much easier time controlling the race than in previous years...
Usually, the climbs in the Dolomites are much steeper and the pitches are a lot more varied. However, this year the race doesn't really have it. Normally the organisers try to find the most difficult climbs of all varieties, while at the Tour the climbs are longer, less steep and much easier for a team to control. The Giro climbs tend to favour the specialists like Cunego and Simoni, while the Alps in the Tour are six to 10 per cent but very long.
The Dolomites are nothing this year. There are maybe two mountain top finishes but neither will cause major damage. The Giro is usually cool because the competition gets down to just team captains on such hard terrain, but that has been eliminated this year.
Roche: Italy's terrain is very particular. The climbs are very difficult, and there's often very bad weather in the Dolomites. The Italians know all about how hard they are, but other Europeans often don't. Many coming to the Giro for the first time haven't seen such climbs before, whereas the local riders know them inside out, and want to put on a show on home ground.
Rominger: It's also often quite cold in the mountains at that time of year, which makes it difficult, and the other big thing about the Giro is that there are never really any flat stages, with the Apennines, the Dolomites... At the Tour, you get six genuinely flat stages in the first week. No such luck at the Giro, though - and you can see that again with the route this year, with the Dolomites coming so early on.
Winning hand
Of course, Astana have another ace to play in the shape of Levi Leipheimer. How do our former winners view his chances of success?
Berzin: Astana will have to be careful that they don't have too many cocks in the henhouse. I hope they all get on... In the Giro that I won, I was lucky that Moreno Argentin was very selfless. He put his ego and personal pride to one side and helped me throughout. I think it always helps in these cases when one of the big fish has already helped the other one to win a big race, which had been the case when Moreno won Flèche Wallonne that spring. In the Giro, he felt that he was returning the favour.
Hampsten: Levi's chances are excellent. He's riding well this year and he's getting better all the time. He's not very far away from a grand tour win, and I think it would be very interesting to see Astana with three riders who have the potential to win a Tour. They could stack the GC.
"I just think that Leipheimer is better suited to the climbs in France."
-Tony Rominger doubts that Levi Leipheimer could be Astana's captain in this year's Giro..
Roche: The other riders in the Astana team have a good chance, too, and whether he is called upon to help Armstrong or has a chance for himself, I think that Levi Leipheimer has a great chance. He is, for me, a more realistic challenger.
As for the Italians - it depends on who's on form. Damiano Cunego, perhaps, may be able to do something again, although he does seem to have become a bit more of a rider for the Classics. Otherwise, I really am thinking that Leipheimer could be the man...
Rominger: It might open the door for Levi Leipheimer, but we'll see. I think it's easier for Leipheimer to win the Tour than the Giro. Both races have long, tough climbs, but they're steeper in Italy, and I just think that Leipheimer is better suited to the climbs in France. No, I think that this year it should be a race for the Italians, and I think Ivan Basso has got a very good chance - he's been going pretty well so far this season. Or perhaps we might even see a new, young Italian talent emerge. It's going to be quite an open race this year, I think.
To read the rest of the article, go out and buy the Giro d'Italia issue of Procycling today! Or subscribe and never miss an issue!
Also read: Andy Hampsten's day on the Gavia