Tales from the peloton, May 21, 2009
The greatest Italian duo ever?
The legacy of Fausto Coppi and Gino Bartali
Italian cyclists Gino Bartali (L) and Fausto Coppi (R)
Photo ©: AFP Photo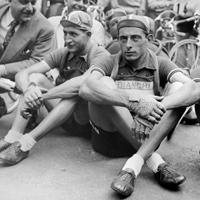 Stage 10 of this year's Giro d'Italia was planned as a tribute to Fausto Coppi as part of the race's centenary celebrations. In 1949 the route from Cuneo to Pinerolo played host to one of the sport's enduring rivalries and an incredible performance that went down as possibly the best ever. Cyclingnews' Les Clarke discovers why this one day means so much to Italian cycling fans.
Live fast, die young
Dubbed 'Il Campionissimo' Fausto Coppi's legend was only enhanced by his early death. Born in Castellania, near Tortona and Novi Ligure, on September 15, 1919, Coppi was the cream that quickly rose to the top of Italian cycling. His passing in Tortona, Italy, on January 2, 1960 of malaria robbed the cycling world of one of its greats but left it with a legacy that may never be fully matched.
There are some characters in history that rise above whatever it was that made them famous. In cycling folklore Coppi is one these people. Many say that he was 'born to ride a bike'. A look at his immaculate, fluid pedaling style is evidence enough of this fact. His first race at the age of 15 netted him his first victory. Five years later a much bigger race would be his for the taking - the Giro d'Italia.
Fausto Coppi made the first Tour de France ascent
Photo ©: AFP Photo

There's an enduring sense of romanticism surrounding Coppi's cycling achievements. Maybe part of that stems from his good looks - a type of Carlos Gardel on a bicycle - and like Gardel there was plenty of intrigue away from their domain that quickly became part of the legend. Both were immensely popular, had a predilection for attractive women and met with an early death.
Regardless of his status off the bike, wins in the 1940, 1947, 1949, 1952 and 1953 editions of the Giro speak volumes for Coppi's ability; in the process he equalled Alfredo Binda's record of five overall victories. He also reigned supreme in the Tour de France twice (1949 and 1952), the Giro di Lombardia five times, Milan-Sanremo on three occasions and took the Paris-Roubaix and La FlŤche Wallonne titles in 1950. He added an hour record on the Vigorelli velodrome in 1942 and a Road World Championship crown in 1953. It's difficult to find a more complete rider in Italy's rich cycling history.
A 'living god'
Louison Bobet and Gino Bartali ride to the summit
Photo ©: Offside Sports Photography

After the achievements of Binda during the 1920s, Gino Bartali was Italy's next cycling idol. That word was taken quite literally by Benito Mussolini's sports minister, General Antonelli, who famously termed the rider from Florence a god following his Tour de France victory in 1938.
It wasn't just his two Tour and three Giro titles that earned him such high praise. Like Binda before him, Bartali was able to combine the strength of a Classics rider with guile, patience and great climbing ability. It bore him four Milan-Sanremo wins and three Giro di Lombardia crowns plus a host of victories in semi-Classics and smaller stage races.
Much has been made of Bartali's religious background, with prayer and visible signs of support and deference to the Catholic Church a feature of his character. Born in Ponte a Ema, Florence, on July 18, 1914, 'Gino the Pious' became immersed in cycling from an early age through his work in a bicycle shop. His natural ability shone during his teenage years and into his 20s, winning his first Giro at the tender age of 22.
Bartali's potential to win more editions of the Giro and Tour was truncated due to World War II, which effectively cut six years from the prime of his career. Although Coppi was also affected by the war years, Bartali in particular lost out heavily due to the course history took with that conflict.
When Gino met Fausto...
One defining aspect of both Coppi and Bartali's legacy is their great rivalry. The pair is inextricably linked thanks to battles in Italy and France, where the two Italians were successful over two decades - first Bartali, then as he came of age in the professional ranks, Coppi.
Cycling icon Fausto Coppi (centre) with Bianchi team-mates
Photo ©: Roger Voillet

The two men were polar opposites; Bartali, the Tuscan with a powerful build, square face and broad nose while Coppi was the lean, elegant and long-limbed Ligurian. Their personal philosophies differed significantly - Bartali held strongly to the aforementioned Catholic faith, whereas Coppi made no mention of any religious persuasion. The traditional, conservative element of Italian society made the most of this fact when throwing its support behind one of the country's cycling stars. Bartali was seen as the 'moral choice' whereas Coppi was the representation of a slowly-emerging social freedom.
There's one day in the many that these two riders were pitted against each other on the road that garners particular attention in the annals of cycling history, however: June 10, 1949.
And it's May 19 - on which the 10th stage of this year's Giro d'Italia was held - that was designated by race organiser RCS Sport as a celebration of the day that captured the imagination of the Italian public on that June day. Coppi's stage win in Pinerolo came after conquering five tough mountain passes, most of which were ridden solo, and at the finish he held an advantage of 11 minutes 52 seconds over Bartali.
RaphaŽl Geminiani and Gino Bartali sprint
Photo ©: AFP Photo

He climbed the Passo di Rolle, Pordoi and Gardena solo in an attack that encapsulated the spirit of Italian cycling. That mystique was continued by countrymen such as Felice Gimondi and Marco Pantani. On that day in 1949 Coppi's panache had a 'victim': Bartali. Whilst it was Adolfo Leoni who wore the maglia rosa when riders set off from Cuneo, Bartali was Coppi's main rival.
The older of the two rivals couldn't match the younger man's audacious move and eventually finished runner up when the race finished in Milan two days later. Almost half the final deficit of 23 minutes and 47 seconds was accumulated on that one stage - an incredible feat achievable only by a rider of Coppi's flair.
According to RaphaŽl Gťminiani, "When Fausto won and you wanted to check the time gap to the man in second place, you didn't need a Swiss stopwatch. The bell of the church clock tower would do the job just as well." The Frenchman's statement was particularly pertinent on June 10, 1949.
A battle beyond photographs
Fausto Coppi was told to go home
Photo ©: AFP Photo

Another factor that made the pair's achievements more accessible to the generations that followed was television. The exploits of Coppi and Bartali could be viewed - in moving pictures - by fans desperate to see their heroes in action, adding to the lustre of their battles. Even today young fans can watch Coppi climbing the Stelvio in 1953 or Bartali taking him on in the 1950 Giro.
Reporting on Bartali and Coppi's exploits was emotive and empassioned - never better seen than in the words of Il Corriere della Serai journalist Dino Buzzati - such was the reaction their riding and characters drew from those watching. This was reflected in the fervour the Italian public had for the duo and the Giro in general. It was a golden age of the race, the likes of which have never been replicated since.
And while it was Coppi who said, "Age and treachery will overcome youth and skill", Coppi's 'eternal youth' has enabled his legacy to shine brightly for many generations. That one day on the road to Pinerolo in June 1949 epitomised the gift he left Italy - amazing feats of cycling beauty pitted against the strength and stoicism of a traditional philosophy tested over the centuries. And it all came together over those 250 kilometres, where an enduring legend was born.
Photography
For a thumbnail gallery of these images, click here
Images by AFP Photo
Images by Roger Voillet/AFP Photo
Images by AFP Photo
Images by Offside Sports Photography
Images by AFP Photo