An interview with Chris Baldwin, August 29, 2006
Bring on the big guns
Chris Baldwin, the current U.S. time trial champion, first won this title back in 2003. This year changes to the UPSRO road championships have paired the time trial with the road race, making it easier for Europe-based Americans to work the time trial into their racing schedule. This change will make his defence more difficult, as American ProTour riders such as Tour de France prologue winner David Zabriskie and Levi Leipheimer will be in Greenville to challenge for the stars and stripes. Cyclingnews' Mark Zalewski met with Baldwin during the USPRO criterium nationals to discuss his thoughts on this and other aspects of his career.
Chris Baldwin (Toyota-United)
Photo ©: Billy Cornelius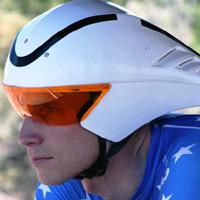 "I think it's exciting that some of the big guns might show up."
-Chris Baldwin on the prospect of racing against Levi Leipheimer and David Zabriskie.
The thing that you notice first about Chris Baldwin is that he is always smiling - and not just a smirk or the obligatory smile one gives in polite conversation, but a full-on grin - ear to ear. And when I asked about the fact that the U.S. time trial championship will be paired with the USPRO road race and not the elite nationals, making it easier for some of the top Americans racing in Europe to attend, I half-expected that grin to fade somewhat. Not so.
"I think it's exciting that some of the big guns might show up," Baldwin replied. "I much prefer to lose with those guys there than win without. It would make a good result that much more credible. The higher level the competition the better, as far as I am concerned."
But this does not mean he is not working towards defending his title. "I'll be there the whole week before, because the biggest thing for me is the weather. The weather is definitely a different pattern than what I am used to in Colorado. I failed miserably a couple of years ago at the national championships in the Redlands because of the weather. I suffered really bad and needed more time to adjust to it."
Chris Baldwin was the first rider to break sixteen minutes
Photo ©: Steve Medcroft

Yet the championship is not the sole focus on his season, which is evident in the previous month of racing. "It's really just the week before that I will really be able to kick-in with specific training for it. With the racing of the last month - Cascade, Toona and Tour of Utah - it's been one race to the next. I needed a week just to decompress from the Tour of Utah it was such a difficult race. But it's the end of the tunnel for me."
"[The championship] is something I am always looking toward but I never want to put too many eggs in one basket, and it isn't the only thing I look forward to all year, so I just plan it as another race. The timing and the season is what it is. Once you start racing it's a cycle of recovery and rebuilding. We race a lot here in America, spending a lot of time on airplanes, so there isn't a whole lot of time to be like Lance Armstrong with twelve weeks of training for the Tour de France."
The constant racing in America also can affect a time trial specialist in that a lot of the races are criteriums. And even in the stage races the time trials are often short, with only four or five time trials of significant length or difficulty in the whole season. However, this does not seem to bother Baldwin much.
Chris Baldwin on the stage 4 hill
Photo ©: Veronika Lenzi

"A time trial is a time trial. Even the little time trials still keep you in the mode of time trialling. But Utah had a nice TT in it, and it went well. Honestly I am have been disappointed in my time trailing this year. I've worked really hard on my climbing because I have always fallen a little short on the climbs. I felt great in Toona and Cascade, and I don't know if my time trailling paid a price or if it was just a confidence issue in my head. But I was really happy with my time trial in Utah. Chris Wherry came through with a blistering ride and knocked me off the top, but with form like he had it didn't surprise me. But his focus is more on the road race and I am shooting for the time trial."
One time trial this year was probably the hardest single day of racing for Baldwin, as well as the rest of the domestic peloton - the Tour de Georgia time trial, with a new course racing over Lookout Mountain. This was the second chance Baldwin had to measure himself against the likes of Zabriskie, Landis and Leipheimer.
"It was HARD! It was so hard, and definitely having more experience in the longer time trials, like they do in Europe, was advantageous. I think Zabriskie said he started his time trial at the bottom of the climb which was already ten kilometres into the time trial. I read that and thought that was good experience and wish he had told me that!"
Chris Baldwin in yellow
Photo ©: Mitch Clinton

Speaking of the new Tour of Utah, I asked Baldwin his thoughts on the first year of the race. "It was a really good race. Of course people saw things that need to be tweaked but to me, for a first year race, I think it was a good starting point. They aren't at the level of a Tour of California or Tour de Georgia, but I don't think they should expect that. The racing was incredibly difficult and I am a FROM altitude guy and I was suffering sleeping that high every night."
Baldwin was particularly fond of the final stage, which was a borderline epic race up to the Snowbird ski resort. "I thought it was perfect! The original had a whole other climb and 30 more kilometres - that would be over the top for that field in America. But I thought it was that nice zone where the strongest guy won and the field broke apart without too many guys climbing into team cars. And the race downtown in Salt Lake [had] some of the best fans I've seen all season."
At home on Toyota
Chris Baldwin in the prologue
Photo ©: Mark Zalewski

After spending the first six years of his career on one team, Navigators Insurance, Baldwin made the leap to the new Toyota-United team, which was a risk of sorts. But Baldwin is extremely pleased with the first year, and recently signed a two-year extension to his contract. "I'm very happy and I look forward to being committed for the next couple of years. This is now a three year project instead of year-to-year, which feels really special. I feel like I have gotten in at the ground level and will be part of it growing. Usually there are growing pains but we didn't have any, which is a testament to the capability of the people running the show."
The team has certainly been supportive of his time trialling pursuits, letting him choose the TT bikes the team would be racing on this year. The team also invested in wind tunnel testing for him and two team-mates, which Baldwin says did more for him off the bike than on.
"Toyota-United took myself, Justin and Heath to the wind tunnel. It changed [my position] very little - it just helped me sleep at night! There was a reason it had been working. They really tweaked Heath and you saw it immediately in the results. Justin had no baseline for position and now you see him going really well. I was pretty naturally good where I was, but it definitely put my mind at ease. Fortunately I am one of those guys where the least comfortable it is the faster I go."
Chris Baldwin surrounded by protection from his team
Photo ©: Jon Devich

It may be due to his new team surroundings, or just because he is at a certain stage of his career, but Baldwin made some changes to his training in a effort to improve his potential as a GC contender. "I feel I have always been a GC rider, and I'm a GC rider again surrounded by a really good team. But I have found some training techniques to bring up the high end. Like I always had trouble with surges and accelerations. Guys like Scott Moninger are really good at putting you on the ropes like that."
Baldwin said that the results of his training are starting to show in his recent results. "More than anything I have been happy with the consistency I have had this year. I wanted to do a good Tour of California and wasn't quite up to snuff there, but other than that I felt like I've been good all year. A lot of second and third places, kind of the story of my life, but better that than nothing. It was actually really fulfilling for me to win the stage at the Tour of Utah last week because I never get to win things like that in front of the crowd. That was a thrill!"
Looking ahead
US National TT champion Chris Baldwin
Photo ©: 2003 The International

At thirty years of age, Baldwin is not a spring chicken nor an old timer. Combined with a two year contract, he can now set his sights on specific goals of his career that have come into greater focus.
"This sport is so humbling, I have never felt a shortage of goals! I can't even win bike races in America necessarily, and at thirty years old I am still refining things and improving. Everyone wants to see how they are against Levi, Floyd and those guys, so I look forward to Tour of California and Tour de Georgia again, finding peaks for those races. Doing top ten rides there is really fulfilling, and is not far off their level. The stage races in America suit me really well and I would like to be at a level where I am winning those races. I feel like I am knocking on the door."
Even the short-term is affected by having a stable contract, which will no longer result in an off-season of uncertainty. In fact, Baldwin has a 'sort-of' job for his month off the bike already lined-up. "I'm going to be a full-time 'wedding go-er too-er!' It seems like all of my buddies are getting hitched this year and I told them they have four weeks to do it! Same pattern as always, take my month off the bike and cut-loose.
But right now, even if just for two weeks of the season, he is solely focused on the time trial.