Tour of Utah - NE
Utah, USA, August 7-12, 2006
Main Page Results Overall standings Previous Stage Next Stage
Stage 3 - August 9: Heber ITT, 12.7 km
Wherry goes back-to-back in Utah
By Steve Medcroft in Heber City, Utah
Wherry is in yellow
Photo ©: Steve Medcroft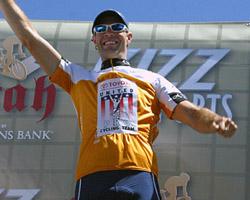 The general classification in the Larry H. Miller Tour of Utah presented by Zions Bank is taking shape after Wednesday's 13-kilometer time trial in Heber City. Chris Wherry (Toyota United) nudged Sergey Lagutin (Navigators Insurance) off the top of the GC when he posted the fastest ride of the day. Wherry completed the seven-mile course in 15.50.57, one of only two riders to finish under sixteen minutes (the second was Wherry's teammate and U.S. time trial national champion Chris Baldwin). Wherry says he got "a shot of adrenaline" seeing his teammate ride so well and surprised even himself with his second stage win of the tour.
Wake up sleepy Heber, here comes Toyota United
Running one-minute apart and starting at 11am in the small mountain community southwest of Salt Lake City, Priority Health rider Tom Zirbel set the early time to beat midway through the 85-rider group; 16.13.10 . Until Baldwin, 75th rider to start, became the first to break sixteen minutes. "Chris finished with an incredible time," Wherry said about his teammates run. "I looked at the clock when he came in and I got a little excited, got a little adrenaline going off the start line. I thought his was the winning time for sure. "
The short time trial course ran out and back through a nearby subdivision and included one kilometer-long power climb and ten ninety-degree turns. "I got warmed up really well and as soon as I started," Wherry said, "I had a great feeling in my legs. The wind picked up a little bit and I was kind of worried but I think it ended up blowing me up the hill so I kept my rhythm the whole way out. My director was honking in the car behind me the whole way telling me to go faster, faster. I couldn't believe it when I came down the straight-away and looked at the clock."
Jeff Louder
Photo ©: Steve Medcroft

Wherry's back-to-back wins gained him more than enough time to leapfrog Lagutin in the overall, leaving him with a time advantage heading into the race's first mountain stage but adding the stress of a jersey to defend. "(Thursday's The End Road Race to Mount Nebo) is going to be a matter of racing as smart a possible," says Toyota United Director Sportif Harm Jansen. "And since the team has proven to be able to walk that fine line really well - I don't think we've made any mistakes as far as the timing (of pulling back breaks) is concerned - I'm sure we'll do a good job tomorrow."
Jansen says that Toyota United is perfectly positioned to contend for the overall at the Tour of Utah. "We got depth in the team; everyone is riding well. Obviously, Wherry is on great form - any day that you can beat time-trial champion Baldwin, that says something. The circuit race on Friday is going to be short so I think (the general classification) is going to come down to that last day. It will be man to man on that climb (to Snowbird Ski Resort)."
Although the race is packed with contenders, Jansen says the rider he wants to keep closest tabs on is Utah's own Burke Swindlehurst (Navigators Insurance, 1:03 back on GC). "This is his home town, his home race. He knows all the roads around here. He could be the surprise."
After Wednesday's time trial, Wherry moves 14 seconds ahead of Lagutin on GC. Baldwin's second place in the time trial was fast enough to move him to third. Health Net's Jeff Louder sits in fourth.
Thursday's point-to-point road race takes riders 150-kilometers from downtown Provo to the Mount Nebo Loop Scenic Byway; culminating in a fourteen-mile, 4'500-foot climb.
Photography
For a thumbnail gallery of these images, click here
Images by Steve Medcroft/Cyclingnews.com
Results
1 Chris Wherry (USA) Toyota United                             15.50.67
2 Chris Baldwin (USA) Toyota United                             0.08.27
3 Sergey Lagutin (Uzb) Navigators Insurance                     0.18.09
4 Tom Zirbel (USA) Priority Health                              0.22.43
5 Jeff Louder (USA) Health Net Presented By Maxxis              0.25.68
6 Glen Chadwick (Aus) Navigators Insurance                      0.32.94
7 Scott Moninger (USA) Health Net Presented By Maxxis           0.37.18
8 Chris Lieto (USA) California Giant Strawberries               0.37.70
9 Cesar Grajales (Col) Navigators Insurance                     0.41.57
10 Burke Swindlehurst (USA) Navigators Insurance                0.45.32
11 Brian Sheedy (USA) Priority Health                           0.47.40
12 Michael Friedman (USA) Team Tiaa-Cref                        0.51.45
13 Eric Wohlberg (Can) Symmetrics Cycling                       0.54.24
14 Timmy Duggan (USA) Team Tiaa-Cref                            0.54.36
15 Stefano Barberi (Bra) Toyota United                          1.00.61
16 Scott Nydam (USA) BMC Racing                                 1.00.94
17 Steven Cozza (USA) Team Tiaa-Cref                            1.02.18
18 Justin England (USA) Toyota United                           1.02.58
19 Andrew Randell (Can) Symmetrics Cycling                      1.06.02
20 Blake Caldwell (USA) Team Tiaa-Cref                          1.07.54
21 Clayton Barrows (USA) Team Einstein's Cycling                1.10.20
22 Daniel Ramsey (USA) Team Successful Living                   1.11.25
23 James Mattis (USA) California Giant Strawberries             1.11.76
24 Thomas Peterson (USA) Team Tiaa-Cref                         1.12.92
25 Jacob Rosenbarger (USA) BMC Racing                           1.13.24
26 John Hunt (USA) California Giant Strawberries                1.14.68
27 Neil Shirley (USA) KJZZ - Pro Composite Team                 1.17.08
28 Jacob Erker (Can) Symmetrics Cycling                         1.17.81
29 Curtis Gunn (USA) Team Successful Living                     1.18.38
30 Andrew Pinfold (Can) Symmetrics Cycling                      1.18.80
31 Kevin Rowe (USA) California Giant Strawberries               1.20.04
32 Owen Laine (USA) BMC Racing                                  1.23.25
33 Dominique Perras (Can) Kodakgallery.Com/Sierra Nevada        1.23.59
34 Chris Stockburger (USA) Toyota United                        1.24.08
35 Mark Santurbane (USA) Broadmark                              1.25.54
36 Jacob Rytlewski (USA) Priority Health                        1.26.24
37 Joshua Thornton (USA) Toyota United                          1.26.25
38 Andrew Bajadali (USA) KJZZ - Pro Composite Team              1.26.38
39 Jesse Anthony (USA) Kodakgallery.Com/Sierra Nevada           1.27.39
40 Mike Telega (USA) California Giant Strawberries              1.27.96
41 David Rodriguez (USA) BMC Racing                             1.30.38
42 Jason Donald (USA) Team Einstein's Cycling                   1.31.72
43 Nathan Miller (USA) BMC Racing                               1.31.85
44 Scott Zwizanski (USA) Kodakgallery.Com/Sierra Nevada         1.32.13
45 Bryson Perry (USA) Team Successful Living                    1.35.88
46 Drew Miller (USA) Team Successful Living                     1.36.61
47 Valeriy Kobzarenko (Ukr) Navigators Insurance                1.38.30
48 Jonathan Garcia (USA) Team Einstein's Cycling                1.38.42
49 Jared Berger (USA) Vitamin Cottage                           1.38.43
50 Phil Zajicek (USA) Navigators Insurance                      1.42.33
51 Sandy Perrins (USA) Sienna Dev/Goble Knee Clinic             1.43.73
52 Cory Collier (USA) Team Einstein's Cycling                   1.44.29
53 Christopher Jones (USA) KJZZ - Pro Composite Team            1.44.70
54 Mike Dietrich (USA) Kodakgallery.Com/Sierra Nevada           1.44.80
55 Cameron Evans (Can) Symmetrics Cycling                       1.47.68
56 Jesse Gordon (USA) Team 101.9 The End                        1.54.16
57 Ken Hanson (USA) BMC Racing                                  1.56.40
58 David Robinson (USA) Kodakgallery.Com/Sierra Nevada          1.56.47
59 Ryan Hamity (USA) Team Einstein's Cycling                    2.00.36
60 Zachary Grabowski (USA) KJZZ - Pro Composite Team            2.01.73
61 Kirk O'Bee (USA) Health Net Presented By Maxxis              2.02.03
62 Glen Mitchell (NZl) Priority Health                          2.03.21
63 Calvin Allen (USA) Broadmark                                 2.04.34
64 Brandon Crichton (Can) Symmetrics Cycling                    2.05.45
65 Douglas Ollerenshaw (USA) Health Net Presented By Maxxis     2.06.20
66 Daniel Wilson (USA) Sienna Dev/Goble Knee Clinic             2.06.76
67 Jason Allen (USA) Kodakgallery.Com/Sierra Nevada             2.07.69
68 Craig Mccartney (USA) Vitamin Cottage                        2.08.99
69 Max Jenkins (USA) California Giant Strawberries              2.12.41
70 Charles Coyle (USA) Vitamin Cottage                          2.13.07
71 Eric Pardyjak (USA) Team 101.9 The End                       2.13.82
72 Ryan Yee (USA) Team Successful Living                        2.16.48
73 Mitchell Moreman (USA) Vitamin Cottage                       2.25.74
74 Michael Sayers (USA) Health Net Presented By Maxxis          2.26.52
75 Todd Hageman (USA) Team 101.9 The End                        2.28.78
76 Ian Ayers (USA) KJZZ - Pro Composite Team                    2.29.17
77 Dave Harward (USA) Team 101.9 The End                        2.34.52
78 Joby Siciliano (USA) Team Einstein's Cycling                 2.39.06
79 Chris Brennan (USA) Vitamin Cottage                          2.44.70
80 Michael Creed (USA) Team Tiaa-Cref                           3.02.94
81 Alexi Martinez (USA) Team Successful Living                  3.03.22
82 Ryan Barrett (USA) Sienna Dev/Goble Knee Clinic              3.04.33
83 Omar Kem (USA) Priority Health                               3.09.88
84 Adam Curry (USA) Broadmark                                   3.12.25
85 Kirk Eck (USA) Sienna Dev/Goble Knee Clinic                  3.14.54
86 Matt Cooke (USA) KJZZ - Pro Composite Team                   3.25.95
87 Skyler Bingham (USA) Team 101.9 The End                      3.58.64
  
 Teams
 
1 Toyota United                                                48.39
2 Navigators                                                    0.24
3 Priority Health                                               1.28
4 TIAA CREF                                                     1.40
5 CA Giant/Village Peddler                                      1.56
6 Health Net
7 Symmetrics Cycling                                            2.09
8 BMC Racing                                                    2.28
9 Successfulliving.com                                          2.57
10 Team Einstein's Cycling                                      3.12
11 Kodakgallery.com/Sierra N evada                              3.15
12 KJZZ - Composite Team                                        3.20
13 Vitamin Cottage                                              4.52
14 Team End (Utah Allstars)                                     5.28
15 Broadmark/Hagens-Berman                                      5.34
16 Sienna Dev't/Goble Knee C                                    5.47
 
 General classification after stage
 
1 Chris Wherry (USA) Toyota United                          7.29.19
2 Sergey Lagutin (Uzb) Navigators Insurance                    0.14
3 Chris Baldwin (USA) Toyota United                            0.26
4 Jeff Louder (USA) Health Net Presented By Maxxis             0.30
5 Tom Zirbel (USA) Priority Health                             0.41
6 Glen Chadwick (Aus) Navigators Insurance                     0.51
7 Scott Moninger (USA) Health Net Presented By Maxxis          0.55
8 Cesar Grajales (Col) Navigators Insurance                    1.00
9 Michael Friedman (USA) Team Tiaa-Cref                        1.01
10 Burke Swindlehurst (USA) Navigators Insurance               1.03
11 Eric Wohlberg (Can) Symmetrics Cycling                      1.12
12 Timmy Duggan (USA) Team Tiaa-Cref                           1.13
13 Stefano Barberi (Bra) Toyota United                         1.19
14 Scott Nydam (USA) BMC Racing
15 Brian Sheedy (USA) Priority Health                          1.23
16 Blake Caldwell (USA) Team Tiaa-Cref                         1.26
17 Andrew Pinfold (Can) Symmetrics Cycling                     1.28
18 Thomas Peterson (USA) Team Tiaa-Cref                        1.31
19 Jacob Rosenbarger (USA) BMC Racing
20 John Hunt (USA) California Giant Strawberries               1.33
21 Neil Shirley (USA) KJZZ - Pro Composite Team                1.35
22 Jacob Erker (Can) Symmetrics Cycling                        1.36
23 Curtis Gunn (USA) Team Successful Living                    1.37
24 Justin England (USA) Toyota United                          1.38
25 Jesse Anthony (USA) Kodakgallery.Com/Sierra Nevada          1.39
26 Steven Cozza (USA) Team Tiaa-Cref                           1.40
27 Clayton Barrows (USA) Team Einstein's Cycling               1.41
28 Dominique Perras (Can) Kodakgallery.Com/Sierra Nevada       1.42
29 Joshua Thornton (USA) Toyota United                         1.44
30 Jacob Rytlewski (USA) Priority Health
31 Andrew Bajadali (USA) KJZZ - Pro Composite Team             1.45
32 Mike Telega (USA) California Giant Strawberries             1.46
33 James Mattis (USA) California Giant Strawberries            1.47
34 David Rodriguez (USA) BMC Racing                            1.49
35 Jason Donald (USA) Team Einstein's Cycling                  1.50
36 Kevin Rowe (USA) California Giant Strawberries              1.55
37 Jonathan Garcia (USA) Team Einstein's Cycling               1.57
38 Owen Laine (USA) BMC Racing                                 1.58
39 Chris Stockburger (USA) Toyota United                       1.59
40 Sandy Perrins (USA) Sienna Dev/Goble Knee Clinic            2.02
41 Chris Lieto (USA) California Giant Strawberries
42 Ken Hanson (USA) BMC Racing                                 2.15
43 Christopher Jones (USA) KJZZ - Pro Composite Team           2.20
44 Cameron Evans (Can) Symmetrics Cycling                      2.21
45 Daniel Wilson (USA) Sienna Dev/Goble Knee Clinic            2.25
46 Craig Mccartney (USA) Vitamin Cottage                       2.27
47 Brandon Crichton (Can) Symmetrics Cycling                   2.40
48 Ryan Yee (USA) Team Successful Living                       2.44
49 Charles Coyle (USA) Vitamin Cottage                         2.48
50 Michael Sayers (USA) Health Net Presented By Maxxis         2.55
51 Valeriy Kobzarenko (Ukr) Navigators Insurance               2.58
52 Scott Zwizanski (USA) Kodakgallery.Com/Sierra Nevada        3.01
53 Todd Hageman (USA) Team 101.9 The End                       3.04
54 Dave Harward (USA) Team 101.9 The End                       3.10
55 Calvin Allen (USA) Broadmark
56 Douglas Ollerenshaw (USA) Health Net Presented By Maxxis    3.11
57 Cory Collier (USA) Team Einstein's Cycling                  3.15
58 Michael Creed (USA) Team Tiaa-Cref                          3.21
59 Andrew Randell (Can) Symmetrics Cycling                     3.44
60 Zachary Grabowski (USA) KJZZ - Pro Composite Team           3.50
61 Ryan Hamity (USA) Team Einstein's Cycling                   4.20
62 Mark Santurbane (USA) Broadmark                             4.36
63 Eric Pardyjak (USA) Team 101.9 The End                      4.48
64 Mike Dietrich (USA) Kodakgallery.Com/Sierra Nevada          4.55
65 Jesse Gordon (USA) Team 101.9 The End                       5.04
66 Kirk O'Bee (USA) Health Net Presented By Maxxis             5.07
67 Kirk Eck (USA) Sienna Dev/Goble Knee Clinic                 5.14
68 Skyler Bingham (USA) Team 101.9 The End                     5.37
69 Daniel Ramsey (USA) Team Successful Living                  5.58
70 Alexi Martinez (USA) Team Successful Living                 6.08
71 Drew Miller (USA) Team Successful Living                    6.24
72 Phil Zajicek (USA) Navigators Insurance                     6.30
73 Bryson Perry (USA) Team Successful Living                   6.48
74 Max Jenkins (USA) California Giant Strawberries             7.00
75 Ian Ayers (USA) KJZZ - Pro Composite Team                   7.16
76 Ryan Barrett (USA) Sienna Dev/Goble Knee Clinic             7.52
77 Omar Kem (USA) Priority Health                              7.57
78 Adam Curry (USA) Broadmark                                  7.59
79 Matt Cooke (USA) KJZZ - Pro Composite Team                  8.13
80 Chris Brennan (USA) Vitamin Cottage                         8.17
81 Jared Berger (USA) Vitamin Cottage                          8.26
82 Jason Allen (USA) Kodakgallery.Com/Sierra Nevada            9.05
83 David Robinson (USA) Kodakgallery.Com/Sierra Nevada         9.11
84 Nathan Miller (USA) BMC Racing                             12.42
85 Mitchell Moreman (USA) Vitamin Cottage                     15.23
86 Joby Siciliano (USA) Team Einstein's Cycling               15.27
 
Teams classification
 
1 Toyota United                                             22.29.52
2 Navigators                                                    0.24
3 TIAA CREF                                                     1.48
4 Priority Health                                               1.53
5 Health Net                                                    2.13
6 Symmetrics Cycling                                            2.14
7 CA Giant/Village Peddler                                      2.21
8 BMC Racing                                                    2.36
9 Team Einstein's Cycling                                       3.37
10 Successfulliving.com                                         3.39
11 KJZZ - Composite Team                                        3.45
12 Kodakgallery.com/Sierra Nevada                               4.34
13 Team End (Utah Allstars)                                     7.30
14 Sienna Dev't/Goble Knee                                      7.36
15 Vitamin Cottage                                              9.46
16 Broadmark/Hagens-Berman                                     13.50