The current time in Athens is 21:08 on September 25, 2021 - For current weather, click here
28th Olympic Games - JO
Athens, Greece, August 14-28, 2004
Results Qualification Sixteenth & Eighth-finals Quarter-finals Semi-finals Finals Track 101
August 24: Men's Sprint Finals
Flyin' Ryan beats Bos
Gold medal match-up
Photo ©: AFP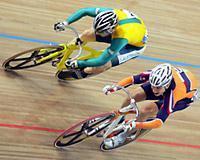 Reigning sprint world champion Theo Bos (Netherlands) struck the first blow against Australian Ryan Bayley, but the determined Bayley wouldn't be denied his chance. A hard-fought second round evened the score, setting up a do-or-die final race between the two best sprinters of the Games. Bos was all attitude, eyeing Bayley sternly as they took to the line, but Bayley wouldn't be drawn in a staring match, preferring to look dead ahead and keep his mind on the task at hand.
Bos led the way as Bayley kept several lengths behind, monitoring the big Dutchman's speed and plotting his move. As the speed steadily increased, Bos tried to establish even more distance but Bayley quickly closed the gap, coming through the bell lap and beginning his effort. The two big riders muscled side by side, in the saddle, and it was Bayley who came around the outside from second position fly through for the gold medal.
In the bronze medal round, Laurent Gané was once more below his best, giving way to Germany's Rene Wolff in two races. The veteran from France wouldn't end his final Games with a medal in the sprint, beaten clearly by the excited German.
Photography
Images by www.epicimages.us
Images by AFP Photo
Results
For gold & silver
 
1 Ryan Bayley (Australia)                                10.661      10.743
2 Theo Bos (Netherlands)                  10.710
 
For bronze
 
3 Rene Wolff (Germany)                    10.677         10.612
4 Laurent Gane (France)
 
Race for 5th-8th
 
5 Ross Edgar (Great Britain)              11.214
6 Barry Forde (Barbados)
7 Damian Zielinski (Poland)  
8 Mickael Bourgain (France)