The current time in Athens is 08:04 on September 23, 2021 - For current weather, click here
28th Olympic Games - JO
Athens, Greece, August 14-28, 2004
Results Qualification Sixteenth & Eighth-finals Quarter-finals Semi-finals Finals Track 101
August 22: Men's Sprint Qualification
Bayley blitzes
Ryan Bayley (Aus)
Photo ©: epicimages.us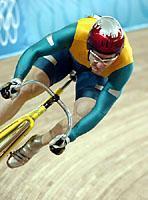 Australia's Ryan Bayley followed the scorching trail set by his team-mate Anna Meares to set the fastest time in qualifying for the men's sprint this morning, recording a flying 200m of 10.177 seconds, for an average speed of 70.747km/h.
Of the 19 competitors, only Germany's Stefan Nimke failed to qualify for the 1/16 final, perhaps still feeling the effort of his contribution to Germany's team sprint victory last night.
World champion Theo Bos (Netherlands) was second at 10.214 seconds and Germany's Rene Wolff was third in 10.230.
The top 18 will go through to the 1/16 finals which start at 16:50 local time this afternoon.
Photography
Images by www.epicimages.us
Images by Rob Jones/www.canadiancyclist.com
Results
1 Ryan Bayley (Australia)                 10.177  (70.747km/h)
2 Theo Bos (Netherlands)                  10.214  (70.491km/h)
3 Rene Wolff (Germany)                    10.230  (70.381km/h)
4 Mickael Bourgain (France)               10.264  (70.148km/h)
5 Laurent Gane (France)                   10.271  (70.100km/h)
6 Ross Edgar (Great Britain)              10.381  (69.357km/h)
7 Damian Zielinski (Poland)               10.441  (68.958km/h)
8 Jose Villanueva (Spain)                 10.446  (68.925km/h)
9 Sean Eadie (Australia)                  10.454  (68.873km/h)
10 Lukasz Kwiatkowski (Poland)            10.462  (68.820km/h)
11 Josiah Ng (Malaysia)                   10.515  (68.473km/h)
12 Teun Mulder (Netherlands)              10.565  (68.149km/h)
13 Barry Forde (Barbados)                 10.597  (67.943km/h)
14 Tomohiro Nagatsuka (Japan)             10.646  (67.631km/h)
15 Chibum Kim (Korea)                     10.673  (67.459km/h)
16 Jaroslav Jerabek (Slovakia)            10.758  (66.926km/h)
17 Hee Chun Yang (Korea)                  10.955  (65.723km/h)
18 Alois Kankovsky (Czech Republic)       10.956  (65.717km/h)
19 Stefan Nimke (Germany)                 11.338  (63.503km/h)