The current time in Athens is 06:09 on October 23, 2021 - For current weather, click here
28th Olympic Games - JO
Athens, Greece, August 14-28, 2004
Results Qualification Sixteenth & Eighth-finals Quarter-finals Semi-finals Finals Track 101
August 23: Men's Sprint Quarter-finals
Bayley, Bos, Wolff and Gané all through
Ryan Bayley (Aus)
Photo ©: AFP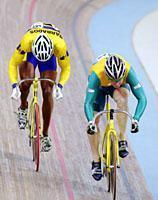 The quarterfinals of the men's sprint produced no big upsets, with all the favourites advancing through to the semi-finals with relative ease. In the first heat, Ryan Bayley (Australia) beat Barry Forde (Barbados) in 10.733 and 10.807, coming from behind in the second race to win comfortably. In heat two, world champion Theo Bos (Netherlands) held off Britain's Ross Edgar in 11.024 and 10.905, never really threatened by the Brit in either match.
In heat three, Germany's Rene Wolff made it look very easy when he demolished Poland's Damian Zielinski in 10.556 and 10.749, leading out on both occasions. Wolff clocked the fastest 200m splits of all the sprinters today and should be a favourite for tomorrow's final.
The last heat pitted Frenchmen Laurent Gané and Mickael Bourgain against each other, with Gané using his experience to sneak home in 11.018 and 10.876. He had to do a lot of work in the second match after Bourgain got a gap on him in the final lap, but Gané overhauled his younger compatriot in the finishing straight to win.
Photography
Images by www.epicimages.us
Images by AFP Photo
Images by Rob Jones/www.canadiancyclist.com
Results
Heat 1

1 Ryan Bayley (Australia)      10.733  10.807
2 Barry Forde (Barbados)

Heat 2

1 Theo Bos (Netherlands)       11.024  10.905
2 Ross Edgar (Great Britain)

Heat 3

1 Rene Wolff (Germany)         10.556  10.749
2 Damian Zielinski (Poland)

Heat 4
1 Laurent Gané (France)        11.018  10.876
2 Mickael Bourgain (France)