Wachovia Cycling Series
USA, June 1-6, 2004
Wachovia Invitational - June 1: Lancaster, PA, 13 laps, 91 miles/147km
First blood to van Heeswijk
Bobby Julich
Photo ©: Jon Devich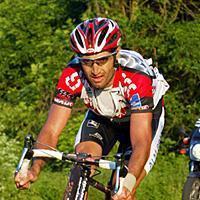 Dutchman Max van Heeswijk outperformed an international field of over 180 pro cyclists in Lancaster today before a packed crowd estimated at more than 15,000 people. The US Postal classics specialist won with a time of 3'17'27, nine seconds ahead of Francisco Ventoso (Saunier Duval-Prodir) and USPRO Championship favorite Fred Rodriguez (Acqua & Sapone-Caffe Mokambo).
The race through the streets of downtown Lancaster started in a thunderstorm, but was contested primarily in sunshine as 19 of the world's best pro cycling teams engaged in a three hour-plus battle over thirteen seven-mile laps. Multiple two and three rider breakaways were reeled back in by the peloton throughout the race until Bobby Julich (CSC) took charge in on lap 10 and went clear of the field. Others showing their face at the front of the peloton throughout the race included Olympic hopeful Chris Horner (Webcor) and two-time USPRO Champion Fred Rodriguez.
Fast Freddy later revealed to Cyclingnews that he was suffering from stomach problems and required medical assistance midway through the race, but hung tough to finish third in the end: "I was feeling really sick and I went back to the team car to talk to my director and was actually thinking of quitting," he said. "I went to the medical car and they gave me a pill; I'm not sure what it was, but I went back to the group shortly after and started feeling better, so I thought I'd have a go in the end and see how I'd do."
Fred Rodriguez
Photo ©: Jon Devich

Julich looked set for a solo win until van Heeswijk, normally content to wait for a bunch sprint, launched an audacious move with a half-lap remaining. The flying Dutchman's solo move created havoc back in the peloton, with Julich's team-mate Jakob Piil next to go when word got round that Bobby J had been caught. The great Dane wasn't allowed to get far away, however, but the move did cause the peloton to crumble, working perfectly to van Heeswijk's favour, who stormed home nine seconds clear of the field to take the first of three men's races in the Wachovia Cycling Series.
"The circuit is good for me," said van Heeswijk. "We were flying in the first half of the season and this is a real good start to the week for me."
Second-placed finisher and winner of the bunch gallop, Francisco Ventoso (Saunier Duval-Prodir), commented how fast the race started off, but when asked if he was surprised at the pace of racing in the States, the Spaniard said it was what he expected.
With the victory in this first event, Van Heeswijk takes the lead in the 2004 Pro Cycling Tour point standings. The series continues Thursday, June 3 with the Wachovia Classic in Trenton and culminates Sunday, June 6 with the 20th annual Wachovia USPRO Championship in Philadelphia.
The USPS team
Photo ©: Jon Devich

Photos
Images by Jon Devich/www.epicimages.us
Results, 91 miles/147km
1 Max van Heeswijk (Ned) US Postal Service presented by Berry Floor    3.17.27 (44.66 km/h)
2 Francisco Jose Ventoso Alberdi (Spa) Prodir Saunier Duval               0.09
3 Fred Rodriguez (USA) Acqua e Sapone-Caffe Mokambo                           
4 Lars Michaelsen (Den) Team CSC                                              
5 Ciaran Power (Irl) Navigators Insurance                                     
6 Bo Hamburger (Den) Acqua e Sapone-Caffe Mokambo                             
7 Gordon McCauley (NZl) Team Monex                                            
8 Michael Barry (Can) US Postal Service presented by Berry Floor              
9 Guennadi Mikhailov (Rus) US Postal Service presented by Berry Floor         
10 Jakob Piil (Den) Team CSC                                                  
11 Tristan Hoffman (Ned) Team CSC                                             
12 Denis Bertolini (Ita) Acqua e Sapone-Caffe Mokambo                         
13 Ivan Dominguez (Cub) Colavita Olive Oil                                      
14 Ben Brooks (Aus) Jelly Belly / Aramark                                     
15 Charles Dionne (Can) Webcor Cycling Team                                   
16 Gordon Fraser (Can) Health Net presented by Maxxis                         
17 Kirk O'Bee (USA) Navigators Insurance                                      
18 Brian Sheedy (USA) Team Seasilver                                          
19 Caleb Manion (Aus) Jelly Belly / Aramark                                   
20 John Lieswyn (USA) Health Net presented by Maxxis                          
21 Dennis Kraft (Ger) Action ATI                                              
22 Kyle Gritters (USA) Team Monex                                             
23 Davide Frattini (Ita) Team Monex                                           
24 Damon Kluck (USA) US Postal Service presented by Berry Floor               
25 Brice Jones (USA) Health Net presented by Maxxis                           
26 Kazimierz Stafiej (Pol) Action ATI                                         
27 Lawrence Perera (USA) Sharper Image-Mathis Bros.                           
28 Eric Wohlberg (Can) Sierra Nevada Cycling                                  
29 Jeff Louder (USA) Navigators Insurance                                     
30 Antonio Cruz (USA) US Postal Service presented by Berry Floor              
31 Kirk Albers (USA) Jelly Belly / Aramark                                    
32 Jakob Erker (Can) Team Seasilver                                           
33 Adam Bergman (USA) Jelly Belly / Aramark                                   
34 Scottie Weiss (USA) Subway Express                                         
35 Juan Fuentes Angullo (Spa) Saeco                                           
36 David Mc Kenzie (Aus) Navigators Insurance                                 
37 Ernesto Lechuga (Mex) Jelly Belly / Aramark                                
38 Bobby Julich (USA) Team CSC                                                
39 Chris Wherry (USA) Health Net presented by Maxxis                          
40 Jimmi Madsen (Den) Team CSC                                                
41 Christopher Baldwin (USA) Navigators Insurance                             
42 John Hygelund (USA) Sierra Nevada Cycling                                  
43 Thomas Bruun Eriksen (Den) Team CSC                                        
44 Mark McCormack (USA) Colavita Olive Oil                                      
45 Chris Horner (USA) Webcor Cycling Team                                     
46 Nathan O'Neill (Aus) Colavita Olive Oil                                      
47 Frank Hoj (Den) Team CSC                                                   
48 David Zabriskie (USA) US Postal Service presented by Berry Floor           
49 Cameron Hughes (Aus) Subway Express                                    0.54
50 Tim Johnson (USA) Prodir Saunier Duval                                     
51 Alessandro Donati (Ita) Acqua e Sapone-Caffe Mokambo                   1.21
52 David Richter (USA) Subway Express                                     1.59
53 Andrew Bajadali (USA) Ofoto                                                
54 Jason McCartney (USA) Health Net presented by Maxxis                   3.12
55 Michael Creed (USA) US Postal Service presented by Berry Floor         3.58
56 Danny Pate (USA) Health Net presented by Maxxis                            
57 David Loosli (Swi) Saeco                                                   


Past Winners

2003 Jakob Piil (Den) Team CSC               146.0 kms in 3.23.42 (43.00 km/h)
2002 David Clinger (USA) U.S. Postal Service 147.5 kms in 3.18.52 (44.35 km/h)
2001 Leon Van Bon (Ned) Mercury Viatel       147.5 kms in 3.20.13
2000 Trent Klasna (USA) Saturn Cycling Team  147.5 kms in 3.21.04
1999 Jacob Piil (Den) Acceptcard             147.5 kms in 3.19.42
1998 Frankie Andreu (USA) US Postal Service  147.5 kms in 3.23.17
1997 Chan McCrae (USA)                       147.5 kms in 3.22.15
1996 Chris Horner (USA)
1995 Fred Rodriguez (USA)
1994 Andrea Peron (Ita)
1993 Arvis Piziks (Lat)
1992 Roberto Pelliconi (Ita)