A Cyclingnews special sponsorship feature
Crank Brothers step onto the road
By Cyclingnews staff
Component and accessory maker Crank Brothers has been known for mountain bike parts, but with the launch of its new Quattro road pedal its challenging for a slice of the thin-tyre scene too.
Crank Brothers new Quattro road pedal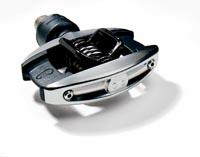 The latest creation of innovative Californian component company Crank Brothers is the Quattro pedal, named for its place as the fourth pedal design the company has come up with. Like the three previous Crank Brothers pedals, Egg Beater, Candy and Mallet, it uses Crank Brothers' spring-and-bar mechanism, but where those pedals were mainly aimed at mountain bike riders, the Quattro is specifically for road cyclists.
Speed Lever, the first creation from Crank Brothers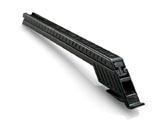 The Crank Brothers story started in 1996 when two engineers who were working in the Scuba industry wanted to become more involved in their passion for cycling. Carl Winefordner, who is a mechanical engineer and Frank Hermansen, an industrial designer were both passionate about cycling and began designing cycling equipment in their spare time. Their first design was the Hydrapak drinking system which they licensed to Bell Sports after which they opened up shop for themselves and came out with their first product, the Speed Lever.
Crank Brothers now consists of a staff of seven people in their office in Laguna Beach, California. The staff pride themselves on having a very personable nature and a passion for what they do. They also have a sales guy who works independently throughout the US and a couple of employees in Taiwan, where the products are made. Following the Speed Lever came pumps and other tools and in 2001 the company's first pedal, the Egg Beater.
Filip Meirhaeghe (Specialized) is a devoted Crank Brothers pedal user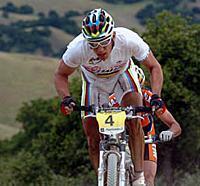 The Egg Beater was a radical design, dispensing with most of the structure of a typical pedal, and paring it down to almost a bare mechanism. It's strongest feature was the ::allaccess™ design, which provides four engagement points and makes clipping in to the pedal very quick and easy. Egg Beaters were a big hit in the mountain bike world for their light weight and mud-shedding qualities and many top riders soon adopted it as their pedal of choice. The first to really notice it was top Swiss rider Barbara Blatter, who tried it once and was hooked. From there, current world champion Filip Meirhaeghe (Specialized) noticed it and rode to a win in last year's World Championships on Crank Brothers pedals.
"I knew about the Egg Beaters from my teammate Barbara Blatter who had been using them last year," said Meirhaeghe. "The Egg Beaters give me four significant advantages," he added. "One, a huge weight savings, which allowed me to race and win world's on a full suspension bike. Two, they give me a much more comfortable platform than my previous pedals. Three, the feeling of float is much more positive, and four, in muddy, sandy conditions, I no longer have to worry about my pedals getting clogged."
Egg Beater pedals were a radical innovation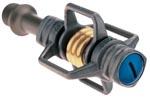 Happy with their current mountain bike pedals, Carl Winefordner and Frank Hermansen have turned their attention to road pedals this year. Crank Brothers doesn't have many sponsored road racers yet but you will find Freddy Rodriguez (Aqua Sapone) and Team Monex using the pedals. According to Crank Brothers marketing director, Christina Orlandella, Rodriguez refers to the Egg Beater pedals that he races on as "sprinter's pedals", because the mechanism grips the cleat so well when you forcefully pull up on the pedals. You won't accidentally pull out of the pedal in a sprint. In fact the harder you pull up the more the bars bite down on the cleat.
While Crank Brothers' Candy and Egg Beater pedals are both suitable for the road, the designers wanted to create a road-specific pedal that would be light and would offer plenty of ground clearance. They worked closely with professional racers to come up with the Quattro design and have developed a system that is light (363 grams per pair including cleats), has a large platform area, a narrow Q-factor (the distance between the pedals) and a tight cornering clearance. Using the patented ::allaccess™ mechanism, Crank Brothers has also come up with yet another very stylish pedal. Aesthetic influences include Apple Computer, Australian designer Marc Newson - who designs anything from furniture to commercial jets - and Porsche. Every detail from pedal design to packaging complies with the concept of making it look good.
The body of the Quattro is made from a fiber composite, the spindle and side plates of stainless steel and the cleats, which are a new design, are made of brass. The cleats weigh 56grams per pair, have a six-degree float and the release angle can be adjusted to either 15° or 20°. The pedal will be available in stores at the beginning of August with a suggested retail price of $170. Initially the cleats will only be compatible for shoes with a two-hole pattern but a three-hole adapter will be available in September.