Wachovia Cycling Series
USA, June 3-8, 2003
2002 Results Preview The Races Team list
Strongest legs rule in Wachovia series
By Tim Maloney, European Editor
Petra Rossner wins again
Photo: © Rob Karman

The races of the Wachovia Cycling Series are three one-day Men's events, and one Women's event, that brings the strongest American riders against some of the strongest European riders. It's a clash of egos that can only be decided by the strongest legs. The Europeans show up to destroy the Americans and the Americans want to show that they deserve respect in the European peloton. Add to that the chemistry of smaller American teams trying to impress the larger American teams and a simple bike race turns into an all out fight for victory.
June 3: Wachovia Invitational, Lancaster, PA, 146 km (13 laps of 11.2 km)
A Belgian-style kermesse that starts in the town of Lancaster in the heart of the Pennsylvania Dutch region, then heads out of town for the shot, steep hills in Conestoga Park, the Wachovia Invitational usually offers non-stop action.
Last year, USPS rider David Clinger soloed home over Chris Wherry. Clinger has changed squads to Prime Alliance for 2003 and after knee surgery, he's in form (winner of a tough Stage 2 circuit race in the recent Tour of Connecticut) and hoping to do well at Lancaster. Clinger's biggest challenge on Tuesday and all week may be will be from 1999 winner Jacob Piil, back with a powerful CSC team.
Watch out for Flanders-Iteamnova's Belgian brothers Bert and Staf Scheirlinckx, who excel at this type of circuit. USPS has Michael Barry, who has always ridden well on this circuit and was 6th here last year.
June 5: Wachovia Classic, Trenton, NJ, 146km (14 laps of 10.4km)
Sprinters reign on this superfast, dead flat dumbbell shaped course in Trenton, with names like Svorada, Capiot, Gaggioli, Sweet, Rodriguez, Dean and Fraser inscribed on the roll of honour of previous winners.
Last year's winner Gord Fraser, who won a rain-shortened version on Trenton wasn't invited back due to an ongoing legal dispute with the organizers, but he won't be missed. 2001 winner Kiwi Julian Dean (CSC) will be looking for a repeat in Trenton, as will 2000 winner Fred Rodriguez (Vini Caldirola) and Saturn's injury-plagued Charles Dionne. USPS's Max Van Heeswijk is a possible winner in Trenton as well.
June 8: Wachovia USPRO Championship, Philadelphia, PA, 250km (14 laps of 10.4km)
Mark Walters celebrates in 2002
Photo: © Jon Devich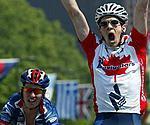 After 19 years, the USPRO Championships is well established as one of the top one day races in the world. This year's field is probably the best ever assembled to compete for Sunday's $40,000 first prize. Last year's surprise winner Mark Walters (Navigators) will be back to defend his title, but Navigators real threat for Sunday's Wachovia USPRO championship will be hard man Henk Vogels.
Vogels is a big race rider, a major money man who won the race in 2000, establishing the course record. Last year, a consistent Vogels was the overall points champ on the Pro Cycling Tour and he also held the leaders jersey at the recent Tour de Georgia until he was blown out by Saturn on the hilly penultimate stage. Doubtless Vogels will be looking for revenge in Sunday's main event and with Navigators Davidenko not starting due to injury, Vogels will have the entire squad at his disposal.
Saturn dominated the first half of the season in the USA, and the big question at the Wachovia USPRO is whether the American team, led by Chris Horner can maintain its power. Saturn may be hard pressed to have as much impact during Wachovia week as at the Tour de Georgia, but with big Trent Klasna back, if he's over his hamstring injury, this will give the Yellow & Black boys an extra weapon. Saturn has a rider for every purpose; Zajicek and Johnson for the breaks, Dionne for sprints and Danielson for climbs, but the key for Saturn is Horner. Will the Tour de Georgia winner find those great spring legs again, finally bringing home the National Championship jersey that's always eluded him? And can the talented Danielson show he's not just a climber and make an impact in the pressure-packed final on Sunday?
Two-time USPRO champ Fred Rodriguez (Vini Caldirola) has been training hard at home in California since the Tour de Georgia. Rodriguez just keeps getting better and better as he matures. After being cheated out of possible victory in Georgia by an unnecessary time penalty, Fast Freddy has something to prove in Philly. His team is strong and will support him 100%, with strongman Eddy Mazzoleni, 10th in the recent Giro d'Italia a key part of Vini Caldirola's strategy to get Fred his 3rd stars and stripes jersey.
1999 Lancaster and Philly winner Jacob Storm Piil, winner of last year's Paris-Tours World Cup is back with a very powerful CSC team, including Andrea Tafi, Lars Michaelsen, Tristan Hoffman and Geert Van Bondt backing him. CSC is taking no prisoners this year; they are looking to impress Computer Science Corp's world HQ, located in Virginia with an eye to expanding their team sponsorship in 2004.
Saeco has a small squad at Wachovia, but with Flèche Wallone winner Igor Astarloa, GP Larciano winner Juan Fuentes and powerhouse Stefano Zanini ready to race, Saeco should be a key contender too. Formaggio Pinzolo Fiave' has some solid riders as well, with Massimiliano Mori and Uros Murn both capable of winning.
USPS has their main focus as always on the Tour De France, but the squad that is at Wachovia week has some possible bright spots. Certainly Van Heeswijk is a fast sprinter, but the real sleeper might be mighty Matt White, their unsung Aussie who's been riding well lately. With George Hincapie racing in Europe and Dave Zabriskie out with a broken leg, USPS really has no one likely to win either Sunday's race or the USPRO title.
Flanders-Iteamnova is the little team that rides big; they have nine riders at Wachovia and with the addition of the speedy Scheirlinckx bros., the Aussie-Belgian outfit will be looking for every opportunity to win.
Prime Alliance is on the upswing since spring. With their title sponsor uncertain for next season, team manager Roy Knickman is looking for put the Stars & Stripes jersey on his roster to help his cause. With David Clinger, he has a great chance, as the talented Southern California rider, who has proven he can win in a sprint or solo is primed for Sunday's championship chase. If PA can focus and support Clinger on Sunday, and his best legs show up, Clinger has an excellent chance to be crowned the next USPRO champ.
Last year's USPRO champion Chann McRae will be back on the Schroeder Iron team and may have a chance to follow the wheels and be in the right spot again, but there is likely just too much horsepower in the field for him to handle. Watch Schroeder's Mexican sprinter Miguel Mesa, who could surprise as well.
7-Up/Maxxis has three cards to play; lonesome John Lieswyn, Jason McCartney and Brice Jones. As for the other American teams; Jelly Belly, O-Foto, Webcor, Jittery Joe's, Sierra Nevada-Clif Bar West Virginia, LeMond Fitness, Sportsbook.com and Colavita-Bolla will mostly be looking for their moment of glory in a break, a prime win or a top 10 placing somewhere during the Wachovia Week.
Wachovia Liberty Classic: Philadelphia, PA 250km - 4 laps of 22.64km
By Kristy Scrymgeour
In the women's field, this race can be said to be almost owned by ace sprinter Petra Rossner. Rossner, who now rides for the German Nurnberger team. Petra first raced and won the Liberty Classic in a composite team in 1996, and has returned every year since to defend her title. Only once has the title been taken from her, when in 1997 the Saturn team had the numbers consistently attack her, and Clara Hughes, then riding for Saturn, put in a brilliant, powerful attack with one kilometer to go; holding off the chasing field and take the win.
Rossner loves racing this course, and always enjoys coming back here every year to enjoy the great city and for the race. Despite the fact she has won the race so many times, and she is well known as the fastest female sprinter in the world of road cycling, Rossner is always conscious of the fact that the race is anybody's to win. "You never know what can happen in a bike race, you need three things; preparation, a good team and a bit of luck".
The race follows the same course as the Men's USPRO championships, and is actually held simultaneously, so that the Women and Men's peloton can often be seen crossing each other going opposite directions on the main stretch of road along Benjamin Franklin Parkway. Ten kilometers into the race is the hill that makes this race famous, the Manyunk wall. The wall is as steep as 17% in sections, and the riders position going into the climb is crucial. Lining the street as the riders go up are literally thousands of fans who set themselves up for the day to watch the race and join in the festivities.
Usually, despite the hill's level of difficulty, riders manage to chase over the top and get back on and often the race finishes in a bunch sprint. Last year however, Saturn saw the opportunity to really attack on the climb and force a break away that would stay until the finish. In the break was Anna Millward, Judith Arndt, Petra Rossner, all riding for Saturn, with only Laura Van Gilder, Dede Demet Barry, Kim Anderson and Valentina Polkhanova able to go with them. Millward and Arndt worked hard to make sure the group stayed away and made it to the finish line in one piece, leaving Rossner to do her thing in the sprint when she kicked at 200m to go winning the sprint convincingly from Van Gilder. There are also a few other critical points in the race where the race can be won or lost. One is being Lemon Hill, a short power hill about 5km from the finish, and of course, the last kilometer as the riders enter the finishing area for their last loop to the line.
This weekend Rossner will again face competition from riders such as Van Gilder (now riding for Saturn), Demet Barry and her strong T-Mobile team, and potential strengths such as Tina Mayolo Pic (Diet Rite) and Gina Grain (Victory Brewing). As Rossner says, "anything can happen" and if the past few races on the Women's calendar are any indication, this will be an exciting race.
The Races
Wachovia Invitational - June 3: Lancaster, PA, 146km - 13 laps of 11.5km
Wachovia Classic - June 5: Trenton, NJ, 146km - 14 laps of 10.5km
Wachovia Liberty Classic - June 8: Philadelphia, PA, 250km - 4 laps of 22.64km
Wachovia USPRO Championship - June 8: Philadelphia, PA, 250km - 11 laps of 22.64km
The Teams
Women's teams
 
Canadian National
Century Road Club
Colavita Bolla
Diet Rite
Equipe Nurnberger Fuji
Freddie Fu Cycling
Genesis Scuba  FFCC
Japanese National
Los Gatos Bicycling Racing Club
LSV Trek VW
Richard Sachs Cycling Team
Saturn Cycling Team
Snow Valley Cycling Team
TDS Cycling Team
Team Basis
Team Fuji
Team Grace
Team Rona Esker
Team T Mobile
Tri State Velo Amoroso
Velo Clips NCVC
Verizon Wireless Cervelo
Victory Brewing Amoroso
 
Men's teams
 
7 UP Maxxis
Colavita Bolla
CSC
Flanders Iteamnova
Formaggi Pinzolo
Jelly Belly Carlsbad Clothing
Jittery Joe's Coffee
Lemond Fitness Captain Craz Z Soap
Mroz
Navigators
Ofoto Lombardi Sports
Prime Alliance
Saeco
Saturn
Schroder Iron
Sierra Nevada Clif Bar
Sportsbook.com
US Postal Service
Vini Caldirola
Webcor
West VA Pro Cycling