Wachovia Cycling Series
USA, June 3-8, 2003
Past winners Results Start List Live Coverage
Wachovia USPRO Championship: Philadelphia, PA 250km - 11 laps of 22.64km
By Tim Maloney, European editor
Mark Walters celebrates in 2002
Photo: © Jon Devich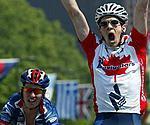 After 19 years, the USPRO Championships is well established as one of the top one-day races in the world. This year's field is probably the best ever assembled to compete for Sunday's $40,000 first prize. Last year's surprise winner Mark Walters (Navigators) will be back to defend his title, but Navigators real threat for Sunday's Wachovia USPRO Championship will be hard man Henk Vogels. Vogels is a big race rider, a major money man who won the race in 2000, establishing the course record. Last year, a consistent Vogels was the overall points champion on the Pro Cycling Tour and he held the leader's jersey at the recent Tour de Georgia until Saturn blew him out on the hilly penultimate stage. Doubtless Vogels will be looking for revenge in Sunday's main event and with Navigators Davidenko not starting due to injury; Vogels will have the entire squad at his disposal.
Saturn dominated the first half of the season in the USA, and the big question at the Wachovia USPRO is whether the American team, led by Chris Horner can maintain their power. Saturn may be hard pressed to have as much impact during Wachovia week as at the Tour de Georgia, but with big Trent Klasna back, if he is over his hamstring injury, this will give the Yellow and Black boys an extra weapon. Saturn has a rider for every purpose; Zajicek and Johnson for the breaks, Dionne for sprints and Danielson for climbs but the key for Saturn is Horner; will the Tour de Georgia winner find those great spring legs again, finally bringing home the National Championship jersey that has always eluded him? Can the talented Danielson show he is not just a climber and make an impact in the pressure-packed final on Sunday?
Hincapie
Photo: © Rob Karman

Two-time USPRO champion Fred Rodriguez (Vini Caldirola) has been training hard at home in California since the Tour de Georgia; Rodriguez just keeps getting better and better as he matures. After being cheated out of possible victory in Georgia by an unnecessary time penalty, Fast Freddy has something to prove in Philly; his team is strong and will support him 100%, with strongman Eddy Mazzoleni, who placed 10th in the recent Giro d'Italia, a key part of Vini Caldirola's strategy to get Fred his 3rd stars and stripes jersey.
1999 Lancaster and Philly winner Jacob Storm Piil, winner of last year's Paris-Tours World Cup is back with a very powerful CSC team, including Andrea Tafi, Lars Michaelsen, Tristan Hoffman and Geert Van Bondt backing him. CSC is taking no prisoners this year; they are looking to impress Computer Science Corp's world HQ, located in Virginia with an eye to expanding their team sponsorship in 2004.
Saeco has a small squad at Wachovia, but with Fleche Wallonne winner Igor Astarloa, GP Larciano winner Juan Fuentes and powerhouse Stefano Zanini ready to race, Saeco should be a key contender too. Formaggio Pinzolo Fiave' has some solid riders as well, with Massimiliano Mori and Uros Murn both capable of winning.
D'Hollander goes solo
Photo: © Rob Karman

USPS has their focus as always on the Tour De France, but the squad that is at Wachovia week has some possible bright spots. Certainly, Van Heeswijk is a fast sprinter, but the real sleeper might be mighty Matt White, their unsung Aussie who has been riding well lately. With George Hincapie racing in Europe and Dave Zabriskie out with a broken leg, USPS really has no one likely to win either Sunday's race or the USPRO title. Flanders-IteamNova is the little team that rides big; they have nine riders at Wachovia and with the addition of the speedy Scheirlinckx bros., the Aussie-Belgian outfit will be looking for every opportunity to win.
Prime Alliance is on the upswing since spring; with their title sponsor uncertain for next season, team manager Roy Knickman is looking for put the Stars and Stripes jersey on his roster to help his cause. With David Clinger, he has a great chance, as the talented Southern California rider, who has proven he can win in a sprint or solo is primed for Sunday's championship chase. If PA can focus and support Clinger on Sunday, and his best legs show up, Clinger has an excellent chance to be crowned the next USPRO champion.
Last year's USPRO champion Chann McRae will be back on the Schroeder Iron team and may have a chance to follow the wheels and be in the right spot again, but there is likely just too much horsepower in the field for him to handle. Watch Schroeder's Mexican sprinter Miguel Mesa, who could surprise as well. 7-Up / Maxxis has three cards to play; lonesome John Lieswyn, Jason McCartney and Brice Jones. As for the other American teams; Jelly Belly, O-Foto, Webcor, Jittery Joe's, Sierra Nevada-Clif Bar West Virginia, LeMond Fitness, Sportsbook.Com and Colavita-Bolla, all will be looking for their moment of glory in a break, a prime win or a top 10 placing somewhere during the Wachovia Week.
Start List
Navigators                            Saturn
1 Mark Walters (Can)                  11 Chris Horner (USA)
2 Henk Vogels (Aus)                   12 Tom Danielson (USA)
3 Chris Baldwin (USA)                 13 Charles Dionne (Can)
4 Siro Camponogara (Ita)              14 Will Frischkorn (USA)
5 Vassili Davidenko (Rus)             15 Tim Johnson (USA)
6 Oleg Grishkine (Rus)                16 Nathan O'Neill (NZl)
7 Jeff Louder (USA)                   17 Trent Klasna (USA)
8 Ciaran Power (Irl)                  18 Eric Wohberg (Can)
9 Chris Wherry (USA)                  19 Phil Zajicek (USA)
 
 Vini Caldirola-SO.DI                 CSC
21 Fred Rodriguez (USA)               31 Jakob Piil (Den)
22 Pietro Zucconi (Swi)               32 Geert Van Bondt (Bel)
23 Patrick Calcagni (Swi)             33 Julian Dean (NZl)
24 Marco Gilli (Ita)                  34 Thomas Brunn Eriksen (Den)
25 Eddy Mazzoleni (Ita)               35 Tristan Hoffman (Ned)
26 Andrea Masciarelli (Ita)           36 Jimmi Madsen (Den)
27 Simone Masciarelli (Ita)           37 Lars Michaelsen (Den)
                                      38 Andrea Tafi (Ita)
 
Formaggi Pinzolo                      Flanders Iteamnova
41 Massimiliano Mori (Ita)            51 David McKenzie (Aus)
42 Matteo Cappe (Ita)                 52 Bjorn Cornelissen (Ned)
43 Domenico Gualdi (Ita)              53 Jamie Drew (Aus)
44 Massimo Amichetti (Ita)            54 Scott Guyton (NZl)
45 Vros Murn (Slo)                    55 Allan Iacuone (Aus)
46 Antoni Rizzi (Ita)                 56 Dominique Perras (Can)
47 Moreno DiBiase,ITA                 57 Bert Scheirlinckx (Bel)
                                      58 Staf Scheirlinckx (Bel)
                                      59 Trent Wilson (Aus)
 
Saeco                                 7 Up Maxxis
61 Igor Astarloa (Spa)                71 John Lieswyn (USA)
62 Juan Fuentes (Spa)                 72 Godfrey Hayden (NZl)
63 Antonio Bucciero (Ita)             73 Brice Jones (USA)
64 Alessio Galletti (Ita)             74 Jason McCartney (USA)
65 Christian Pepoli (Ita)             75 Kevin Monahan (USA)
66 lessando Spezialetti (Ita)         76 Chris Pic (USA)
67 Andrea Tonti (Ita)                 77 Oscar Pineda (Gua)
68 Stefano Zanini (Ita)               78 Doug Ziewacz (USA)
69 TBD                                79 Greg Henderson (NZl)
 
US Postal Service-Berry Floor         Prime Alliance
81 Michael Barry (Can)                91 Jonathan Vaughters (USA)
82 Antonio Cruz (USA)                 92 Alex Candelario (USA)
83 Steffen Kjaergaard (Nor)           93 David Clinger (USA)
84 Damon Kluck (USA)                  94 John Peters (USA)
85 Kenny Labbe (USA)                  95 Svein Tuft (Can)
86 Max Van Heeswijk (Bel)             96 Jonathan Page (USA)
87 Robbie Ventura (USA)               97 Danny Pate (USA)
88 Matt White (Aus)                   99 Matt DeCanio (USA)
89 David Zabriskie (USA)              100 Michael Creed (USA)
 
Jelly Belly Carlsbad Clothing         Ofoto Lombardi Sports
101 Ben Brooks (Aus)                  111 Erik Saunders (USA)
102 Brent Dawson (Aus)                112 Tim Larkin (USA)
103 Krik Albers (USA)                 113 Andrew Bajadali (USA)
104 Remi McManus (USA)                114 Peter Roman (USA)
105 Mark Fitzgerald (USA)             115 Russell Hamby (USA)
106 Chris Fisher (USA)                116 David O' Laughlin (Irl)
107 Brian Forbes (USA)                117 Saul Raisin (USA)
108 Mariano Freidick (USA)            118 Jackson Stewart (USA)
109 William Steinbrecher (USA)
 
Jittery Joe's Coffee                  Sierra Nevada Clif Bar
121 Jeff Hopkins (Aus)                131 Nieko Biskner (USA)
122 Cesar Calle Grajales (Col)        132 Matt Dubberley (USA)
123 Jesse Lawler (USA)                133 Andy Jacques Maynes (USA)
124 Jonny Sundt (USA)                 134 Ben Jacques Maynes (USA)
125 Chad Hartley (USA)                135 Jason Klikna (USA)
126 Jake Rosenberger (USA)            136 Troy White (USA)
                                      137 Todd Littlehales (USA)
                                      138 Daniel Ramsey (USA)
                                      139 Sterling Magnell
 
Schroder Iron                         Mroz
141 Miguel Meza (Mex)                 151 Cezary Zemana (Pol)
142 Chann McRae (USA)                 152 Zbigniew Piatek (Pol)
143 Jason Bausch (USA)                153 Aleksander Klimienko (Pol)
144 Jacob Erker (Can)                 154 Marcin Lewandowski (Pol)
145 Cameron Hughes (Aus)              155 Kazimierz Stafiej (Pol)
146 Peter Knudsen (USA)               156 Adam Wadecki (Pol)
147 Adam Livingston (USA)             157 Bartosz Huzarski (Pol)
149 Aaron Olson (USA)
150 Mike Tillman (USA)
 
Webcor                                West Va Pro Cycling
161 Steve Larsen (USA)                171 John Hamblen (USA)
162 Ted Huang (USA)                   172 Scottie Weiss (USA)
163 James Mattis (USA)                173 Jacob Fetty (USA)
164 Lionel Syne (Bel)                 174 Michael Jones (USA)
165 Jeff Auermann (USA)               175 Wesley Seigler (USA)
166 Dario Falquier (USA)              176 Benjamin Sharp (USA)
167 John Kelly (USA)                  177 Conor Hurley (USA)
168 Dave Wyndt (USA)                  178 David Wegner (USA)
169 Ben Stafford (USA)                179 Patrick O'Donnell (USA)
 
Lemond Fitness Captain Craz Z Soap    Sportsbook.Com
181 Matt Hawkins (USA)                191 Larry Perera (USA)
182 Eneas Fryre (USA)                 192 Adam Hodges Myerson (USA)
183 Marco Aledia (USA)                193 Josh Beck (USA)
184 Bill Innes (USA)                  194 Ryan Dewald (USA)
185 Andrew Crater (USA)               195 Matthew Svatek (USA)
186 Joe Chapman (NZl)                 196 Nathan Rouse (USA)
187 Leigh Palmer (Aus)                197 Simon Kessler (RSA)
188 Adrian Laidler (Aus)              198 Ross Krause (USA)
189 Nic Brown (Aus)                   199 Guillaume Nelessen (USA)
 
Colavita Bolla                        Health Net
201 Gustavo Artacho (Arg)             211 Mike Sayers (USA)
202 Gregory Wolf (USA)                212 John Hunt (USA)
203 Michael Luther (USA)              213 Jason Lokkesmoe (USA)
204 Shawn Willard (USA)               214 Todd Herroitt (USA)
205 Roger Rilling (USA)               215 Chris McGovern (USA) 
206 Karl Bordine (USA)                216 Devon Vigus (USA)
207 Tyler Wren (USA)                  217 Randy Rocchi (USA)
208 Nathan Russell (Aus)
209 Juan Jose Haedo (Arg)

Past Winners
2002 Mark Walters (Can) Navigators         251 kms in 5.54.24 (42.57 km/h)
2001 Fred Rodriguez (USA) Domo-Farm Frites 251 kms in 5.57.56 (42.15 km/h)
2000 Henk Vogels (Aus) Mercury-Viatel      251 kms in 5.52.11 (42.76 km/h)
1999 Jacob Piil (Den) Acceptcard           251 kms in 6.04.44 (41.30 km/h)
1998 George Hincapie (USA) US Postal       251 kms in 6.06.35 (41.08 km/h)
1997 Massimiliano Lelli (Ita)              251 kms in 5.54.50 (42.44 km/h)
1996 Eddy Gragus (USA)
1995 Norm Alvis (USA)
1994 Sean Yates (GBr)
1993 Lance Armstrong (USA)
1992 Bart Bowen (USA)
1991 Michel Zanoli (Ned)
1990 Paolo Cimini (Ita)
1989 Greg Oravetz (USA)
1988 Robert Gaggioli (Ita)
1987 Tom Schuler (USA)
1986 Thomas Prehn (USA)
1985 Eric Heiden (USA)

Past winners courtesy of Bob Schwartz