An interview with Petra Rossner
Seven deadly sprints
Will Petra power to number 7?
Photo: © Jon Devich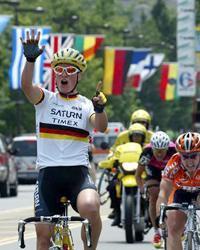 With just hours left before the start of the Wachovia Women's Liberty Classic, Cyclingnews caught up with the six-time winner of the event, Petra Rossner. While sitting back and watching the men's keirin at the Nicole Reinhart Cycling Classic in Trexlertown, Pennsylvania, Kristy Scrymgeour spoke to the über sprinter about her chances of making it number seven.
Riding for the German-based Nurnberger team this year, Rossner looks as excited as ever to defend her Liberty Classic title once again. "This is my favourite race of the year," says Rossner.
"I love it. I get goose bumps when I'm climbing - usually I hate climbing, but I get so excited about the climb here. Sometimes I climb up the hill and I look at people's faces and that is so much fun for me, it's like a push. It's cool. They stand there on the side of the road at the moment when I am suffering and they are there with shiny eyes and it's cool. Maybe that's the reason I can get up this hill and not other hills!"
In her 15 years as a professional, Rossner has earned the title of Olympic champion, world champion and has been named German national champion 24 times. She is arguably the fastest woman in the peloton and has also earned the reputation of being one of the most brilliant tacticians of her time. Although this race is not a big goal for her German based sponsors, Rossner and her teammates are ready and excited to try to make it seven overall wins.
Knows how to relax
Photo: © Rob Karman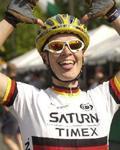 "This is not an important race for our title sponsor Nurnberger, although Fuji America will be here and they are excited for us to get a result at this race." It is also a very personal goal for Rossner: "It is a bit of an ego trip for me. This race has been so important to me for quite a few years now, and I always get excited to try to win it again."
Rossner says her team is strong but they also face other strong teams and quite a few people who are capable of winning the race. "We only have five riders which could make a difference, because I know how much a team can make a difference. American teams are really keen on this event and a lot of the teams will have eight riders. I know from riding with Saturn how important this race is to American teams.
"Also, anything can happen. In 1997, I broke both of my wheels on the same pot-hole on the first lap. I wouldn't have won that year anyway," says Rossner modestly. "I wasn't fit enough and the field was very strong, but a certain amount of luck is needed."
Rossner feels good
Photo: © Rob Karman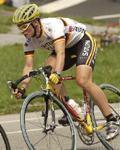 This year, Rossner believes that if it comes down to a sprint it will be her good friend and ex-teammate Ina Teutenberg (Saturn) who will be the one to watch. "Ina has been a big part of my victory here every year since 1998. There are a lot of riders who can win this race, but she is the one who could beat me in a sprint. We also know from last year that this race can be won from a breakaway group or it could be won solo" - like Clara Hughes won it in 1997.
When asked if she feels confident and as prepared as other years, Rossner simply replies, "Yes. I don't like to say that, but I feel good and (a smile starts to break)... my bike is lighter than last year."
For live updates of the Women's Liberty Classic and the Men's Wachovia USPRO Championships, stay tuned to Cyclingnews from at 9am EST.
Wachovia Cycling Series home
Other Talking Cycling Interviews