Wachovia Cycling Series
USA, June 1-6, 2004
Results Live Report Past winners
Wachovia Liberty Classic - June 6: Philadelphia, PA, 14.4 mile circuit, 57.6 miles/90.56km
Arndt delivers Petra to number seven
By Mark Zalewski in Philadelphia
Petra Rossner (Nurnberger) makes it seven
Photo ©: Jon Devich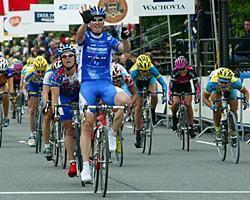 Petra Rossner owes a lot to her teammate Judith Arndt. After a rather uneventful first three laps of the women's Wachovia Liberty Classic, Rona's Katrina Grove launched an attack the last time up Lemon Hill. Almost immediately, Rossner's faithful lieutenant Judith Arndt jumped on Grove's wheel. Up and around Lemon Hill, Arndt stuck on the Rona rider like glue, breathing down her neck and not letting her out of sight.
"Historically, that's where a break will go in the end," Grove explained. "That's where Lyne attacked last year. You give it a chance, because what have you got to lose? At that point, it wasn't about (Arndt) being on my wheel, it's about the pack being [behind us]. I wasn't thinking about dropping Judith, I was just hoping about keeping the pack off.
When asked about seeing Judith Arndt stuck to her rear wheel, Grove replied, "I thought, 'Oh great! (laughs) Maybe, just maybe, SHE wants to win this year! So maybe... (laughs).' No, she was just waiting for the group to come so she could just do one hard pull for Petra."
Down onto the finishing straight, the Nürnberger-led peloton drove the pace and finally swallowed up Grove and Arndt.
The peloton
Photo ©: Jon Devich

Kim Anderson (T-Mobile)
Photo ©: Jon Devich

Lyne Bessette
Photo ©: Jon Devich

But Arndt's work was not finished. "Judith (pronounced you-dit), get on the front," radioed Rossner. "By the time we were on Logan Circle, and I jumped from the back to Judith's wheel and I told her to give it all." And on the front Arndt went, giving it full gas around Logan circle and finally pulling off with 250 meters to go. Then it was all Rossner, a straight line to the finish. The six time champion had no doubts from that point on.
When asked whether or not she thought about letting Arndt have the win to herself after going with the break, Rossner replied, "It was brilliant when she went, and I was like, 'Go, just go... you can kick her ass in the sprint!' But she was like, we better save it."
Arndt made her intentions very clear. "I was just hoping that the bunch came back because I wanted Petra to win. She's the star in this race and we work all for her."
The highest placed under-23 rider was Quark's Sarah Uhl, who said she still has things to learn riding in a world class peloton. "It was a brawl out there. It's all about patience. You have to choose your wheel wisely, and I kind of gave up a little bit. I was on Petra and somehow abandoned it and it wasn't the wisest choice. But I have some more years to learn how to do it right."
When Uhl gave up the golden wheel, Victory Brewing's Gina Grain was on the spot. "In the final sprint I focused on keeping my position and grabbed Petra's wheel - I knew that was a good wheel to have. Petra went and I just couldn't come around here. It's still a big result for me."
One of the American favourites, Tina Mayolo-Pic had a rougher time getting to the head of the pack today, settling for teammate Laura Van Gilder's third place. "It was good, it was hard. This sprint is always weird because people are diving everywhere and breaks are going. But Laura finished it off at the end. I got bad position through Lemon Hill and chased all the way through the feed zone.
Rossner was extra sentimental about winning today. She announced today that she is retiring from racing at the end of this year. "It was wonderful teamwork, as usual, I just finished it off and I am very happy about it. Especially because it was my last time."
Photography
Images by Jon Devich/www.epicimages.us
Results, 57.6 miles/90.56km
1 Petra Rossner (Ger) Nürnberger Versicherung/Lietzsport Mixed    2.25.55 (37.24 km/h)
2 Gina Grain (Can) Victory Brewing Cycling Team                          
3 Laura Vangilder (USA) Genesis Scuba FFCC                               
4 Becky Conzelman (USA) Spin Cycle Duke Sports Med                       
5 Laura Yoisten (Can) Canadian National Team                             
6 Sarah Uhl (USA) Team Quark                                             
7 Anita Valen (Nor) Team S.A.T.S.                                        
8 Alison Wright (Aus) Nobili Rubinetterie-Guerciotti                     
9 Joanne Kiesanowski (NZl) Colavita Olive Oil                            
10 Regina Schleicher (Ger) Safi-Pasta Zara Manhattan                     
11 Magali Le Floch (Fra) Team Quark                                      
12 Andrea Hannos (Can) Equipe Cycliste Rona                              
13 Mari Holden (USA) T-Mobile Pro Cycling Team                           
14 Magen Long (USA) Sportsbook.com                                       
15 Jennifer Eyerman (USA) Webcor Builders                                
16 Amy Moore (Can) Team Quark                                            
17 Annette Beutler (Swi) Nürnberger Versicherung/Lietzsport Mixed        
18 Sigrid Corneo (Ita) Nobili Rubinetterie-Guerciotti                    
19 Modesta Vzesniauskaite (Ltu) Safi-Pasta Zara Manhattan                
20 Catherine Marsal (Fra) Nobili Rubinetterie-Guerciotti                 
21 Karen Brems (USA) Webcor Builders                                     
22 Anna Zugano (Ita) Safi-Pasta Zara Manhattan                           
23 Mette Fischer-Andersen (Den) Team S.A.T.S.                            
24 Leigh Hobson (Can) Team Cervelo GSM                                   
25 Erin Carter (Can) TDS Schwalbe                                        
26 Anne Samplonius (Can) TDS Schwalbe                                    
27 Tina Mayolo-Pic (USA) Genesis Scuba FFCC                              
28 Katy St Laurent (Can) Basis Aude                                      
29 Lynn Gaggioli (USA) T-Mobile Pro Cycling Team                         
30 Lyne Bessette (Can) Team Quark                                        
31 Kori Kelly (USA) Genesis Scuba FFCC                                   
32 Audrey Lemieux (Can) Team Quark                                       
33 Erinne Willock (Can) Equipe Cycliste Rona                             
34 Lara Kroepsch (USA) T-Mobile Pro Cycling Team                         
35 Catherine Powers (USA) La Grange Dassani                              
36 Emma Rickards (Aus) Victory Brewing Cycling Team                      
37 Lauren Franges (USA) Victory Brewing Cycling Team                     
38 Kym Shirley (Aus) Nobili Rubinetterie-Guerciotti                      
39 Sandy Espeseth (Can) Victory Brewing Cycling Team                     
40 Charmian Breon (USA) Colavita Olive Oil                               
41 Emily Westbrook (USA) Spin Cycle Duke Sports Med                      
42 Helen Kelly (Aus) Equipe Cycliste Rona                                
43 Meredith Miller (USA) Team S.A.T.S.                                   
44 Candice Blickem (USA) Genesis Scuba FFCC                              
45 Kathryn Curi (USA) Equipe Cycliste Rona                               
46 Felicia Greer (Can) Webcor Builders                                   
47 Tara Rossner (Can) Canadian National Team                             
48 Katrina Grove (USA) Equipe Cycliste Rona                              
49 Susan Palmer-Komar (Can) Genesis Scuba FFCC                           
50 Mandy Lozano (USA) Spin Cycle Duke Sports Med                         
51 Sara Bresnick (USA) Verizon Wireless                                  
52 Christina Peick-Andersen (Den) Team S.A.T.S.                          
53 Kimberly Anderson (USA) T-Mobile Pro Cycling Team                     
54 Iona Wynter (Jam) Genesis Scuba FFCC                                  
55 Diana Ziliute (Ltu) Safi-Pasta Zara Manhattan                         
56 Hiroko Shimada (Jpn) Velo Bella                                       
57 Dotsie Cowden (USA) T-Mobile Pro Cycling Team                         
58  (Ger) TDS Schwalbe                                                   
59 Kate Sherwin (USA) Spin Cycle Duke Sports Med                         
60 Nadine Bruhn (Den) Webcor Builders                                    
61 Judith Arndt (Ger) Nürnberger Versicherung/Lietzsport Mixed           
62 Chrissy Ruiter (USA) Basis Aude                                       
63 Kristen Linton (USA) East Coast Velo                                  
64 Barbara Heeb (Swi) Nürnberger Versicherung/Lietzsport Mixed           
65 Kimberly Bruckner (USA) T-Mobile Pro Cycling Team                     
66 Kristin Armstrong (USA) T-Mobile Pro Cycling Team                     
67 Madeleine Lindberg (Swe) Nürnberger Versicherung/Lietzsport Mixed     
68 Alicia Genest (USA) Verizon Wireless                                  
69 Margaret Hemsley (Aus) Nürnberger Versicherung/Lietzsport Mixed       
70 Nicole Demars (Can) Victory Brewing Cycling Team                      
71 Zita Urbonaite (Ltu) Safi-Pasta Zara Manhattan                        
72 Jessica Phillips (USA) Nürnberger Versicherung/Lietzsport Mixed       
73 Kathleen Billington (USA) Team Fuji                                   
74 Yulia Razenkova (Rus) Safi-Pasta Zara Manhattan                       
75 Johanna Buick (NZl) Victory Brewing Cycling Team                  0.18
76 Jennifer Stephenson (Can) Team Cervelo GSM                        0.31
77 April Henerson-Anderson (USA) Verducci Racing                         
78 Grace Fleury (USA) Genesis Scuba FFCC                             1.49
79 Christine Vardaros (USA) Velo Bella                                   
80 Catherine Malone (USA) Webcor Builders                                
81 Jill Mc Laughlin (USA) Velo Bella                                     
82 Katie Lambden (USA) Aquafina                                          
83 Jennifer Stevens (USA) Verducci Racing                                
84 Anna Gusmini (Ita) Nobili Rubinetterie-Guerciotti                     
85 Becky Broeder (USA) MABRA/NCVC Edge Wells Revolutn                    
86 Joan Wilson (USA) Team S.A.T.S.                                       
87 Michele Kiesanowski (NZl) East Coast Velo                             
88 Shannon Hutchinson (USA) Colavita Olive Oil                           
89 Deirdre Barry (USA) T-Mobile Pro Cycling Team                         
90 Anna Milkowski (USA) Equipe Cycliste Rona                         3.26
91 Laura Downey (USA) La Grange Dassani                              3.56
92 Kerry Soraci (USA) TDS Schwalbe                                       
93 Emily Gloeckner (USA) TDS Schwalbe                                    
94 Liza Rachetto (USA) MABRA/NCVC Edge Wells Revolutn                    
95 Melissa Sanborn (USA) MABRA/NCVC Edge Wells Revolutn                  
96 Brooke O'connor (USA) Colavita Olive Oil                              
97 Jennifer Purcell (USA) Tri State Velo Amoroso                         
98 Nichole Wangsgard (USA) Basis Aude                                    
99 Ann Marie Miller (USA) Verizon Wireless                               
100 Stefanie Graeter (USA) Webcor Builders                               
101 Shawn Heidgen (USA) TDS Schwalbe                                     
102 Daniela Fusar Poli (Ita) Nobili Rubinetterie-Guerciotti              
103 Leah Toffolon (USA) Verizon Wireless                                 
104 Anna Garnett (Can) Team Cervelo GSM                                  
105 Cindy Bauwens (Bel) Verizon Wireless                                 
106 Heather Peck (USA) Ind Fabrications/SMRT Inc                         
107 Amanda Lawrence (USA) Ind Fabrications/SMRT Inc                      
108 Allyson Brandt (USA) Team Fuji                                       
109 Pam Figoras (USA) East Coast Velo                                    
110 Sinead Fitzgibbon (USA) Aquafina                                     
111 Andrea Dvorak (USA) Sportsbook.com                                   
112 Brooke Ourada (NZl) Victory Brewing Cycling Team                     
113 Kirsten Robbins (Can) Victory Brewing Cycling Team                   
114 Maggie Shirley (USA) Genesis Scuba FFCC                              
115 Kristen Lasasso (USA) Basis Aude                                 7.34
116 Nicole Brandt (USA) La Grange Dassani                                
117 Emily Sandwith (Can) Canadian National Team                          
118 Tara Parsons (USA) Aquafina                                          
119 Mariane Stover (USA) Ind Fabrications/SMRT Inc                       
120 Betsey Sellers (USA) MABRA/NCVC Edge Wells Revolutn                  
121 Rhonda Guzda (Can) Team Cervelo GSM                                  
122 Beth Leasure (USA) MABRA/NCVC Edge Wells Revolutn                    
123 Kc Wilder (USA) LSV Kelly                                            
124 Sherri Stedje (USA) Sportsbook.com                                   
125 Elisa Gagnon (Can) Aquafina                                          
126 Rebecca Mc Clintock (USA) Colavita Olive Oil                         
DNF Brenda Bahnson (USA) Ind Fabrications/SMRT Inc                       
DNF Marie Pier Bedard (Can) Canadian National Team                       
DNF Elizabeth Begosh (USA) Velo Bella                                    
DNF Julie Belanger (Can) Canadian National Team                          
DNF Michelle Beltran (USA) Webcor Builders                               
DNF Betsey Bloom Galenti (USA) La Grange Dassani                         
DNF Nicole Bossie (USA) Team Fuji                                        
DNF Michele Bote (USA) LSV Kelly                                         
DNF Diane Castor (USA) Tri State Velo Amoroso                            
DNF Kelly Chang (USA) Verizon Wireless                                   
DNF Corrin Clark-Danielli (USA) Spin Cycle Duke Sports Med               
DNF Tracy Cundiff (USA) Sportsbook.com                                   
DNF Esther Davis (USA) East Coast Velo                                   
DNF Christina De Kraay (USA) Team Fuji                                   
DNF Susan Duff (USA) Tri State Velo Amoroso                              
DNF Megan Elliott (USA) Team Quark                                       
DNF Megan Esmonde (USA) Sportsbook.com                                   
DNF Julia Farell (Can) Team Cervelo GSM                                  
DNF Shepard Farrar E (USA) MABRA/NCVC Edge Wells Revolutn                
DNF Sheba Farrin (USA) LSV Kelly                                         
DNF Sarah Faulkner (USA) Sportsbook.com                                  
DNF Alison Fischer (USA) East Coast Velo                                 
DNF Sarah Foulkes (USA) Verducci Racing                                  
DNF Sami Fournier (USA) Velo Bella                                       
DNF Nicole Freedman (Isr) Basis Aude                                     
DNF Lauren Gaffney (USA) Basis Aude                                      
DNF Rochelle Gilmore (Aus) Team S.A.T.S.                                 
DNF Trine Hansen (Den) Team S.A.T.S.                                     
DNF Melissa Holt (NZl) TDS Schwalbe                                      
DNF Kele Hulser (USA) Basis Aude                                         
DNF Ashley Kimmet (USA) Colavita Olive Oil                               
DNF Carla Koehler (USA) La Grange Dassani                                
DNF Tina Kunstbeck (USA) Aquafina                                        
DNF Brenda Lyons (USA) Velo Bella                                        
DNF Jennifer Magur (USA) Team Cervelo GSM                                
DNF Kate Maher (USA) Basis Aude                                          
DNF Lynda Maldonado (USA) Tri State Velo Amoroso                         
DNF Lisa Maxwell (USA) Ind Fabrications/SMRT Inc                         
DNF Cara Mccauley (USA) Spin Cycle Duke Sports Med                       
DNF Meghan Milliron (USA) LSV Kelly                                      
DNF Julie Monagle (USA) Verizon Wireless                                 
DNF Elizabeth Morse (USA) Sportsbook.com                                 
DNF Darcie Murphy (USA) East Coast Velo                                  
DNF Zoe Owers (USA) East Coast Velo                                      
DNF Jesse Peil (USA) Sportsbook.com                                      
DNF Cassandra Ramierz (USA) Tri State Velo Amoroso                       
DNF Nikki Raspa (USA) Verducci Racing                                    
DNF Laury Saligman (USA) MABRA/NCVC Edge Wells Revolutn                  
DNF Chrissy Saraceni (USA) Verducci Racing                               
DNF Sara Sauvayre (USA) Aquafina                                         
DNF Kristy Scheffenacker (USA) Colavita Olive Oil                        
DNF Patty Shoaf (USA) Spin Cycle Duke Sports Med                         
DNF Tracy Sproule (USA) Colavita Olive Oil                               
DNF Jennifer Stern (USA) Team Fuji                                       
DNF Christine Thornburn (USA) Webcor Builders                            
DNF Desira Utzig (USA) La Grange Dassani                                 
DNF Janine Verstraeten (USA) Verizon Wireless                            
DNF Tara Walhart (USA) Verducci Racing                                   
DNF Laura Weislo (USA) Spin Cycle Duke Sports Med                        
DNF Cassie White (USA) East Coast Velo                                   
DNF Jenette Williams (USA) LSV Kelly                                     


Past Winners
2003 Lyne Bessette (Can) Saturn Cycling Team   91.0 kms in 2.23.16
2002 Petra Rossner (Ger) Saturn Cycling Team   92.8 kms in 2.27.09 (37.86 km/h)
2001 Petra Rossner (Ger) Saturn Cycling Team  116.9 kms in 3.01.47 (38.29 km/h)
2000 Petra Rossner (Ger) Saturn Cycling Team  116.9 kms in 3.00.02 (38.68 km/h)
1999 Petra Rossner (Ger) German National Team 116.9 kms in 3.01.23
1998 Petra Rossner (Ger) 
1997 Clara Hughes (Can)
1996 Petra Rossner (Ger)