2004 Jayco Bay Cycling Classic
Victoria, Australia, January 7-11, 2004
Home Course Map Women's Results Previous Race Next Race
Race 3 - Friday, January 9: Geelong - Ritchie Boulevard
Macca wins stage, targets series overall
Wilson is new series leader
By Karen Forman in Geelong
Macca on the podium
Photo ©: Shane Goss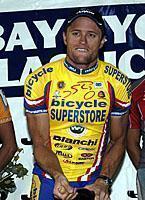 The people of Geelong were given a rare glimpse of how a professional bike race is run and won when they gathered on the Victorian seaside city's shoreline to watch the third stage of the 2004 Jayco Bay Classic criterium series. Not only did the first European-based professional team to ride the Classic for years, FDJeux.com (sponsored by Skilled) retain the leader's jersey through yet another brilliant display of teamwork, but another long-time pro, David McKenzie, broke a winning drought to take a stage of the five-day event.
"I had good legs from the gun," McKenzie said. "I surprised myself. I did it."
Riding for Bicycle Superstore, McKenzie, who has recently signed with American-based team Navigators, shared a three-man breakaway with Skilled rider Matt Wilson and SBR rider Hilton Clarke. The trio, swapping turn for turn, not only held off the chasing bunch for more than 20 minutes, but came close to lapping it.
It was by all accounts an awesome bike race, containing all the essential ingredients that go into an event that not only tests competitors mentally, physically and emotionally, but also enthralls and entertains the crowd. The breakaway and subsequent chase and attacks made for an exciting hour.
With McKenzie beating out Wilson and Clarke for the stage win, Wilson picking up enough points from his second place to take over the series leader's jersey from teammate Baden Cooke, and Skilled riders Mark Renshaw and Baden Cooke first and third in the sprint aggregate competition (McKenzie is now second), it seemed like the perfect ending.
Matt Wilson (Skilled)
Photo ©: Shane Goss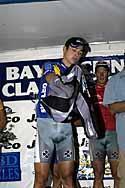 Adding to the drama were a good ride and a well earned fourth place for Drapac Cycling Team member, Olympic gold medallist Brett Aitken, who has been battling tendonitis in his knee with disappointing results this week, Clarke's third place and a win and a second in the sprint competition after surviving a heavy crash in stage one which left him with facial and head injuries, great work from the British team, which spent a lot of time controlling the chasing bunch. With near perfect weather, it was almost the perfect bike race.
Certainly for the Skilled team, which now leads the teams aggregate and holds first, second, fourth and seventh overall (Wilson, Cooke, McGee) and the sprint jersey (Renshaw), the race was an opportunity to show off how a well-oiled machine should work.
"We don't mind who wins, we're all team mates, not just for this event, but permanently," Wilson told Cyclingnews. "When one of us wins that means a win for all of us. We're all really happy."
How it unfolded
Baden Cooke (Skilled)
Photo ©: Shane Goss

The race, which was delayed by 15 minutes to allow a wedding party to use the road to get to a reception venue on the picturesque coast, was bound to be highly contested.
Baden Cooke was wearing the leader's jersey after his stage two win at Port Arlington the previous day and his Skilled team intended to keep it. All the team riders were active at the front of the bunch in early stages, along with Robbie McEwen (MAB/Mirvac/Lend Lease/Vic Urban) ­ who has appeared less competitive in the series so far given his stunning results on the Gold Coast and in Tasmania in recent weeks ­ Aitken, and McKenzie. Kristian House (700C Business Objects) tried a few attacks and New Zealander Greg Henderson (SBR) was also instrumental in setting a fast pace.
McKenzie's successful attack came between the first and second intermediate sprints. Wilson was straight onto his wheel and the pair played cat and mouse for a time at the front, followed by Clarke. The three started to work together and didn't contest the second intermediate sprint (Wilson picked up the points), preferring to get to work on establishing a sustainable gap.
From then on it was a matter of the breakaway riding steadily away from the bunch, which had all Brits on the front, McGee on fourth wheel, Cooke in sixth wheel and teammates Christopher Sutton and Mark Renshaw not too far away. McEwen was also strategically placed in the front third of the peloton.
Wilson attacked the breakaway with two laps to go but couldn't shake off McKenzie and Clarke. The three passed through the start-finish line together to get the bell, then Wilson attacked again from third wheel in the back straight.
However it was McKenzie who led out the sprint and got himself across the line before the others. He said later he thought his excellent fitness had something to do with doing fewer kilometres but more intensity in training this year.
Wilson conceded that he hadn't really thought his eleventh-hour attack would have worked but he had to try. "I can't sprint quick out of corners," he said.
What Wilson was a tad modest about was his incredible ride with McKenzie and Clarke. "I was just covering like I always do," he said. But he conceded 20 minutes was a long time to be out in front, saying he hadn't realise it was so long, but had certainly felt it in his legs after 10 minutes or so. For McKenzie, who won the event in a three-way sprint to the line after meeting every attack by Wilson in the bell lap, it was a victory that had been a long time coming.
"Wilson certainly knows how to ride," he said glowingly of the younger rider. "And Hilton, too." Saying he felt "like the Dave McKenzie of five years ago", he admitted that he had told a teammate in the morning that he was going to have a go in the night session.
David McKenzie (Bicycle Superstore)
Photo ©: Shane Goss

McKenzie last won the Bay Classic in 1996 and said he would no go all out to try to take the overall title again this year.
"I think this shows that you can get a bit complacent. Cookie is a good example. He grabs every opportunity. You've got to be an animal on the bike," McKenzie said, acknowledging that Wilson and Cooke would be hard to beat.
In retrospect, he thought he might have instigated the breakaway too early. "We were out there 20 minutes," he said. "But I hadn't planned it. At first I was just attacking and counter attacking but then I was off. When we got that 15 second gap I knew we were away and I think it was probably easier for us than the bunch."
Although race commentator Phil Liggett tried to incite the crowd into cheering Macca, Wilson and Clarke into lapping the chasing bunch, McKenzie said he hadn't wanted to. "That might have given Wilson the opportunity to help his teammates," he explained.
The win, he said, had boosted his confidence considerably and was a great way to start a new season, which he hoped would include a spot on the Australian team for the Olympics.
Photography
Images by Shane Goss/www.licoricegallery.com
Results
1 David McKenzie (Bicycling Superstore)
2 Matt Wilson (Skilled)
3 Hilton Clarke (SBR)
4 Brett Aitken (Drapac Cycling Team)
5 Baden Cooke (Skilled)
6 Greg Henderson (SBR)
7 Bradley McGee (Skilled)
8 Steve Cummings (700C Business Objects)
9 Mark Renshaw (Skilled)
10 Kristian House (700C Business Objects)
  
Intermediate sprints
 
Sprint 1
 
1 Mark Renshaw (Skilled)
2 Greg Henderson (SBR)
3 David McKenzie (Bicycle Superstore)
 
Sprint 2
 
1 Matt Wilson (Skilled)  
2 Hilton Clarke (SBR)
3 David McKenzie (Bicycling Superstore)
  
Sprint 3 
 
1 Hilton Clarke (SBR)
2 David McKenzie (Bicycling Superstore)
3 Matt Wilson (Skilled)  
 
General classification after race 3
 
1 Matthew Wilson (Skilled)                      20 pts
2 Baden Cooke (Skilled)                         19
3 David McKenzie (Bicycle Superstore)           18
4 Bradley McGee (Skilled)                       16
5 Rory Sutherland (Victorian State Home Loans)  10
6 Mark Renshaw (Skilled)                        10
7 Kristian House (700C Business Objects)        9
8 Mikkeli Godfree (Team MGZT-Bianchi)           7
9 Karl Menzies (Team MGZT-Bianchi)              7
10 Joel Pearson (Team MGZT-Bianchi)             7
 
Sprint classification
 
1 Mark Renshaw (Skilled)                        10 pts
2 David McKenzie (Bicycle Superstore)           7
3 Baden Cooke (Skilled)                         6


Teams classification

1 Skilled                                      66 pts
2 MGZT                                         22
3 Bicycle Superstore                           20
4 700c Business Objects                        13
5 SBR                                          13
6 Drapac                                       12

A Grade support


1 Beritil Klootnijk (Ned)
2 Daniel Newnham (Gold Coast Goldstars CC)
3 Simon Clarke (Carnegie Caulfield CC)
4 Paul Richards (Warragul Cycling Club)
5 Mathew Rex (Norwood C.C.) 
6 Matthew Goss (West Tamar CC)
7 Dean Windsor (Bathurst CC)
8 Ben Isaksen (Lidcombe Auburn CC)
9 Keith Evans (Midland CC)
10 Bradley Payne (C.A.T.S.)
  
Intermediate sprints
 
Sprint 1
 
1 Ben Isaksen (Lidcombe Auburn CC)
2 Simon Clarke (Carnegie Caulfield CC)
3 Samuel Rix (St Kilda Cycling Club Inc)
  
Sprint 2
 
1 Christopher D'amelio (Bairnsdale & Riviera CC)
2 Craig Butland
3 Samuel Rix (St Kilda Cycling Club Inc)
 
General classification after race 3
 
1 Mathew Rex (Norwood C.C.)                    25 pts
2 Paul Richards (Warragul Cycling Club)        25
3 Beritil Klootnijk (Ned)                      24
4 Simon Clarke (Carnegie Caulfield CC)         19
5 Dean Windsor (Bathurst CC)                   14

* There is no sprint competition for A-grade